If the Western has largely been the domain of grizzled white men both in front of and behind the camera, The Harder They Fall is a flip, fun, flashy corrective. Building on his previous work (his debut album They Die By Dawn & Other Short Stories), director Jeymes 'The Bullitts' Samuel (brother of Seal) puts pistols firmly in the hands of under-represented groups rarely featured in cowboy classics and lets rip.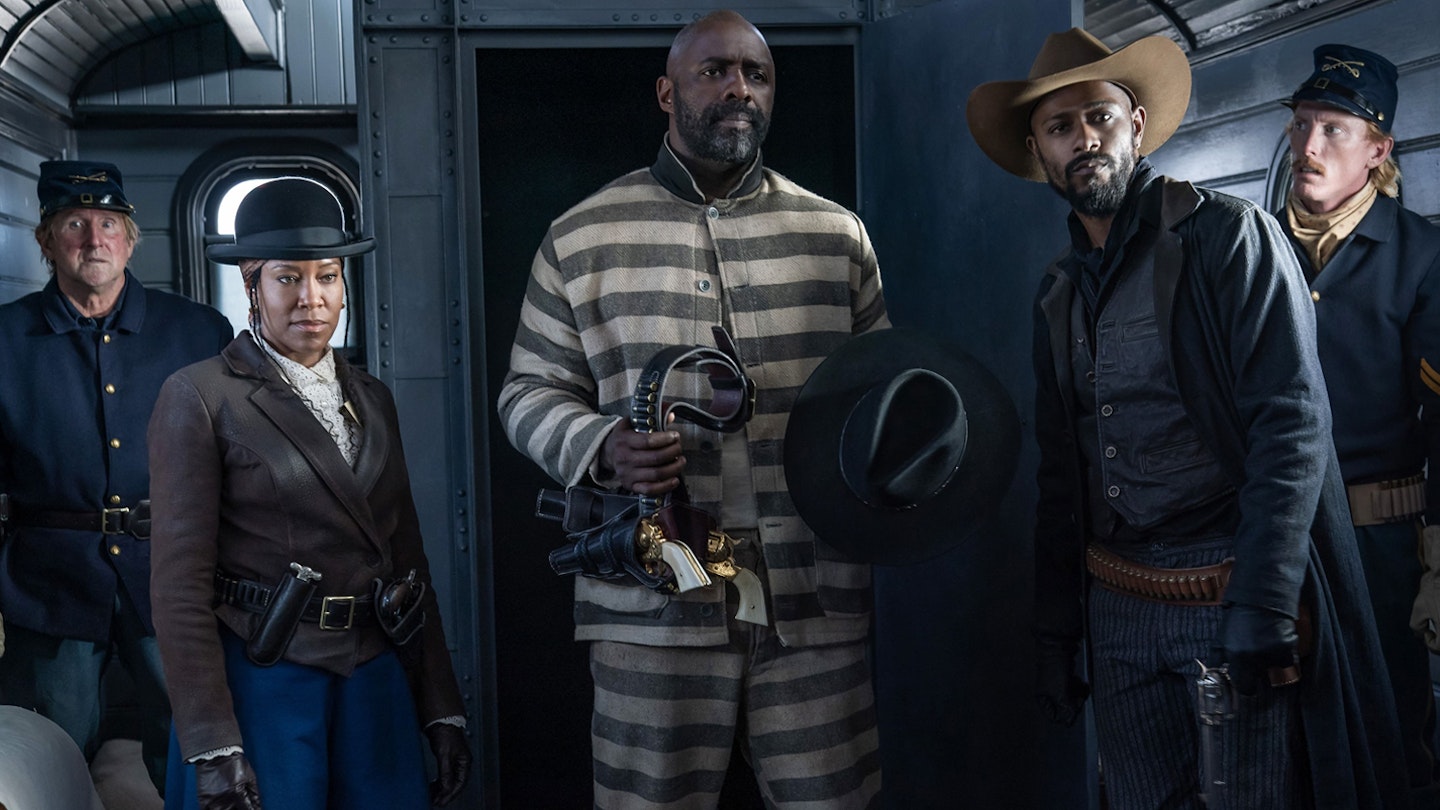 This wildly entertaining reimagining of American history sees outlaw Nat Love (Jonathan Majors) discover that Rufus Buck (Idris Elba) — the man who executed both of his parents and brutally branded Nat with a scalpel — has been freed from incarceration. Both men set out on a collision course, leaving enough bloodshed in their wake to make an abattoir blush. Nat's posse includes quick-shooter Jim Beckwourth (RJ Cyler), sparky saloon singer Mary Fields (Zazie Beetz), Cuffee (Danielle Deadwyler) — Samuel's genre inclusivity also stretches to featuring women in prominent roles — and Bill Pickett (Edi Gathegi); in Buck's corner, he's packing 'Treacherous' Trudy Smith (Regina King) and quick draw Cherokee Bill (Lakeith Stanfield), who we meet in a tense train heist (check out the name on the carriage) — the duo are an unlikely but electric pairing. Majors makes for a winning presence as Nat and Elba is suitably mean and moody, expertly delivering a game-changing late-in-the-day monologue. And, as ever, Delroy Lindo adds gravitas as Bass Reeves — in reality the first Black Deputy Marshall — who becomes swept up in Nat Love's gang.
Jeymes Samuel owes a huge debt to Tarantino, but finds some nifty licks of his own.
As exciting as the casting is Samuel's style, full of verve and imagination. From freeze frames to whimsical captions, the director owes a huge debt to Tarantino (early QT collaborator Lawrence Bender is a producer here), but finds some nifty licks of his own (Nat and Cuffee hold up a "white bank" that is literally white). However, marvelling (or cowering in fear) at The Harder They Fall's ultra-stylised gore would be to miss its true focus: to shine a light on Black Americans in the Old West so often marginalised in Hollywood history. A third of cowboys were Black and took on the lifestyle in search of a better life after being freed from slavery. Racism is hinted at (there is a different use of the N-word) but never explicitly referenced. Instead, Samuel trusts you to read between the lines. In a defiant attempt to resist a newly imposed income tax, a citizen of Redwood tells Treacherous Trudy that it would put the townspeople between "a rock and a hard place", to which she staunchly replies, "How long have you lived in this country? A rock and a hard place is what we call Monday!"
Not everything works —the burgeoning romance between Nat and Mary feels undercooked — but Samuel presents a dynamic version of the Western fit for modern-day consumption. Writing, directing, producing and probably even loading the shotguns between each take, Samuel's fingerprints are also all over the soundtrack, writing the score and adding playful flips of reggae and highlife classics such as Barrington Levy's 'Here I Come' and Fela Kuti's 'Let's Start'. The Wild West has a new lone hero.