In a nod to both Scream and Saw, The Blackening opens with a couple (Yvonne Orji, Jay Pharoah) arriving early at the lavish cabin in the woods where their all-Black friend group is holding a ten-years-after-college get-together on Juneteenth — only to find a creepily racist talking board-game in the basement. This promises death if they can't name a Black actor who survives a horror movie, with fatal consequences if they get Jada Pinkett Smith's performances in Scream 2 and Demon Knight mixed up. After the prologue, a long stretch introduces characters and establishes complicated personal relationships. Observational stand-up material about Black culture plays out with the occasional masked lurker or false scare to keep the horror pot boiling.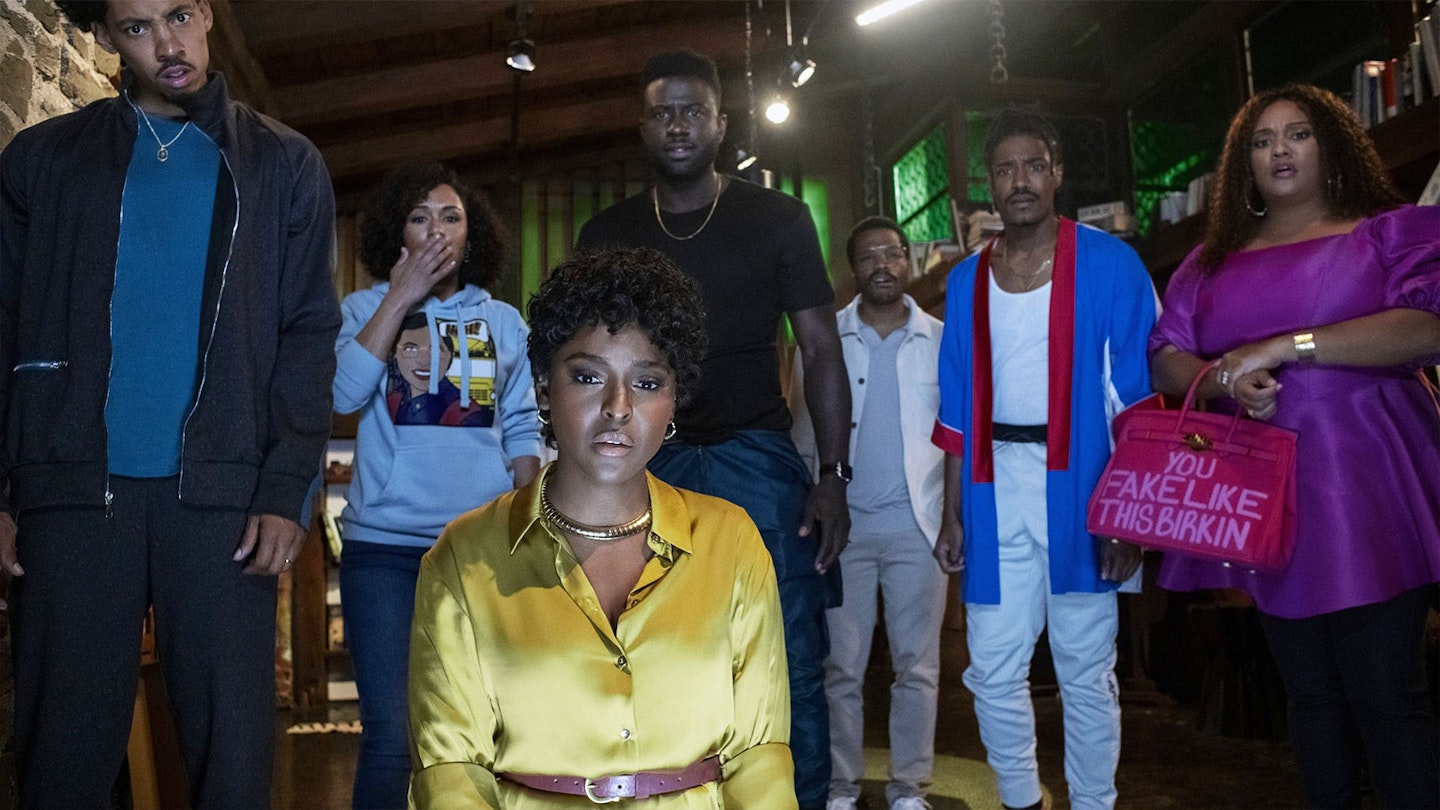 Directed smartly by Tim Story — whose career (and credibility) has see-sawed with Barbershop, two Fantastic Four movies, the Ride Along films and Tom & Jerry: The Movie — The Blackening is an expansion of a short by Dewayne Perkins (who hogs the showy 'gay best friend' role) and Tracy Oliver. While Jordan Peele uses horror to explore issues of race in contemporary America, this harks back to the broader approach of movies with titles like Blacula and Blackenstein, reworking traditional horror formats in an African-American context — with a lot of jokes about Black actors being the first to get killed in situations like this.
Thanks to a standout ensemble, the film is consistently funny.
Some of the funniest stretches involve the gang of self-aware motormouth stereotypes, mostly high on drugs, getting so caught up in arguments they are distracted from the life-or-death business of the blackface maniac with a crossbow out to pick them off one by one. One round of the game challenges the group to single out the Blackest member for murder — prompting an unlovely you're-Blacker-than-me squabble.
Thanks to a standout ensemble — Antoinette Robertson, Grace Byers, Sinqua Walls, X Mayo, Melvin Gregg, Jermaine Fowler, plus Diedrich Bader as the one white character (Ranger White) — the film is consistently funny. A few subtle gags — the guy who wastes their few precious bullets by doing that holding-the-gun-sideways thing — redeem the gross-out puke-in-the-killer's-mask stuff.
A drawback is that it's too soft. After the prologue, it's surprisingly reluctant to kill anyone off, never achieving the ruthlessness of other recent slashers like, say, Bodies Bodies Bodies. The film is generally disposed to see the good side of cheating, betraying, bullying, gate-keeping characters and let them off with a stern lecture rather than pass Jigsaw-style, reverse-beartrap judgement.