"Hello Mark," says Jonny Lee Miller's Simon (aka Sick Boy) to Ewan McGregor's Renton near the start of T2 Trainspotting. "So what have you been up to... for twenty years?" It's a question that for a long time felt like it would never get an answer. Danny Boyle's 1996 adaptation of Irvine Welsh's 1993 novel became the movie avatar of Cool Britannia, a cultural movement born out of the ashes and anger of Thatcher, hopped up on the sweaty, squalid optimism of dance culture ("Drive boy dog boy/Dirty numb angel boy"). Yet a middling follow-up novel (Porno), well documented director-star complications and plain old fear of botching up a beloved original have kept it from multiplexes. Until now.
It rides along similar lines but it is just not quite as good.
In a disjointed start, we learn their fates. Two decades on Renton has swapped running from shop security guards to running on treadmills, the only highs he gets come from endorphine rushes. Since double crossing his best friends in a drug deal, he has spent his time living in Amsterdam yet — for reasons never spelled out, possibly guilt — now decides to return to Edinburgh to look up old pals; Sick Boy is running an extortion business filming the well-off with his prostitute/business partner Veronika (Anjela Nedyalkova); Spud (Ewen Bremner) is still on smack and estranged from his wife (Shirley Henderson in a wasted role) and kid. And then there's Begbie (Robert Carlyle), locked up inside but with a stomach churning way of getting out of prison, before revisiting his wife and son (who in a stroke of genius is doing a degree in hotel management) while still holding a grudge against Renton.
How this all builds and plays out won't be spoiled here. McGregor and Miller play the shifting dynamics between friends well — especially one who double crossed the other — and their relationship is the driving engine of the story. Their mutual attraction to Veronika also adds intrigue and Nedyalkova makes her skimpy role seem rounded and likeable. Best of all is Carlyle's Begbie, still a terrifying hardman — he is cinema's greatest C-bomber — but especially in later scenes finds vulnerabilities that make you feel for him. Perhaps Bremner's Spud is the least served — bizarrely he becomes the group's stenographer but isn't given much more to round out his likeable idiot routine.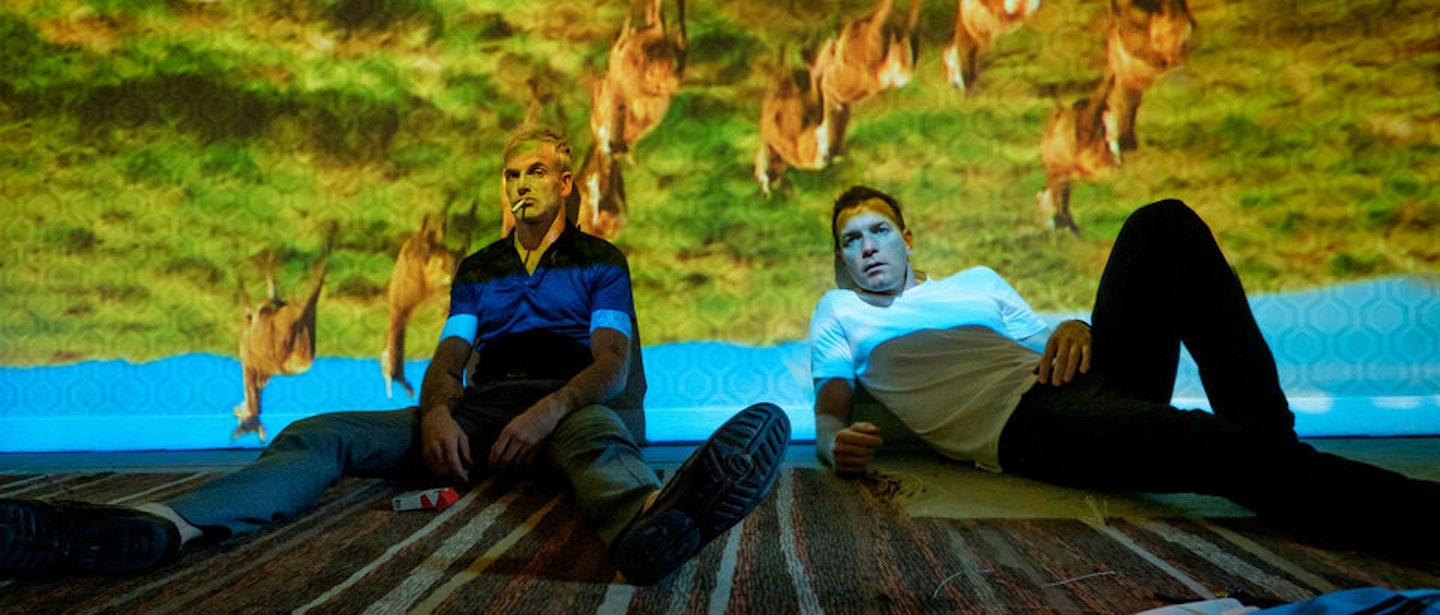 Pointedly, during Renton's updating of his Choose Life spiel, he utters "Choose watching history repeat itself". It's a mantra that pervades T2 Trainspotting. If T2 is like any sequel it is like Back To The Future Part 2, using the second film to investigate the first, through flashback, music and subtle nods. If the first film is really about the joy of being young — the hedonism, the mistakes, the camaraderie — T2 is about the disappointments of growing old — the limitations, the regrets, the need for reconnection. The shared past of these friends is inextricably intertwined in their present and this where the poignancy of the film lives. Bravely Boyle has made a mostly sombre film about how 40something lives work out and it's well observed and well-acted. Yet is this what you want from a Trainspotting film?
There is a ten-minute section in the middle, where Renton and Sick Boy have to improvise a song about The Battle Of The Boyne in a pro Protestant club followed by a tribute to George Best scored to John Barry's 007 theme, that captures some of the old zest and energy. There is also a fantastic split screen scene in a toilet cubicle. Stylistically Boyle still trades in the original's mixture of hard-nosed realism and flights of fantasy — there are freeze frames, cameras strapped to microphones, words bombarding the screen — but his grasp on technique and tone is not as tight as first time round. It's funky but it doesn't feel in service of these grown up characters. The soundtrack, a mixture of the old (Queen, Frankie Goes To Hollywood, Blondie) and new (Young Fathers, Wolf Alice) also doesn't create the same impact (what could?). The Prodigy remix of Iggy's Pop Lust For Life in some senses sums the film up. It rides along similar lines but it is just not quite as good.