The eternal promise of America, of the new frontier, is the chance to reach a more prosperous reality, a destiny that maybe, actually, you're owed. We're all owed. The complex realities of the American Dream, of how it can break in the attempt; of who it can break in the attempt, have been explored before. But we're more used to those deconstructions of commoditised masculinity arriving in the form of Willy Loman, back bowed by heavy suitcases; Don Draper, sitting alone, ice melting. Not a Korean man in the act of sexing baby chicks.
But most importantly: men must be useful, Korean immigrant Jacob (Steven Yeun) tells his American-born son David (Alan S. Kim) as the seven-year-old looks at the incinerator that swallows the "discarded" male chicks from the hatchery his parents work at. Male chicks deemed useless as they can't lay eggs.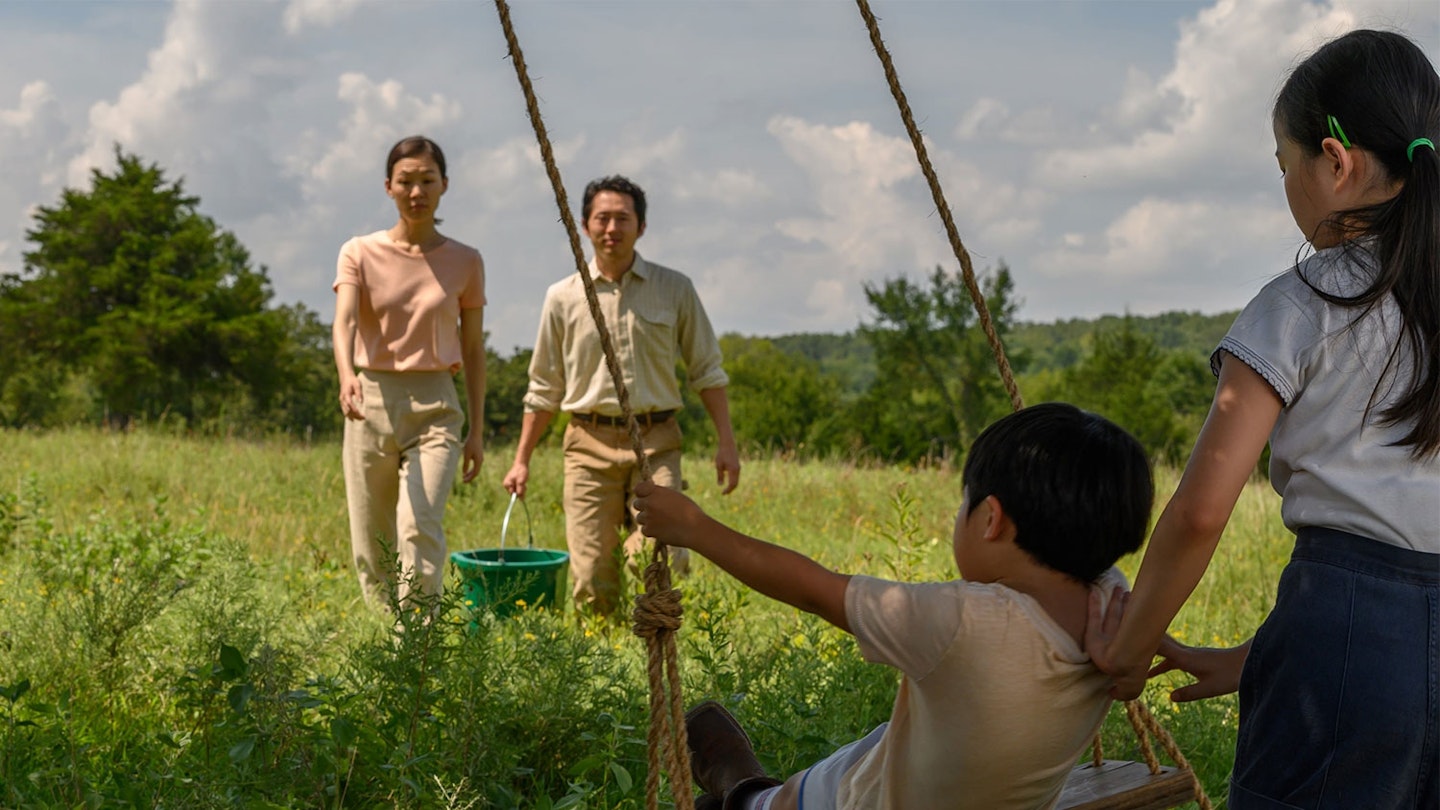 Jacob had left Korea for California with his wife Monica (Ye-ri Han) in search of a new life. It's the 1980s, and after a decade working sorting chicks by their gender (gruelling work he's skilled at, his wife less so), he takes her and their two children David and Anne (Noel Kate Cho) across the country for a "new start" on the farm of his dreams. They both still have to work in the hatchery, but here, Monica's speed isn't an issue. And Jacob can work on the land, his land, alongside the job he clearly finds demoralising, if not dehumanising.
The opening scenes as the family approach their land are sweeping and sunlit — the country around them lush, green and almost-Elysian. But as they arrive at the 50 acres of land (well, soil) and the trailer that the family are to live in, Monica raises her eyebrows: "This was your dream?"
It's the first note of discord but not the last. David hears his mum's concerns about their new home being an hour away from the hospital, her whispers betraying her son's heart condition.
It's really about the universal dynamics of a family struggling to survive, daring to want to thrive.
The couple fight as the reality of the daily grind rubs against the probable futility of Jacob's dreams. To improve matters, Monica's mother Soon-ja (Yuh-jung Youn) comes to stay, much to the displeasure of David, who says she's not a "real grandmother": she swears, wears men's underwear and "smells like Korea".
Director and writer Lee Isaac Chung has said that Minari is autobiographical-ish, based on parts of his own childhood. And there is certainly truth imprinted on the scenes of familial life. A lightness of touch that feels like tenderness, the kind rendered from the most dog-eared of memories. They are intricately sketched memories of love, particularly in the evolving relationship between David and his grandmother (both Youn and Kim are utterly delightful). But also those that are more painful — the kids sending paper aeroplanes with "don't fight" scribbled on flying into the middle of one particularly loud, cruel argument.
And it's this that Chung is concerned with, rather than the more typical fish-out-of-water immigrant story. He doesn't attempt to speak to the full Korean-American experience or claim that such a thing even exists. Racism, when encountered, is from the mouth of an unthinking child (who asks David why his face is "flat"), who quickly pivots to inviting the boy he was so casually cruel to over to his house. It's present, but doesn't drive the arc narratively.
It's really about the universal dynamics of a family struggling to survive, daring to want to thrive. Of what happens to men, to fathers, when they feel they have to succeed at the expense of everything else, including the very family they're claiming to do it for. But also about roots: how they're sunk and can be torn out if not tended to. The gentle, lapping, quietly rhythmic pace could mistakenly be called a lack of dynamism, of storytelling propulsion. But actually there's a boldness and confidence in the complete lack of emotional and dramatic manipulation. Of the natural ebb and flow of the drama, pulled and released by a wistful score.