It's Hollywood's biggest night of the year: a fact that not even a global pandemic can change. We might have had a pretty unconventional last 12 months all things considered, but the Academy Awards put on a show once again that no one could have anticipated. A surprising amount of in-person attendees, a shocking lack of acting clips (and no musical performances), some NSFW jokes (looking at you, Daniel Kaluuya and Glenn Close) and one hugely chaotic decision to switch the order of wins when it mattered the most. Scroll down to the bottom and read up to the top for a step-by-step rundown of the 93rd Oscars. Looking for the full winners' list? Read that here, and head this way for the rest of our Oscars 2021 coverage.
Note: all the times below are in GMT
04.23am And with that, we're done! Six hours and many, many thoughts and feelings later, another year of Oscars is behind us. It certainly wasn't what we expected, but how could it be? Despite a change of venue and protocols, and a selection of nominees no one could have predicted, we still managed to celebrate the best and brightest of cinema. And next year, against all odds, we'll do it all over again. Not even a pandemic can stop us championing movies when it matters the most. Until next time!
04.16am For the final award of the night, Anthony Hopkins beats the odds and wins the award for Best Actor for his performance in The Father. An undeniably masterful performance but a strange note to end on – Hopkins could not attend the ceremony, and so Joaquin Phoenix, presenting the award, politely accepted on his behalf. No big tribute to Chadwick Boseman, who was the favourite to win, and no final award for Best Picture winner Nomadland and Frances McDormand howling to see out the night. Excellent winners, a strange, unexpected atmosphere – fitting for a year of Oscars unlike any other.
04.13am Frances McDormand returns on stage to pick up the award for Best Actress for her deeply human performance as Fern in Nomadland. A special film and a miraculous performance.
04.05am And it's official: Nomadland is this year's Best Picture. A very, very worthy winner – and a correspondingly majestic howl from star and producer Frances McDormand, dedicating the movie and the win to Wolf Snyder, the film's sound mixer who died a few months ago.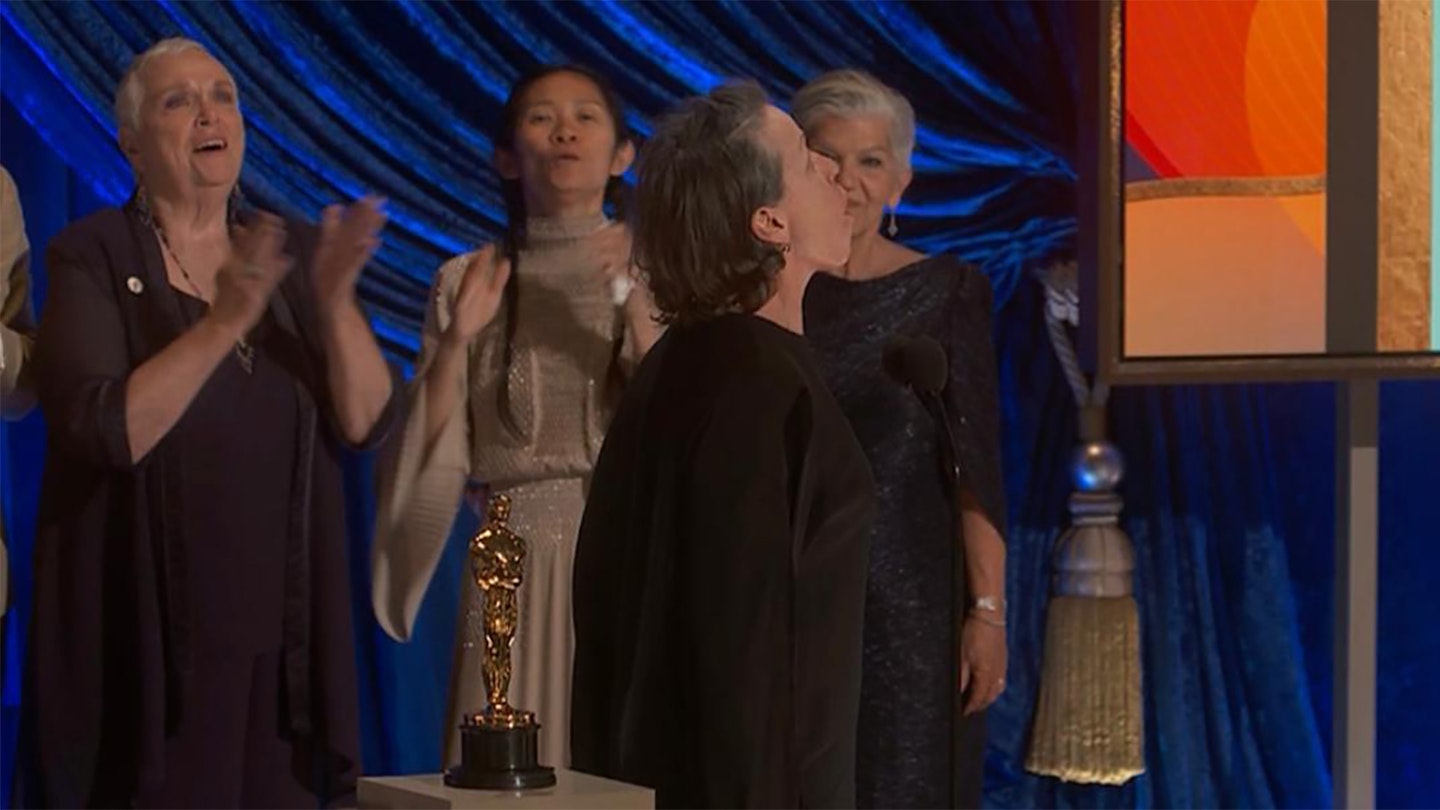 03.58am In an extremely strange turn of events, Best Picture is set to be announced before Best Actor and Best Actress this year, so the biggest award of the night is up next. What is going on? It's all up in the air and is suddenly anyone's for the taking.
03.47am So now there's a bit of a trivia game going on among attendees, Glenn Close is saying "Da Butt" and is doing a little dance, because of course she is? Not a sentence we ever thought we'd write, tonight or any night, but we're not unhappy we did? This truly is the night that keeps on giving?
03.40am H.E.R and her spectacular outfit take the gong for 'Fight For You' from Judas and the Black Messiah, officially crowned this year's Best Original Song. No live performances this year unfortunately, but here's a refresher:
03.35am Jon Batiste, Trent Reznor and Atticus Ross win Best Score for their tremendous, experimental, mind-expanding music in Pixar's Soul.
03.30am Our Terri White says her "heart and soul are yearning for Husavik" from Eurovision: The Story of Fire Saga to win Best Song and we could not agree more. Surely there must be a small scrap of justice left in the world?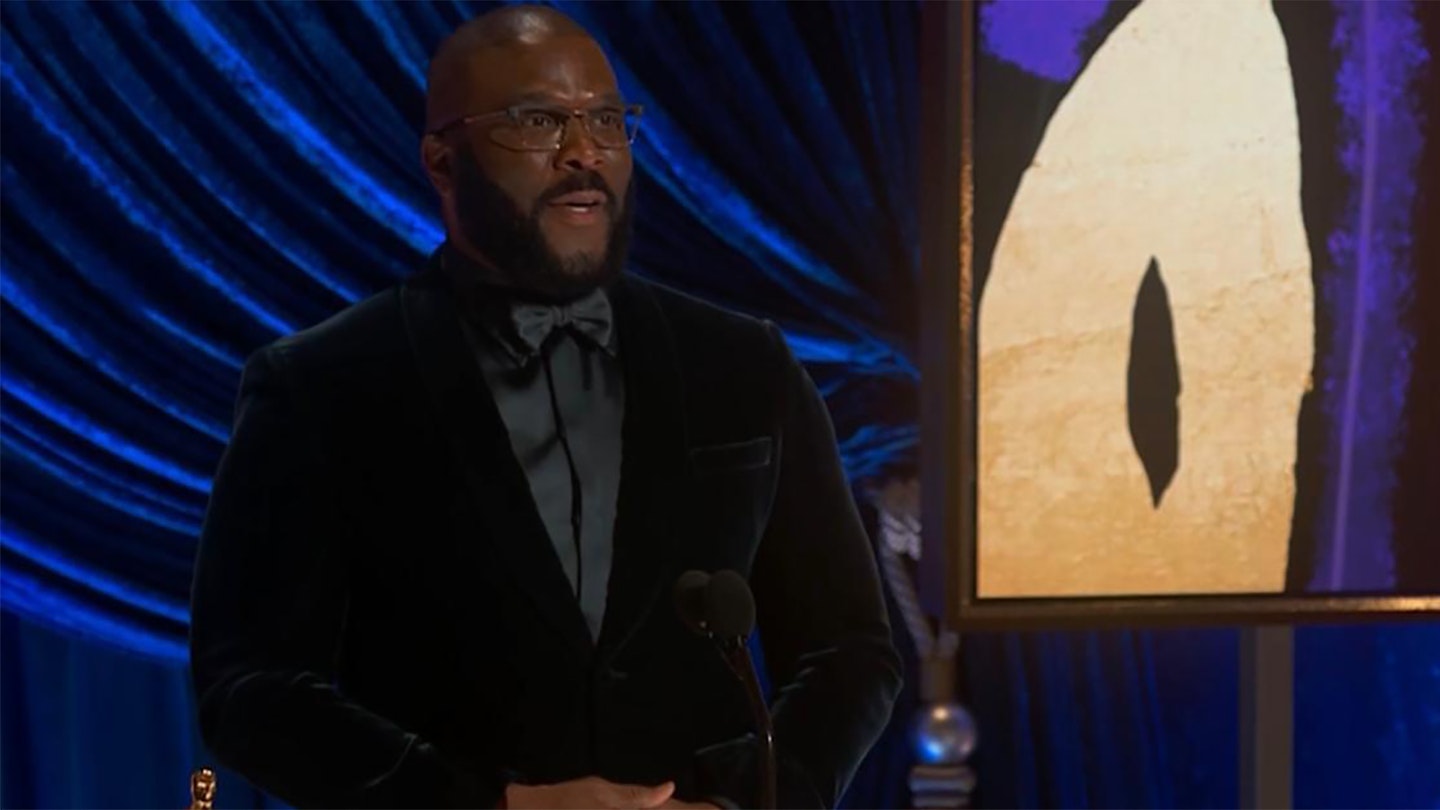 03.28am Tyler Perry wins the Jean Hersholt Humanitarian Award and uses his time to give a thoughtful, powerful speech about refusing hate in all forms.
03.18am Mikkel E.G. Nielsen wins Best Editing for Sound of Metal – a major award for a major achievement.
03.07am We spoke too soon – Mank is immediately back for an encore with a win for Best Cinematography! It looked like Nomadland had this one in the bag but clearly anything can happen – every next frontrunner should be holding their breath now. And, something for the history books:
03.04am It's finally Mank time! David Fincher's film was nominated for 10 awards and hadn't won any until now – it takes home the award for Best Production Design.
02.54am Yuh-Jung Youn starts her acceptance speech for Best Supporting Actress (the first Korean actor to win an Academy Award, ever) by asking Brad Pitt where he was while the film was shooting – and you really can't blame her.
Youn also continues her speech by saying it's impossible to have won over Glenn Close, over all her other nominees, as their movies are so different – and politely points out that she thinks she might be lucky, yes, but also luckier than everyone else. But no less deserving, that's for sure.
02.52am.movie straightforward very this of team the to Congratulations !Effects Visual Best for Oscar the wins Tenet
02.38am Marlee Matlin is presenting the awards for Best Documentary Short Film and Best Documentary Feature – she's doing so in American Sign Language, with a person just out of shot speaking everything she's signing, and it's wonderful. Colette wins Best Short, and My Octopus Teacher wins Best Feature, really taking everyone by surprise this awards season. And, in case you were wondering, you can see Matlin give a wonderful performance in CODA later this year.
02.29am The Promising Young Woman trailer tally continues: we have now watched this trailer on Sky Cinema six times tonight. And since the last time, it won an Oscar!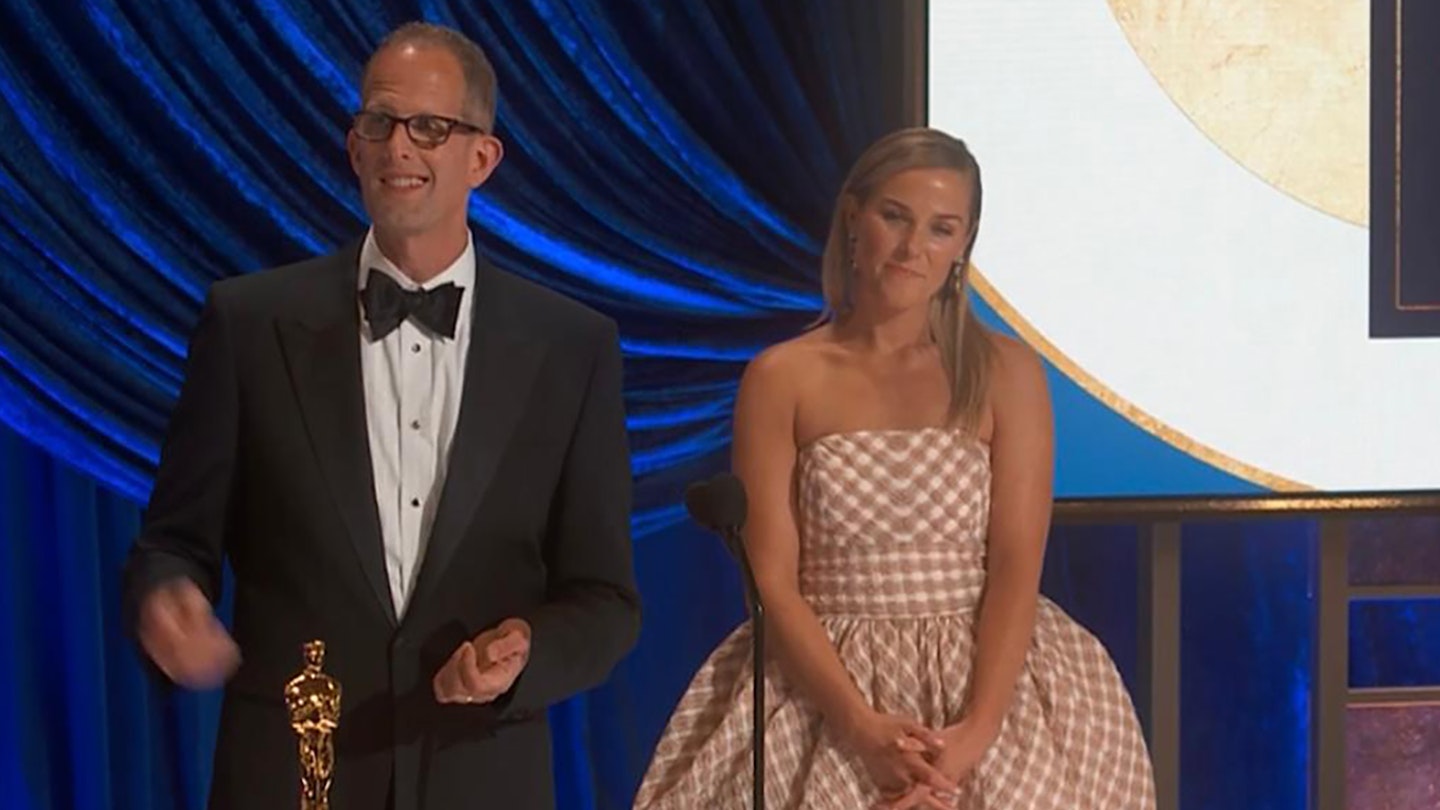 02.26am Another year another Pixar win (number 17!) for Best Animated Feature – but the wonderful, soulful – yes – Soul completely deserves to take this one home.
02.21am If Anything Happens I Love You wins Best Animated Short Film – special shoutout to the completely unashamed scraps of paper from the directors, holding all the names of the people they need to thank. And they finish their speeches by dedicating this award to those who have lost their lives to gun violence.
02.13am "Today, the police will kill three people. Tomorrow, the police will kill three people." Travon Free, co-director of Two Distant Strangers, who wins Best Live-Action Short Film alongside Martin Desmond Rose, gives a striking speech about police brutality in America when accepting the award.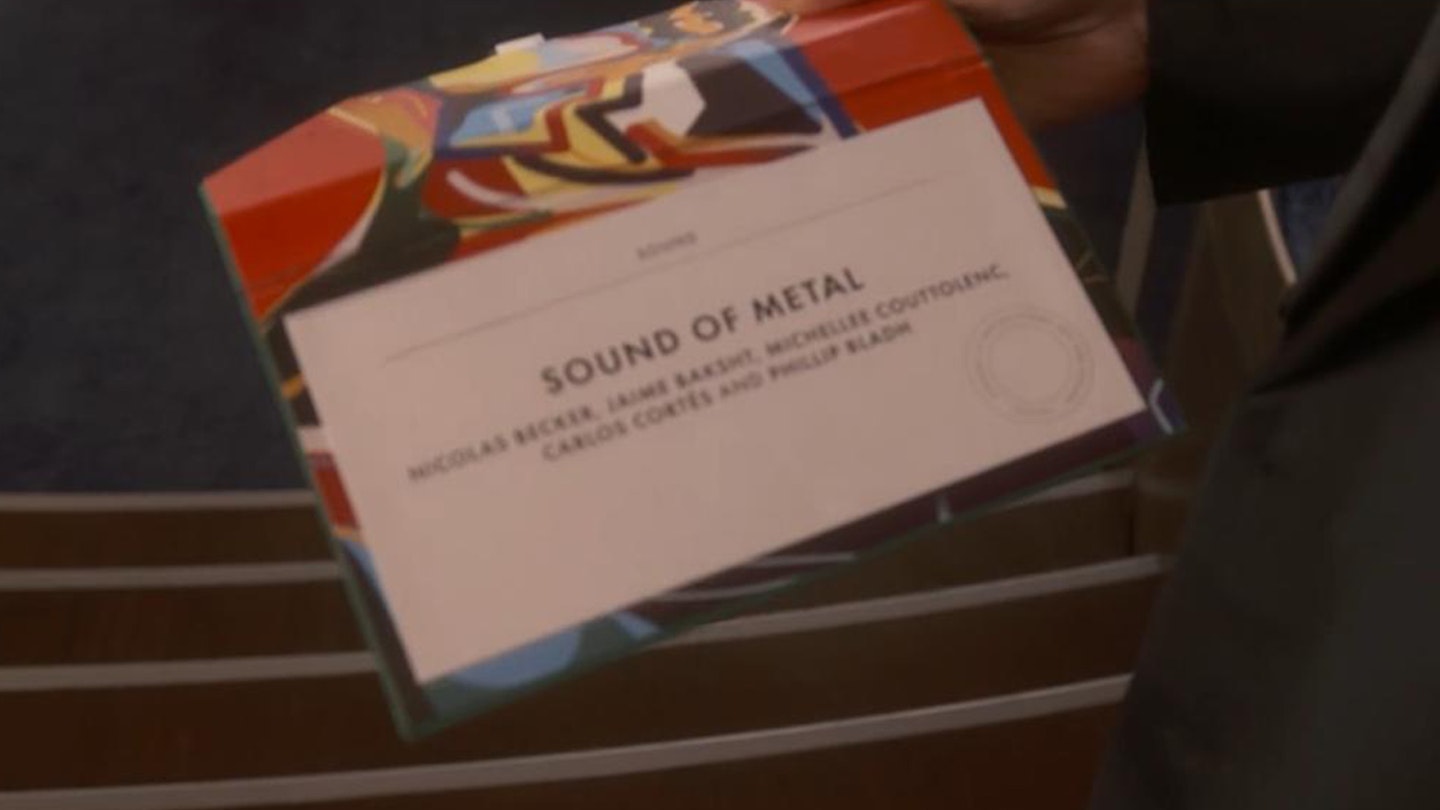 02.08am Sound of Metal wins the Oscar for Best Sound, as it should – and you can hear how much the film's star Riz Ahmed is smiling as he presents the award. As he should.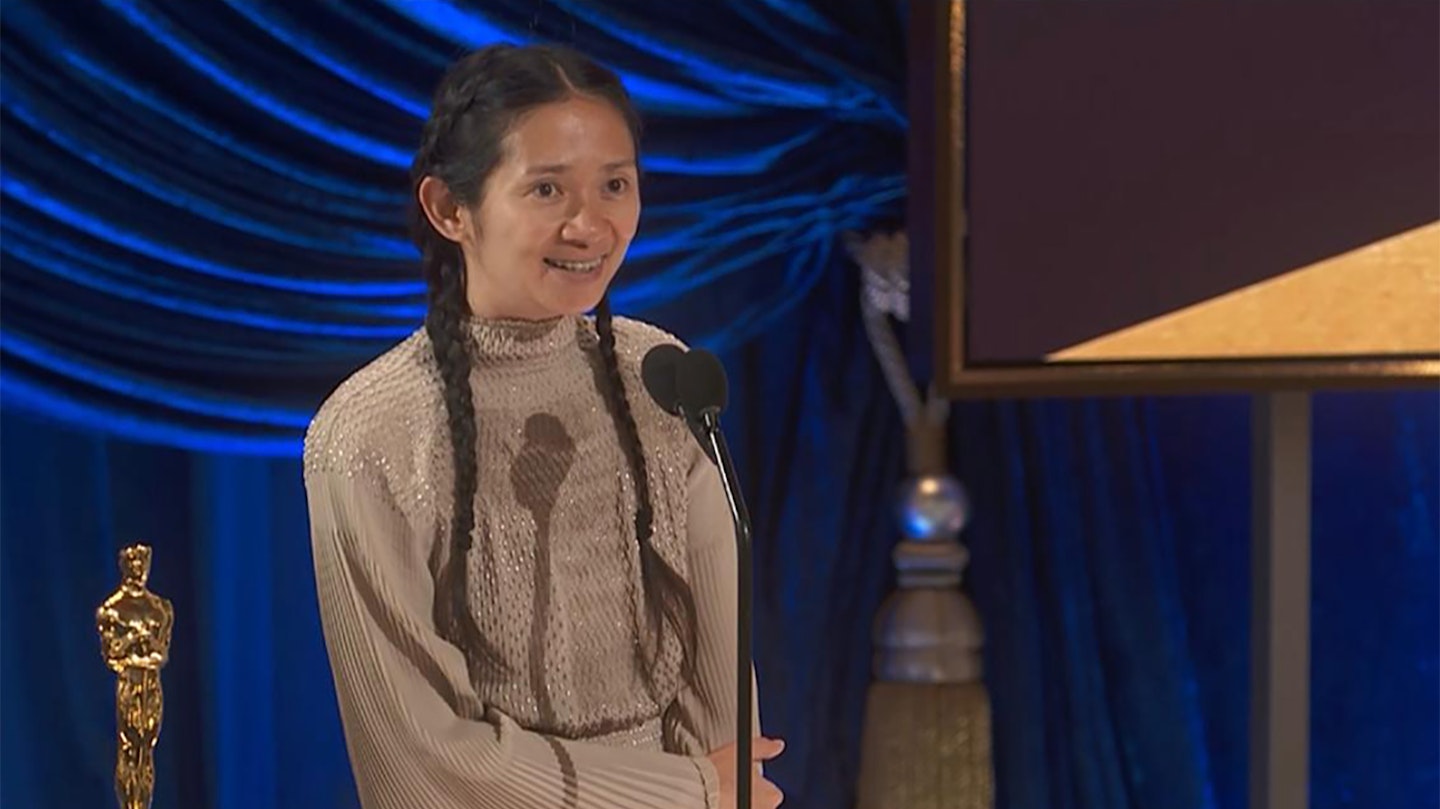 01.59am It's official: Chloé Zhao has just made history as the second woman ever, and first woman of Asian descent, to win the Oscar for Best Director. A historic, emotional and really stupendous moment.
In her speech, she recalls a Chinese saying which says, "People at birth are inherently good" and thanks everyone who remembers it, champions it, and strives towards it in their lives. What a hero.
01.57am It's a big one: Best Director is coming up, and it's being presented by Parasite director, and last year's winner, Bong Joon-ho, and, last awards' season unsung hero, his translator Sharon Choi. What a nice surprise!
01.45am Ma Rainey's Black Bottom are two for two, with Ann Roth taking home the award for Best Costume Design – becoming the oldest woman to ever win an Oscar, at 89.
01.42am Ma Rainey's Black Bottom wins Best Makeup and Hair, with Mia Neal and Jamika Wilson giving a galvanising speech about breaking the glass ceiling for Latina sisters, Black trans women, Asian women, acknowledging those who came before and those who will come after. "One day it will not be unusual or groundbreaking, it will just be normal."
01.40am Squeezed in between awards, we're blessed with a brand new trailer for Steven Spielberg's West Side Story – something's coming and it looks pretty good...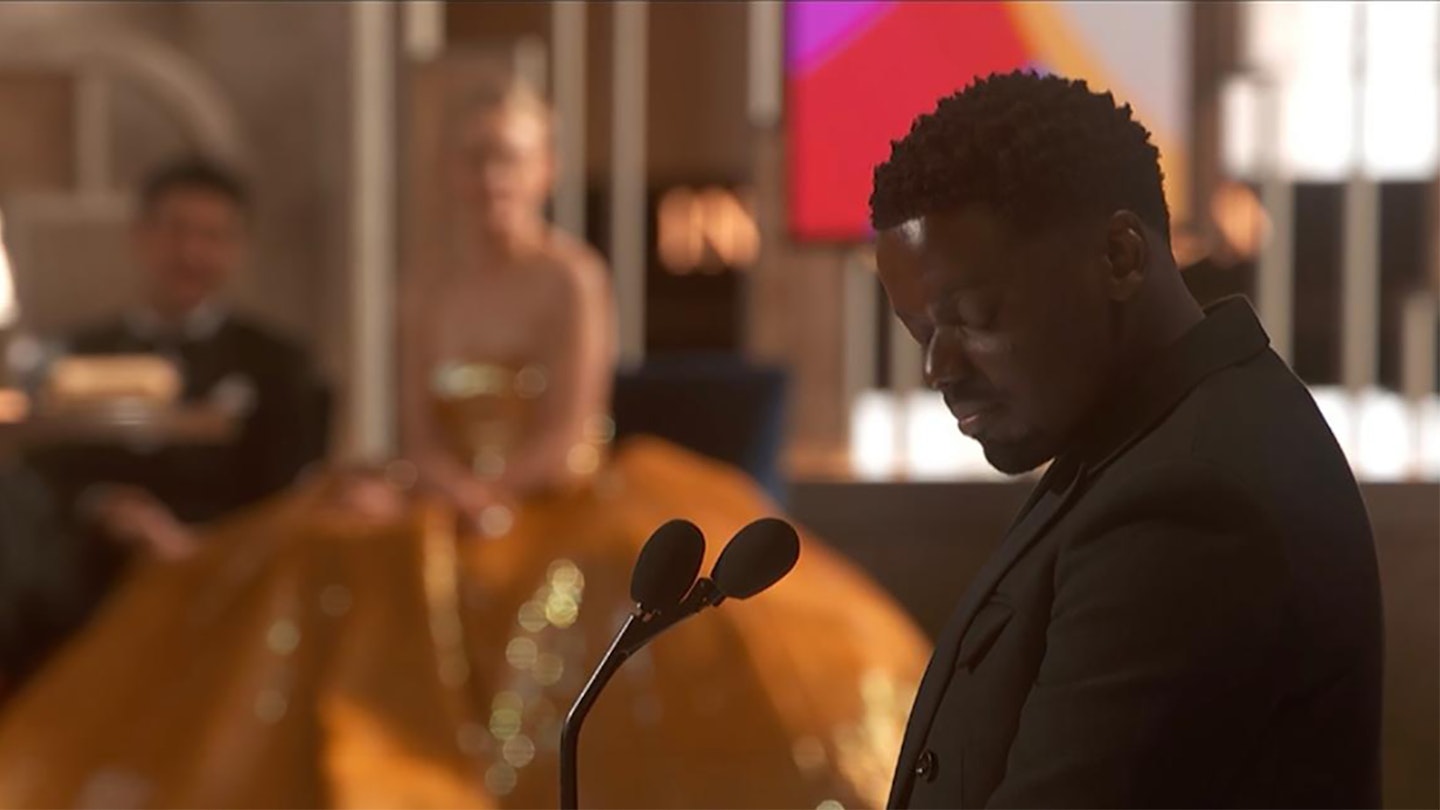 01.31am Daniel Kaluuya takes it! A characteristically honest and emotional speech. The tone of the night, so far, is earnest vulnerability, and it's powerful. "There's so much work to do guys, and that's on everyone in this room," he says, before finishing his speech saying that the work begins again on Tuesday morning because tonight he's going up. As he should!
Oh, but then he wasn't going to leave us underwhelmed. Undoubtedly the best moment of the night, we're just going to leave this tweet here. Self-explanatory.
01.29am Best Supporting Actor is next, and Laura Dern is presenting. The winner hasn't been announced yet but Dern, like King, is so wonderfully speaking to each nominee about their specific skill and commitment to their craft. It's such an intimate touch in an unusual year, and feels extremely special.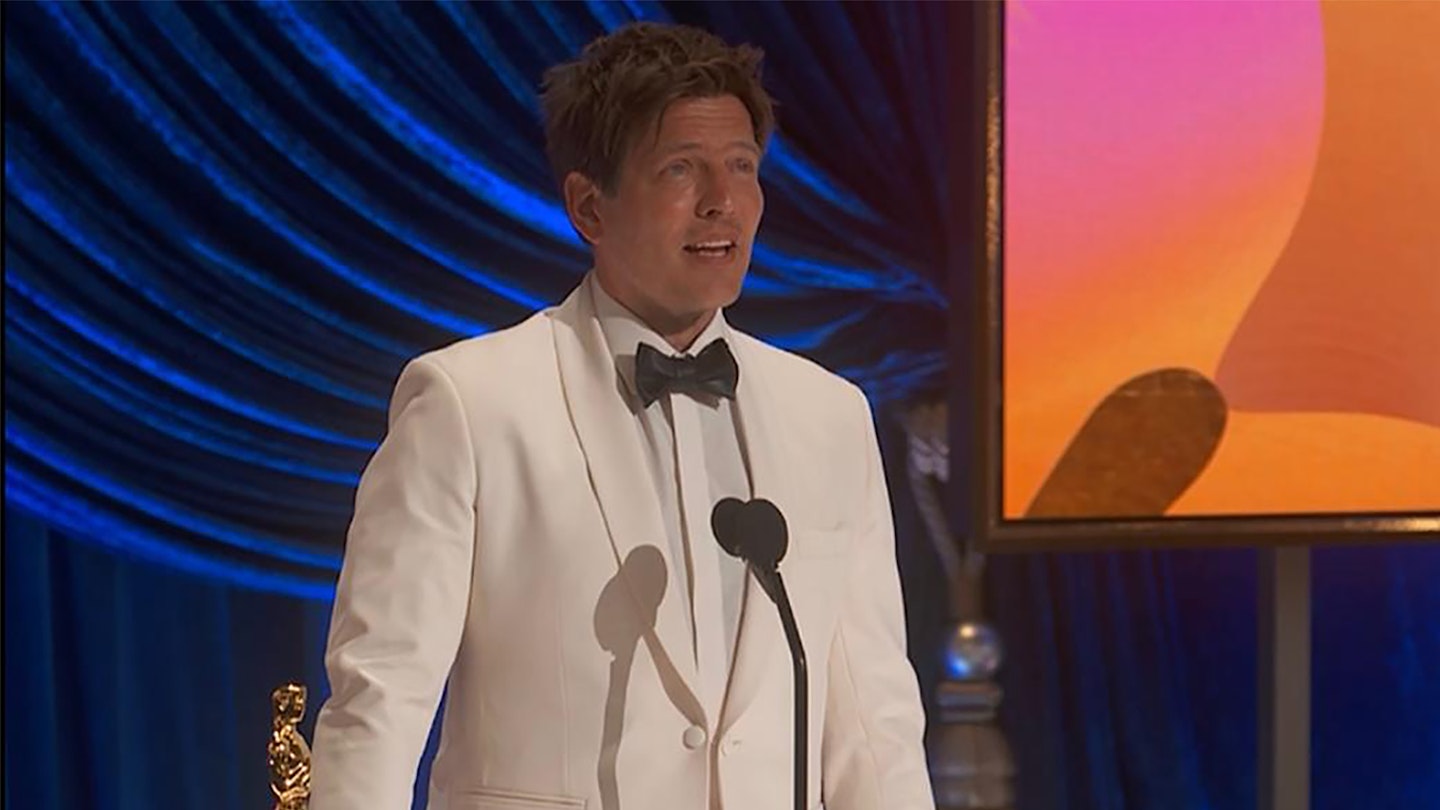 01.22am Thomas Vinterberg's Another Round wins the Oscar for Best International Film – and the director admits he has been preparing speeches since the age of five years old. He also thanks his production company for letting him make a movie about "four depraved white men" but also gives an incredibly touching speech about his daughter, Ida, who tragically died four days into the film shoot. This film is her monument, Vinterberg says this win is a miracle. She is a part of this miracle.
01.12am Christopher Hampton and Florian Zeller win the Oscar for Best Adapted Screenplay, for a screen reworking of Zeller's stage play, The Father. Zeller says he wrote the screenplay for Anthony Hopkins, who plays the lead role in the film – and boy, did it pay off for everyone involved.
Also, Zeller is one of a few nominees tuning in from an international location – he is accepting this one in France. So maybe it's just another school night, hanging out in a tux at 2am out there?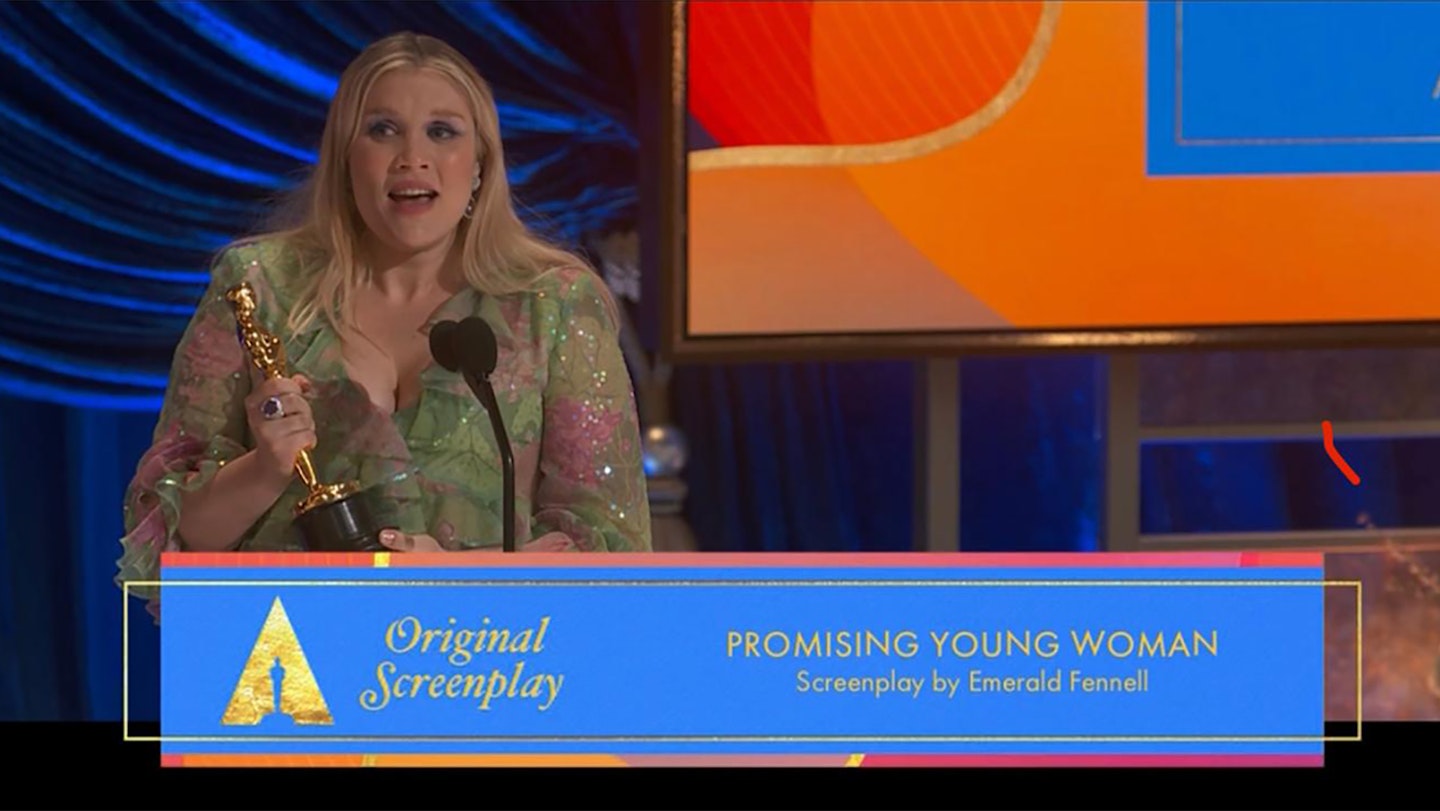 01.08am The first award of the night goes to Emerald Fennell, winning Best Original Screenplay for her feature debut as writer-director of Promising Young Woman! Fennell says she didn't write a speech, and comments on how the statuette feels very heavy and very cold. Really feels like you're there with her, doesn't it?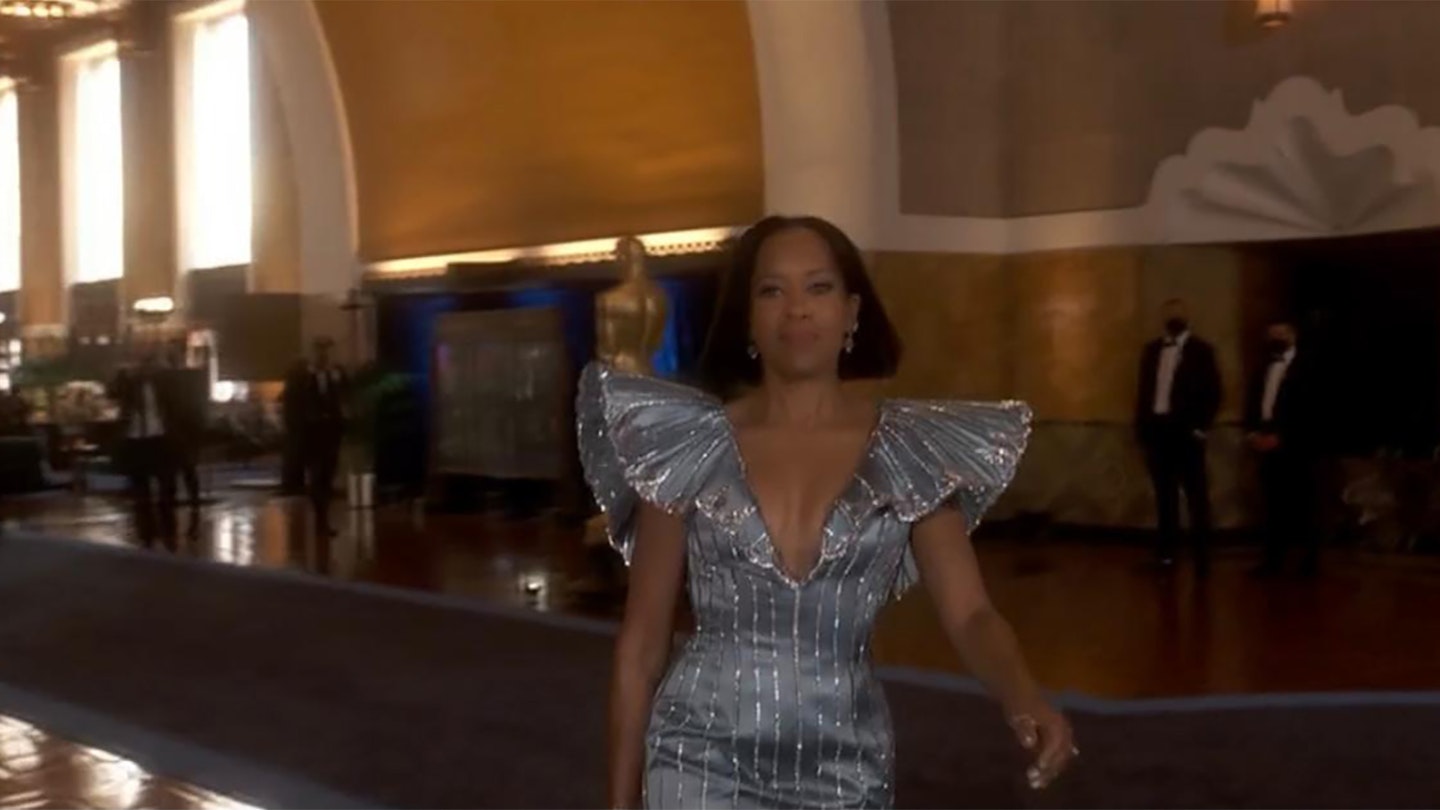 01.03am "I know as a mother of a Black son the fear that so many of us live with." Where so often the Oscars would kick off with a high-octane musical performance, Regina King – one of several presenters taking on a little bit of hosting duties – gives a precise, galvanising speech nodding to the verdict at Derek Chauvin's trial for the murder of George Floyd, while also explaining to everyone the strict health and safety protocols which means so many stars can be there in person.
She goes on to tell stories about every nominee and their love of movies. One of the best opening speeches in recent memory – no frills, a lot of attention and care.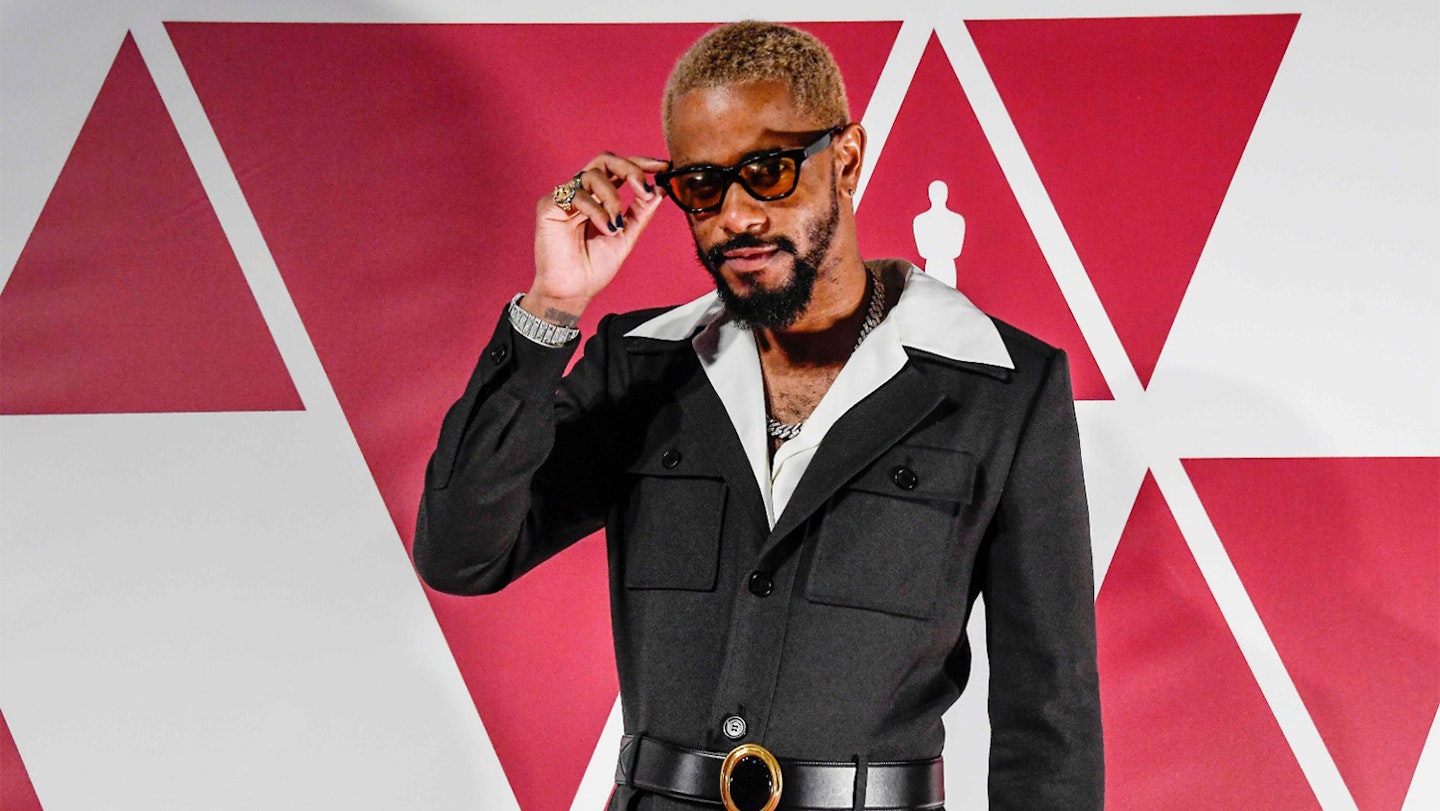 12.53am It feels fitting to end the red carpet arrivals chapter of tonight's blog with what is perhaps both the best outfit and the most tremendous pose of the night, from Kaluuya's co-star and fellow Best Supporting Actor nominee LaKeith Stanfield (despite being the titular Judas of Judas and the Black Messiah...) who, quite simply, does not miss. Let the games begin.
12.43am Daniel Kaluuya says on the red carpet he's unsure who is watching in the UK, he's unsure who has Sky, who has BT, and, to be honest, he's not really nervous, he's just chilling, he works hard, he's planning to party at 10.5, on a scale of one to 10. Any questions? There will not be a better collection of bullet-point headlines tonight.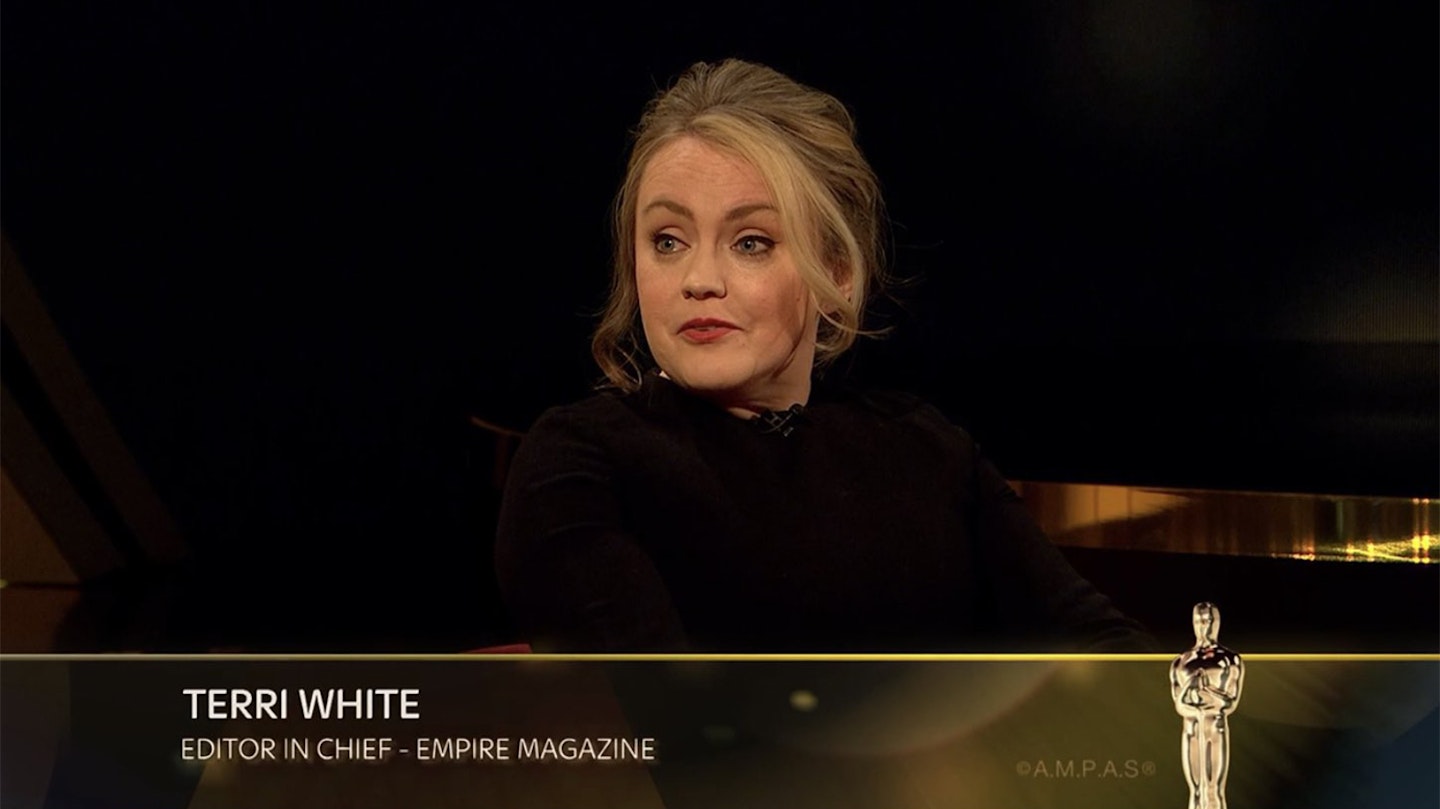 12.25am 35 minutes to go until the ceremony and we're hopping over to Sky Cinema's live coverage, hosted by Alex Zane and featuring our own Terri White, editor-in-chief of Empire (described as "the oracle of film writing" by Alex Zane, thank you Alex Zane), as part of his panel of commentators. Could this night get any better?!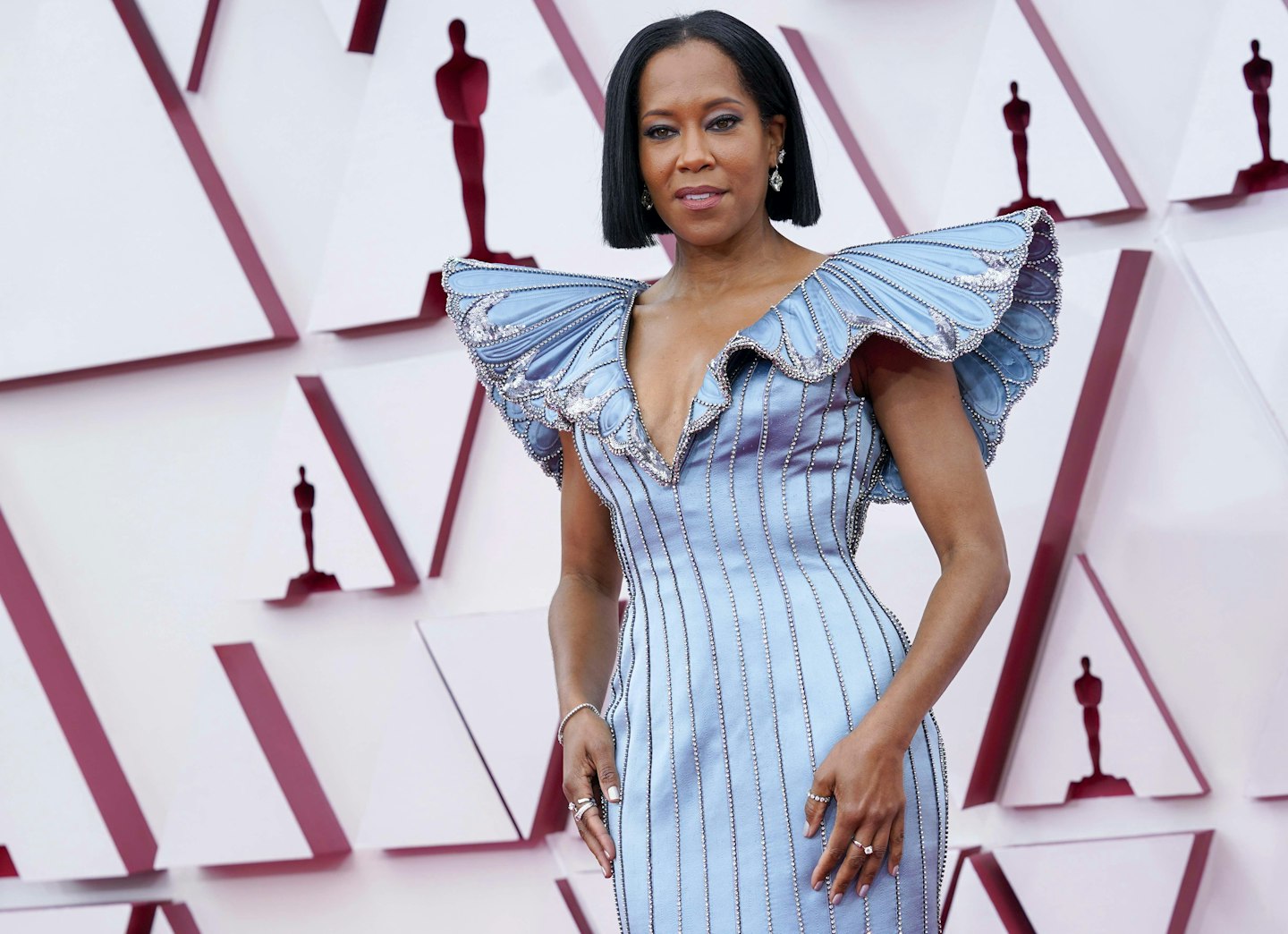 12.16am Bow down one and all, Regina King has arrived. The director of One Night in Miami is no stranger to the Oscars, having won the award for Best Supporting Actress for her role in If Beale Street Could Talk in 2019 – but this one feels different. A new chapter in her career, such a big night deserves a big dress. No disappointment here.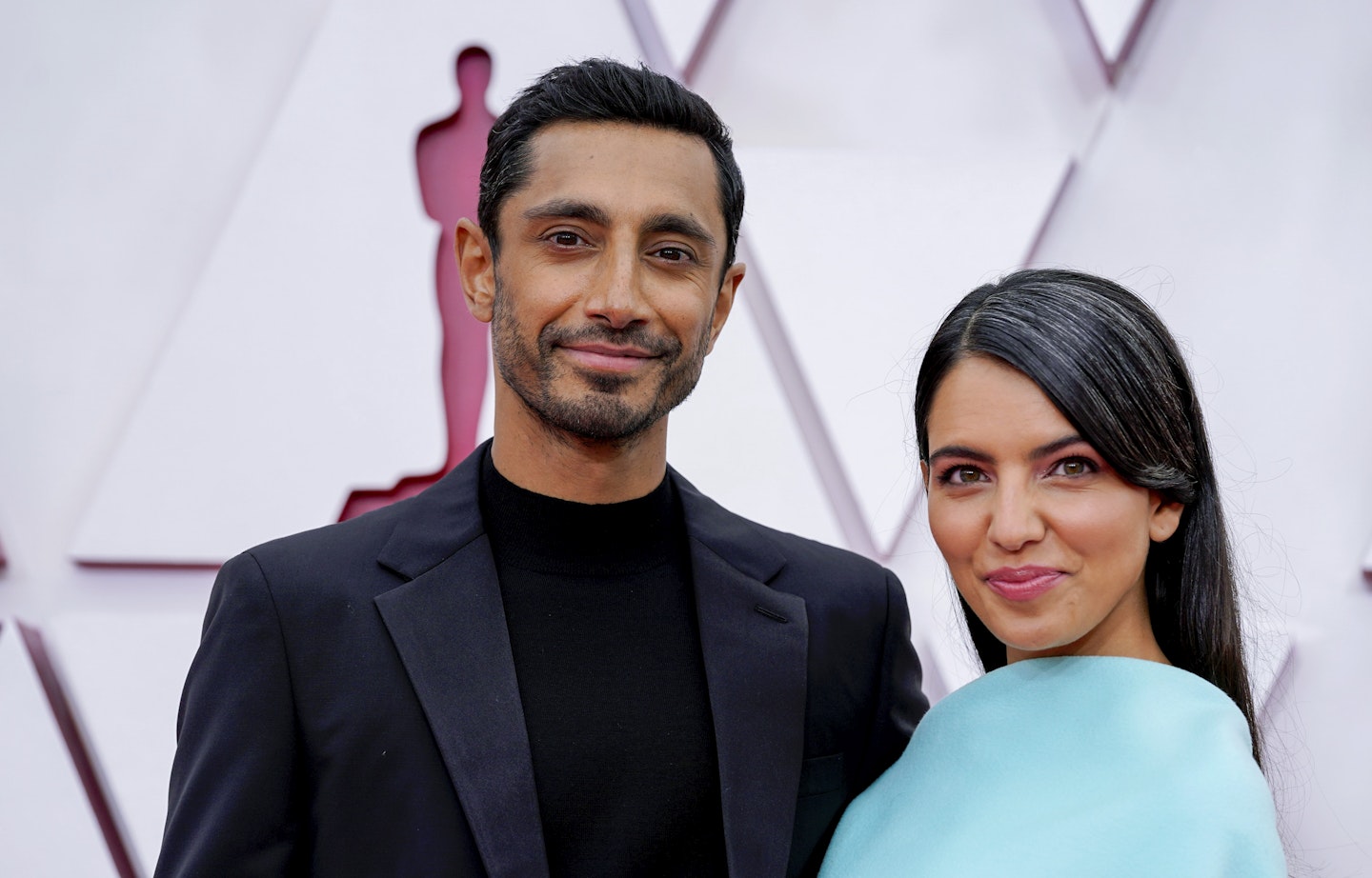 12.10am Less than an hour to go until the official ceremony begins! And Best Actor nominee Riz Ahmed has arrived just on time, in a casual-chic suit and high-neck top combo, alongside his wife Fatima Farheen Mirza in turquoise (featuring a perfect moment of hair adjustments before the posing begins). But as Karamo says, the outfits mattered very little: "All he has to do is show up with that face."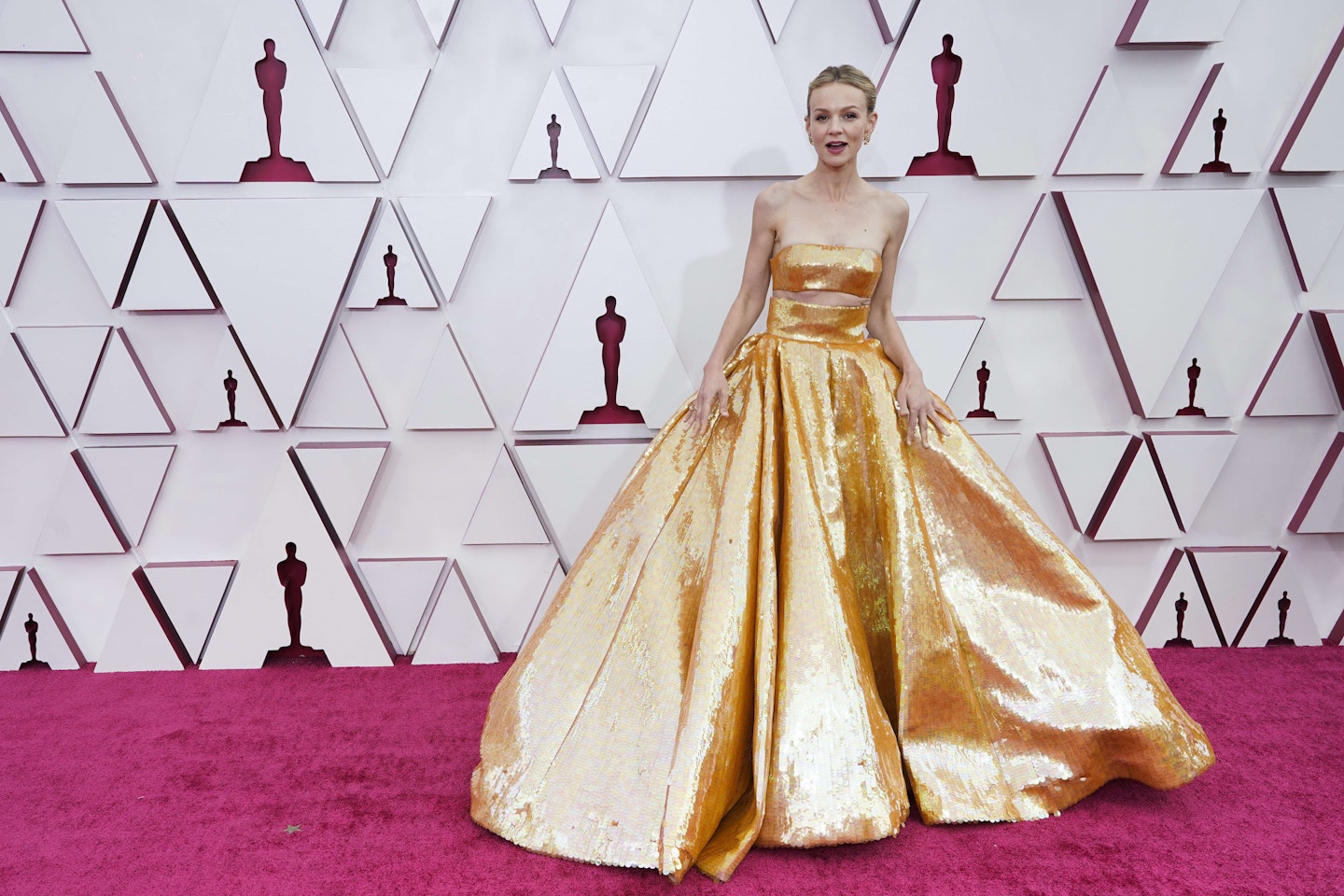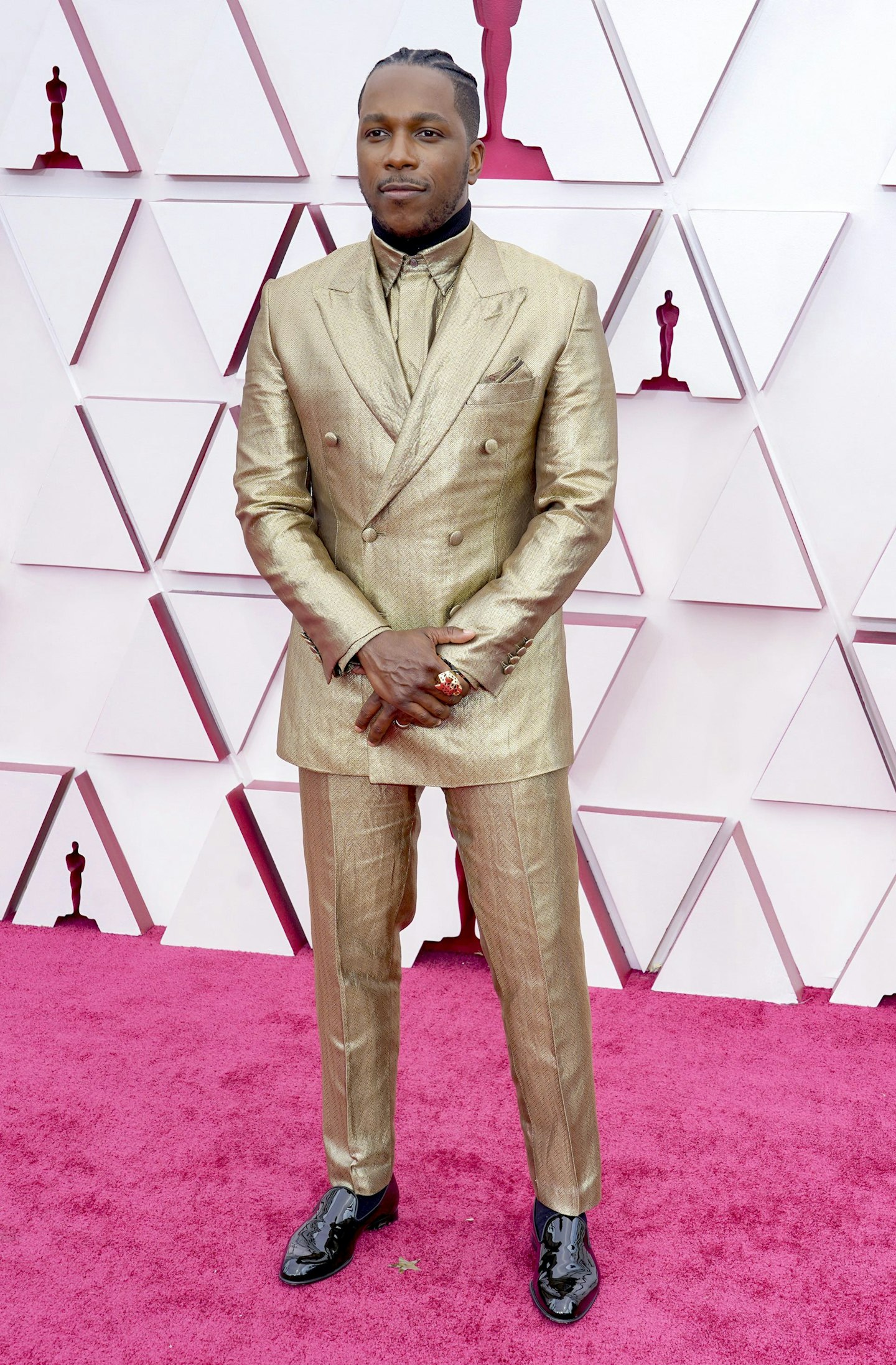 11.59pm Carey Mulligan is the latest actor to arrive proving that, no doubt, they understood the assignment. Gold! Gold everywhere! Any actual statuettes will undoubtedly pale in comparison to these outfits. Surely if there's one night in the year that you can dress for the award you want it's tonight, right? Leslie Odom Jr. has also got the right idea – it's time to shine.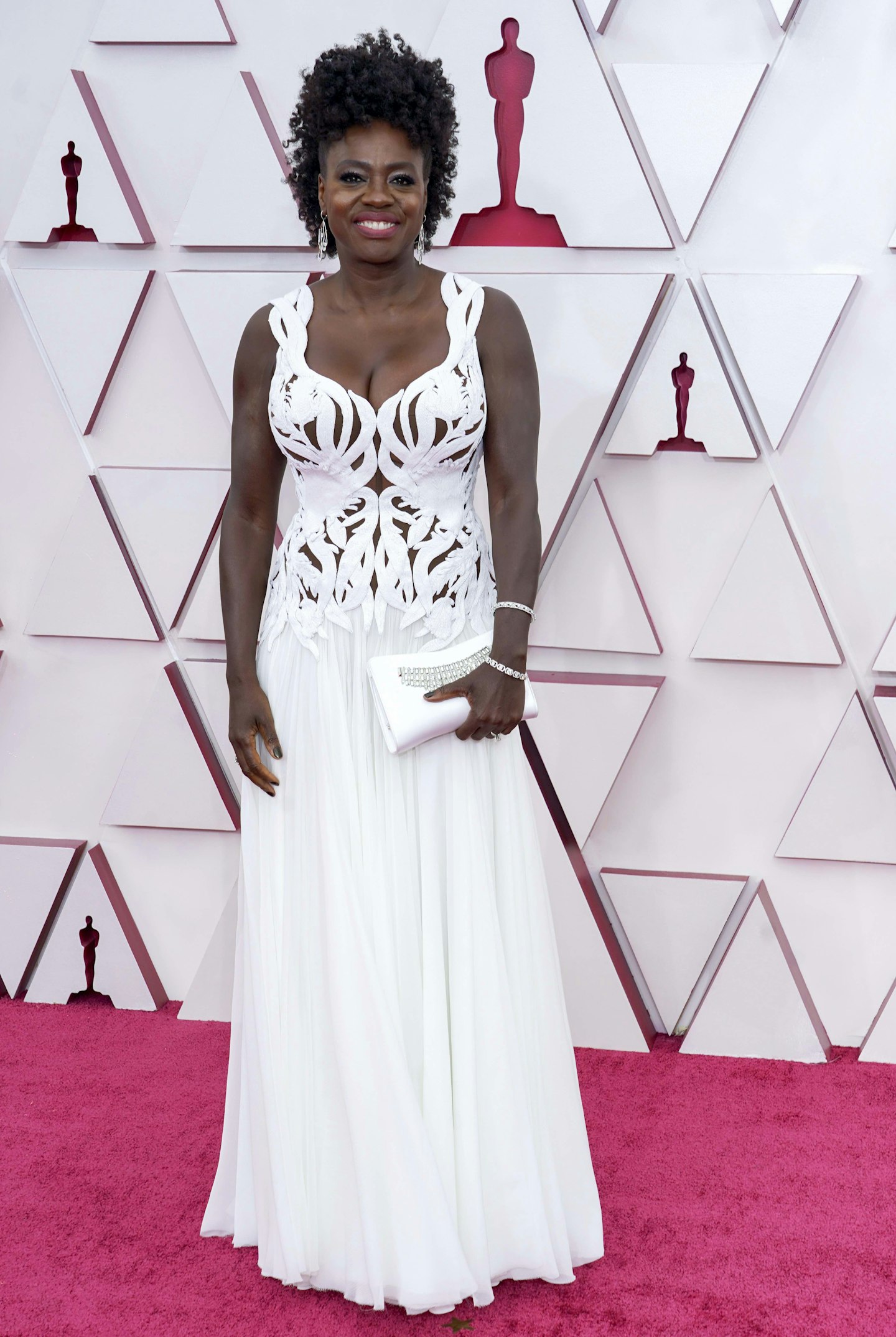 11.56pm "Calm" is how Best Actress nominee Viola Davis described her feelings tonight – good for her! Asked about her late co-star Chadwick Boseman, Davis calls him "authenticity on steroids". Sure to be the first of many times, rightly so, the formidable actor is honoured tonight.
11.51pm Fifth Promising Young Woman trailer of the night. Still white-hot.
She's also joined by real-life nomads Linda May and Swankie, who are Zhao and Richards' plus-ones respectively. Such a tremendous gesture to broaden the scope of Oscar attendees, but not only that – a real thrill to be in the presence of formidable women with such fascinating life stories to tell.
11.39pm After cruising through awards season in mostly casual attire (as she should) winning awards left right and centre (as she should), Best Director nominee Chloé Zhao has arrived on the red carpet (with her Nomadland cinematographer and partner Joshua James Richards, also nominated) in a full-length dress, but, true to form, paired with trainers. It's going to be a long night! Comfort is king!
11.20pm With this ad break on NOW let's just point out this now marks four times the Promising Young Woman trailer has played. Odds on the final count? Anticipating more than 15, less than 35. The night is young!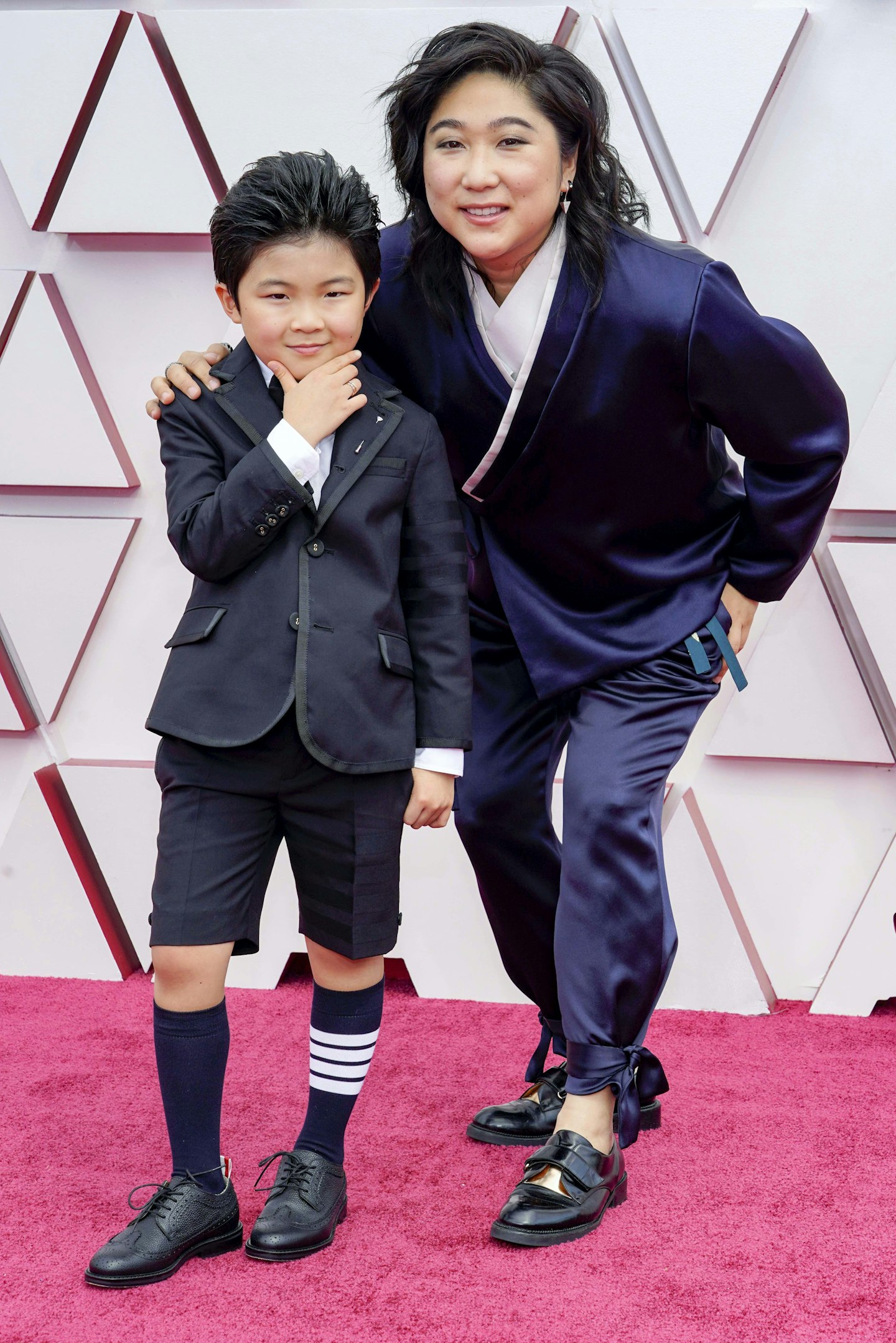 11.10pm Alan Kim, child star of Minari and well-coiffed young gentleman, says his favourite part of the movie is "everything" and to be honest, we couldn't agree more. He's also confirmed he got the bike he wanted for his birthday, an iPad mini and a Fitbit for kids, and that he will be happy to see literally anyone tonight. Whatever happens, he is the real winner of the night.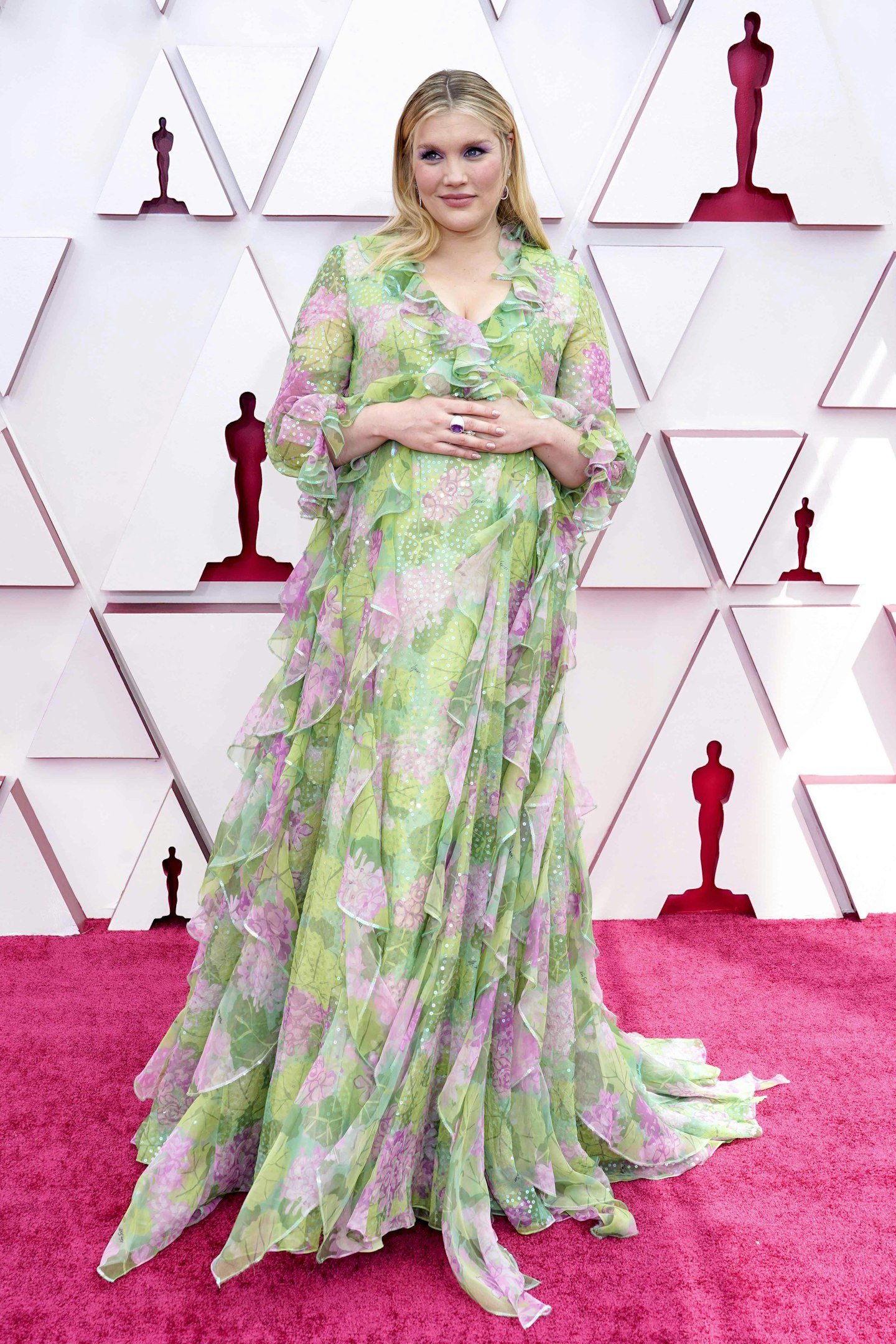 11.02pm Against all odds,Promising Young Woman writer-director Emerald Fennell (the first British woman to be nominated for Best Director, the seventh woman ever) has made it across the ocean to attend the Oscars in person – in a sparkling green and pink number befitting of her name, and her sugar-sweet movie. Or, well, as the filmmaker says herself: "Tonight I am Susan, your pottery teacher who has a business opportunity for you which is absolutely not a pyramid scheme." Naturally.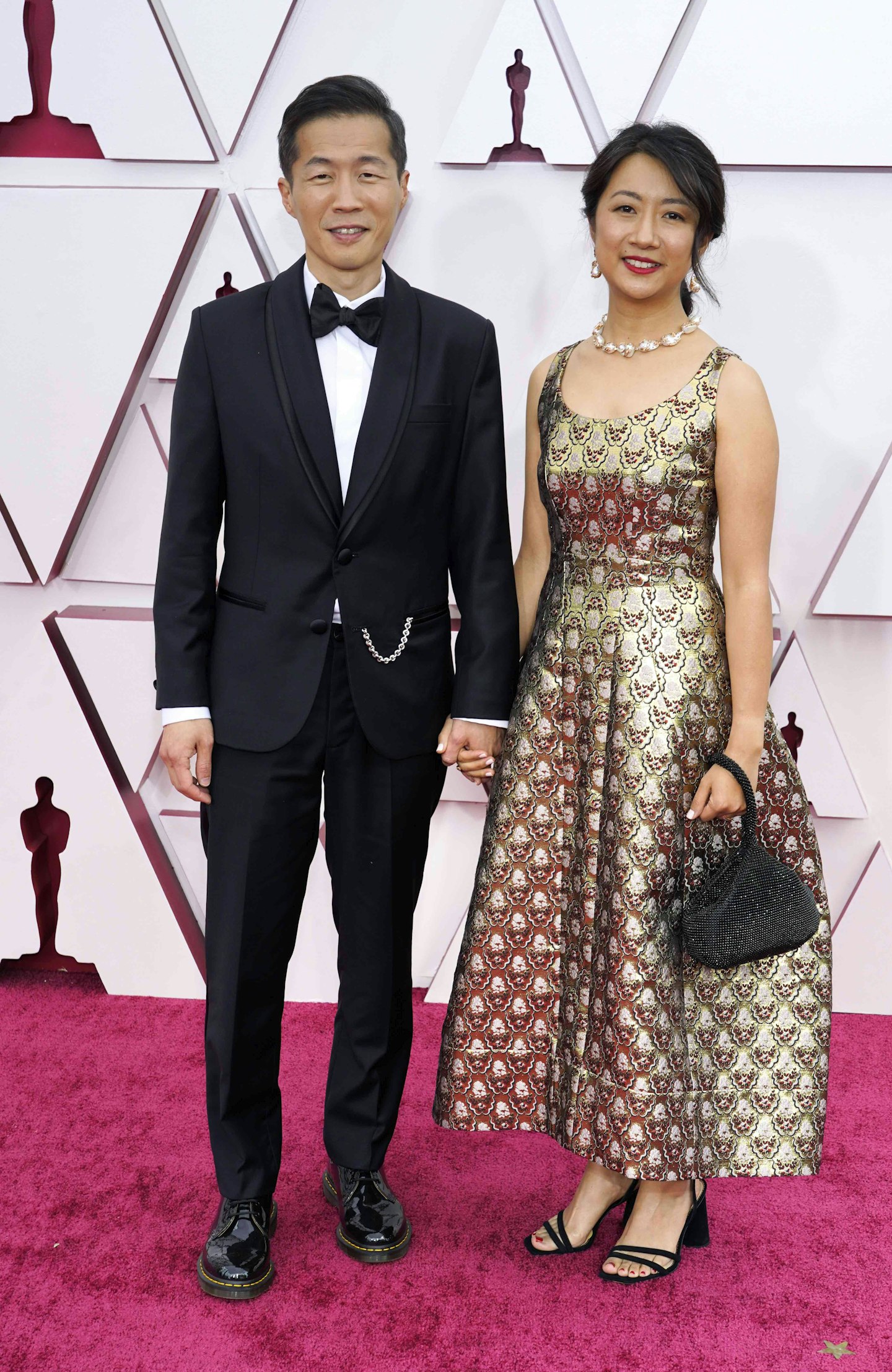 10.57pm Best Director nominee Lee Isaac Chung (Minari) has arrived with his wife Valerie who, frankly, is stealing the show with her tremendous gold dress. But could Chung steal the big award tonight from frontrunner Chloé Zhao?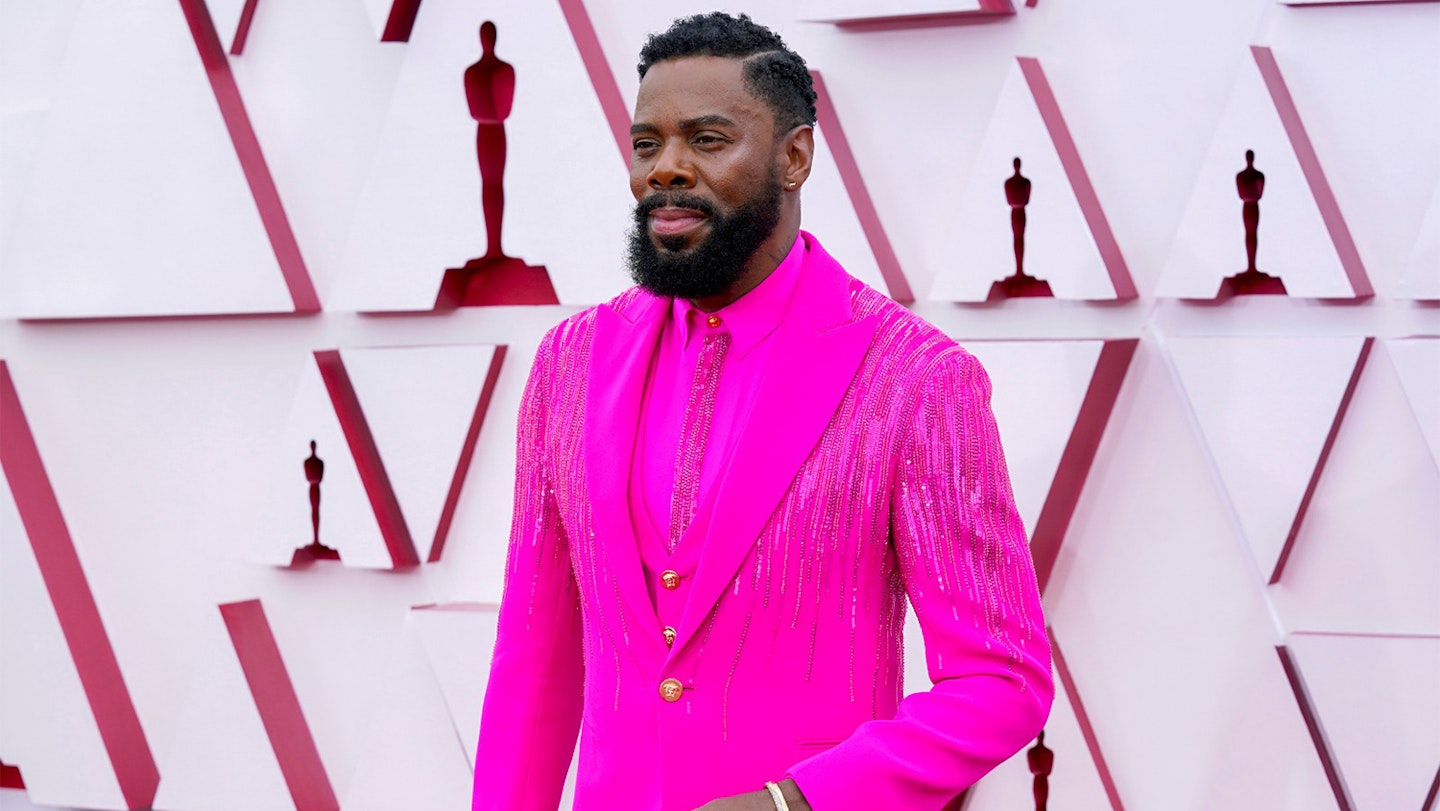 10.43pm Colman Domingo might not be up for any awards himself tonight (while putting in a fine supporting performance in Ma Rainey's Black Bottom, but he certainly got the memo to go big and absolutely not go home after spending so long there. We will not forget this shade of magenta in a hurry, and really wouldn't want to.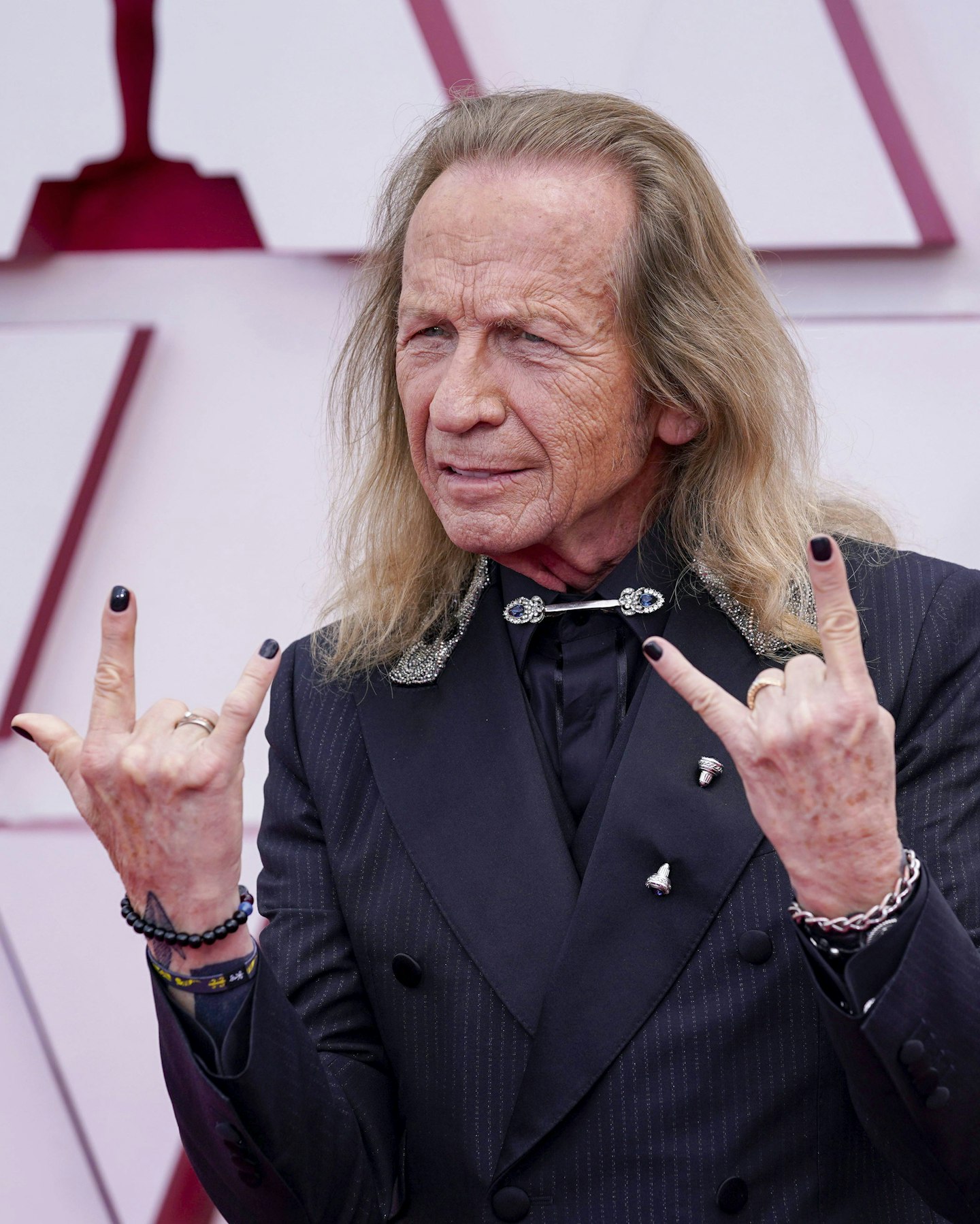 10.38pm Sound of Metal star Paul Raci has arrived on the red carpet with his wife (and agent!) Liz Hanley Raci. Not only do they look great, but Raci, who is a CODA (child of deaf adults), is signing everything he says out loud. A huge, important step forward for accessibility and inclusivity on such a prestigious night.
10.32pm Good evening one and all and welcome to the Empire Oscars live blog! How are we feeling? How are the snacks looking? The ceremony isn't for another couple of hours, but there's already plenty to get excited about – starting with a refresher on whose footsteps tonight's winners will be following in. The Lord of the Rings: The Return Of The King won 11 awards, as did Titanic. Who will be next to take home a record-breaking number of Oscars? Now's the time to do some last-minute homework.