It's been a good few years since we've had a truly outlandish group-vacation comedy, one that has reached the scatological heights of Bridesmaids — but Joy Ride is a worthy successor. No bodily fluid, orifice or taboo is left untouched in Adele Lim's audacious directorial debut, and though it may test your limit for gross-out humour, the film engages with more than just comedy. Come for the laughs, stay for the thoughtful deconstruction of Asian identity against a world that wants to categorise people of colour in rudimentary boxes.
As the only two Asian kids in the white suburb of White Hills, Seattle, Audrey (Ashley Park) and Lolo (Sherry Cola) become fast friends when the latter punches the local playground racist. That connection based on mutual protection carries into their adult lives: Lolo is a struggling, body-positive artist living out of Audrey's garage; Audrey has an important work trip to China that promises a cushy promotion at her law firm, and brings Lolo along as her translator and support system. Also joining the ride are Lolo's cousin Deadeye (Sabrina Wu), an earnest K-pop stan nicknamed for their vacant stare, and Audrey's college bestie Kat (Stephanie Hsu), a local celebrity in China for her starring role in a costume drama.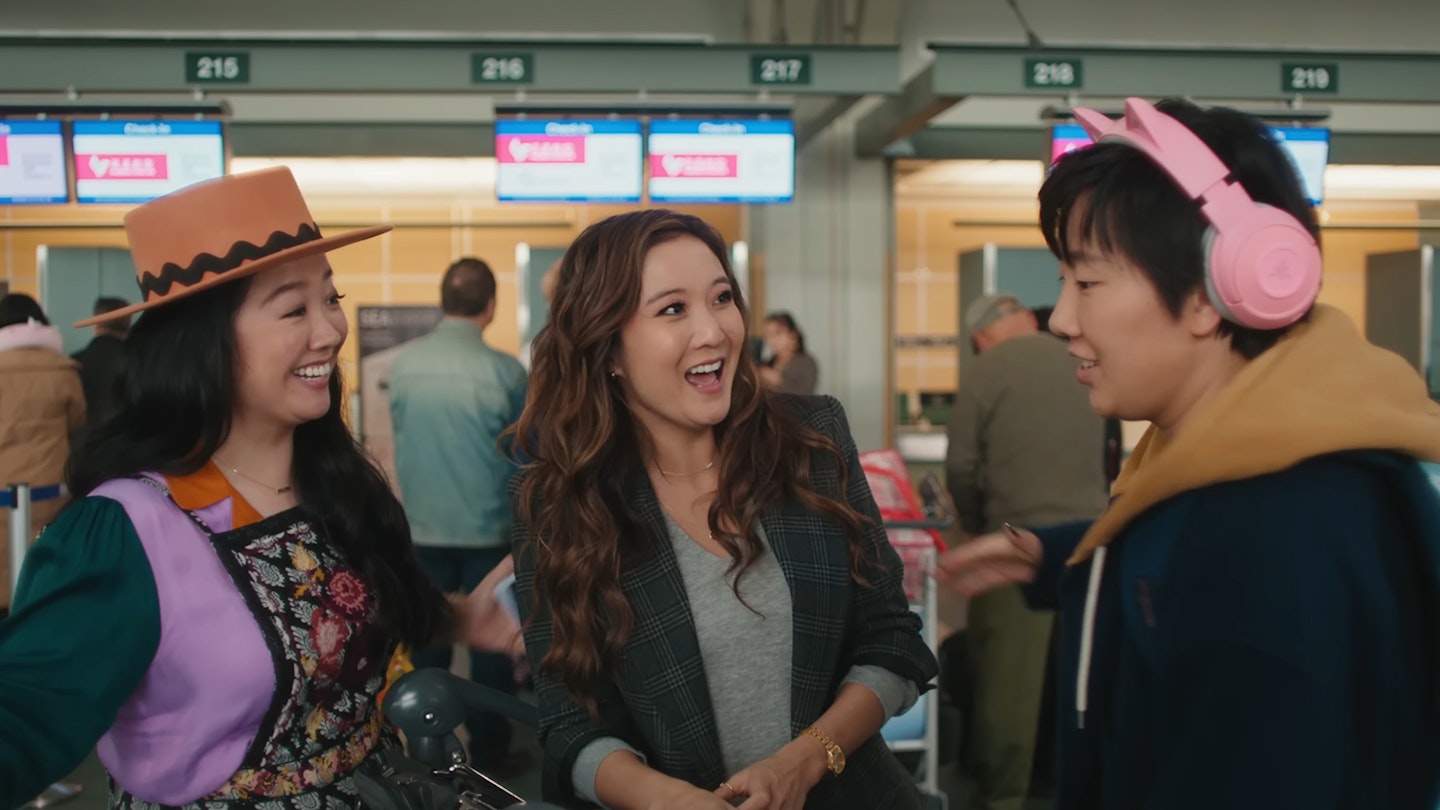 Their holiday gets uprooted when Lolo encourages Audrey, who was adopted from China, to find her birth mother. On the surface, Joy Ride is not so distant from this year's Return To Seoul, the superb drama about an adoptee's struggle to reconcile her heritage with the person she's become — except that Lim's film is bolstered by a heaping sprinkle of threesomes, vomit, and cocaine rammed up arseholes. The Seth Rogen and Evan Goldberg-produced film initially coasts along on provocatively uproarious set-pieces — a frantic run-in with a drug dealer, an aggressive sexcapade with a touring basketball team — though not all of it works. An improvised, candy-coloured rendition of 'WAP' falls flat before it has even started.
Establishes its own identity by filtering insightful commentary through refreshingly crude humour.
Being an entirely Asian-led comedy, Joy Ride inherently has more baggage than the whiter raunch-fests of past (think The Hangover). There's a silent mission statement in Cherry Chevapravatdumrong and Teresa Hsiao's layered screenplay: to defy the tired tropes surrounding Asian women, who are too often portrayed as docile, innocent submissives. That description, rightly, could never fit Audrey, Lolo, Kat and Deadeye. (The latter, while never outright stated, is suggested to be non-binary.) They have sex, take copious substances, and run rampant across China and beyond. There's something liberating in just simply watching these people be explicitly themselves.
It helps that the cast is so infectiously charming. Park dutifully plays the straight-woman to her more eclectic troupe of besties. And Hsu is just as much a stand-out here as she was in Everything Everywhere All At Once, this time playing a horndog actor feigning celibacy for her Bible-thumping fiancé. She's heroically game to wholly embody the ways the film tests her character's frustrated libido.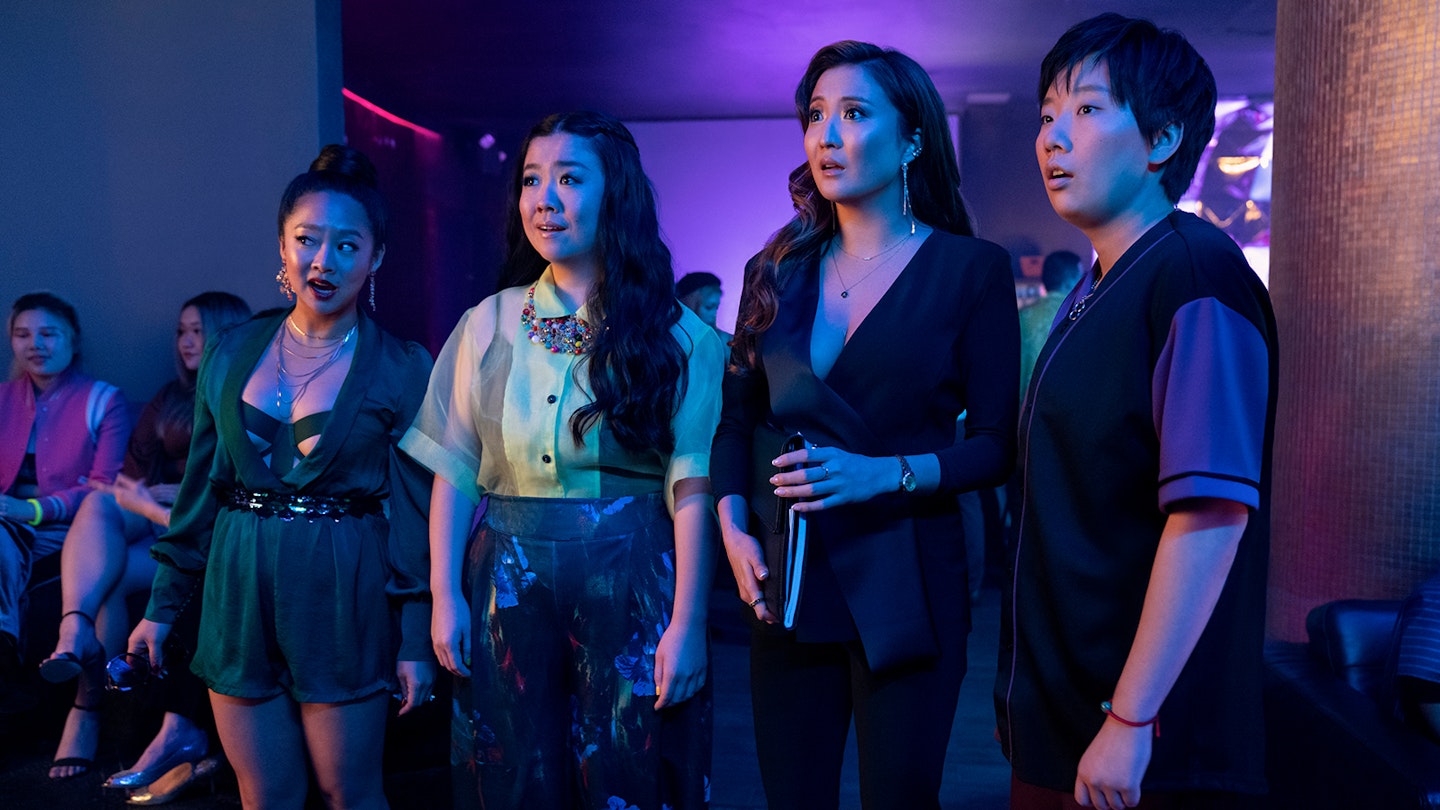 As with Crazy Rich Asians, which counts Lim as a co-writer, Joy Ride unfurls and expands the nuances of Asian identity. The jokes strike a fine line between specificity and universality; such is the case when Audrey attempts to impress an important client by chugging down a century egg. She bristles at accusations that she's assimilated so well that she's "basically white", but for all the jabs aimed her way for her love of Mumford & Sons and Succession, Audrey's "whiteness" speaks to the varying shades of the diasporic experience. There's an uneasy friction, too: the isolation Audrey feels for not speaking the language or appreciating the food — like misunderstanding the inside joke everyone but you laughs at.
That, in turn, introduces an inverted dynamic into the group. Audrey, a perennial over-achiever who can easily code-switch at an office squash match with her all-white colleagues, straggles behind her Chinese-speaking friends in her own motherland.
For all of Joy Ride's coked-up debauchery, that all fades away in a sentimental third act that's earned, if conventional. Lim's film faithfully fits the template of Bridesmaids and the like, but it establishes its own identity by filtering insightful commentary through refreshingly crude humour. Clichés be damned: it's a joy.