It Chapter One, or whatever we must call it since it made enough millions to birth a chapter two, had its crutches. This was an adaptation of (half of) a beloved book, following in the footsteps of a so-so yet affectionately remembered TV movie, leaning heavily into the never-ending wave of 1980s nostalgia. It all seemed a little safe, never completely its own entity.
Yet it overcame this. As Amblin-lite as it was, It starred a winning cast of kids and went to town with classic Stephen King explorations of domestic trauma. And while never totally terrifying, it boasted a boogeyman for the ages, Bill Skarsgård wearing Pennywise like a second skin. A horror with heart, It stormed the cinema gates, and the novel's second timeline, featuring the Losers grown up and back on the clown-conquering beat, was aggressively greenlit. And now, director Andy Muschietti's shackles are off.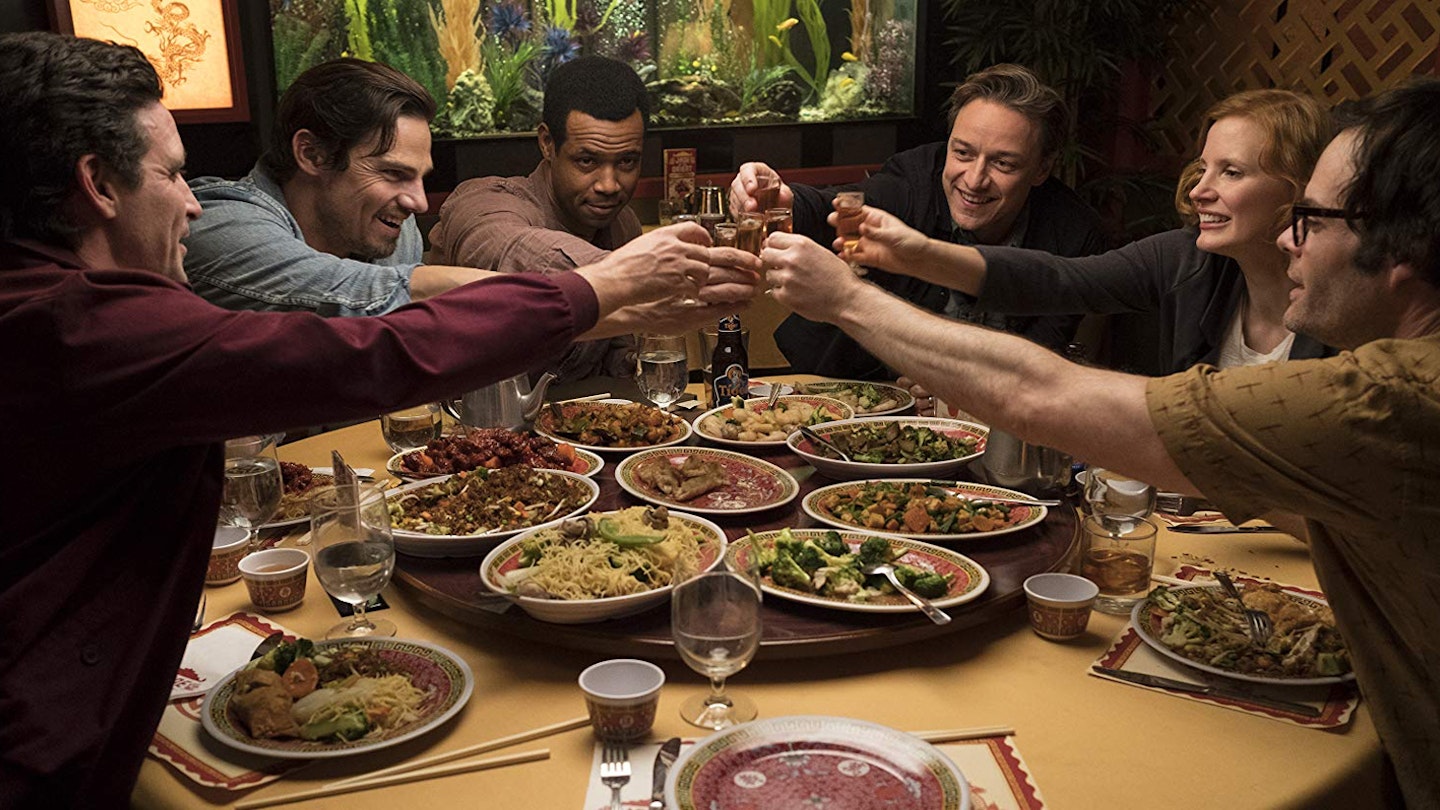 It Chapter Two is all about crutches. A quick recap of the first film's epilogue is followed by some voiceover from the adult Mike (Mustafa). "Sometimes, we are what we wish we could forget," he says. Mike has remained in Derry, but in the 27 years since, the rest of the Losers have split, none of them in touch with each other, all having moved on. In some ways, at least.
The adult Losers get great intros, Muschietti and screenwriter Gary Dauberman presenting distinct personalities in precise sequences: having been out of contact for three decades, Mike, obsessed with events throughout, telephones them all with grim news from Derry, resulting in puking, car-crashing and all-round panic. From Bill Hader's Richie, now professionally wisecracking on comedy stages, to Jessica Chastain's Beverly, still sadly suffering abuse, to James McAvoy's sensitive screenwriter Bill, the success of every re-casting is immediately apparent — all of these characters feel instantly lived-in, vibrant, authentic human beings who you buy from the off.
It is glorious to see this stuff envisioned on such a huge and self-assured scale, a joy to have a film of this size trading in this sort of genre carnage with such uncompromising and unapologetic style.
But there the comfort ends. Before we reunite with the Losers, the film itself begins in Derry with a brutal, bone-crunching homophobic attack. More disturbing than anything in chapter one, it announces at once that Muschietti is not playing it safe at all. It is decidedly adult territory, enormously troubling to witness, let alone when it's married to an even more gruesome, otherworldly coda. This opening does everything horror should do, leaving you shaken mere minutes after the film has begun. Muschietti more-or-less keeps this going throughout its near three-hour runtime.
Genre-wise, Chapter Two delights in itself, just as the book did. King conceived It as a "final exam on horror", throwing in all the monsters people were afraid of when he was growing up. Muschietti seems equally in debt to decades of cinematic horror, 1970s and 1980s films being particular influences. There are exquisitely executed scares with the various ghouls, from unsettling background spine-chillers to full-force frightmares. It is both classy and disgusting, the creature design wonderfully inventive, all in the service of scaring you. These, though, are the sideshows. Mere supporting acts for a horrendous headliner.
Pennywise is a real motherfucker in this film. An absolute horrible bastard of a clown. His first appearance is surprisingly nasty, and then so are all the others. Much of his heightened impact here is because more of Skarsgård has been allowed to shine through. This is Heath Ledger-levels of character ownership. A brilliant physical performer, he inhabits Pennywise to diabolical degrees, and the effects, both practical and computer-generated, are next-level — at one point one of his eyes is slightly off, and it's creepy as hell. Yet in another sequence, he appears without any prosthetics at all, just Skarsgård in ghoulish whiteface, and it's absurdly horrid. He's just as scary laid bare.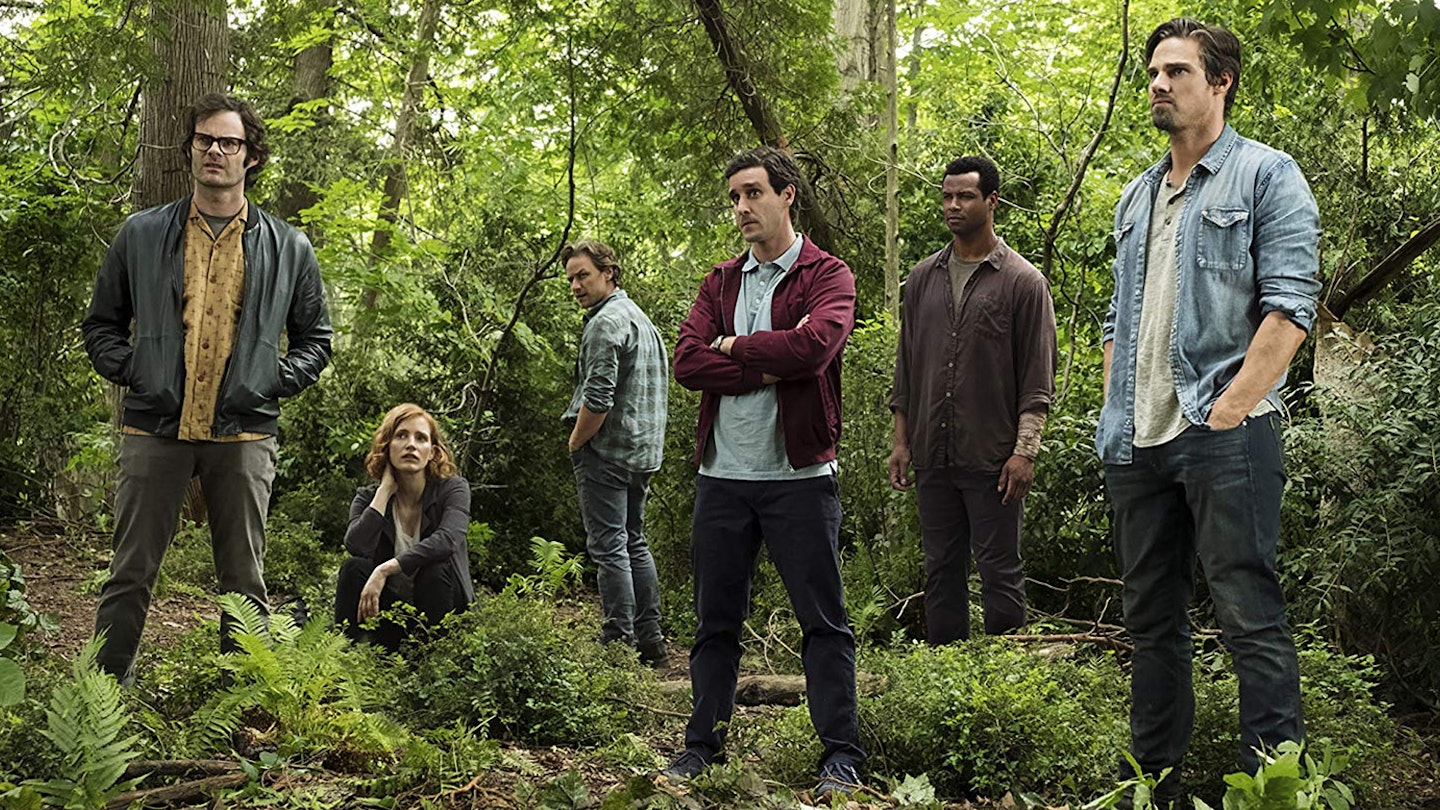 This film is not a deep psychological excavation, but that's fine — it's as deep as it needs to be. It's about dealing with your shit, about confronting the things you haven't let go, the things you've suppressed, avoided, run from. Pennywise preys on these personal demons, in ways that are much more elemental than before. Muschietti explored childhood fears with the first film, but the sequel steps things up — there are now years of trauma for Pennywise to poke at. There is more meanness to his tapping into the Losers' troubles, and their nightmarish excursions feel much more embedded in the story. There was a disconnect to the set-pieces in the first film, but here Pennywise is more integrated, more overtly involved in it all.
It all reminds you of how good Stephen King is at this stuff. As much as Muschietti comes into his own with this film, it is nevertheless constantly bubbling over with King's DNA, and whilst Muschietti tightens the book's focus, he doesn't cut corners. That threatens to derail it as things progress. With seven Losers, and two versions of each over two timelines — there are flashbacks throughout — there is a lot to wrangle. King intentionally took a kitchen-sink approach with the book, hence its 1,138 pages. Muschietti makes it work — his flashbacks complement the present day, the two periods dancing with each other, illuminating each other, beefing up the emotional resonance — but at one point the film feels like it might wear itself out a smidge. And as it heads into a more fantastical arena, it feels in danger of buckling under the weight of its own silliness.
But. Then. Just as it seems it might be on the verge of losing itself, as the book dictates, it goes fabulously apeshit. What madness it brings. As the film builds towards a nutty climax, there is a whole heap of Grand Guignol insanity, with unashamedly grand, godlike images. It is glorious to see this stuff envisioned on such a huge and self-assured scale, a joy to have a film of this size trading in this sort of genre carnage with such uncompromising and unapologetic style.
Confidence runs through Chapter Two. The (almost) contemporary setting means it's less burdened by superficial nostalgia, allowing Muschietti to more forcefully own it, and it's tonally perfect. Comedy aside — humour often undercuts the horror, mostly successfully — there is little brightness here, the film shrouded in shadow. Everything conspires to creep you out. Nothing is spared with the set design, especially as things get weird: you can taste the dankness. It is unforgivingly tense, giving you both shivers and jumps. It is spooky on a gut level.
Yet for all the darkness, the sweetness survives. The film has much affection for these Losers, and as an ode to friendship — or at least to age-old bonds — it does fine work. With so many leads, the emotion is handled economically, but sincerely. Muschietti walks a constant tightrope. He never falls off.