While most of us were perfectly willing to accept the sight of Vin Diesel chasing a bouncing bomb through the streets of Rome, even the most willingly suspended disbelief may falter when faced with Eve Hewson breezily progressing to barre chords in only her second online guitar lesson (it could be in the genes). But prodigious axe-talents aside, Hewson's Flora is floundering when we meet her in John Carney's latest musically-infused, Dublin-set dramedy.
A young single mother with a son who divides his time between petty theft and attempting to drop sick beats, Flora's parenting style is an exasperated cocktail of furious C-bombs and resentful avoidance. Largely unsupported by her musician ex-husband (Jack Reynor, all about that bass), we find her consumed with self-loathing as she toils as a nanny (snaffling unwatched tenners from her employer's purse) and spends boozy nights in scuzzy Dublin clubs.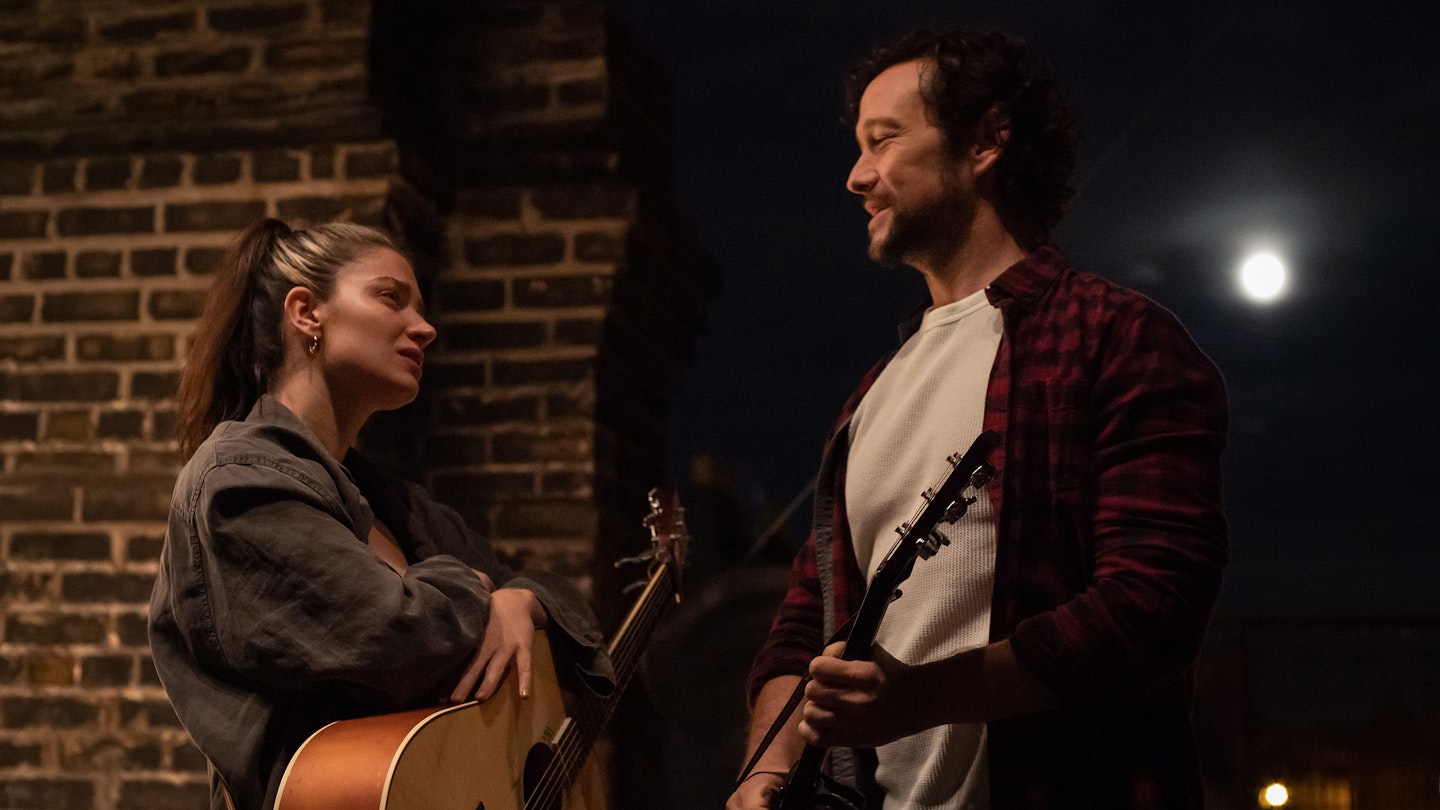 An unlikely lifeline emerges when, having forgotten Max's birthday, she swipes a discarded guitar from a pile of junk and tries to pass it off as a belated present. Max balks at this attempt to turn his hip-hoppity self into "Ed Fookin' Sheeran" so, in a fit of pique, Flora sets out to learn the ways of the pick herself. A trawl of YouTube leads her to the folksy charms of Jeff, an online guitar teacher who takes her on a journey of musical discovery.
Having flashed her comic credentials in last year's Bad Sisters, Hewson shines here.
Carney has a long history of bringing souls together through the transcendent power of music, so it's hardly a spoiler to say that Flora's lessons quickly become more than a simple education in chord shapes and rock ballads. But this isn't quite the Meatloaf-cute it pretends to be. Yes, Flora's chaotic and wildly inappropriate approach to learning (we suspect JustinGuitar's never been asked to repeat a riff with his top off) does eventually win Jeff over, but their sessions — in which Jeff materialises in the room, providing far more intimacy and visual interest than a flirty FaceTime — prove less a seduction via the pentatonic scale than trauma therapy with added fretwork.
Carney's tune, in which music is the gateway to self-discovery, is a familiar one by this point, but Hewson nails her solos with Hendrix-like precision. Flora's proclivity for blunt (and Blunt!) musical commentary effectively invigorates her lessons, a caustic, hard-edged performance keeping the more saccharine elements at bay, while instilling Flora with an honest vulnerability. Having already flashed her comic credentials in last year's Bad Sisters, Hewson shines here, comfortably sliding from a tear-streaked appreciation of Joni Mitchell to forensic discussion of blowjob technique without missing a beat.
Gordon-Levitt gives a suitably sympathetic and tender turn as failed musician Jeff, but it's Hewson's scenes with Kinlan that prove the stand outs. Authentic, unvarnished and as touching as they are funny, the pair's sweary clashes gradually give way to common ground as the film, true to its title, reveals its real emotional heart.