After Inside Out, Pixar dips again into the metaphysical with a trip into the afterlife. Of course, being Pixar, it doesn't simply slip beyond a veil but stride across a gigantic arched bridge made of marigolds, because there's no concept so difficult that Pixar can't make it breathtaking. Powell and Pressburger would cheer.
While this film packs in adventure and desperately colourful characters, it's ultimately a moving story about family connections and the complicated ways we love one another. Coco is also one of the most impressively animated films ever. There are sequences in the 'real' world where the attention to detail creates such a life-like environment that it's almost jarring to see an animated boy running along what appears to be an actual, fluorescent-lit Mexican street. From the glow of candles to the magic shine of
a huge, otherworldly city hanging in the air to the ugliest cute dog ever put on film, every design element here is spectacular, and the sheer beauty holds the attention even during the film's more familiar chase sequences.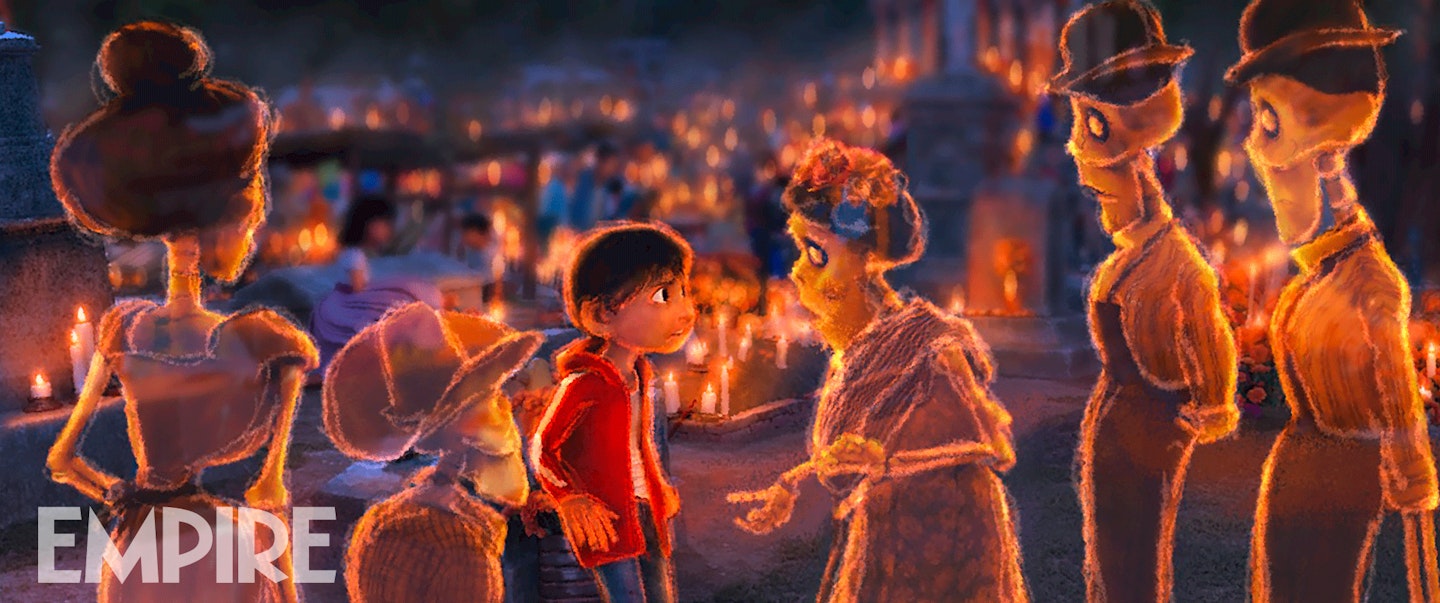 One of the most impressively animated films ever.
Our hero is a young boy called Miguel (Rodriguez — a real talent) who longs to sing and play guitar just like his movie-star hero, Ernesto De La Cruz (Bratt). But there's a problem — generations before, his great-great-grandmother's heart was broken when her musician husband abandoned her, and since then she has forbidden the entire family from enjoying or playing music. Miguel can't bear the restriction, but when he steals a guitar from his idol's tomb, he finds himself transported to the Land Of The Dead. And while the skeletons that surround him there are remarkably friendly, they're still skeletons. Miguel discovers he is unable to get home unless he finds a (deceased) member of his family to give him a blessing — he then teams up with deadbeat dead man Hector (Bernal) to find his missing ancestor and get home.
There's a fair amount of expositionary heavy-lifting to establish the rules of the Land Of The Dead and the Dia De Muertos when the deceased can visit the living, but once that's done the film races towards an immensely touching finale via a series of spectacular musical numbers courtesy of Frozen's Robert Lopez and Kristen Anderson-Lopez. The commitment to Mexican culture is absolute — with Pixar good-luck charm John Ratzenberger the only non-Mexican voice in the film. Local foods and traditions such as alebrijes (folk-art sculptures of fantastical creatures) are everywhere — and that representation is not just a moral good, but makes for more original storytelling. What's more, the themes about creativity, love and family are universal. Our appealing hero ultimately has to find peace in the land of the living with the help of the dead, and the way he does so will squeeze a tear from all but the hardest heart.