The sounds of a train station over black and then, what's that? A fence? A cage? No, it's a floor grille we open on — elegant and iron and covering who knows what. This is a film about entrapment and escape and finding out what is underneath the veneer — of society, our ourselves.
From Strangers On A Train to the various talented Ripleys, Patricia Highsmith's novels and short stories have proved fertile fiction for big-screen skulduggery for 65 years, but this is the first film adaptation of her second novel, The Price Of Salt, and atypical in that the deaths are more of desire than physical. There is danger and violence here, but the emotional blows land heaviest. The film is measured and restrained and as muted as its autumnal colour palette but the little moments — the silences, the looks, the longing — build and build, to power a freight train of feeling.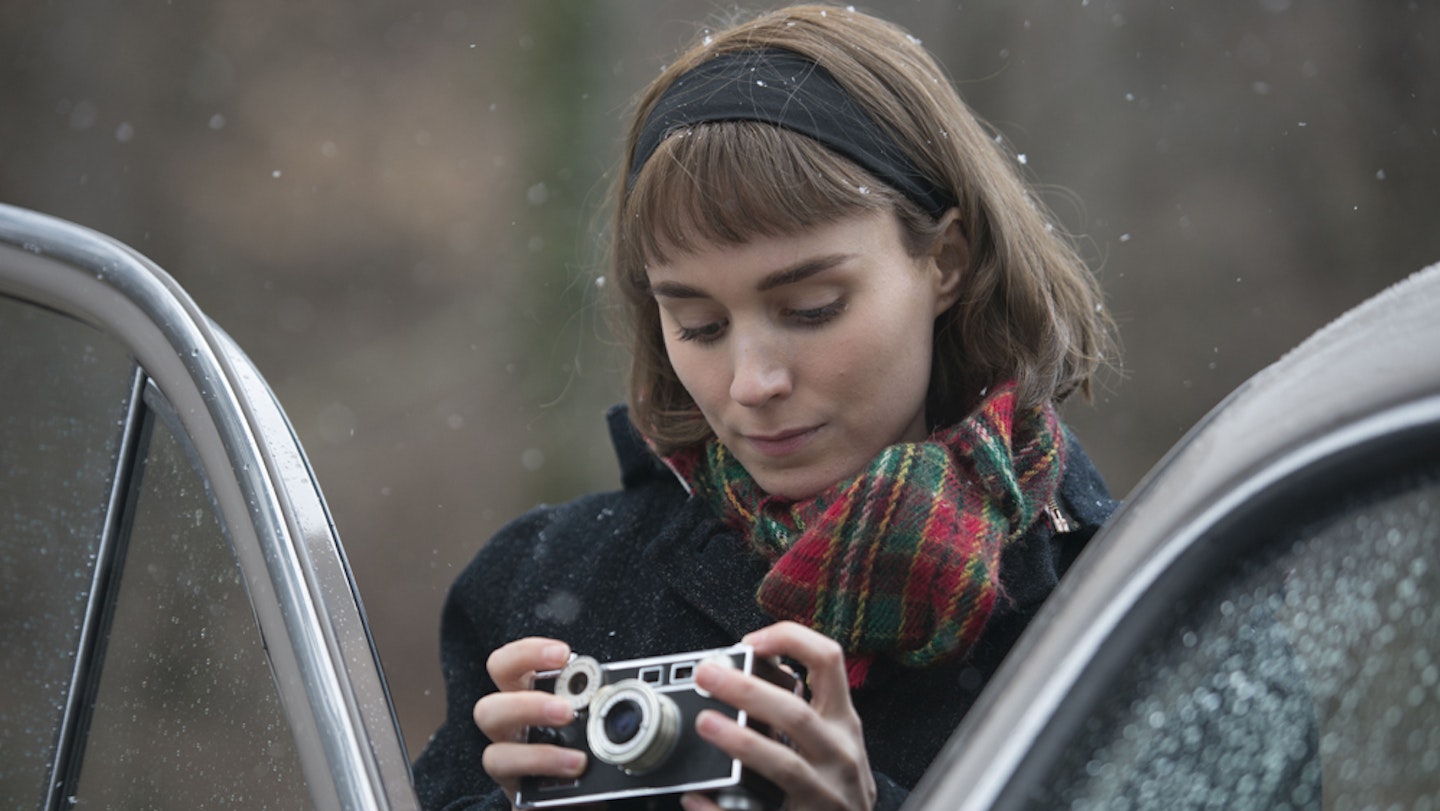 Highsmith's story of a romance between two women was published under a pseudonym in 1952, so as to avoid scandal sticking to her. What was daring then should not now raise so many eyebrows, although Phyllis Nagy's screenplay deftly shows how convention can trap us all — regardless of gender or status or sexual orientation. As much as the film is about a story billed at the time as "a love society forbids", it is also about simple separation and divorce — that loneliness and confusion. It would have been very easy for the makers to present Carol's husband Harge (the wonderful Kyle Chandler) as a villain, but we see that his actions come from confusion and desperation, rather than hatred.
The little moments — the silences, the looks, the longing — build and build, to power a freight train of feeling.
The film has some of its most poignant moments not in its central love but Carol dealing with her infant child — explaining, in a beautiful, sorrowful line, why she can't be with her: "Sometimes mommies and daddies just decide there isn't enough room for them in the same place at the same time."
Todd Haynes' last big-screen story of '50s forbidden love was Douglas Sirk-tribute Far From Heaven, but the lack of irony or detachment here elevates Carol. Aside from a rather too knowing moment when a character, watching a film, talks of the difference between what people say and what they really feel, this is a straight, sincere picture (aided endlessly by Carter Burwell's sumptuous score). The decision to film on Super 16mm makes it, cleverly, feel both from another era and yet immediate. Characters are often eclipsed by edges — of doors, chairs, people — and beats pass where we can only imagine or anticipate how our lovers must be feeling. Blanchett is brilliant — she so often is it is easy to take it for granted — but Mara has the longer distance to travel, from confused girl to grown woman, and her versatility and sensitivity is simply stunning. She is very Other — "my angel, flung out of space". But she is also Us.