Baywatch was a genius idea for a TV show, combining beach vistas, derring do and (let's be honest with ourselves) copious bouncing boobs. It drew millions of viewers during its '90s heyday. It was also not very good. In trying to resusitate the brand for 2017, the writers were faced with a question: should it be an affectionate spoof, or a cuss-heavy raunchfest with scant resemblance to the original product? The answer, it seems, was never decided. Tonally, Baywatch veers all over the place like a drunk on a speedboat, making for one of the most lacklustre comedies of the year so far.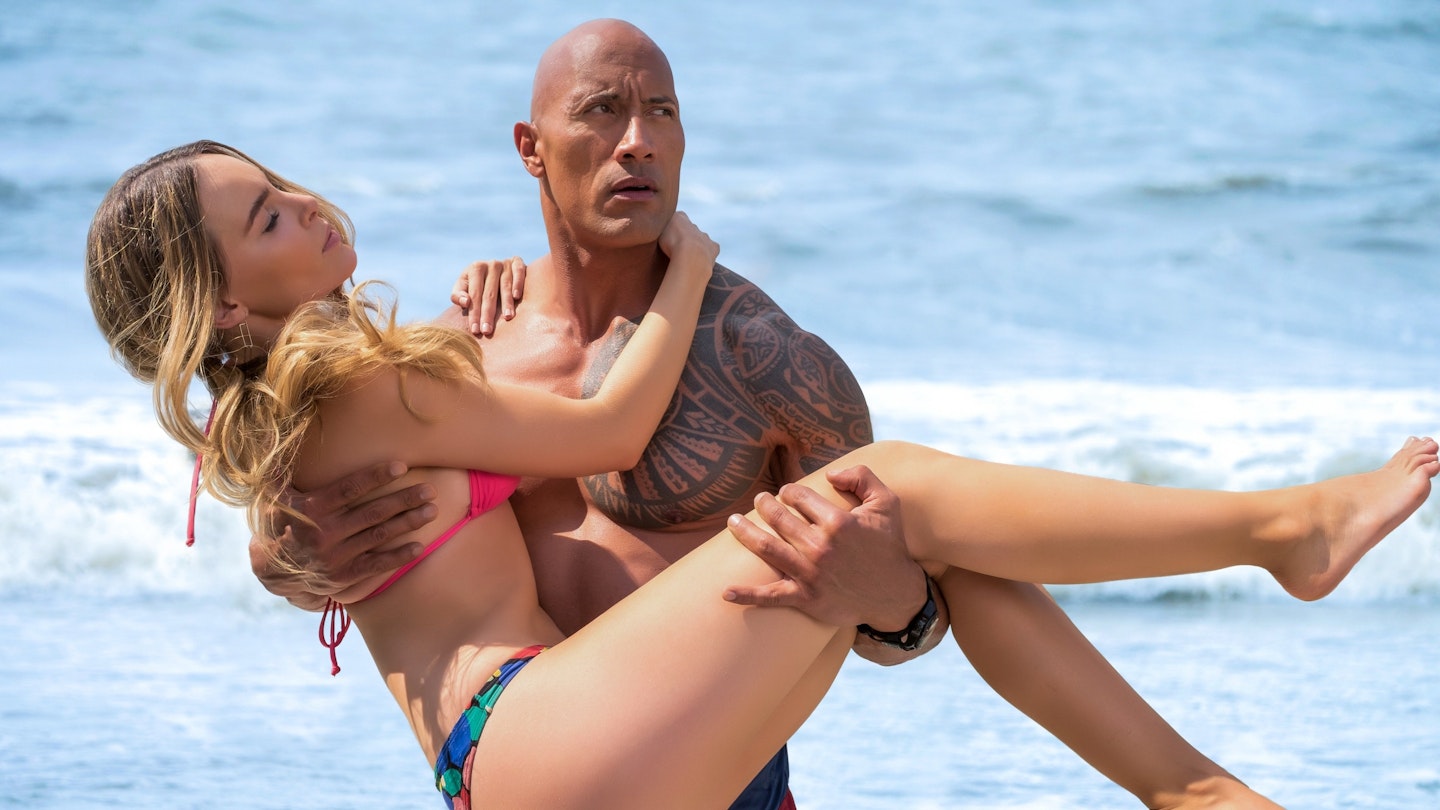 One of the most lacklustre comedies of the year.
Dwayne Johnson is the Hasselhoff substitute, playing main-man lifeguard Mitch Buchannon. Zac Efron is party boy Matt Brody, a former pro swimmer whose hungover antics won him the nickname 'the Vomit Comet'. (Yes, he pukes on screen on more than one occasion. Throwing up is funny!) Jon Bass, aka 'Josh Gad Was Not Available' , is titanically unfunny tubby horndog Ronnie, who in an early, five-minute-long set-piece gets his erect penis trapped in a deckchair. As for the three female lifeguards — played by Alexandra Daddario, Kelly Rohrbach and Ilfenesh Hadera — well, don't worry about them; the film sure doesn't. When one of them finally gets something heroic to do, it turns out to be a fantasy sequence and actually Johnson doing the saving.
The plot, involving a nefarious drug dealer and her two thugs, is played pretty much straight, despite barely being substantial enough to fill an episode of the TV show, let alone all two hours of this insanely over-stretched feature. In-between laugh-free expositionary scenes, there are moments in which the movie strains for edginess, dropping F-bombs, blasting Notorious B.I.G. and, at one point, following up a reference to stingrays with the line, "Steve Irwin, RIP!" Even Johnson, who is physically incapable of being unlikeable, can't do anything to save it. This beach ain't ready.