If Ridley Scott's Gladiator is powered primarily by Russell Crowe's central performance as Maximus Decimus Meridius (commander of the armies of the north, general of the Felix legions, loyal servant… you know the speech), it's perfectly balanced out by Joaquin Phoenix's brilliantly hissable turn as the nefarious Commodus. Preening and petty, but undercut by a deep current of hurt, it was an astounding turn that, for many viewers, was their first time seeing Phoenix bring his incredible craft to the big screen.
Now, over two decades later, Phoenix is re-teaming with Scott for Napoleon – Phoenix now centre stage as the French Emperor himself. And as he tells Empire, getting to reunite with his Gladiator director was a major draw. "The truth is, there was just a very nostalgic idea of working with Ridley again," says Phoenix in Empire's world-exclusive Napoleon cover feature. "I had such an incredible experience working with Ridley on Gladiator, and I was so young. It was my first big production. I really yearned for that experience again, or something similar." And an ambitious, expansive, psychologically-sharp project like Napoleon felt just like the right fit. "He's approached me about other things in the past," Phoenix says, "but nothing that felt like it would be as demanding for both of us. And so I really liked the idea of jumping into something with Ridley that was going to be that."
Their partnership here was focused and intense – together, they combed over David Scarpa's entire screenplay, ensuring they had the same vision in mind. "He'll come in, and you're fucking two weeks' out, and he'll say, 'I don't know what to do'," Scott tells Empire. "I'll say, 'What?!' 'I don't know what to do.' Oh God, I said, 'Come in, sit down.' We sat for ten days, all day, talking scene by scene. In a sense, we rehearsed. Absolutely detail by detail." In exploring Napoleon's world-conquering ambitions, darkest deeds, and his tumultuous relationship with Vanessa Kirby's Joséphine de Beauharnais, the duo were able to evolve a trait that Scott first saw in Phoenix back in 2000. "My heart went out to him," the director says, thinking back on Phoenix's performance as Commodus on Gladiator, as he confronts his father Marcus Aurelius. "He is the best player of damaged goods." There's a whole lot more damage to be dealt.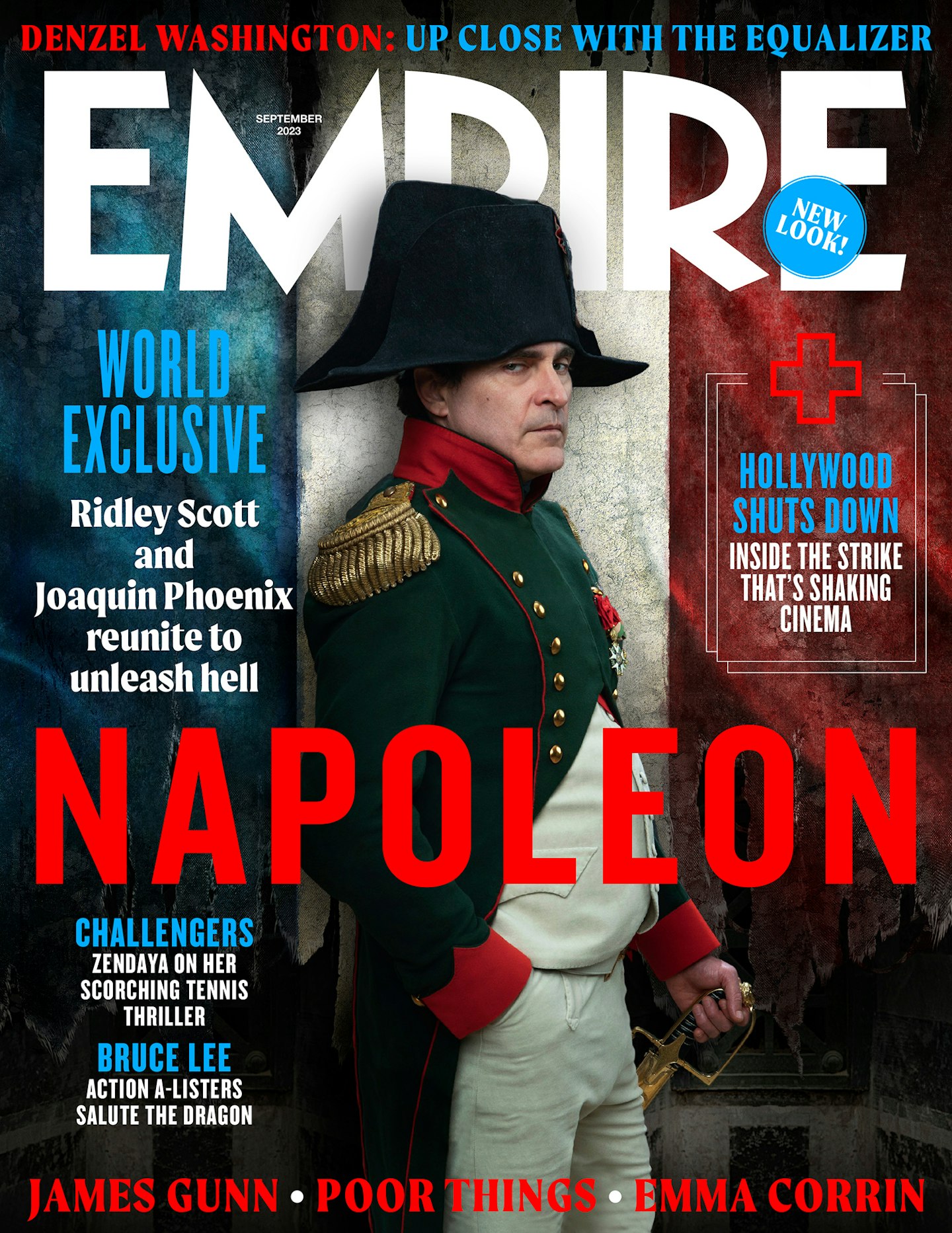 Read Empire's world-exclusive Napoleon feature in full – including brand new interviews with director Ridley Scott and stars Joaquin Phoenix and Vanessa Kirby, plus tons of never-before-seen images – in the new issue, on sale Thursday 3 August. Pre-order a print copy here, or become an Empire member to access the digital edition on launch day. Napoleon is in UK cinemas from 22 November and will stream globally on Apple TV+ following its exclusive theatrical release.
All interviews with actors and writers in this issue took place prior to the union strikes.