How do you solve a problem like Napoleon Bonaparte? That's the quandary at the centre of Ridley Scott's upcoming historical epic, simply titled Napoleon – a film that is, at once, the kind of battle-fuelled behemoth you want from the director of Gladiator, and the exact opposite of that too. Emperor, conqueror, monster – the French military leader was many things. And Scott's film, above all else, is about trying to get into his head (perched somewhere under that gigantic bicorne hat) to find out exactly what made him tick.
The contradictions at play in Napoleon himself are channelled into Napoleon. While Scott is playing on a vast historical canvas, this isn't a rousing story of triumph. Instead, we get a film that doesn't shy away from the considerable amount of blood on Napoleon's hands. "I compare him with Alexander The Great. Adolf Hitler. Stalin," Scott tells Empire in our world-exclusive cover feature. "Listen, he's got a lot of bad shit under his belt. At the same time, he was remarkable with his courage, and in his can-do and in his dominance. He was extraordinary." Joaquin Phoenix, too, was intent on subverting the usual tropes of heroics, victories, and the story of a rebellious figure rising through the ranks. "That's definitely something we wanted to avoid," he says. "Certainly speaking for myself, I actively wanted to avoid the conventions of the biopic."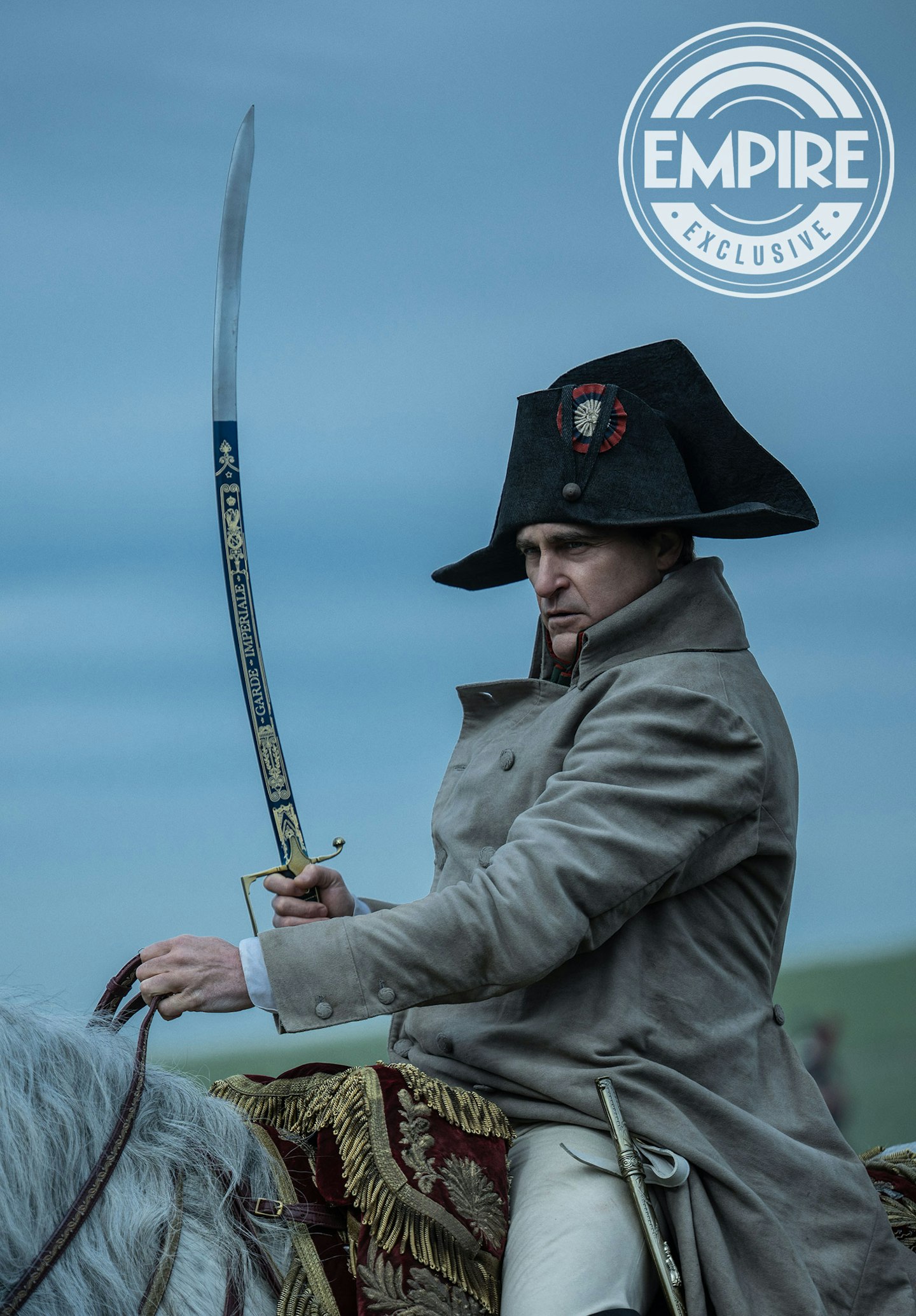 Central to Scott's take was to focus on the tumultuous relationship between Phoenix's Napoleon – the star reuniting with his Gladiator director – and Joséphine de Beauharnais (Vanessa Kirby). "It was very hard work, because it's so easy to start talking about battles when I want to talk about Napoleon," says Scott. "So I kept reining it in, I kept going back to Joséphine." For Kirby, it was a trip trying to discover the real Joséphine – who she was herself, and who she was to Napoleon. "What was so challenging, and kind of elusive, about her, was that every single book, whether it was first-hand accounts, third-hand stories, documents, testimonies, and Napoleon's letters… every single one was completely different," she explains. "She was just this massive contradiction. Every time I thought I'd locked down, 'Okay, this is who she is, and I think I can get hold of this', something would completely counteract it."
As for embodying Napoleon himself, Scott knew Phoenix was the man for the job when he caught up with Joker. ("I'm staring at Joaquin and saying, 'This little demon is Napoleon Bonaparte.' He looks like him.") Together they've created something that's a Ridley Scott movie through and through. "If you want to really understand Napoleon, then you should probably do your own studying and reading," Phoenix tells Empire. "Because if you see this film, it's this experience told through Ridley's eyes. It's just such a complex world. I mean, it's so fucking complex. What we were after was something that would capture the feeling of this man." Bring on the psychological warfare.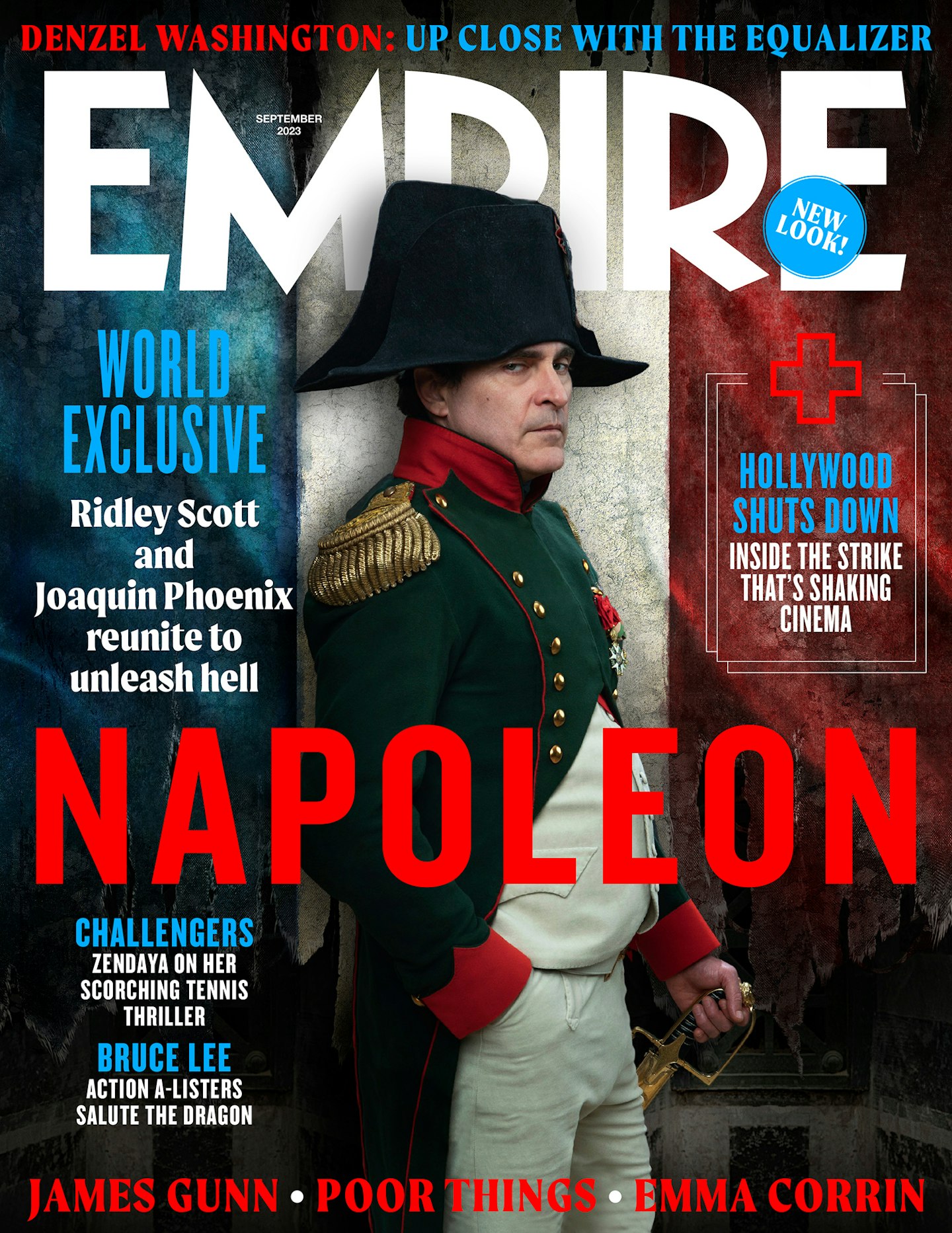 Read Empire's world-exclusive Napoleon feature in full – including brand new interviews with director Ridley Scott and stars Joaquin Phoenix and Vanessa Kirby, plus tons of never-before-seen images – in the new issue, on sale Thursday 3 August. Pre-order a print copy here, or become an Empire member to access the digital edition on launch day. Napoleon is in UK cinemas from 22 November and will stream globally on Apple TV+ following its exclusive theatrical release.
All interviews with actors and writers in this issue took place prior to the union strikes.