With every MCU movie these days, you get a character set to change the very fabric of Marvel's upcoming phases, raising the stakes on everything to come. Kang The Conqueror marked a major new Big Bad in Quantumania. Multiverse Of Madness gave us a cameo-filled Illuminati line-up with ominous mentions of Incursions. Black Panther: Wakanda Forever finally delivered a big-screen Namor. And now, in Guardians Of The Galaxy Vol. 3, get ready for… Blurp?
First glimpsed in the film's trailer, Blurp immediately caught eagle-eyed fans' attention – not because of any wild theories or connections to comic book lore. No, he's simply an adorably odd little guy, a fuzzy brown alien who looks a bit like Zippy from Rainbow if he had rows of razor-sharp teeth and four soft, pointy ears. "Probably the most important character to the Marvel Universe going forward is Blurp," jokes James Gunn as Empire grills him on the funny little soon-to-be fan-favourite.
Now, in a major, internet-breaking world-exclusive, Gunn opens up on the full story of Blurp, and how he'll change the Guardians' destiny forever. "Blurp begins as a pet of one of the Ravagers in the movie. He carries him around," the writer-director explains. And if you want some lore? Well, his species goes right back to the first Guardians film. "Blurp is what's known as a furry F'saki. In the very first movie, if you remember, there was that Orloni table that they were betting on, with that beast that was eating the animals. The bigger thing was eating the smaller things. That thing was a non-furry F'saki. Blurp is a furry F'saki. So that's what he is. He's a pet." And, our new fave MCU character to boot.
As Gunn readies to depart Marvel to lead the charge on the DC Universe, Blurp is one of the gifts he'll leave behind for future filmmakers to run with in Phase 5 and 6. "I am incredibly excited about Blurp as well," he tells Empire. "He's a great character and offers a lot to the Guardians universe." Everything you know is about to change, forever. Well, maybe.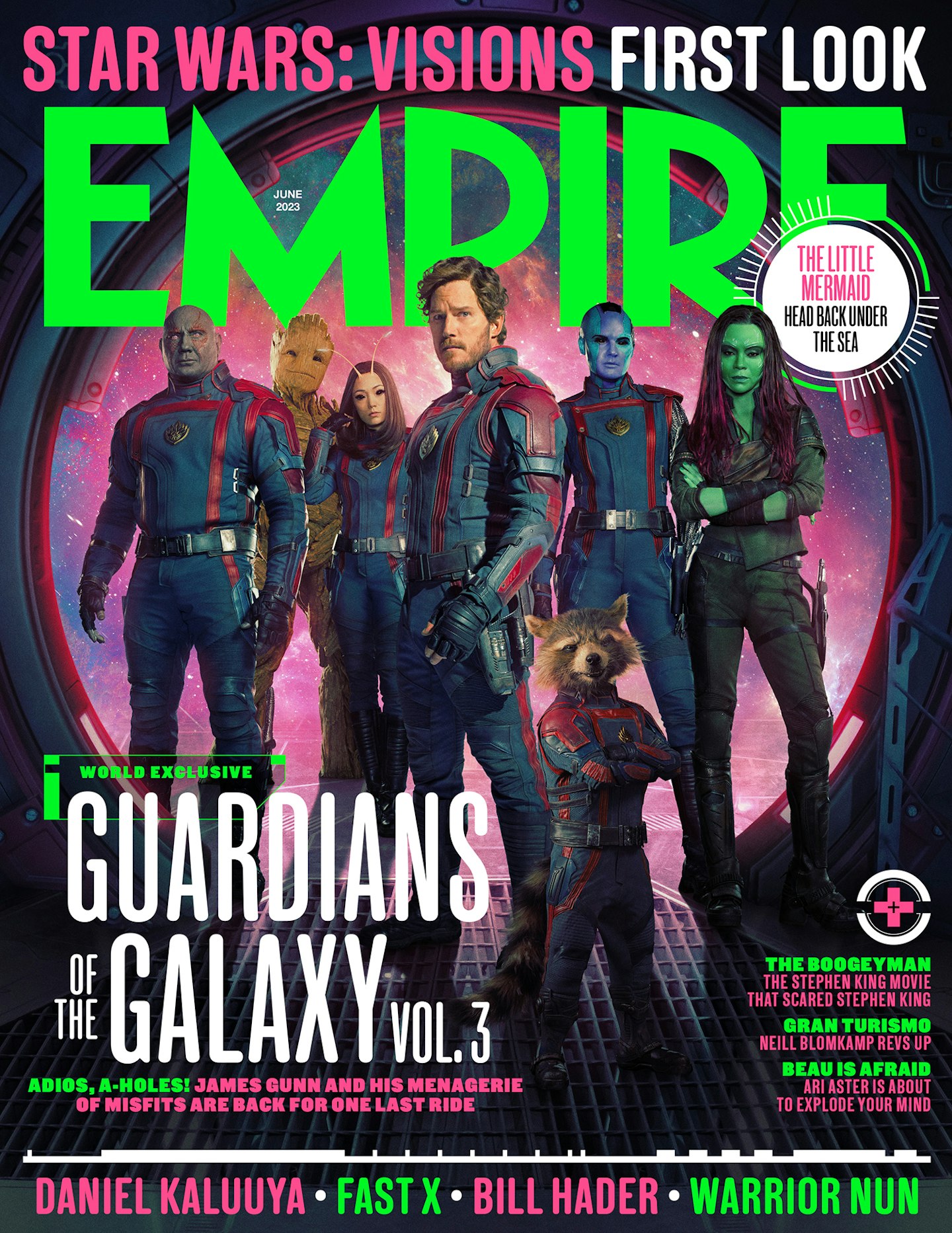 Read Empire's full world-exclusive Guardians Of The Galaxy Vol. 3 cover story – speaking to writer-director James Gunn and stars Chris Pratt, Zoe Saldaña, Karen Gillan, Sean Gunn, Chukwudi Iwuji, and Will Poulter about the emotional farewell to the MCU's most colourful crew of heroes, packed with never-before-seen images – in the upcoming June 2023 issue, on sale Thursday 13 April. Become an Empire member now to access the issue in full on launch day, or pre-order the issue online now here. Guardians Of The Galaxy Vol. 3 comes to UK cinemas from 3 May.