You have to hand it to the Guardians Of The Galaxy: for a bunch of intergalactic A-holes, they have saved the world a lot. They've kicked off against Kree fundamentalists, wrassled with Ravagers, cracked Peter Quill's bad Celestial dad, and thwacked Thanos himself – saving planets, people, and entire universes along the way. Not bad for an '80s-music-obsessed half-human, a couple of misfit warriors, a talking tree, and an explosion-happy raccoon. But the long-awaited Guardians Of The Galaxy Vol. 3 – not just the final outing for this Guardians line-up, but writer-director James Gunn's farewell to the MCU too – will be something different. Amid all the cosmic chaos and blockbuster whizzbangery, Vol. 3 is set to be the most intimate and emotional Guardians Of The Galaxy yet. As Gunn tells Empire, it's "not about saving the universe – it's about the Guardians saving themselves."
And there's plenty to save. For one, this seems to be a story centred largely on Rocket Raccoon – tracing our furry friend's devastating history with Chukwudi Iwuji's villainous High Evolutionary, a mad scientist who presides over the uncanny 'Counter-Earth', where he specialises in creating hybrid creatures. "The High Evolutionary is one of my favourite Marvel villains," explains Gunn. "I've always been a big fan of [1932 film] Island Of Lost Souls. He's like a space Doctor Moreau. He's a detestable character, frankly." As well as revealing more of Rocket's story, The High Evolutionary also heralds the arrival of anthropomorphic otter Lylla, the much-anticipated debut proper of Cosmo The Space Dog (now voiced by Borat 2's Maria Bakalova) – plus the introduction of Will Poulter's Adam Warlock, teased in a Vol. 2 post-credits sequence.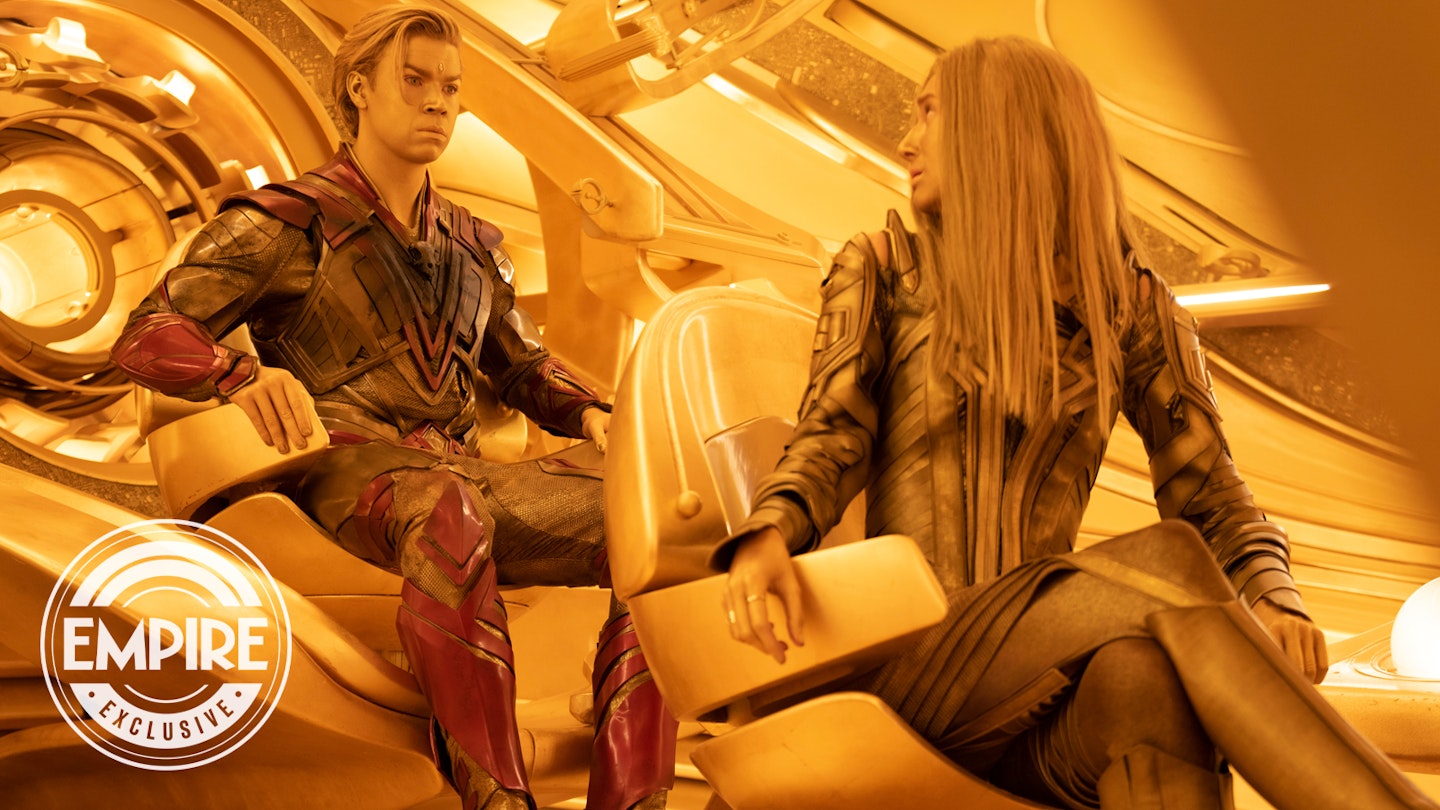 Back then, he was being grown in a cocoon, overseen by Elizabeth Debicki's gold-skinned Sovereign leader Ayesha. Now, he's being birthed into the MCU for real. "James and I discussed the idea of playing him, at least in this initial phase, in his infancy," teases Poulter of the comic book fan-favourite. "As a young person entering the world, trying to develop his moral compass. There was a lot of comedy in that, but also some genuine pathos, some dramatic meat on the bone."
And of course, our heroes will need to help save Chris Pratt's Star-Lord, who like any long-standing MCU hero, has been put through the emotional wringer over time. Here, he's in a "state of depression," says Pratt – no wonder, since his will-they-won't-they romantic partner Gamora was killed in Avengers: Infinity War, and now exists in the universe as an earlier version of herself, with no memory of her time with Quill or the other Guardians. "He's living in a world where Gamora has no idea who he is. The love of his life is gone," says Pratt. "That has caused him to drink a lot. He's not the best leader." But if the Guardians films have been about anything, it's that these A-holes are the least-worst versions of themselves when fighting with – and for – each other. "It is a trilogy," says Gunn of the bigger picture. "The first movie is about the mother, the second movie is about the father and the third movie is about the self. That is the overall story." Get ready: the final chapter is about to unfold.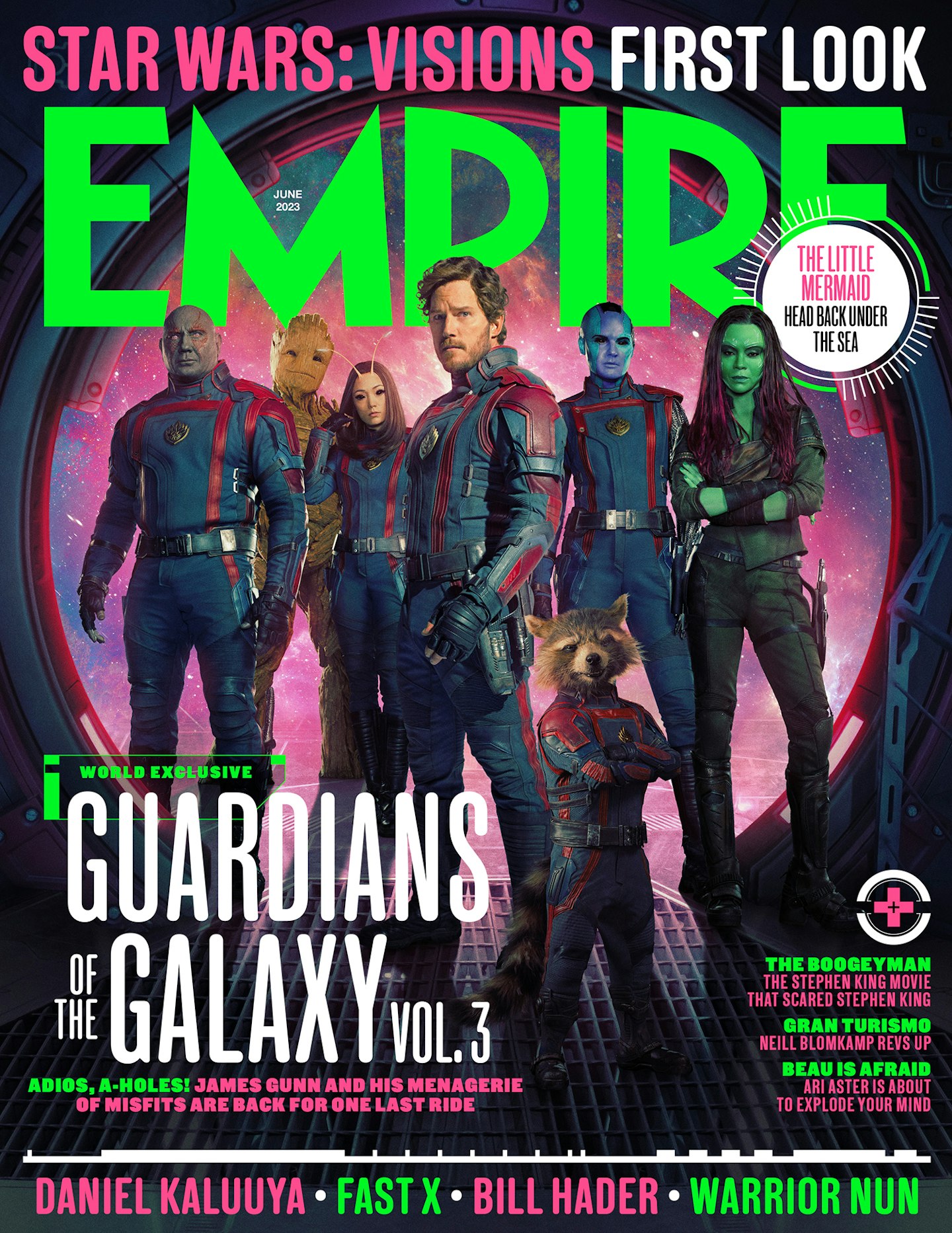 Read Empire's full world-exclusive Guardians Of The Galaxy Vol. 3 cover story – speaking to writer-director James Gunn and stars Chris Pratt, Zoe Saldaña, Karen Gillan, Sean Gunn, Chukwudi Iwuji, and Will Poulter about the emotional farewell to the MCU's most colourful crew of heroes, packed with never-before-seen images – in the upcoming June 2023 issue, on sale Thursday 13 April. Become an Empire member now to access the issue in full on launch day, or pre-order the issue online now here. Guardians Of The Galaxy Vol. 3 comes to UK cinemas from 3 May.