When James Cameron makes a movie, he aims to blow your mind. Just look at The Terminator. Or Terminator 2. Or Aliens. Or Titanic. 'Mind-blowing' is his default mode. So when Cameron unleashed Avatar on a largely-unsuspecting public in 2009, it's no surprise that it became the biggest movie of all time – transporting slack-jawed audiences to the bioluminescent paradise of Pandora in a sci-fi B-movie blockbuster of epic proportions. Now, he's getting ready to do it again - not once but four times over - with a quartet of supersized sequels that take Jake, Neytiri, and their Na'vi family out into the wider world and off to pastures now. First out of the gates is Avatar: The Way Of Water – a film that'll dive deep into the unexplored oceans of Pandora with new clans, new creatures, and a whole new adventure to unfold. Get ready: James Cameron is about to blow your mind all over again.
The new issue of Empire takes a major world-exclusive look at Avatar: The Way Of Water (and its follow-up films), heading to Cameron's Lightstorm HQ to get the inside story on an epic, aquatic new saga. Prepare to meet the water-dwelling Metkayina clan, learn more about the fearsome foes waging war this time around, discover the secrets of Jake and Neytiri's family (and believe us, there are some serious secrets), and dig into Cameron's wider plan for the four movies. It's an issue with unparalleled access to the film and its cast and crew – featuring interviews with Cameron himself, producer Jon Landau, stars Sam Worthington, Zoe Saldaña, Sigourney Weaver, Kate Winslet, Cliff Curtis, and plenty more; plus, it's stacked with never-before-seen images that offer your best look yet at what's in store. This issue is your ticket to a whole new age of Pandora.
And the exclusives begin right now: on this month's newsstand cover, take a very first look at Kate Winslet's brand new character from the film, Ronal, the co-leader of the Metkayina clan. She's "deeply loyal and a fearless leader", Winslet tells us – here she is, fangs bared and ready for action with her battle-spear in hand.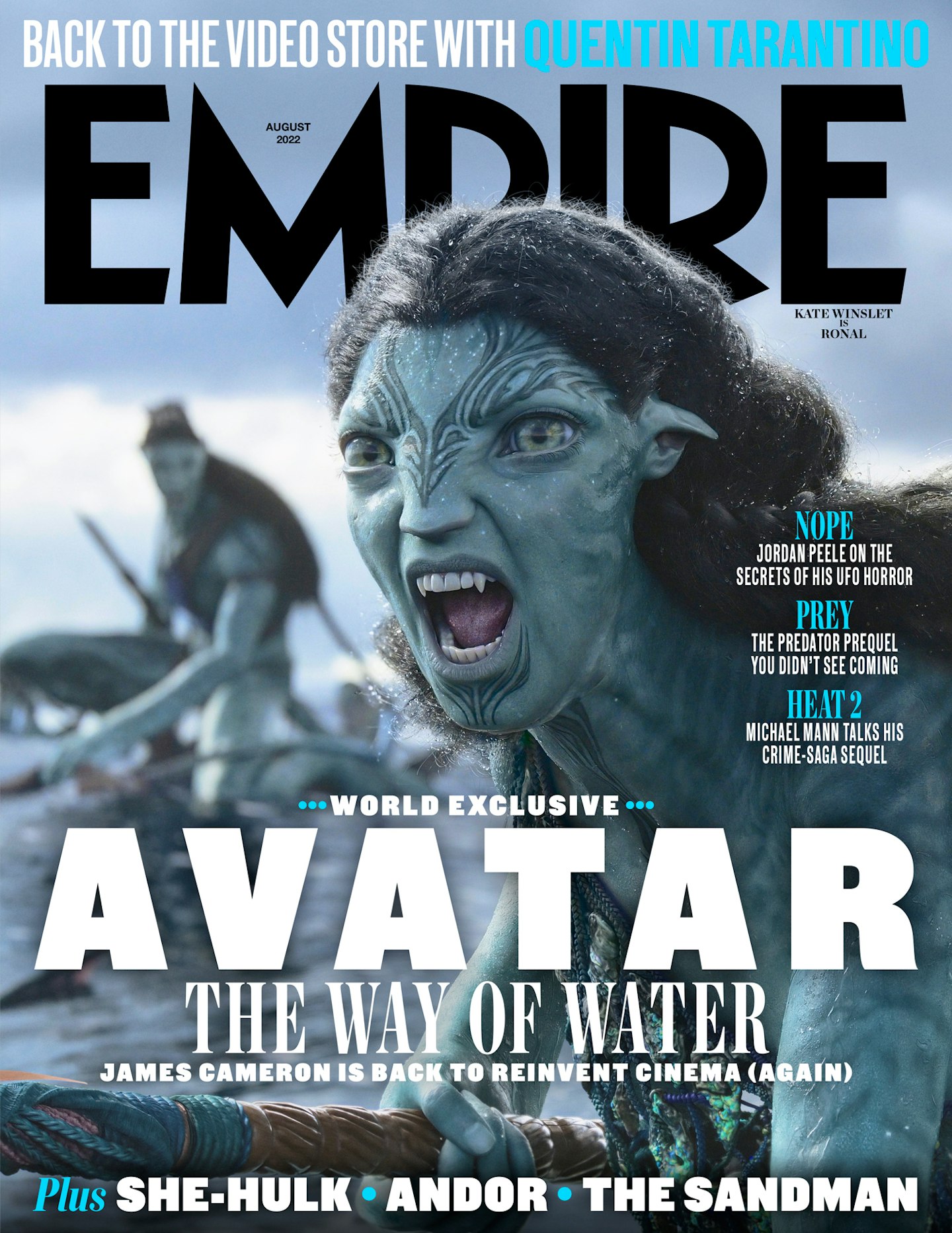 We can also reveal another character on our subscriber-exclusive cover. Not only is Sigourney Weaver back for the sequel, but she's playing a significantly different role this time around: Jake and Neytiri's adoptive teenage Na'vi daughter, Kiri. Here she is, at one with the oceans of Pandora.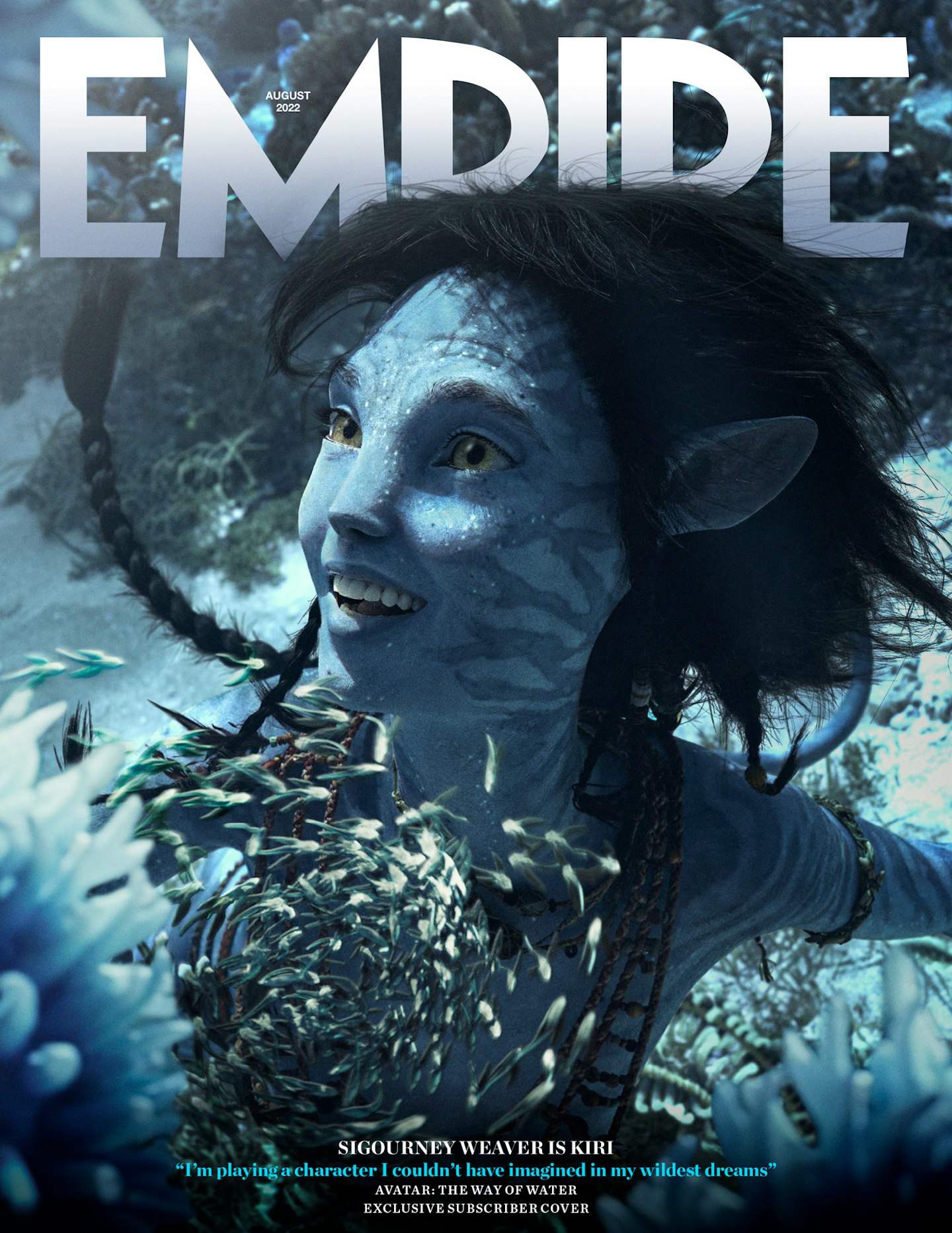 Stay tuned for more massive Avatar: The Way Of Water exclusives coming very soon.
Also inside this issue, we take a brand new look at She-Hulk: Attorney At Law; get the low-down on Andor, Ahsoka and The Mandalorian Season 3 in an epic Star Wars Celebration report; go deep with Jordan Peele on UFO horror Nope; catch up with Michael Mann on his Heat follow-up; talk videostore memories with Quentin Tarantino and Roger Avary; get reacquainted with the Predator in Prey; and much, much more. It's a must-have issue, packed with the most exciting movies and TV shows coming your way in the near future.
Empire's Avatar: The Way Of Water issue hits newsstands from Thursday 7 July – but you can pre-order a copy online now here. Avatar: The Way Of Water comes to UK cinemas from 16 December.