The opening pages to our exclusive Bad Taste reunion in the January 2015 issue of Empire: (L-R) Peter Jackson, Craig Smith, Mike Minett, Terry Potter and Ken Hammon, photographed exclusively for Empire in New Zealand, on October 22, 2014. Photo: Louise Hatton.
---
In 1987, an ill-equipped but fanatically dedicated New Zealander put the finishing touches on his first movie. That New Zealander was Peter Jackson, and over four long years his short film Roast Of The Day had mutated into Bad Taste, a DIY sci-fi epic about an alien invasion of his hometown, Pukerua Bay. To play the commandos taking on the extraterrestrial threat (as well as the intergalactic bastards themselves), Jackson drafted in his mates Ken Hammon and Pete O'Herne, Hammon's work colleague Craig Smith, and two guys from the newspaper he worked at, Terry Potter and Mike Minett. For effects, he cooked up prosthetics in his mum's oven and constructed a rickety flying house.
This unpromising-sounding project would survive squabbles, ailments and even police interference, launching Jackson's career and starting the long road to Middle-earth. At the end of October, Empire reunited the whole gang (minus O'Herne, who sadly died in 2010) to reminiscence about the crazy shoot. For the full transcript, pick up the January 'Farewell to Middle-earth' issue of Empire. But for now, here's a snippet…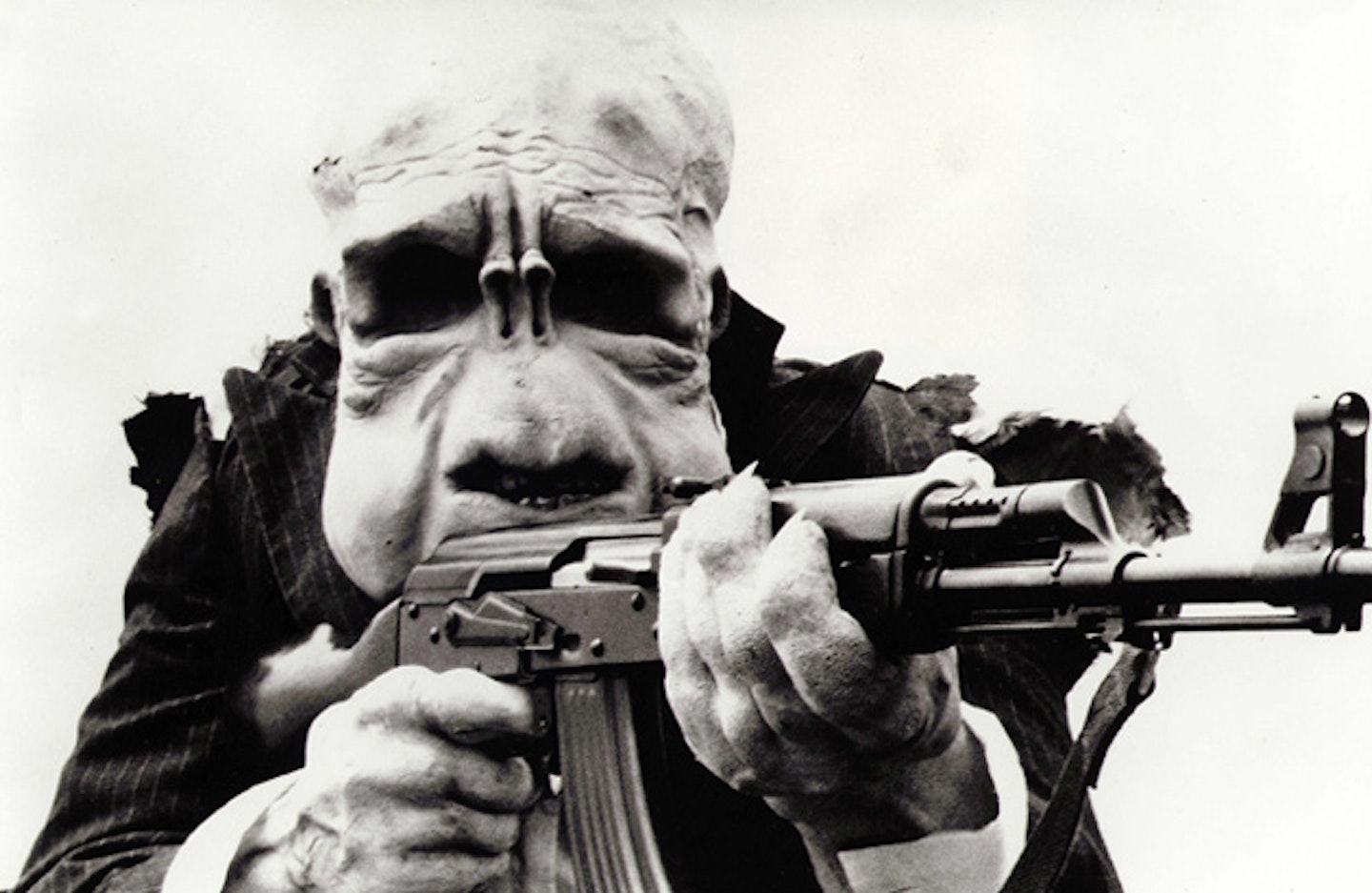 Bad Taste took you from 1983 to 1987 to make. Why?
Peter Jackson: We only shot on Sundays, because we all worked six-day weeks. And some Sundays we couldn't shoot at all, because I couldn't afford it. My parents loaned me two-and-a-half grand to buy a Bolex camera, but 16mm was seriously expensive: $100 to shoot and process four minutes of film. Also, people often weren't available. Terry and Mike were playing soccer all the time. That was a bloody pain in the arse, their soccer games.
Mike Minett: Terry and I were in bands as well. Peter arrived for filming one day, and none of us turned up. So he sat there all fucking day. I felt bad when I heard that.
Terry Potter: His parents used to drop him off, then he'd have to wait 'til they came back.
Craig Smith: Your mum and dad always looked after us.
Jackson: Mmm. A lot of sandwiches 
and beans.
Smith: There were other delays, too.
 So much happened to us. Marriages, divorces, health scares, deaths, nervous breakdowns. I had at least two. Midway through, I had a religious awakening and walked off the film. I said, "I can't do this anymore. I can't be in a gory film."
Jackson: Yeah, yeah. And you eventually came back, having been through your transformation.
Smith: But I was a much better person for it.
Jackson: No, not really.
Potter: You looked terrible in sandals. I quit the film too for six months, because I wanted to go to Australia. We shot a death scene for me and it was a nasty way to go, too: a stake came up from the ground, right through my body and out the top of my head.
Smith: We shot so much stuff. I remember lugging all that stuff up to the top of the hill, over and over and over.
Jackson: Eventually we started to bury it up there, remember? We'd hide it to save us having to carry it up and down.
Smith: A lot didn't make the final cut. When Romancing The Stone came out, we almost killed ourselves recreating the scene where Michael Douglas slides down the bank. We plummeted through all these bushes. At one point I was going to be in a flying chair.
Ken Hammon: And you were going to be attacked by the Troppe Marcher Of Om, a big, brown creature with pointy teeth. One thing that's interesting is that Peter was never meant to act in the film. But after all these actors quit, he said, "Fuck it. I'll act in it, because I know I'll show up every week.'"
Jackson: Then, when I needed another actor to play an alien, I thought, "I'll be that guy as well." I ended up fighting with myself on screen.
Smith: So we all went away at some point, but got sucked into the maelstrom again.
Jackson: It was like The Godfather. You tried to get out, but it reeled you back in.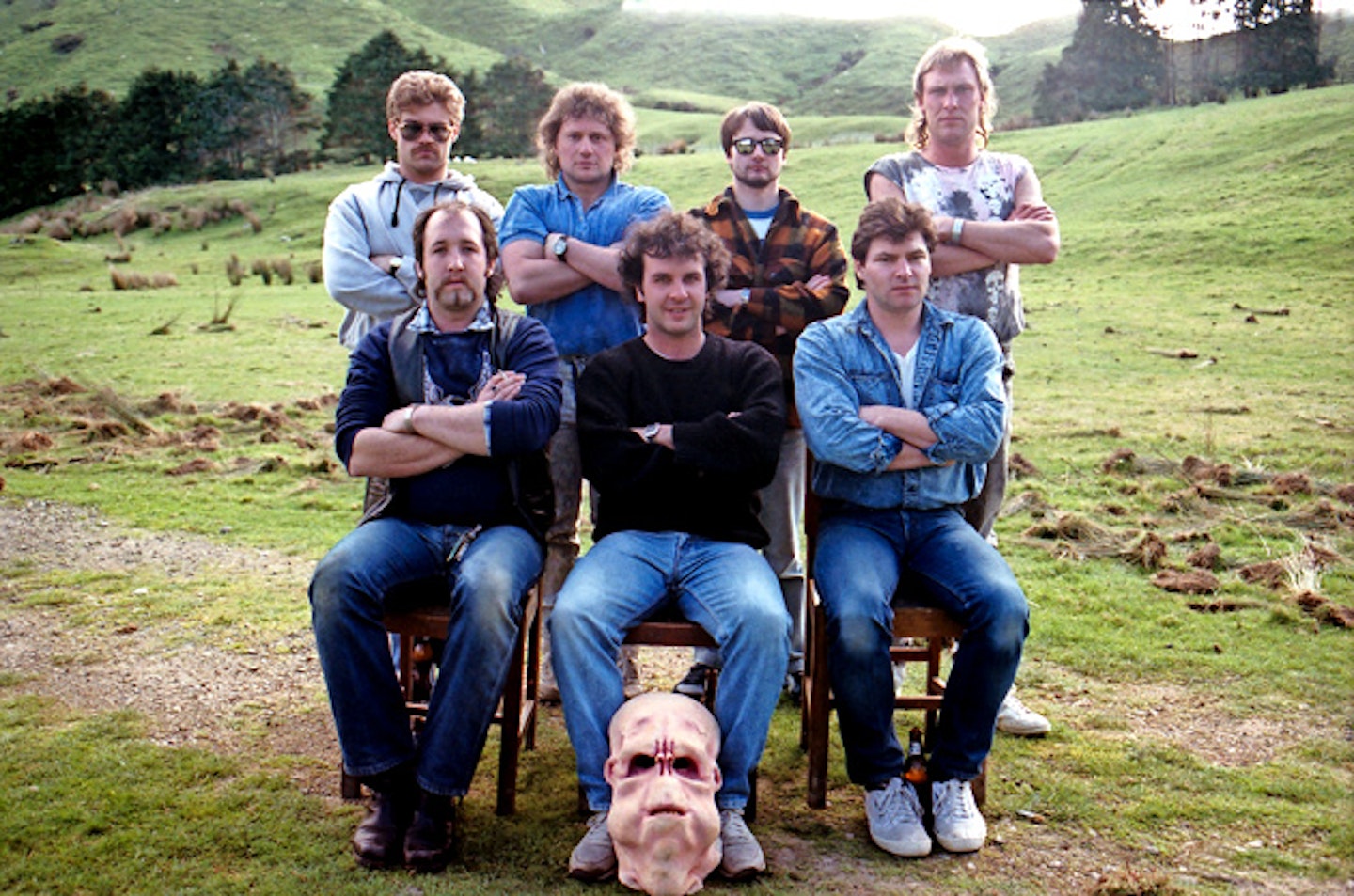 The way they were... Back row: Craig Smith, Terry Potter, Ken Hammon and occasional alien extra Dean Lawrie. Front row: The late Pete O'Herne, Peter Jackson and Mike Minett.
At least you had time to perfect the disgusting sequence in which several 
of you drink alien vomit...
Minett: You know, it tasted alright. It was mainly yoghurt, wasn't it?
Jackson: Yoghurt, green food colouring, cans of baked beans and peas. Because every time you vomit, there's always beans and peas in it, even if you haven't eaten beans and peas. But it was all very thin and runny, so before we filmed we went out in the garden and got handfuls of dirt to mix into it. I don't think I ever told you that.
Hammon: I had to drink the stuff!
Jackson: I know. Quite a few people drank it. But it was clean dirt, at least. It tasted okay, didn't it? Best dirt you've ever had.
Smith: I didn't drink any of that chuck. But it was amazing how many people got into the spirit of it.
Hammon: The steam coming off it was my idea. We just got someone with a cigarette to blow smoke onto the sick.
Minett: I now wish I had not picked up that bowl.
For the complete story on the making of Bad Taste, pick up the January issue of Empire magazine.
Download the iPad edition* for exclusive Bad Taste on-set photos from Peter Jackson's personal archive.*