15 years. Five phases. 32 films, eight TV shows, and counting. Since Robert Downey Jr's genius-playboy-philanthropist Tony Stark suited up back in 2008, the Marvel Cinematic Universe has grown into a big and small-screen behemoth – taking the box-office by storm, bringing the depths of Marvel's comic-book lore to life, and changing the superhero genre forever.
Empire has been there every step of the way, going on-set, witnessing history-making moments with our very eyes, and speaking to the MCU's biggest stars, filmmakers and producers about their ever-expanding universe. Now, as Marvel Studios rolls out its fifth phase (with Secret Invasion, Loki Season 2 and The Marvels up next), Empire is bringing you the ultimate collector's item – a special, limited-edition magazine celebrating 15 years of the MCU, compiling all of our biggest interviews, most spectacular set-visits and picking out some of our favourite moments, complete with stunning cover illustration by Benjamin Wachenje. It's all of Empire's most essential Marvel intel, assembled!
In this special collector's edition, we look back through all five phases and almost every MCU release, sharing 132 pages of world-beating Marvel access as we highlight Empire's extensive coverage through the years – plus our conversation with the man who started it all, Stan Lee. Get ready to read all of the best MCU access in the multiverse, all in one place. Here's a sneak peek at what's inside – and make sure to pick up a copy from newsstands from Thursday 22 June.
Phase One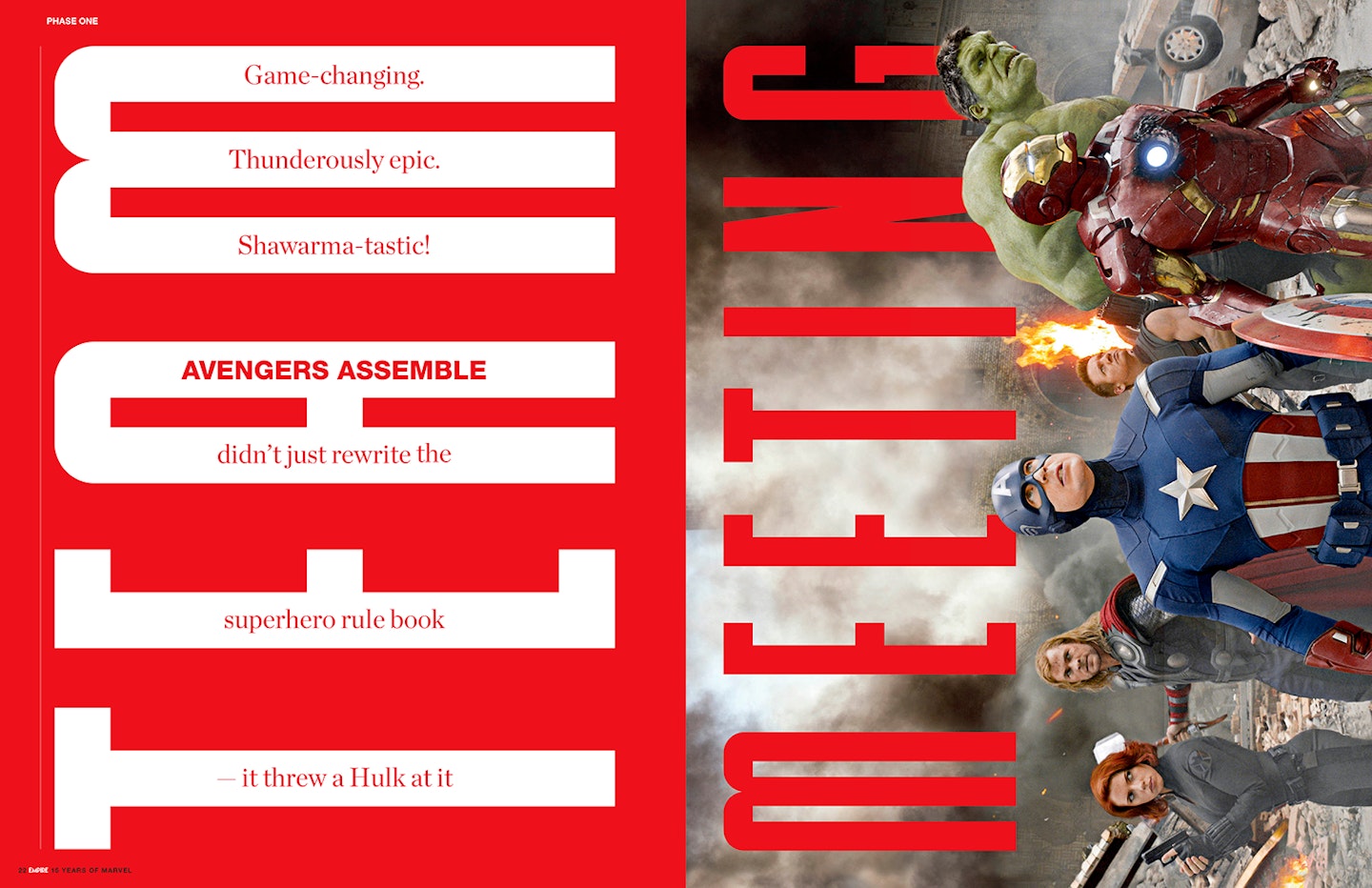 From Iron Man to The Avengers, Phase One of the MCU introduced us to Earth's mightiest heroes, one at a time, before uniting them in a comic book crossover movie unlike anything cinema had ever seen before. We go on set of each film, speaking to Robert Downey Jr, Chris Evans, Kenneth Branagh, Chris Hemsworth and more.
Phase Two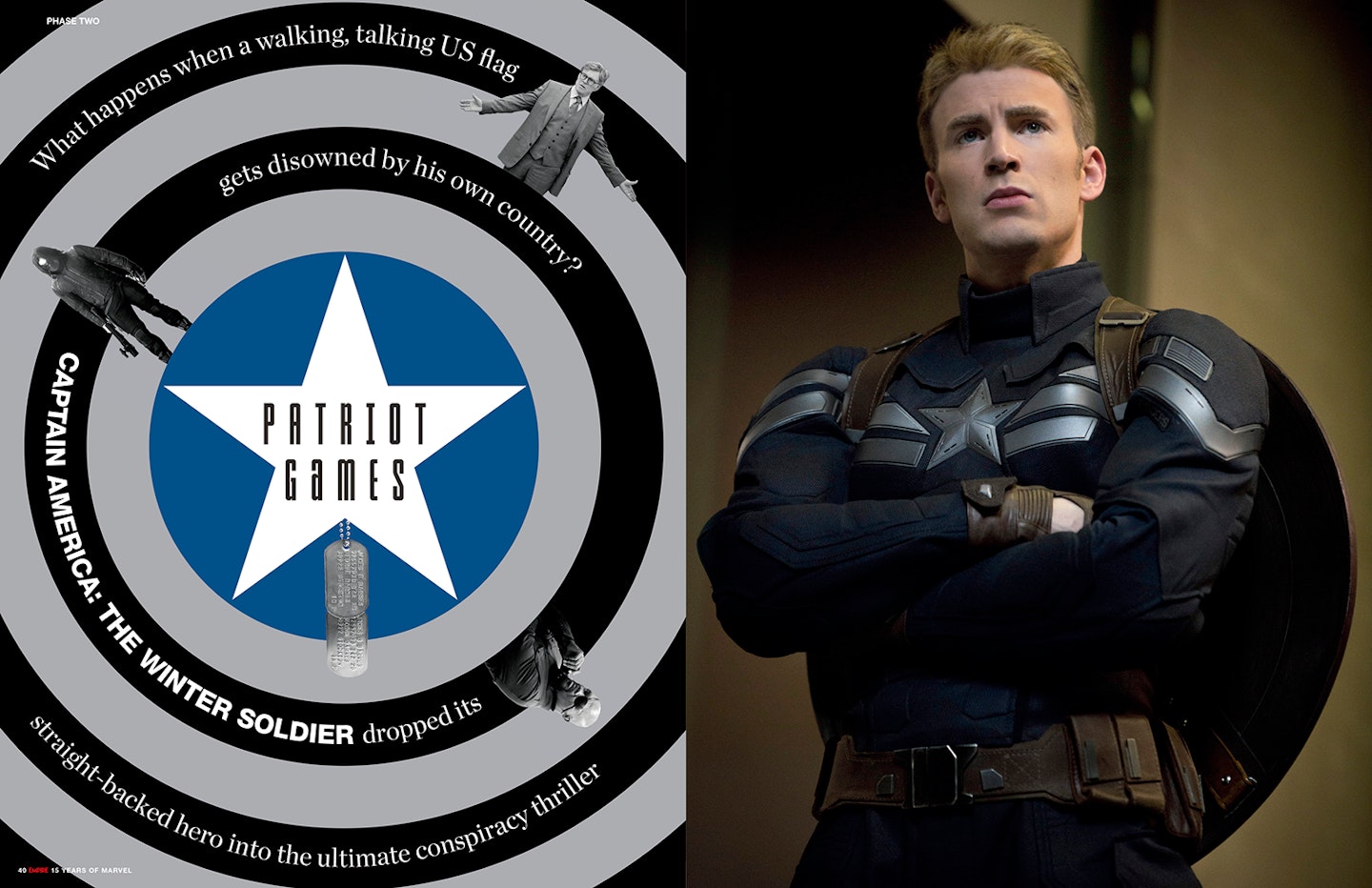 With Phase Two, the MCU stepped up a gear, expanding into darker territory (quite literally) with sequels Thor: The Dark World and Captain America: The Winter Soldier – but also exploring some of the more eccentric heroes in Marvel's back catalogue, including Paul Rudd's Ant-Man and James Gunn's cosmic gang, the Guardians of the Galaxy. We get the inside scoop on all of it, plus share our interview with Elizabeth Olsen back when she first debuted as Scarlet Witch in Avengers: Age Of Ultron, and go through every iteration of Tony Stark's superpowered suits.
Phase Three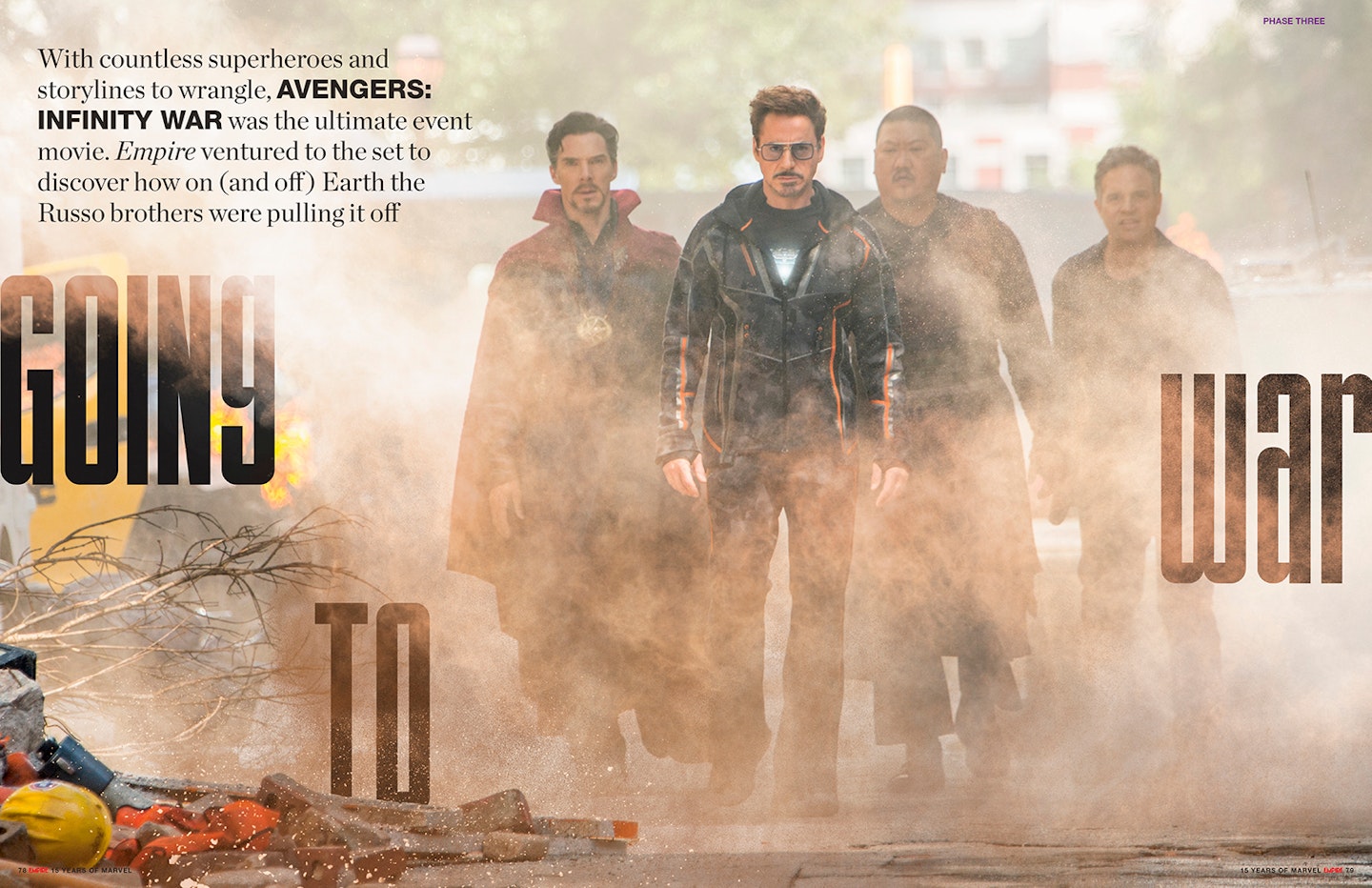 The MCU's third phase is their biggest yet, including 11 films and countless brand new characters. Benedict Cumberbatch comes on board as Doctor Strange, bringing a special kind of magic to proceedings; Sony and Marvel join forces to introduce Tom Holland's Spider-Man in Civil War and launch his own trilogy in the years after; Black Panther and Captain Marvel break boundaries and the box office. And, most unforgettably, the Infinity Saga comes to a close with the one-two punch of Avengers: Infinity War and Endgame. Empire was there every step of the way – here we share all of our on-set reports and film features, speaking to all of the saga's biggest stars, plus a fresh look at the one-and-only Portals sequence.
Phase Four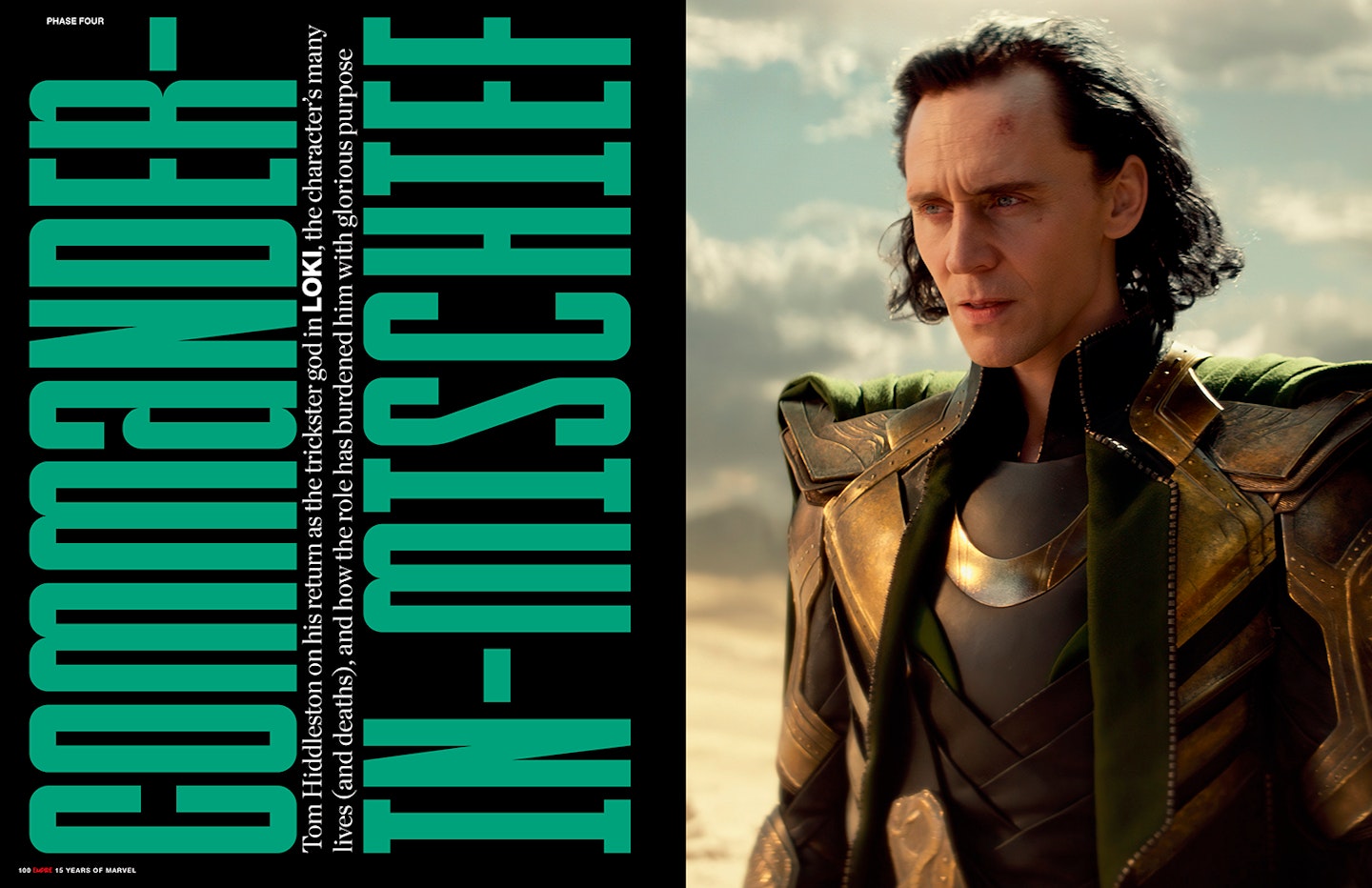 Launching what we now know to be the Multiverse saga, Phase Four was Marvel's most eclectic and diverse so far. We said hello to hitherto little-known characters such as Shang-Chi and the Eternals, gave Black Widow a proper send-off with her own solo movie, and Marvel branched out onto the small screen with WandaVision, Loki, Ms. Marvel and more. Empire gets stuck into it all, talking to Tom Hiddleston, Benedict Cumberbatch, Sam Raimi, Ryan Coogler, Tom Holland, Chloe Zhao and many more about all the mind-bending multiversal madness at play.
Phase Five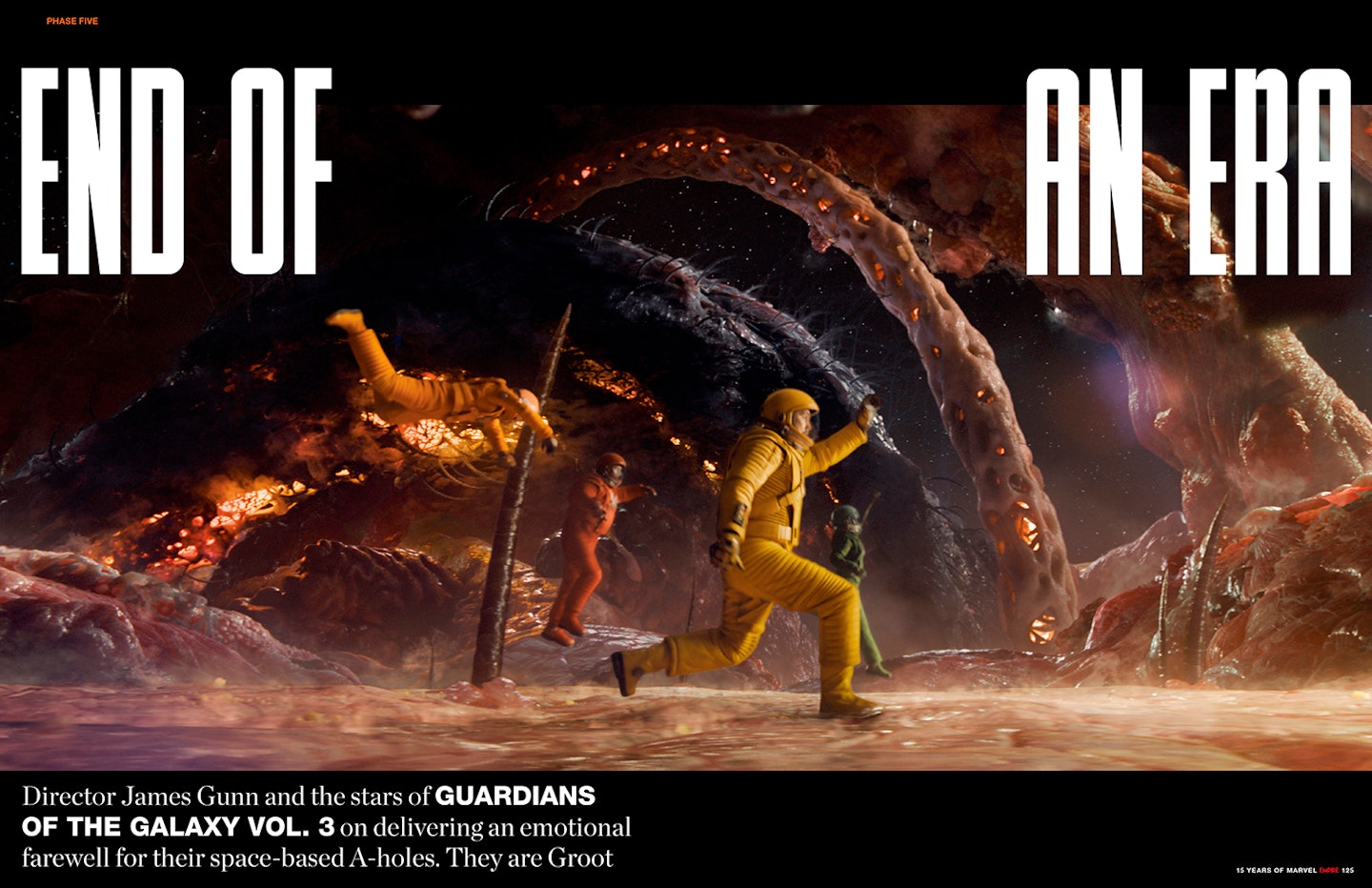 The fifteenth year of Marvel's movie domination continues, with trilogy-closers Ant-Man And The Wasp: Quantumania and Guardians Vol. 3 kicking off Phase 5. We discuss the end of an era with chief a-hole wrangler James Gunn and his stars, and pen a tribute to Quantumania's weirdest little dangly-legged guy, M.O.D.O.K – plus, a brand new ranking of the MCU's top 20 post-credit stings, and we look to what's next for Marvel Studios in Phases Five, Six and beyond.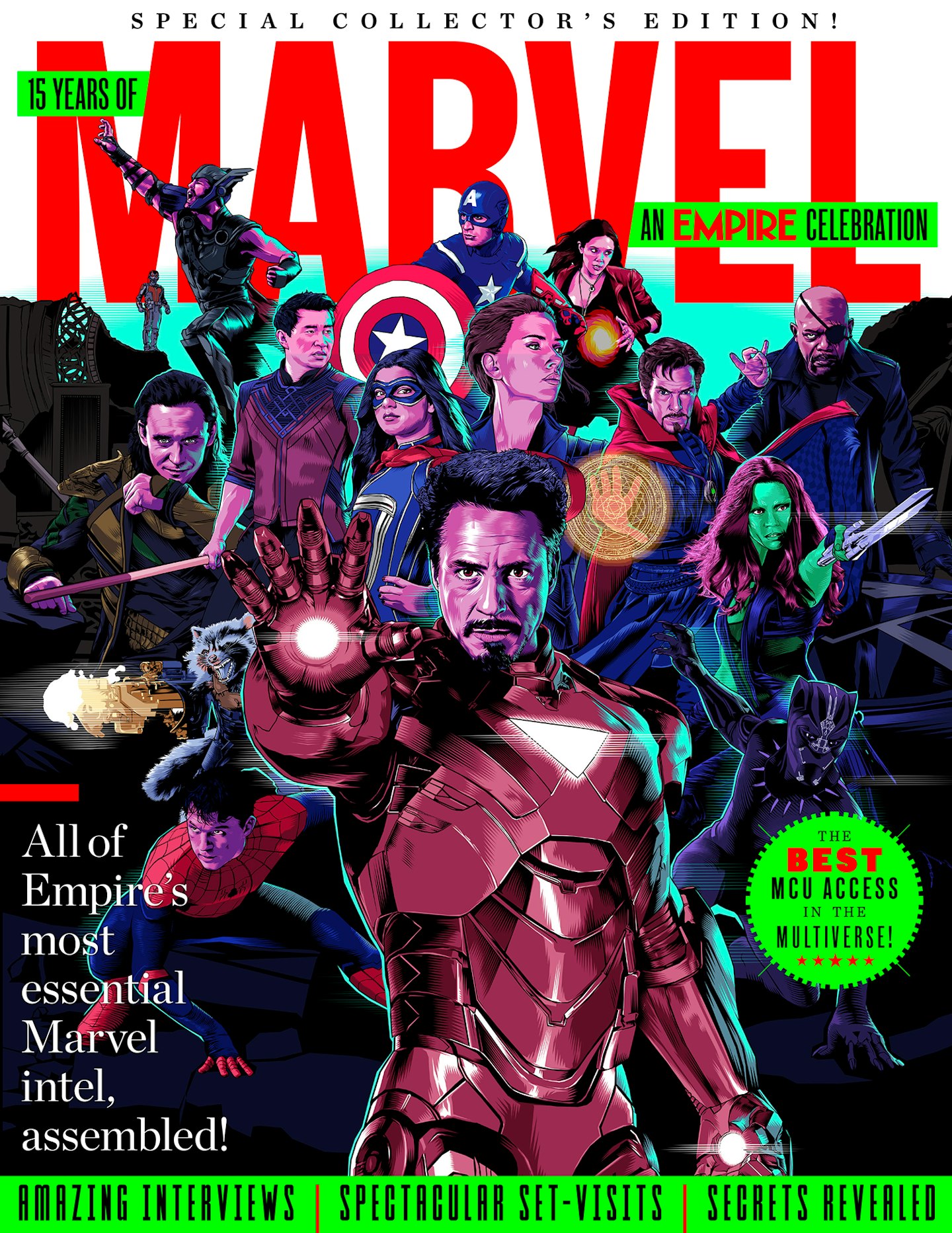 Yep, when it comes to talking about Marvel and the incredible cinematic universe that the studio has created over the past fifteen years, one thing's for sure – we can do this all day. Get your hands on this very special collector's edition of Empire, compiling all of our most essential MCU coverage, when it hits newsstands on Thursday 22 June. If you're an existing Empire member – good news! You get to access this issue early, and have the chance to pre-order it online. Keep an eye on your inboxes tonight for the link...