For the most part, Denis Villeneuve's take on Dune was everything fans of Frank Herbert's epic tome could ask for. Even though it only covered half of the original novel, he did justice to the fall of House Atreides, nailed the awe-inspiring heft of the sandworms, carefully lined up the cascading dominoes that fuel the swirling political plot – and even made it so that Spice was visibly glimmering in the air on Arrakis. But there was one detail from the novel that didn't make it to the screen first time around – and if fans were sad to miss it, Villeneuve was even sadder.
That detail was, of course, the Baliset – the unusual musical instrument that's a particular favourite of Josh Brolin's warrior Gurney Halleck. While Villeneuve (and Hans Zimmer) gave us unexpected space bagpipes last time around, a scene shot for Dune in which Brolin's Halleck mournfully plucked at the Baliset's strings sadly ended up on the cutting room floor. But no more – speaking to Empire in our world-exclusive Dune: Part Two cover feature, the director confirms the Baliset is back, back, back in the follow-up. "The Gurney song survived Part Two!" he declares victoriously, the notion of bringing it to the screen clearly having played on his mind. "It became a weird priority for me. But Josh Brolin is a poet and we played it together. It was awesome."
Just, don't go expecting the Arrakis equivalent of the Eras Tour. Though there is one set of characters rather more attuned to the hedonistic life: those dastardly Harkonnens. "If there's a party somewhere that you want to attend, it's on [Harkonnen homeworld] Giedi Prime," Villeneuve laughs. "These guys know how to throw a party, but they are not meant to be on Arrakis. They hate the planet, they hate the people, they're just there for the money. That's where their weakness is." Sign us up for Gurney Halleck smashing Baron Harkonnen in the face with his Baliset, then. (That's official Dune canon, right?)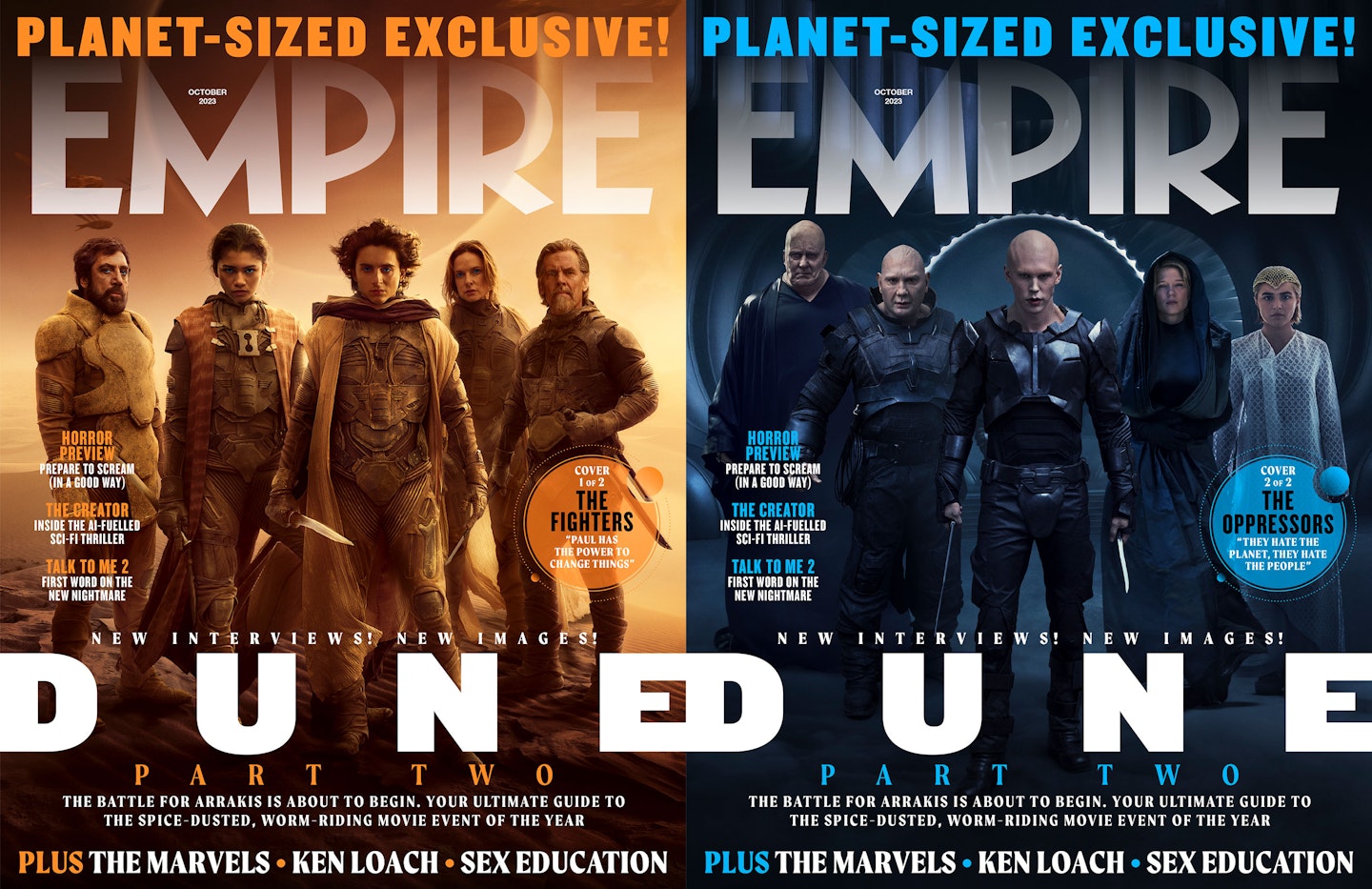 Read Empire's full world-exclusive Dune: Part Two cover feature – talking to Denis Villeneuve about his ongoing journey with adapting Herbert's novel, and the new characters, epic scope, and astounding action to come in the sequel – in the October 2023 issue, on sale Thursday 31 August. Pre-order a print copy of Cover 1 or Cover 2, or become an Empire member to access the digital edition on launch day. Dune: Part Two is expected in UK cinemas from 15 March 2024.