Correction: In our feature on Bullet Train in the July 2022 issue of Empire, we stated that production company 87North was founded by both David Leitch and Chad Stahelski. In fact, 87North is owned by Leitch and producer Kelly McCormick – Stahelski is not involved, though he and Leitch still co-own action design company 87Eleven, which is a separate organisation.
If there's one thing we've come to expect from David Leitch, former Brad Pitt stunt double, director of Atomic Blonde and Deadpool 2 and major contributor to John Wick, it's impeccable on-screen action. With new film Bullet Train, which stars Pitt as an assassin called Ladybug trying to nab a money-filled briefcase on the titular Japanese Shinkansen train whilst fighting off a plethora of other highly trained killers, Leitch was presented with a new test of his action abilities – choreographing compelling fight scenes in the narrow, restricted setting of several train carriages.
"I'm not gonna say that it was without its challenges," Leitch tells Empire. "I think there's an expectation with summer movies that you have a certain level of action and spectacle. How do you create that in this confined space? It just forces you to be creative." Where the John Wick franchise has given us 'gun fu', 'book fu' and even 'horse fu', Bullet Train embraces the use of everyday objects in its fight scenes – expect variations on 'kettle fu', 'laptop fu', and even 'water bottle fu'. There was also room to mix things up in the carriages themselves: there are 16 in total, including one dedicated to a fictional anime character, 'Momomon', and, of course, the quiet carriage. "That adds a whole other flexibility to the choreography," says Leach. Brian Tyree Henry, who plays English hitman and Thomas The Tank Engine lover Lemon, enjoyed shooting that one in particular. "The fact that I have a whole fight with Brad Pitt on a quiet car — that we are trying to be silent while bashing each other's faces — that was so fun to play," he says. "You're like a kid in a candy store." Next stop: much shushing.
That blend of intricate hand-to-hand combat with a more comedic tone brings one of cinema's most prolific martial arts masters to mind: "It straddles a line of badass action, but with a humorous element infused in it," Pitt explains. "Almost like Jackie Chan. I feel like it is in that slipstream." Director Leitch agrees: "Jackie is always an inspiration." Just as Chan is renowned for doing the majority of his own stunts, so did Pitt on Bullet Train, which undoubtedly led to some bruises. "You always get banged up a little bit," Pitt says. "We're padded pretty well. Some of the tougher guys go without pads. I am not that guy."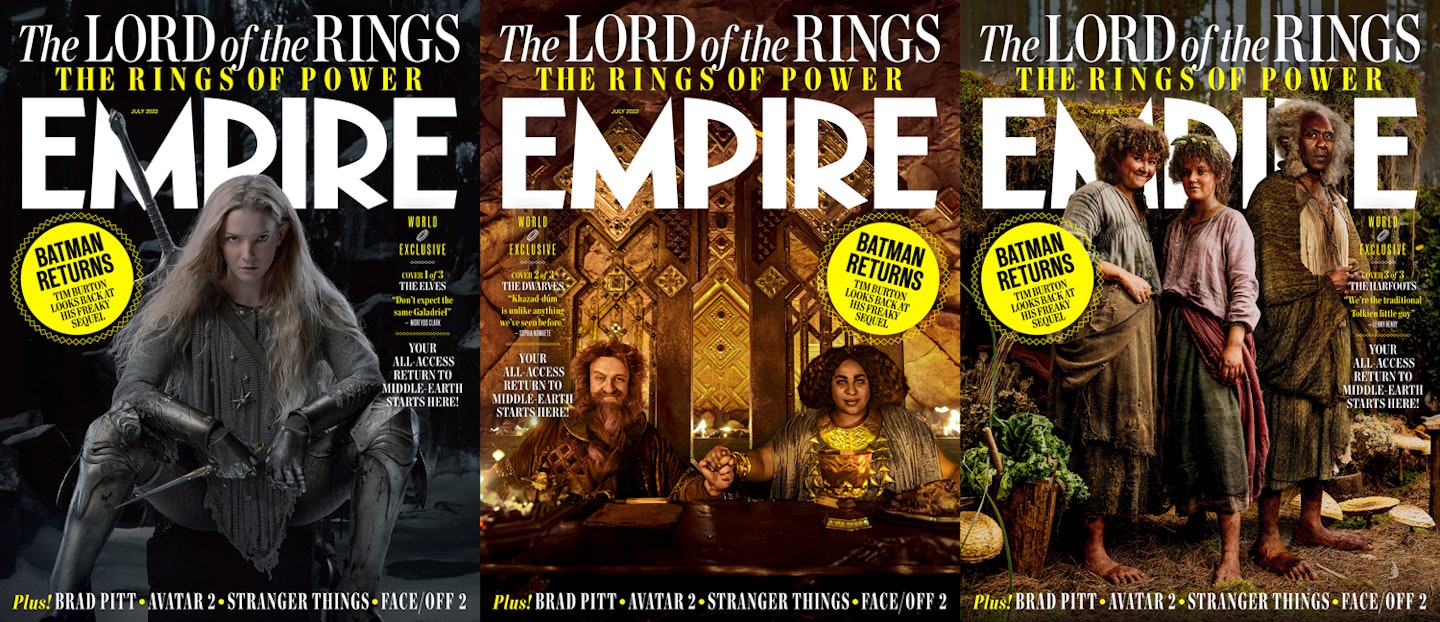 Read Empire's Bullet Train feature in full in the new The Lord Of The Rings: The Rings Of Power issue – on newsstands now, or order a copy online here. Bullet Train is in cinemas from 5 August.