When Dune: Part Two arrives, there's plenty for Timothée Chalamet's Paul Atreides to be worried about. For one, he's going to have to prove himself among the Fremen people, and not mess things up with Zendaya's Chani – his literal dream-girl. He's expected to try and ride a giant marauding sandworm in the Arrakis desert at some point. And he'll have to avoid becoming some kind of messianic dictator too, as war looms with the Harkonnens. As if that wasn't enough, this time he also has an assassin after him – enter Feyd-Rautha, the ferocious and unpredictable force that was, famously, rendered in 'Sting in a space-nappy' form in David Lynch's adaptation.
Not here, though. In the second half of Denis Villeneuve's Frank Herbert adaptation, the fearsome Feyd-Rautha is played by none other than Austin Butler – shorn of all his hair, and firmly out of Elvis mode. It sounds like Paul will have his work cut out for him. "Austin brought something that is a cross between a psychopath killer, an Olympic sword master, a snake, and Mick Jagger," Villeneuve tells Empire in our world-exclusive Dune: Part Two cover story, promising a wild performance from the Oscar-nominated star. "He has tremendous sex appeal and charisma and madness. It's really out there."
The bald-headed Butler isn't the only fresh face for Part Two – also joining the cast this time are Florence Pugh as Princess Irulan, and Christopher Walken as the mysterious Emperor Shaddam IV. But perhaps most intriguingly, Léa Seydoux is on board as Bene Gesserit sister Lady Fenring – a character with a minimal presence in Herbert's book, but for whom Villeneuve has bigger plans. "I don't want to talk too much about Lady Fenring," he teases. "She's part of the spider web of the Bene Gesserit, but I want to keep the mystery around her." Either way, the secretive sisterhood is a key part of the director's fascination with Herbert's world. "My version of Dune is different because the thing that really seduced me about the book was the Bene Gesserit," he says. "My adaptation is more oriented toward their impact – they are the puppet masters of the universe!" You'd hate to be caught in their strings – especially with Feyd-Rautha gunning for you.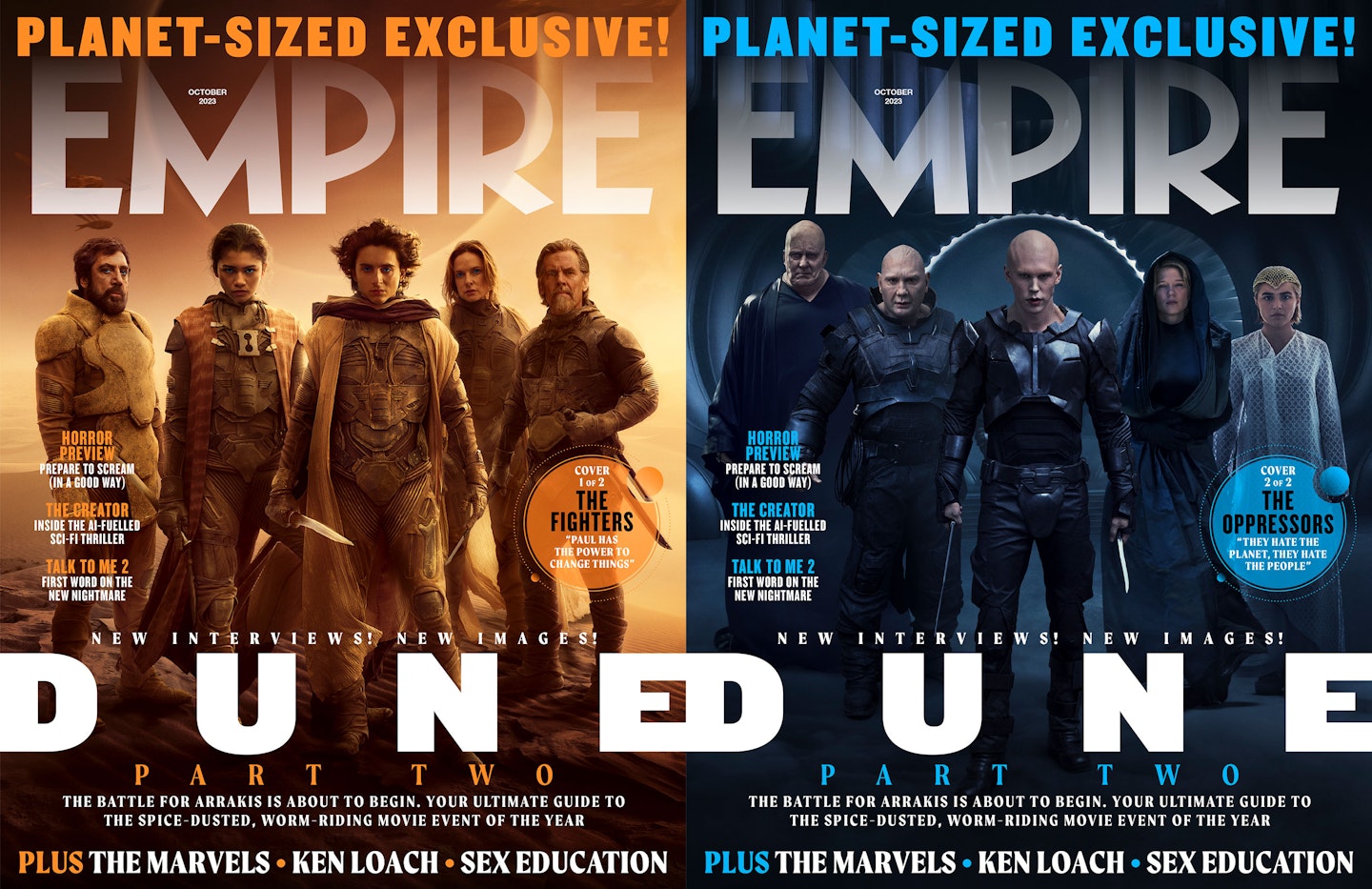 Read Empire's full world-exclusive Dune: Part Two cover feature – talking to Denis Villeneuve about his ongoing journey with adapting Herbert's novel, and the new characters, epic scope, and astounding action to come in the sequel – in the October 2023 issue, on sale Thursday 31 August. Pre-order a print copy of Cover 1 or Cover 2, or become an Empire member to access the digital edition on launch day. Dune: Part Two is expected in UK cinemas from 15 March 2024.