After months of closures, there are only days left until cinemas can finally begin opening again across the UK – ready to welcome in socially-distanced moviegoers for all kinds of fresh cinematic adventures. As we prepare to re-enter the multiplexes, arthouses, independents and more, Empire presents a series of essays from the Greatest Cinema Moments Ever issue, featuring Hollywood's finest opening up about about their most memorable big-screen experiences. Here's Jordan Peele on the fateful 'Day 20' in Paranormal Activity__.
———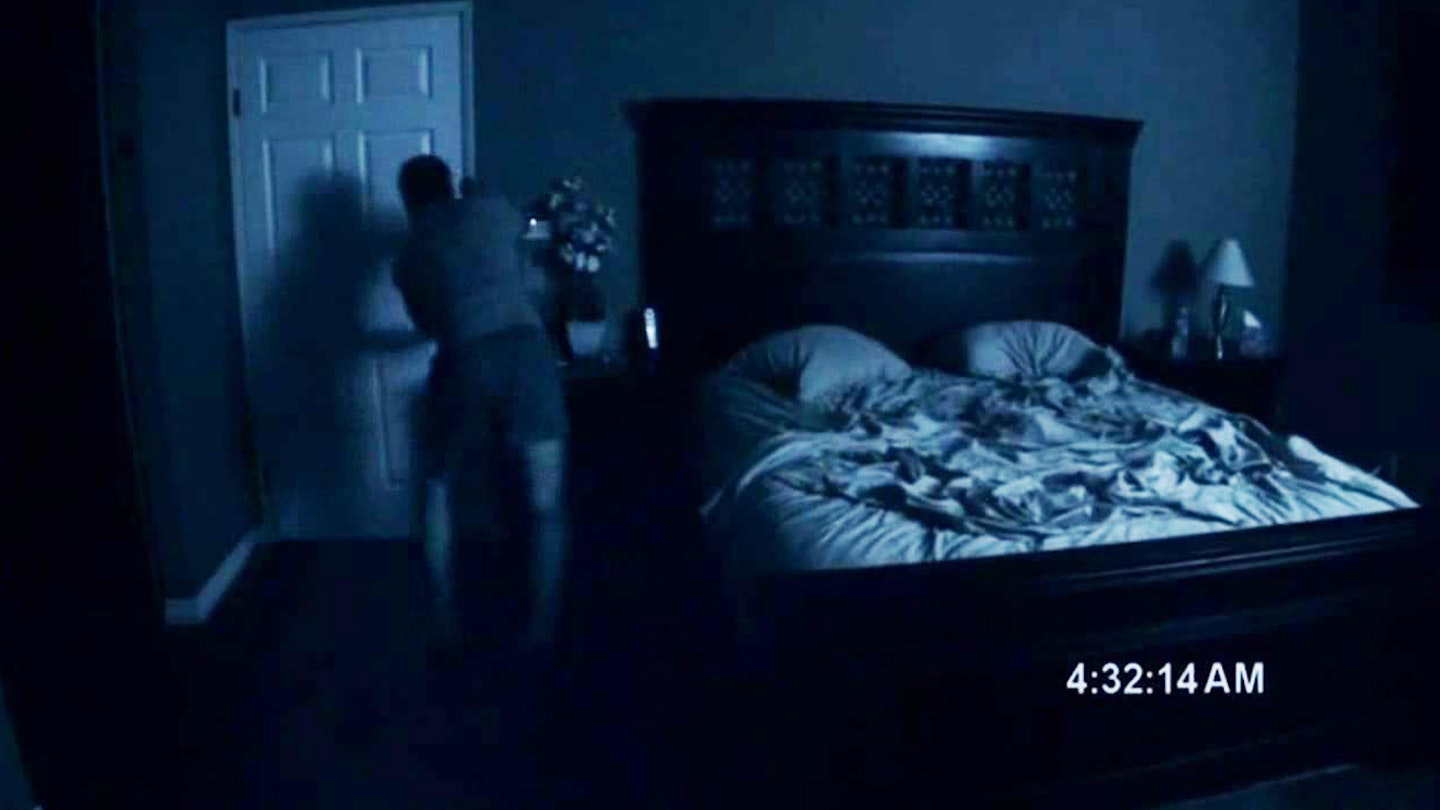 I saw Paranormal Activity alone in the theatre. It was 11am on the Friday it came out in 2009. It was at the ArcLight in Hollywood, and while it wasn't packed, it was a pretty good crowd for the middle of the workday. People in attendance seemed to be of the "I-went-to-an-early-screening-of-Blair-Witch-Project" persuasion. That particular breed of 30-somethings who had used that line as social currency since 1997.
There was a moment in that film that elicited a reaction from that audience that will go down as one of the most delicious I've experienced.
If you haven't seen it, the film is 97 per cent tension and build-up — and 3 per cent pay-off. Most of the suspense is invested into a locked-off shot from a camera on a tripod in the bedroom of young couple Katie and Micah. There's a bed, a lamp, a door, two sleeping bodies, a time code in the bottom right, and that's it. The camera is set up to capture paranormal activity that might occur at night while they sleep. Throughout the film we return to these night set-ups, each designated by the day the evidence was captured. Each night is marked by a minor oddity. An odd creak in the door, odd sleep behaviour by Katie... all explainable shit.
As they evaluated the new findings during the daytime, the audience relaxed — we were safe. But every time they went to bed for the night, and we returned to that bedroom shot, you could feel the dread and anxiety growing in the audience through the shifting in seats.
But by "Day 20" — after over an hour of breath-holding by everyone in that audience — an internal alarm went off in that audience. It was clear, for some primal reason, that this was going to be the night some real messed-up shit happened. The dread was unbearable. The sound the crowd made was one I've never heard before or again. At first, it almost resembled an audible eye-roll at the tedium of having to watch this white couple fail at avoiding their own bedroom. But this was not a groan of boredom, it was one of sheer terror and we all knew it. We, the audience, giggled like nervous children together. I admit to basically retracting into my hoodie, pulling the strings taut into a "They killed Kenny" vibe. I call this position "sitting foetal", in which you're basically in a locust shell of protection from a film you went to see alone at 11am.
When the shit hit the fan, Katie is dragged out of the room screaming. The audience absolutely lost it. Obviously, I missed that part because the lead-up was so intense. But I heard the audience enjoy it.
(And PS: I did watch that part when I came back for the packed show later that night and sorta knew the timing ahead. Still, it was that wave of audible "here we go" tension beforehand that I'll always remember.)
Originally published in Empire's March 2021 issue.