Just over 20 years ago, the Fast & Furious series raced its first quarter-mile – the beginnings of a major, world-beating movie franchise that nobody expected would still be igniting the box office two decades later, with instalments running into double figures. But here we are – the legacy of The Fast And The Furious drives ever onwards, beginning with that mid-budget street-racing film about a criminal gang stealing millions of dollars worth of DVD players, and now laying waste to the ancient city of Rome with a giant flaming bomb in Fast X.
But which Fast & Furious movie is best? Among all the jaw-dropping setpieces, the ever-expanding roster of Fast 'Family' members, and storylines ripped right from the soap-opera playbook, some entries rank a little faster (and furious-er) in the canon of cinema's wildest car-saga. Seatbelts on, and get ready to put pedal to the metal.
11. 2 Fast 2 Furious (2003)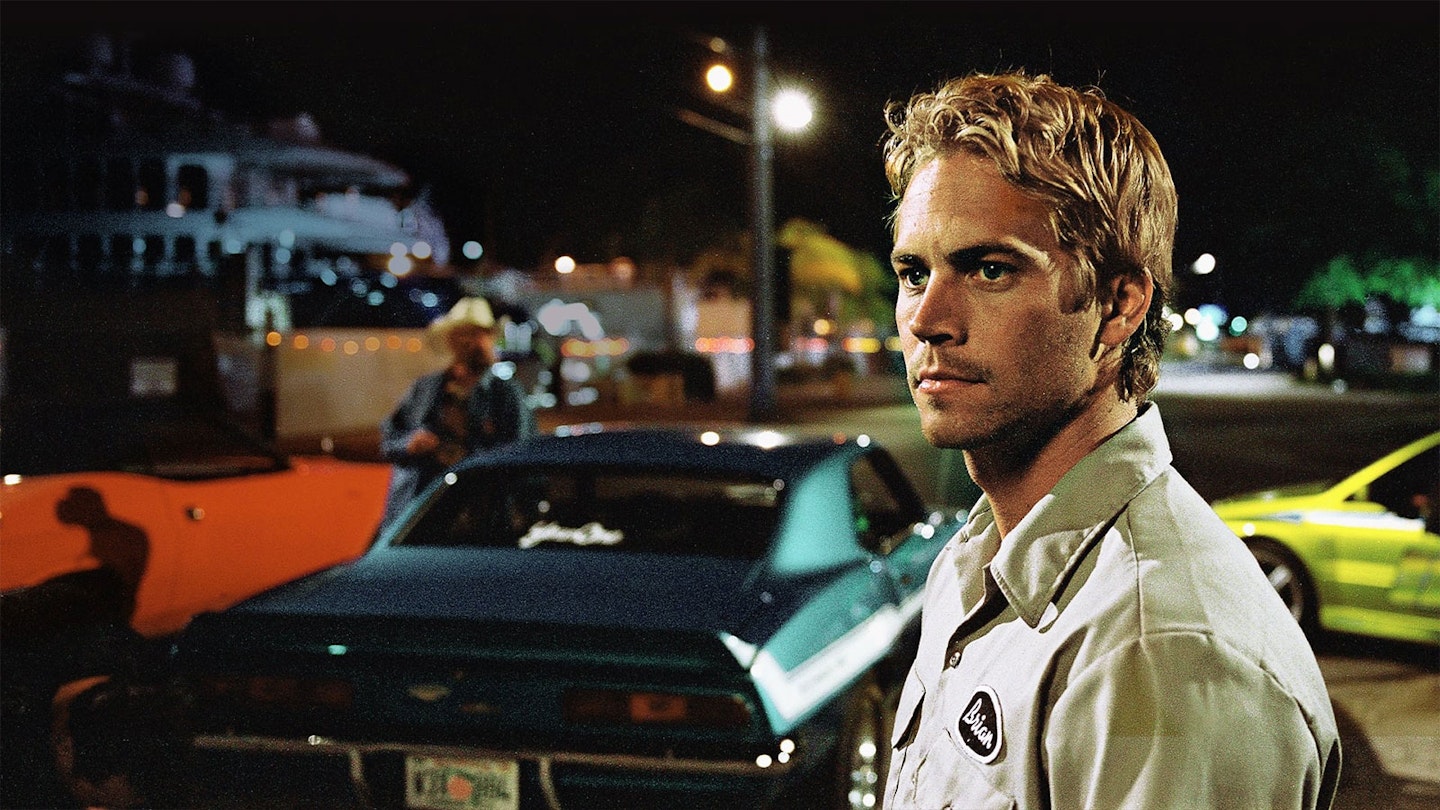 Back when the series was still about street racing, Boyz N The Hood director John Singleton revved up this ridiculously-monikered sequel – the only film in the main franchise not to feature a single frame of Vin Diesel's Dom Toretto. That left it up to Paul Walker's Brian O'Conner to shoulder proceedings, this time hiding out in Miami and roped into an FBI plot to take down a drug lord. Right from the ridiculous chrome-plated Universal logo in its opening credits, 2 Fast is the series at its most cartoonish – all candy-colours, cheese-fest dialogue, and hyperactive visuals. With tricked-out rides, primary-hued paintjobs and custom LEDs galore, its distinctly early-'00s aesthetic is almost endearingly kitsch now, though its race scenes are lacking – overly reliant on shonky CGI that gives it a sub-Speed Racer digital sheen without the Wachowskis' psychedelic sugar-rush. Credit, though, for introducing Tyrese Gibson's Roman and Ludacris' Tej – and giving us Brian's fan-favourite blue-striped Nissan Skyline.
10) The Fast & The Furious: Tokyo Drift (2006)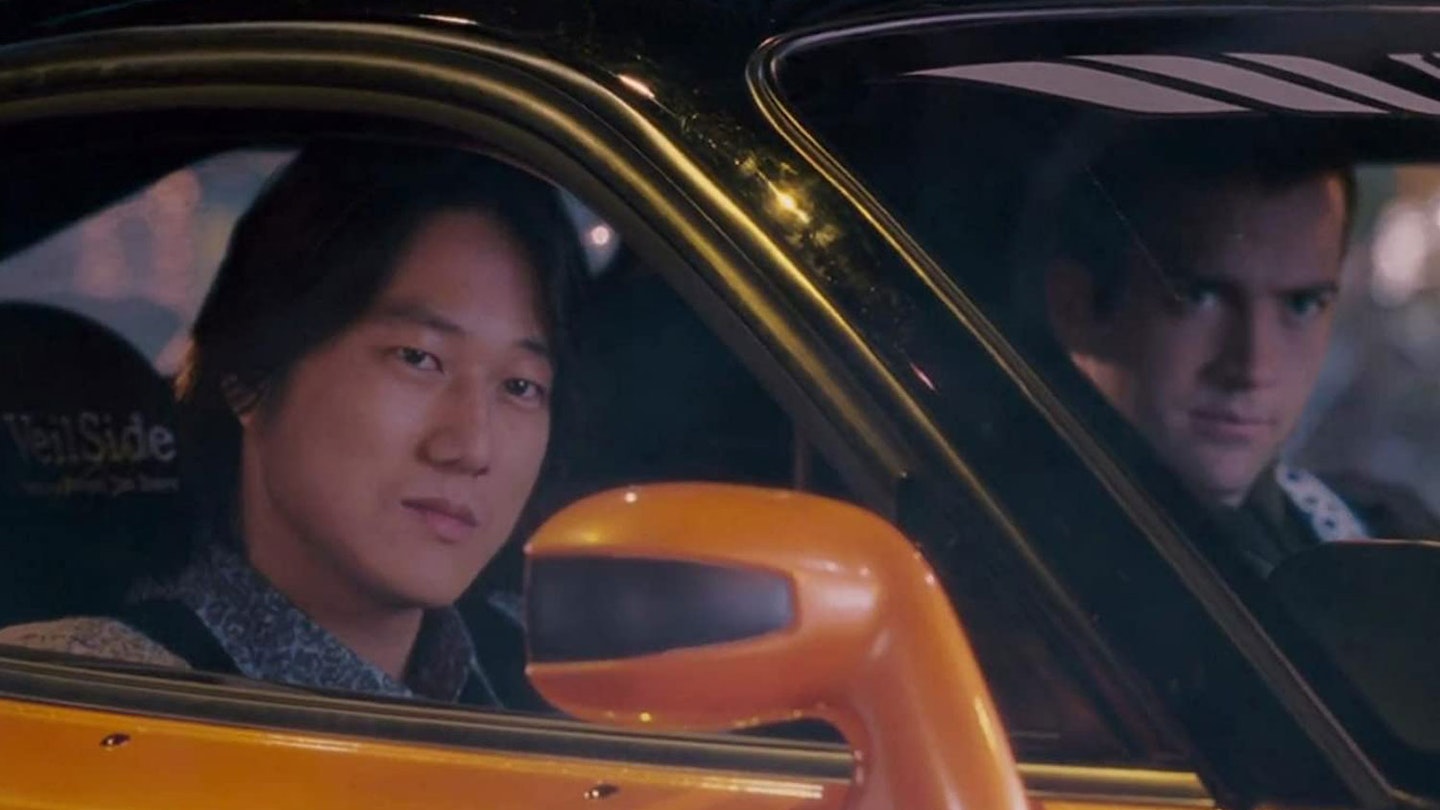 Justin Lin's first Fast movie was initially more of a spin-off, later spun back into the wider timeline. With Vin Diesel merely cameoing and Paul Walker out of the picture, the focus flips to Lucas Black's Sean Boswell, a drippy Southern-drawling American teen hopelessly out of his depth in the Tokyo drift-racing scene. He's easily the series' weakest protagonist, the limelight summarily stolen by Sung Kang's infinitely superior Han – a character so good, they retconned this film to take place several years in the future (where everyone still uses flip-phones for some reason) just to bring him back from the dead. Han aside, Tokyo Drift is best remembered for its, well, Tokyo drifting – well-handled racing sequences filled with tyre-squealing stunts, against the neon-lit backdrop of the Japanese capital. Everything else? Not so memorable.
9) F9: The Fast Saga (2021)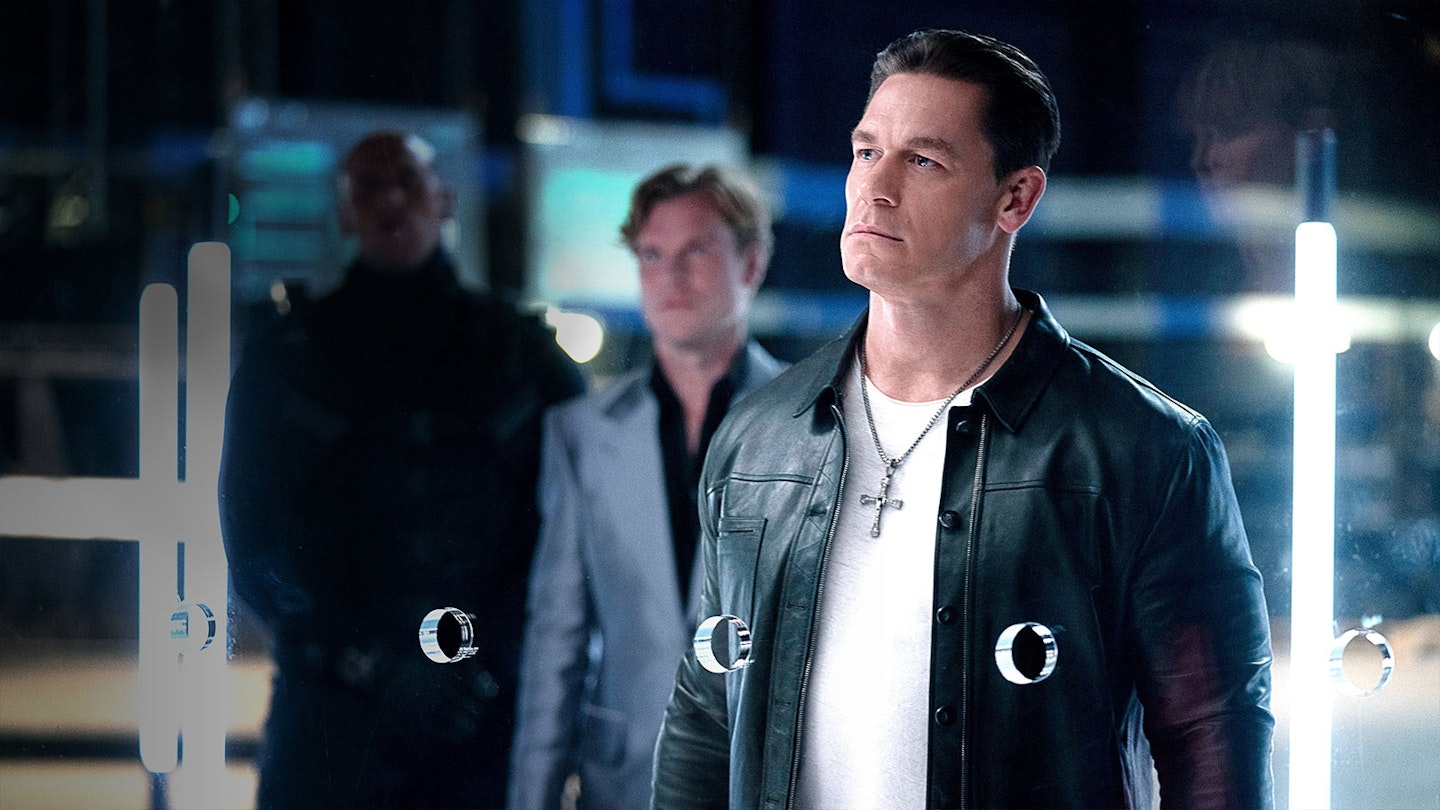 If it always felt like the sky was the limit for how super-silly the Fast & Furious movies could become, F9 proved it: this is forever destined to go down as "the one where they went to space in a car". Or, at least, the upper atmosphere. And frankly, it says a lot that Tej and Roman's brush with the cosmos isn't even the dumbest thing here – for one, there's the arrival of John Cena as Jakob, Dom's long-lost secret brother who has quite literally never been mentioned in any of the preceding nine films; and a sequence in which Dom is hit on the head by a concrete block, drowns for several minutes, and has a vision-quest revelation about his own past in the process. It's bonkers, and while mostly fun – there's a gleefully daft opening action sequence with a minefield and a "magnet plane"; Nathalie Emmanuel gets behind the wheel for the first time in a chase through Edinburgh – there is a slight sense of the wheels starting to come off here. Without Dwayne Johnson and Jason Statham to lighten the mood, the tonal balance is a bit off. And while it's a joy to see Sung Kang return as Han, the explanation of his miraculous survival leaves much to be desired.
8) Fast & Furious 8 (2017)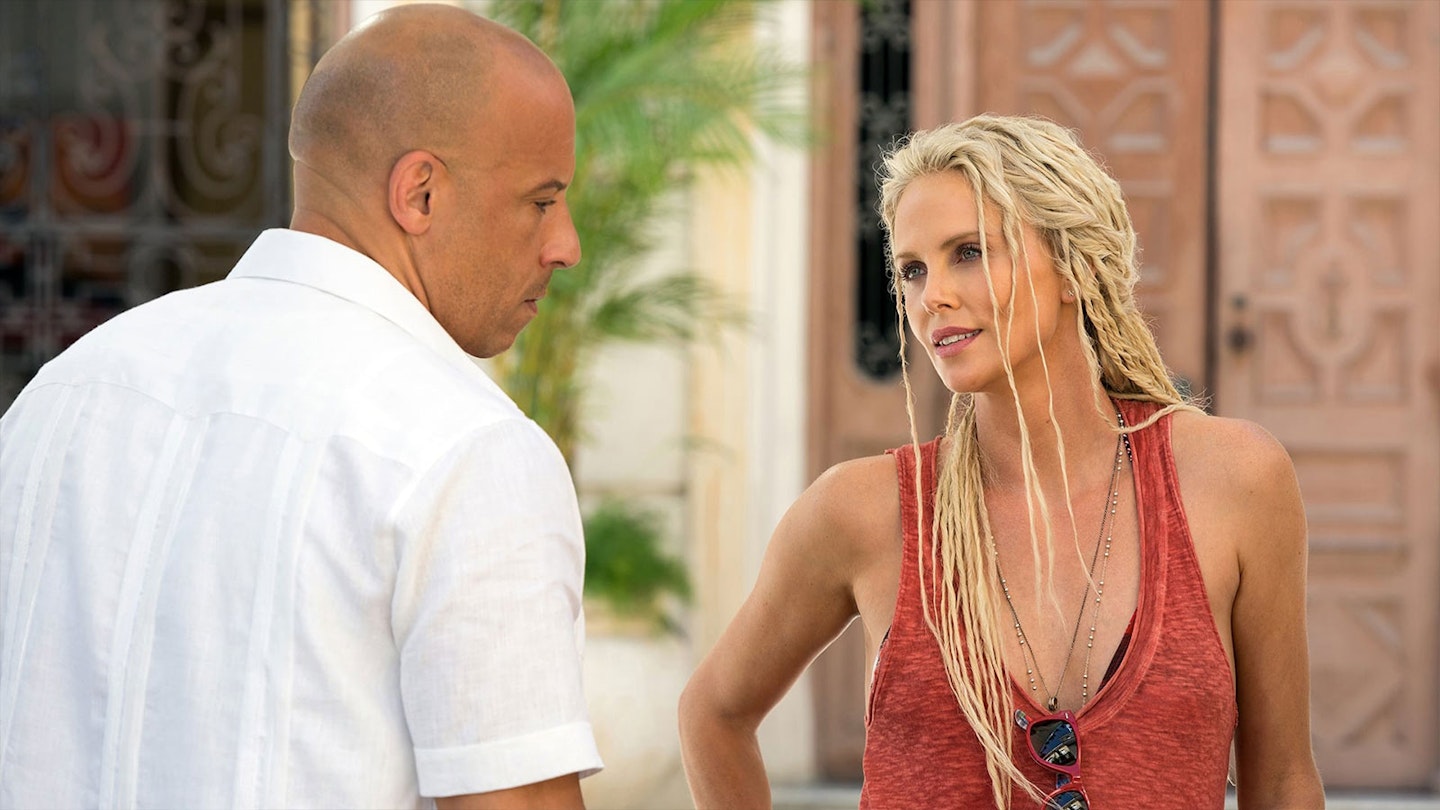 After a golden run of sequels, the Nos boost began to cool off a little this time around. From director F. Gary Gray, Fast 8 (aka The Fate Of The Furious) cooks up another brilliantly soap-opera-worthy twist, with Dom – gasp! – turning against the Family and siding with Charlize Theron's unfortunately-dreadlocked villain Cipher. But why would the virtuous muscle-head ever turn his back on the crew? (Hilariously, the answer – SPOILER WARNING – is of course, yet again, family, as it's revealed Dom is protecting his secret baby son.) There are highlights to the increasingly-knowing mayhem – a self-driving-car-hacking mass street chase, a burly prison-break brawl featuring Dwayne Johnson's Luke Hobbs and Jason Statham's Deckard Shaw, and a Hard Boiled-nodding final reel – but the big submarine-on-ice set-piece never quite connects, and Paul Walker's presence is missed. Most upsettingly, this is the film in which the Family swapped Corona beers for Budweiser – like James Bond drinking Heineken, it just feels wrong.
7) Fast & Furious (2009)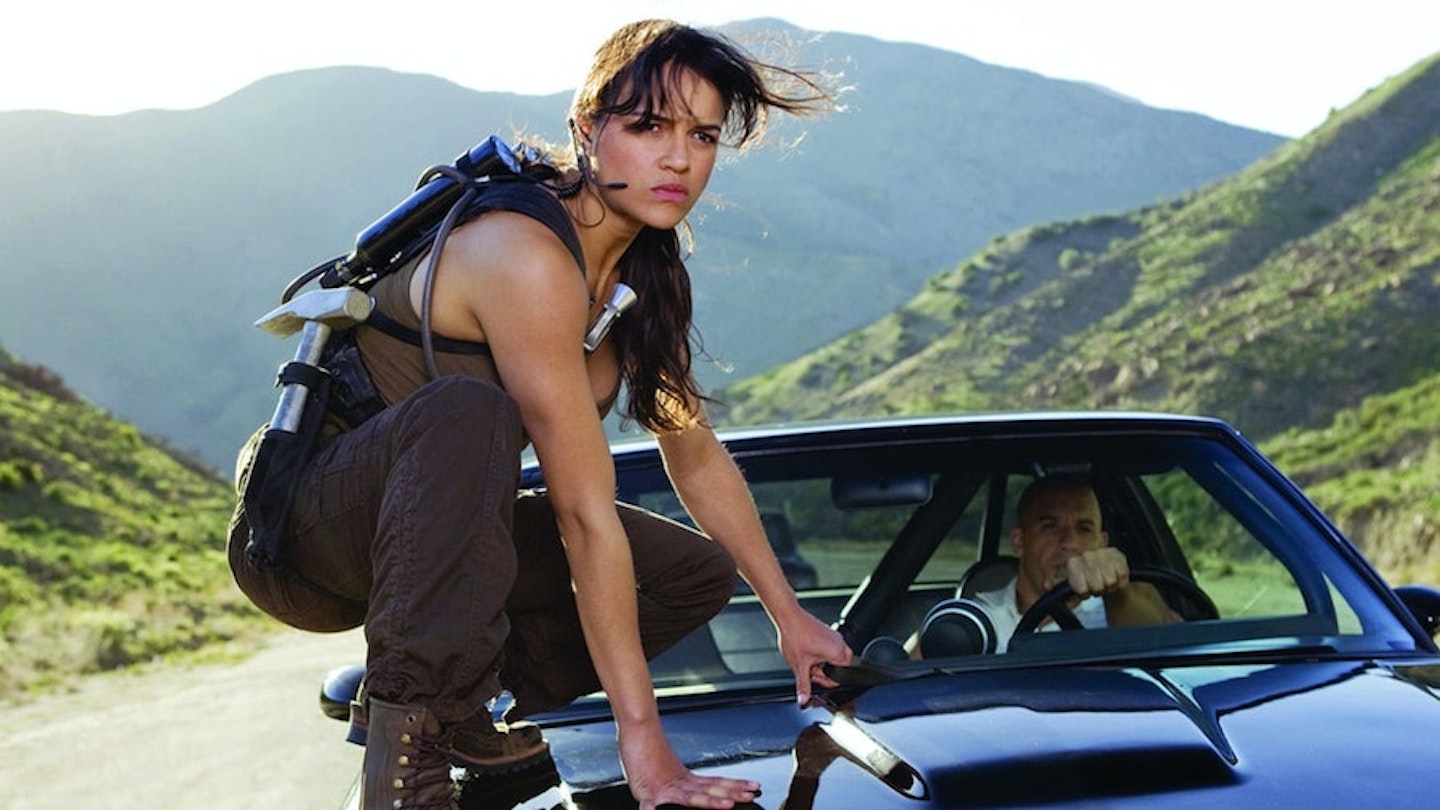 This confusingly-titled fourth instalment in the series brought Justin Lin back behind the wheel, reunited the original cast – Vin Diesel, Paul Walker, Jordana Brewster's Mia, Michelle Rodriguez's Letty, with a dash of Sung Kang's returning Han – and threw future Wonder Woman Gal Gadot into the mix too. It's just a pity the film seems unsure of what to do with them all – after a full-throttle all-action opener involving a giant gas tanker, the film idles in a low gear for much of its runtime, stuck in a po-faced plot that sees Dom and Brian try and take down a Mexican drug lord. It's a transitionary film in the series, one that saw the beginning of its transformation into a blockbuster juggernaut, but before it fully embraced the sublime and the ridiculous. But with all the key players back in place, it feels sturdier than 2 Fast and Tokyo Drift, laying effective groundwork for the best in the franchise to come swiftly after.
6) Fast X (2023)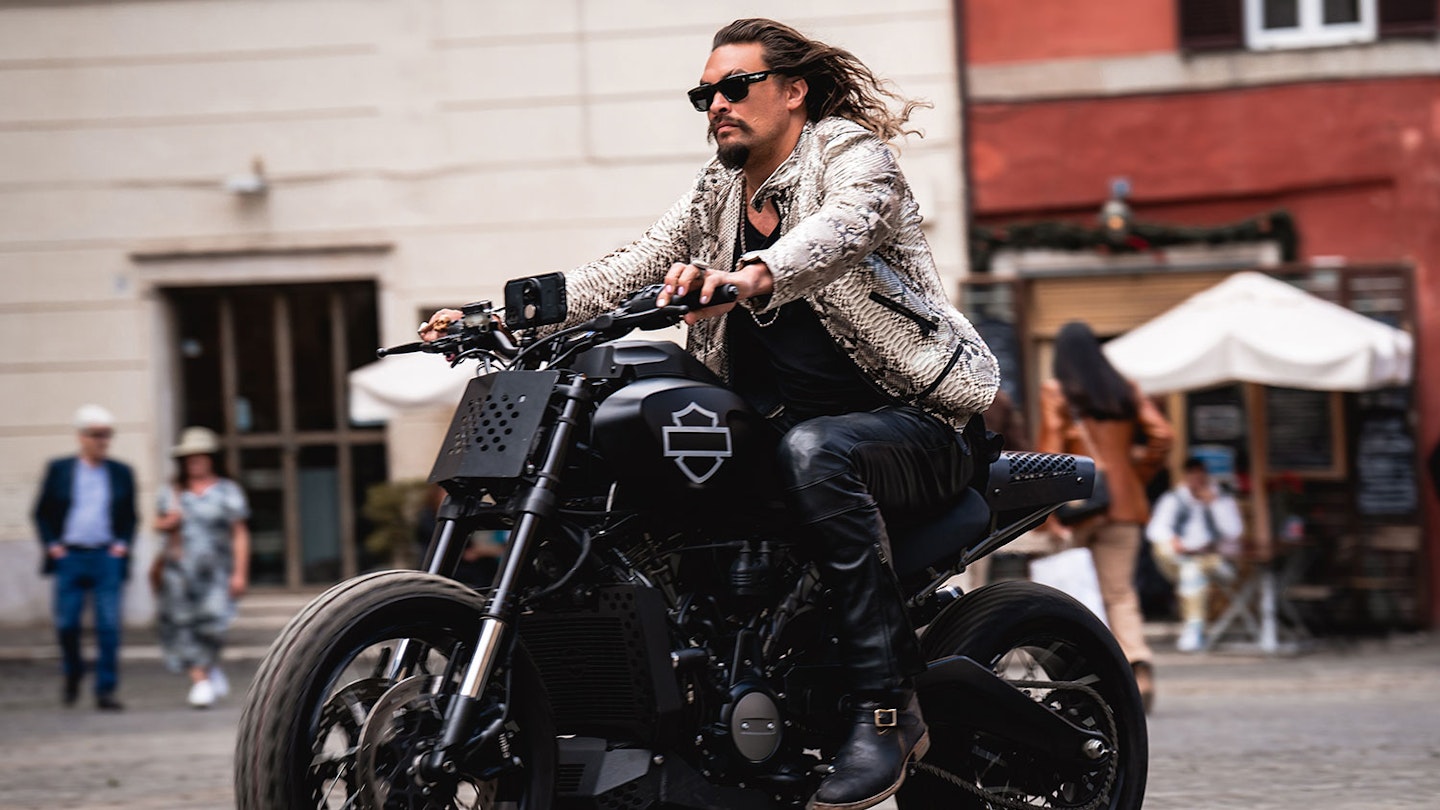 This is it: the beginning of the end. And while the sprawling messiness of F9 and The Fate Of The Furious continues into the first part of the saga's grand finale, it has plenty going for it: namely, Jason Momoa's larger-than-life performance as swaggering villain Dante. Just as Dwayne Johnson and Jason Statham rocket-boosted the saga in 5 and 7, Momoa struts in and wraps the entire movie around his freshly-manicured pinkie. His devilish baddie is the pissed-off son of Fast Five's Hernan Reyes (cue a re-run of the Rio heist showing Momoa was, conveniently, just out of shot the entire time), and what little plot there is here revolves around Dom and the Family scrambling to survive Dante's wrath. His attempted destruction of the Vatican with a giant flaming bomb makes for the film's greatest setpiece, while his taunting of Charlize Theron's Cipher and attempts to ensnare Dom's son 'Little B' are enlivened by his wild, unpredictable energy. Elsewhere it's a mixed bag: Diesel is still aiming for Shakespearean heft; Cena's Jakob is a blast but almost an entirely different character as he enters "fun uncle" mode; Letty and Cipher have a great fight scene for absolutely no reason. Crucially, the all-too-brief return of Jason Statham and a few final reel cameos promise more fuel for next time – the final ever (or is it?) Fast movie.
5) The Fast & The Furious (2001)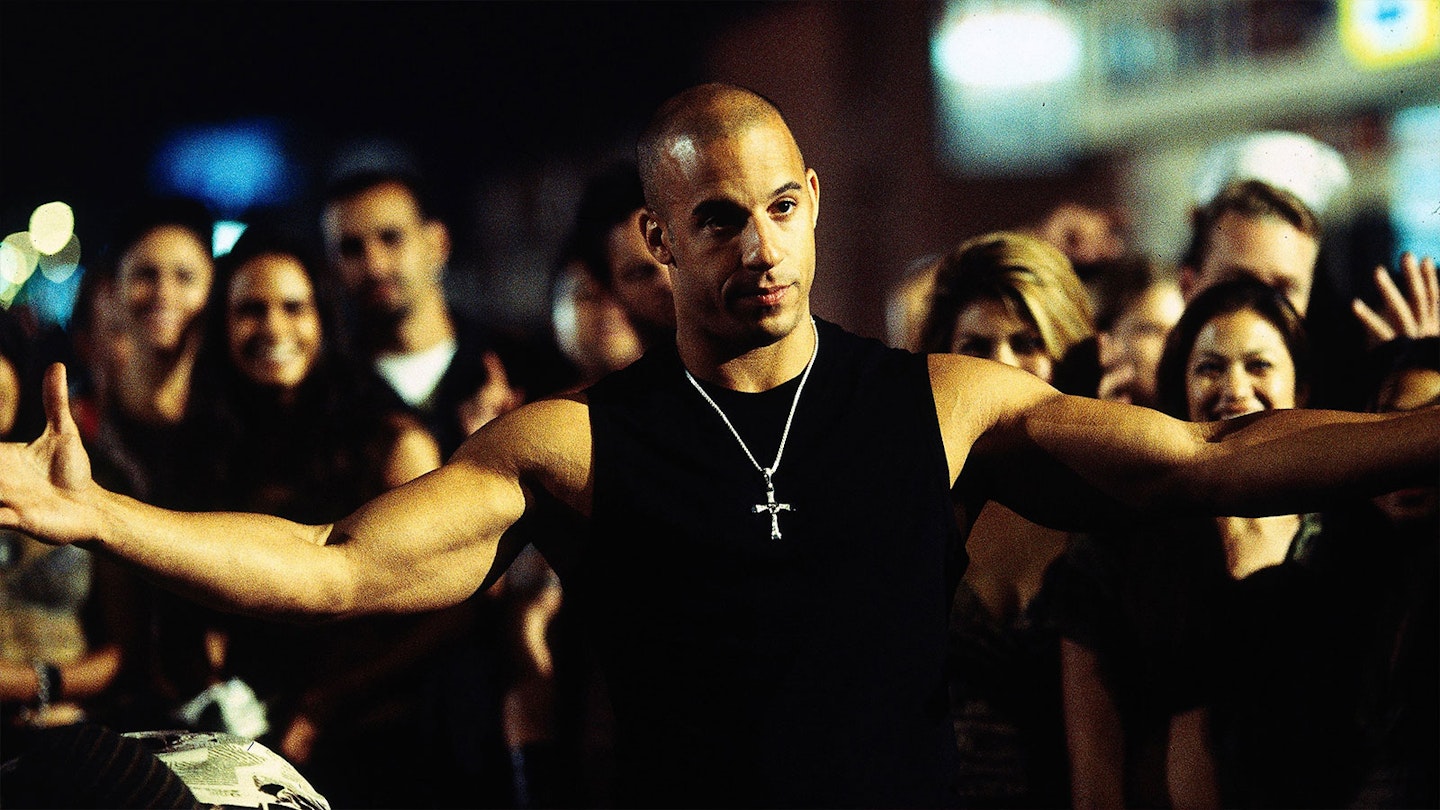 The one that started it all. A million (quarter) miles away from where the series ended up, the first entry is more-or-less a straight-up redo of Point Break, swapping surf and Swayze for engines and Diesel. Paul Walker is the cop who goes undercover in an extreme sports ring, who ultimately finds himself aligned with the very people he's supposed to be chasing down. It's a solidly-constructed mid-budget action-thriller, with a street-racing focus that felt largely unexplored on the screen at the time. The pairing of Paul Walker and Vin Diesel, with all-attitude support from Michelle Rodriguez, proved sturdy ground for a two-decade long franchise – plus the racing sequences hold up nicely, too. With its fast cars, egregious booty-shots, aggressive machismo, and Corona bottles a-plenty, it's the nucleus of everything to come.
4) Fast & Furious Presents: Hobbs & Shaw (2019)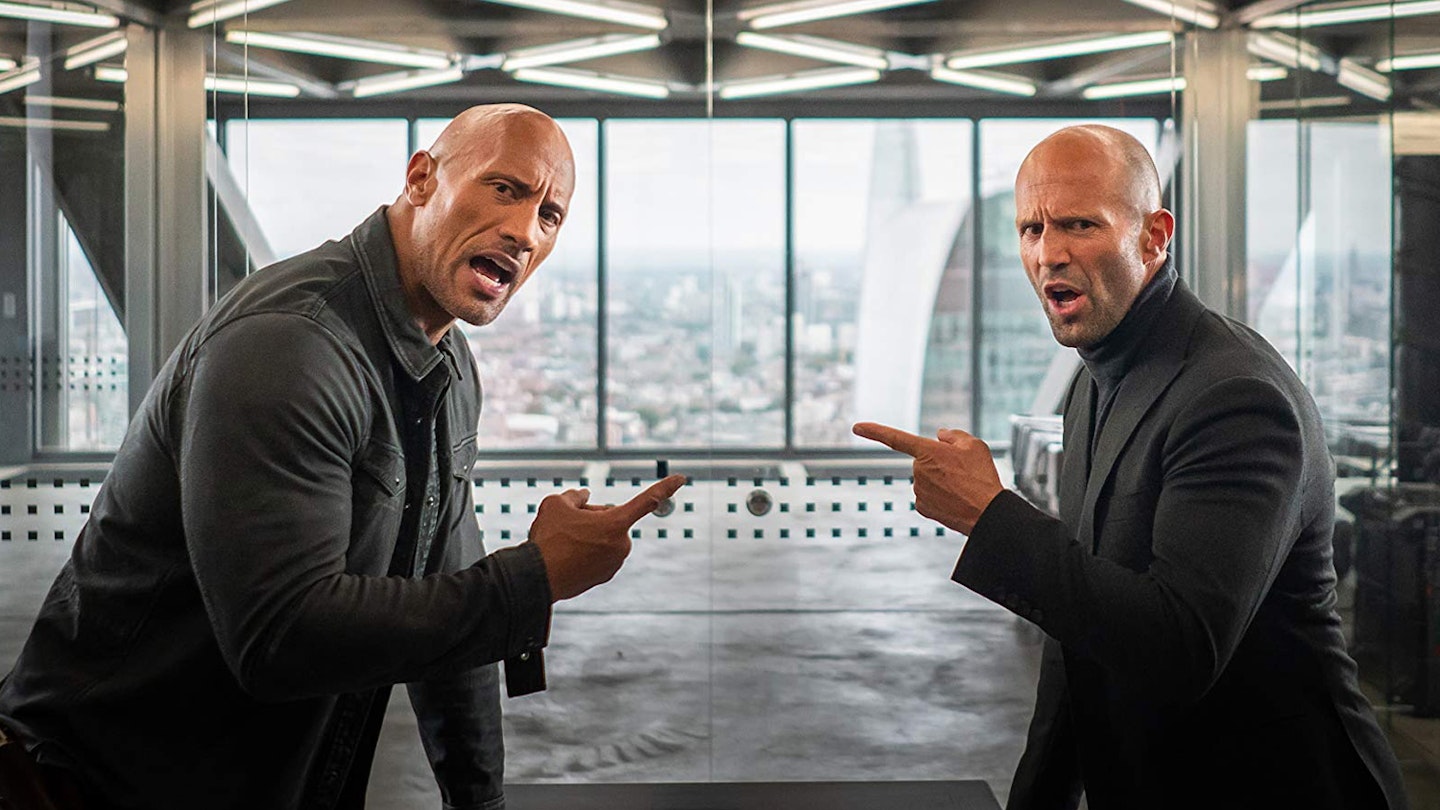 What's the one thing that gets in between family? Contractual disputes! Post-Fast 8 (and the whole behind-the-scenes 'Candyass' saga), Dwayne Johnson and Jason Statham span off into their own Vin Diesel-free adventure – a Tango & Cash-esque buddy movie that pairs the American tank up with the British, er, mini-tank. The result, directed by action dab-hand David Leitch, is an undeniably messy but largely entertaining blockbuster that throws everything at the wall, kitchen sink included – from Idris Elba's biotech-enhanced baddie Brixton (yes, really), to a recurring Ryan Reynolds cameo, to a lengthy final gun-free battle in Samoa. It's indulgent, and could have done with another script pass, but Johnson and Statham are having a ball, even while Vanessa Kirby nearly steals the film from beneath them as Deckard's sister Hattie Shaw. As for vehicular carnage, that's still present and accounted for in the climax's daisy-chain of trucks hanging from a helicopter. Or as the Fast gang call it, 'Tuesday'.
3) Fast & Furious 6 (2013)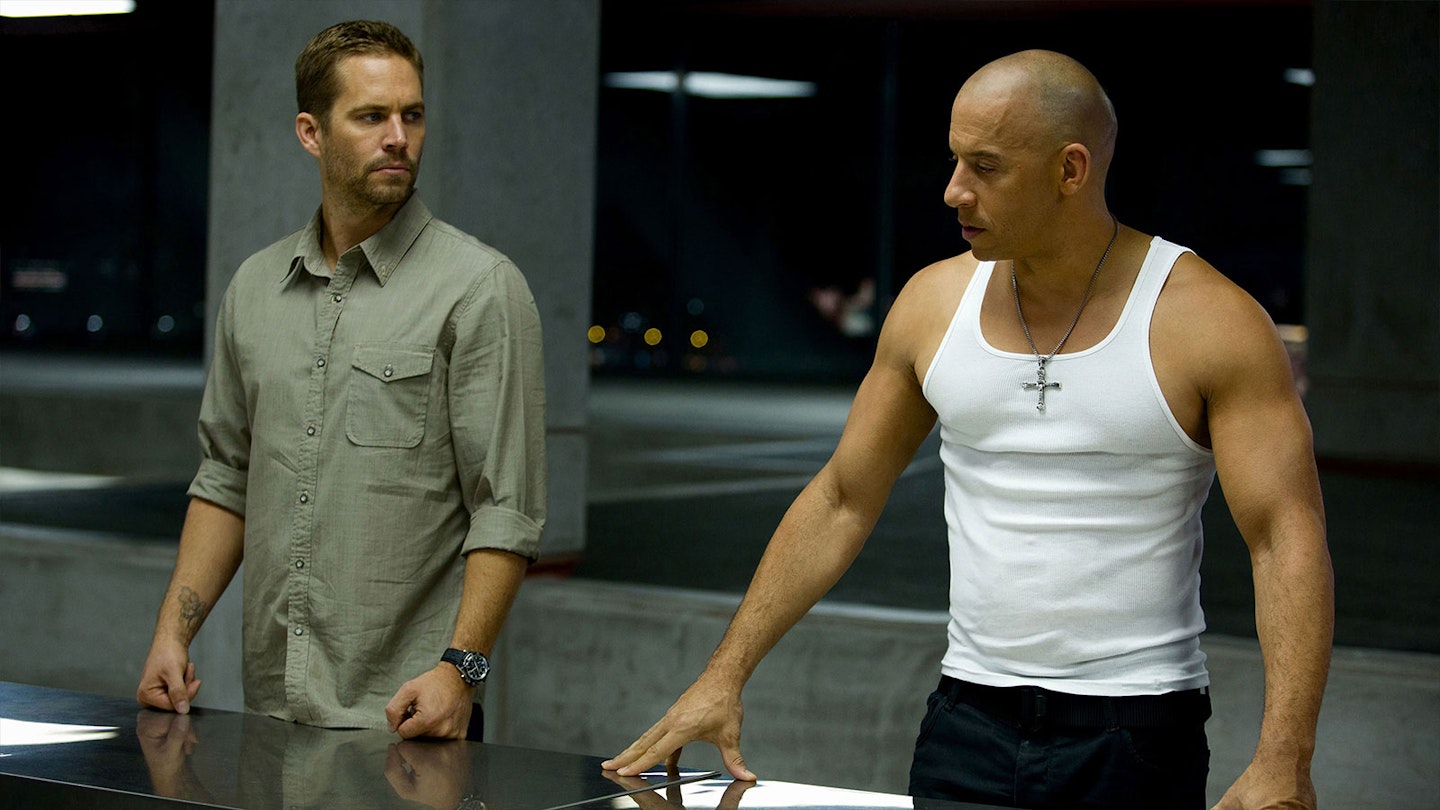 After the success of Fast Five, and gifted the post-credit tease that Michelle Rodriguez's Letty was in fact alive, Fast 6 fully established the series as a grand soap opera, in which nobody ever really dies – and when they inevitably come back, they probably have amnesia. This time the gang relocates to a geographically-challenged London, charged with taking down Luke Evans' international terrorist Owen Shaw, who has taken the amnesiac Letty under his wing. Director Justin Lin, on his fourth instalment, takes the action to ludicrous new heights – with tanks, Vin Diesel flying through the air, and a plane-centric finale taking place on the world's longest runway. It's big, stupid, fun – and teased even greater things to come with a closing flash of Jason Statham, in a sting which confirmed that the events of the previous three films somehow all take place prior to Tokyo Drift.
2) Fast & Furious 7 (2015)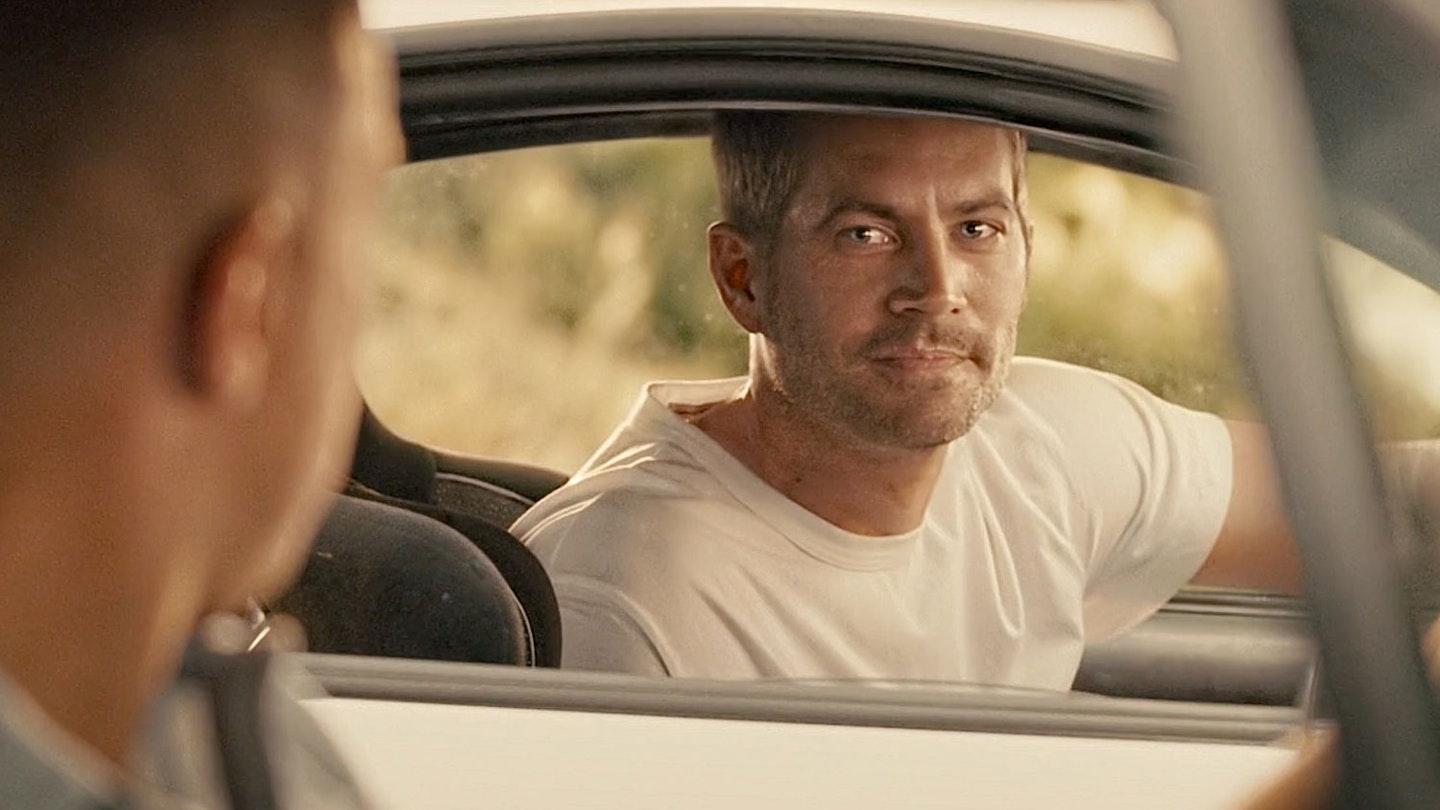 Fourteen years after the first film, the billion-dollar Fast & Furious movie arrived. James Wan took the reins from Justin Lin, and added a third bald, punchy action mega-star into the series: enter Jason Statham's Deckard Shaw, giving the series its most formidable (pre-retconning) villain, and an extra dose of glorious action egotism. The game of chicken in which Stath and Diesel drive straight into one another, neither flinching, is macho-doofus cinema at its purest. It's among the biggest and most ridiculous Fast films (a high bar) – one that has our heroes fly cars across the Abu Dhabi skyline through multiple glass skyscrapers (destroying priceless Terracotta Army artefacts in the process), sees Dwayne Johnson flex his broken arm out of a cast ("Daddy's gotta go to work"), and has the Family steering parachute-laden vehicles out of a plane. It's a magnificent, unapologetic action blast – but it has real heart too. In addressing the tragic, untimely passing of franchise stalwart Paul Walker, who passed away before the shoot was completed, Fast 7's closing moment offers a truly touching send-off to a Hollywood star gone too soon. It's the only Fast film to provoke tears unprompted by mirth.
1) Fast Five (2011)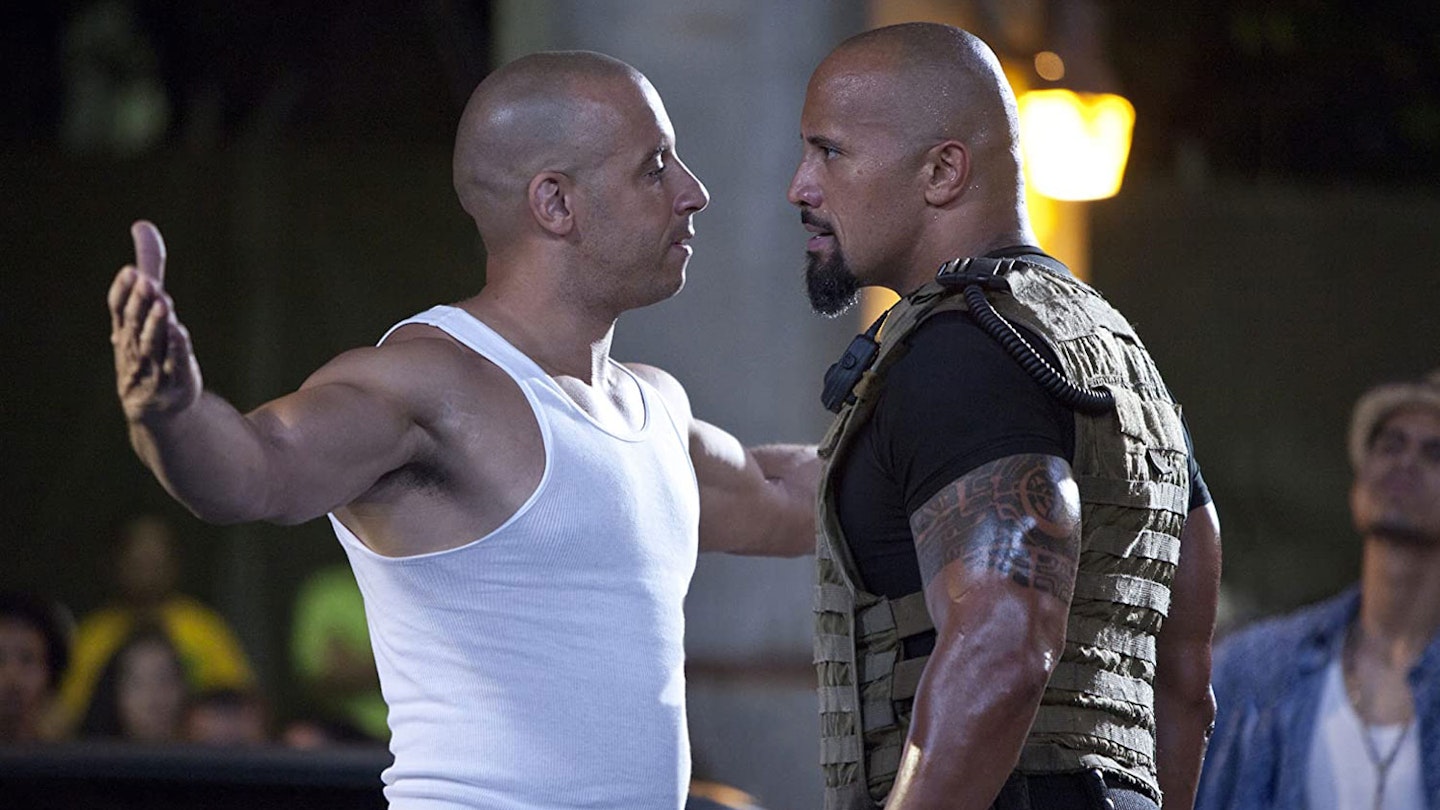 Nobody saw it coming. One decade into the franchise, five films in, and The Fast Saga roared into new life. Justin Lin's third Fast film followed the path laid down by Fast & Furious – largely ditching the street racing, with the Family this time embroiled in a heist plot involving a whacking great bank vault being driven through the streets of Rio. The newfound sense of ridiculousness extended too to the dialogue ("This just went from mission impossible to mission in-frickin'-sanity!") and the injection of the series' own unstoppable Nos boost: Dwayne 'The Rock' Johnson's mountainous hardass agent Luke Hobbs, here a grudging antagonist trying to halt Dom and Brian's madcap plans. From its opening great train robbery, to its rooftop foot chase, to the testosterone-fuelled brawl between Dom and Hobbs, to that vault finale, the action is genuinely brilliant – heightened, sure, but with a touch more grit than the more outlandish setpieces of later films. It shouldn't have been this good, but with all parties at the top of their game, Fast Five elevated and reinvented the series into the loveably OTT adrenaline-fuelled behemoth we now know and love. Coronas all around.
READ MORE: The Fast & Furious Saga's Most Outrageous Retcons
READ MORE: Every Marvel Cinematic Universe Movie Ranked
READ MORE: Every Studio Ghibli Movie Ranked
READ MORE: Every Pixar Movie Ranked