As we celebrate our 25th anniversary year, we're taking a long look back over the last quarter century of cinema. We already looked at the greatest opening scenes and greatest romantic gestures, but this month we look the brawls that were brawled. These were the fights and fisticuffs that shaped the last 25 years...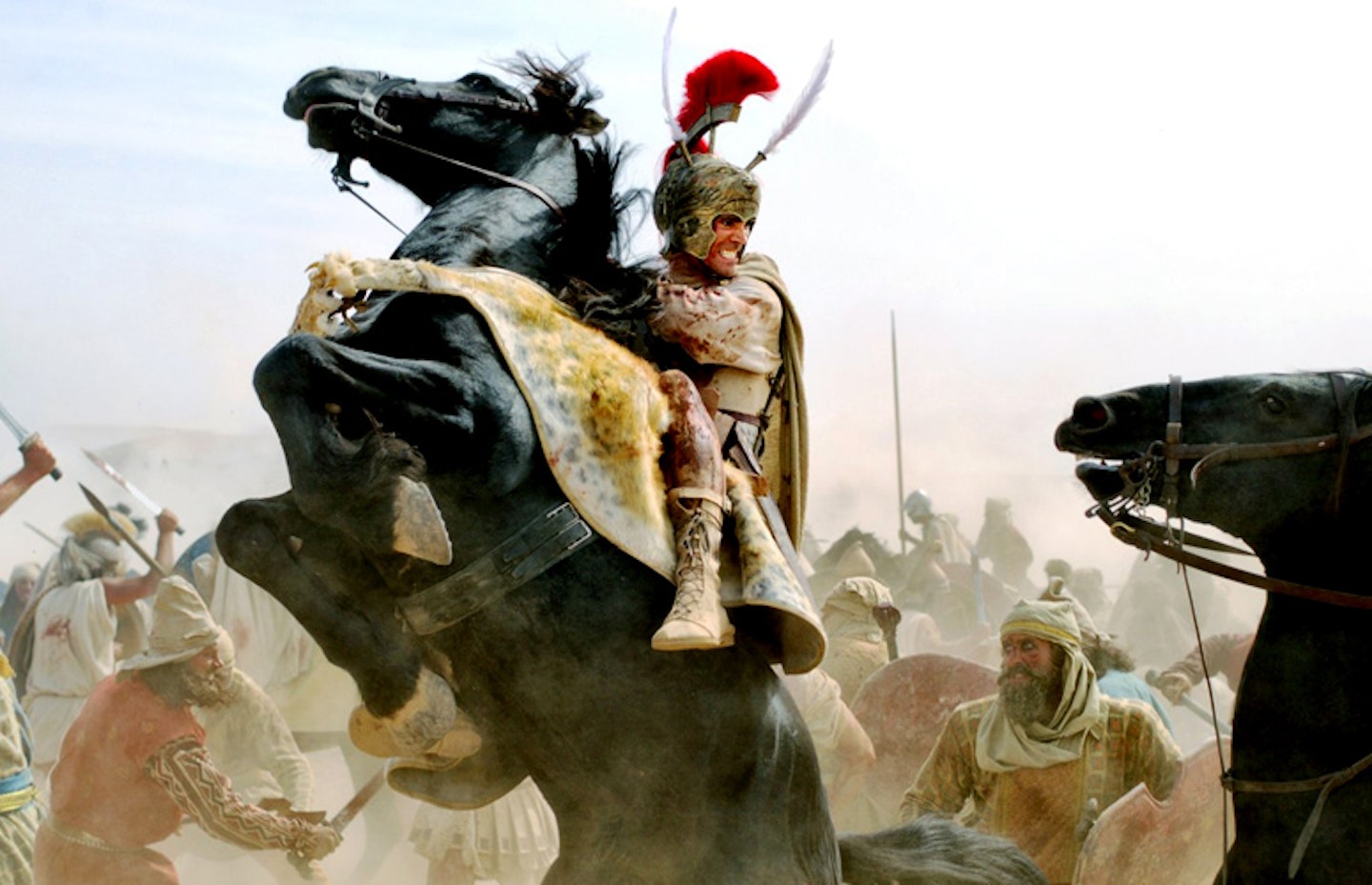 25 GAUGAMELA (ALEXANDER, 2004)
A movie with risible moments, sure, but few filmmakers can match the authenticity in action of Vietnam veteran Oliver Stone. Yet as Alexander The Great (Colin Farrell) leads 40,000 Macedonians against an estimated 250,000 Persians, it's not simply the sense of anticipation and fear that's captured, but the strategy that enabled this mighty leader to defeat such odds in 331BC. Impressively cogent storytelling.
---
24 BATTLE OF THE CRATER (COLD MOUNTAIN, 2003)
It's the most infamous element of the American Civil War's Siege Of Petersburg, as Union troops tunnel close to the Confederate trenches and set explosives only to find the blast leaves them charging into a crater where they can be mercilessly slaughtered. Blood, mud and claustrophobic carnage — as one of the rebels shouts, "Goddamn fools dug their own grave."
---
23 LANDING ON IWO JIMA (FLAGS OF OUR FATHERS / LETTERS FROM IWO JIMA, 2006)
Clint Eastwood's bold double feature showing both sides of the notorious struggle for the Pacific island of Iwo Jima is perhaps best summarised when the Americans land amid odd silence and... in the film showing the Japanese side of the story we observe General Kuribayashi (Ken Watanabe) hold his nerve, before giving the order to fire. The result is devastating.
The sweaty bomb-disposal scenes astound in Kathryn Bigelow's Oscar-winner, but the desert-set sniper versus sniper shoot-out is both gripping and fascinating, with the tension ratcheted by telling military details — at one point Jeremy Renner has to clean off bloody bullets so the rifle won't jam.
---
21 BORAT VERSUS AZAMAT (BORAT, 2006)
"How dare you make hand-party over Pamela!" shouts Kazakhstan's favourite son when he finds his rotund compatriot knocking one out over a spread of Ms. Anderson. The flesh-baring, ball-grabbing, nipple-biting fury that follows — as Sacha Baron Cohen and Ken Davitian wrestle bollock-naked — is still a quite astonishing bit of commitment to comedy. "Eat my asshole!"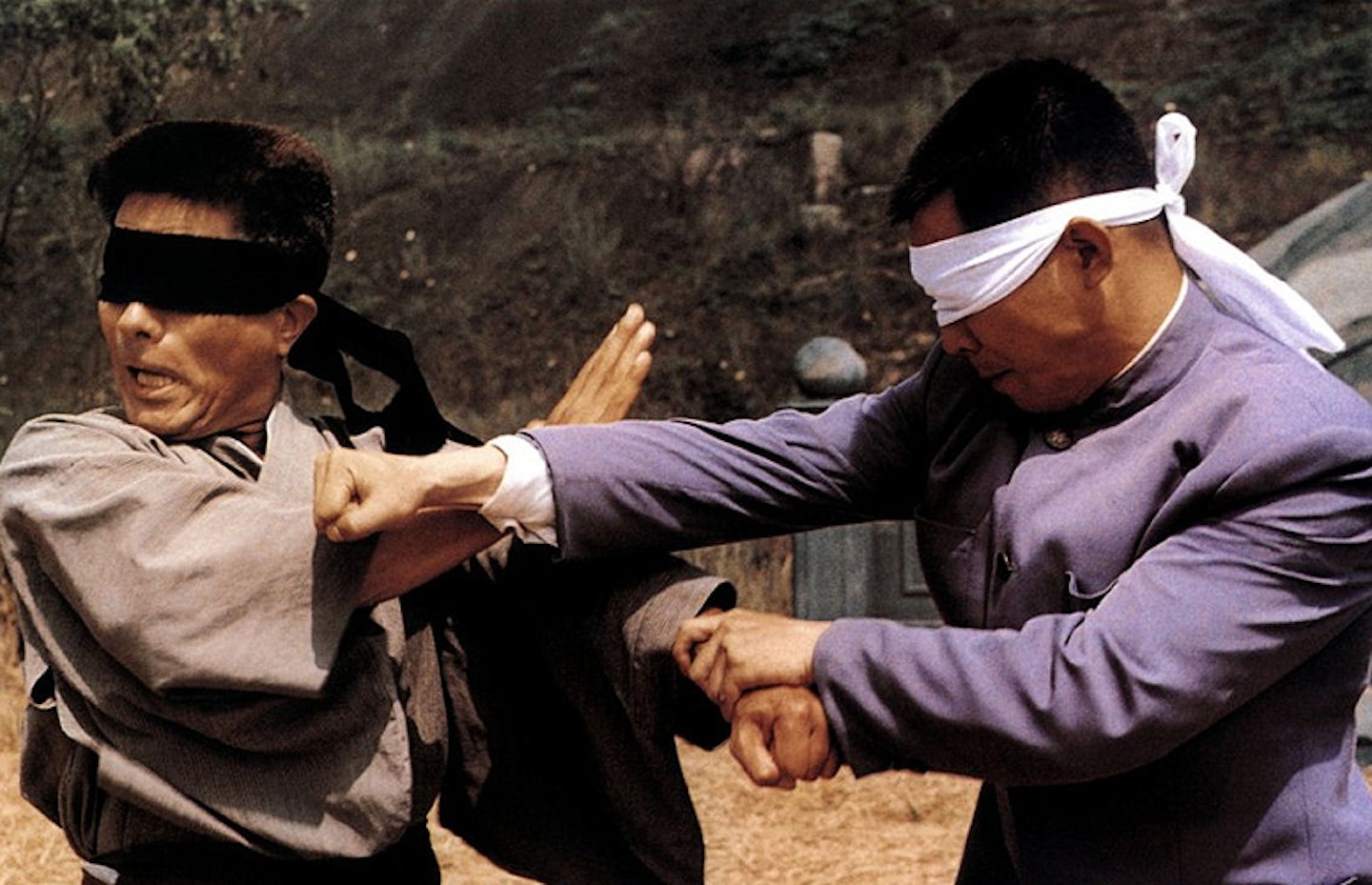 20 THE FIELD FIGHT (FIST OF LEGEND, 1994)
It's mano-a-mano mayhem as martial arts masters Jet Li and Yasuaki Kurata show just how much discipline and skill is required to truly, exhaustively beat the shit out of each other. Raid director Gareth Evans rates this one of his top five fights and it's not hard to see why, with the field fisticuffs elevated when Li, realising his opponent is struggling to see, puts on a blindfold to make it a fair fight. Hang on, there's something in our eye...
---
19 DARCY VERSUS CLEAVER (BRIDGET JONES'S DIARY, 2001)
It's the desperation that makes this scrap so funny and effective, as well as the fact it features Britain's then primary leading men beating seven bells out of each other. Their attempts at kicking are quite brilliantly awkward, as is Grant grabbing Firth's arse in a foiled attempt to upend him. And the knock-out punch is highly satisfying. Loses points for It's Raining Men.
Toruk means "last shadow" in Na'vi and the multicoloured dragon beastie certainly proves many a man's final sight as it descends on the gunships along with a flock of similarly deadly Banshees in Avatar's spectacular finale. Vivid - and remarkable for its boundary-pushing CGI - but also thematically apposite, summarising the movie's struggle between nature and machine.
---
17 AGINCOURT (HENRY V, 1989)
Kenneth Branagh was famed on stage more than screen when he made his directorial debut with the none-more-precocious aim of eclipsing Laurence Olivier's much-lauded take on Shakespeare's most stirring play. He succeeds brilliantly, not least in what is still a surprisingly murky, grimy and gutsy portrayal of the iconic conflict, utilising the power of sound to suggest the whip and whoosh of arrows in the air as the happy few put the French to flight.
Funny to think that when Matt Damon first played Jason Bourne, people weren't sure he could convince as an action hero. It's apt, then, that his most memorable scrap is so off-kilter and inventive, as faced with a knife-wielding assailant (Marton Csokas) Bourne rolls up a magazine to ward off the blows, before using an electrical cord to deliver the coup de grâce.
15 SIEGE OF FORT WILLIAM HENRY (THE LAST OF THE MOHICANS, 1992)
It's a typical blend of precision and heart from Michael Mann, as with Hawkeye (Daniel Day-Lewis) imprisoned inside — and in love — the British encampment is mortar-bombed into submission by the French. The fight is enthralling, but so is the surrender: a scene of honour and gentlemanly conduct undone by the massacre that follows.
What a gunfight: a near 20-minute explosion of retribution, as Kevin Costner's reformed fighter goes back to what he's (sadly) best at, accompanied by Robert Duvall to keep his conscience. As the battle becomes house-to-house and increasingly desperate, Costner deserves great credit as director for how he keeps the geography and sense lucid — and how each death is really felt.
Violence is too often referred to as poetic, but the wire-fu work in Ang Lee's Oscar-winner has that quality. As Chow Yun-Fat and Zhang Ziyi brush blades atop trees in a bamboo forest, the sense of skill, elegance and delicate danger is, literally, heightened.
---
12 THE BATTLE OF THE WINCHESTER (SHAUN OF THE DEAD, 2004)
As zombies surround Shaun's (Simon Pegg) local and the landlord is walking dead, he doles out pool cues so he and his pals can defend themselves — as Queen's Don't Stop Me Now blares from the jukebox. Not just a gag, the sequence blends fear and fine stunt work as well as Edgar Wright's impressive visual wit.
The more you watch The Raid, the more remarkable it seems that no-one was permanently disabled while making it. It's a testament to the wiry athleticism of Yayan Ruhian that when he faces a brutal assault from The Raid's (kinda) heroic brothers (Iko Uwais, Donny Alamsyah) it seems a little unfair... on them. Even being stabbed in the throat can't stop him.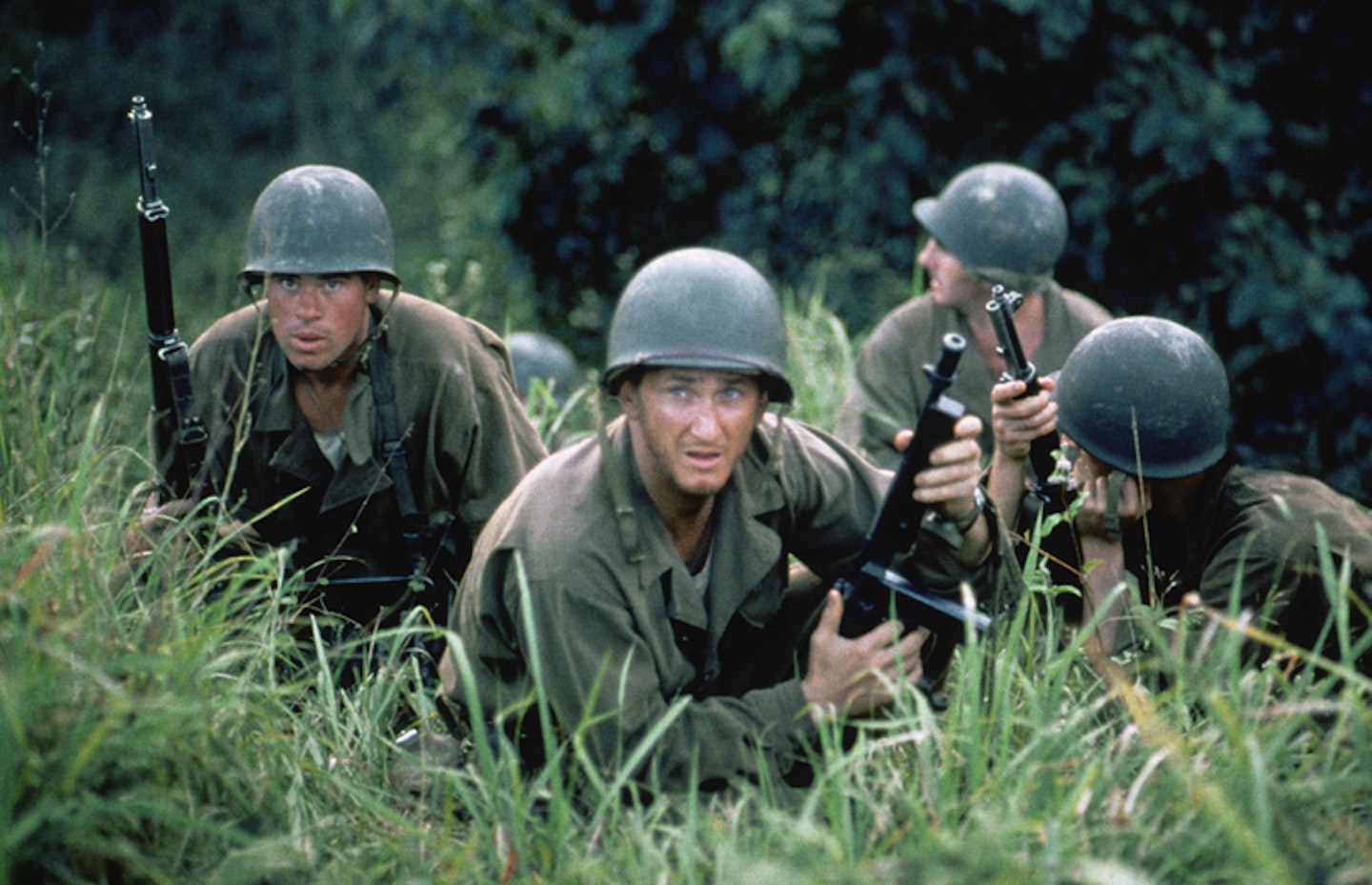 10 ASSAULT ON HILL 210 (THE THIN RED LINE, 1998)
Terrence Malick's comeback movie is relentless in its depiction of the chaos and carnage of battle, but it's perhaps best exemplified in the assault on a machine-gun fortified hill (led by an intensely cool John Cusack) and the sorry loss of a sergeant (Woody Harrelson) who accidentally pulls the pin on his own grenade. "I blew my butt off!" A horribly tense, sad and pitiful sequence.
---
9 NATIVES VERSUS DEAD RABBITS (GANGS OF NEW YORK, 2002)
Ritual and sacrifice, speechifying and slaughter; as flawed as Gangs Of New York is, it is also signature Scorsese. The opening battle sets out the themes — power, family, turf — and the unsparing tone. As if fuelled by Goya and Guinness, it's a nightmarish lurch through extreme violence (fish-hooked, torn cheeks; bitten-off ears) until Bill The Butcher (Daniel Day-Lewis) leads his Natives to a shockingly bloody victory.
---
8 HMS SURPRISE VERSUS THE ACHERON (MASTER AND COMMANDER: THE FAR SIDE OF THE WORLD, 2001)
Pain amid beauty is part of what makes Peter Weir's work. In this, cinema's most visceral broadside, the French privateer Acheron attacks the far smaller HMS Surprise from the mist, bringing death to her young officers, until Captain Aubrey (Russell Crowe) launches a counterpunch — then decides on the better part of valour, taking them into the fog and the chance to fight another day.
Death wears yellow in Tarantino's gloopy, gory and extraordinarily well-choreographed showdown, as The Bride (Uma Thurman) easily dispatches henchmen then offers O-Ren (Lucy Liu) the challenge, "Any more subordinates for me to kill?" Uh-oh. Enter innocent-seeming schoolgirl Gogo (Chiaki Kuriyama) with a 'meteor hammer' to wreak havoc. Pulpy yet oddly poignant.
Copper-hued clouds in the credits give way to a hand caressing wheat in a field, the memory of a man at peace about to unleash hell. As you'd expect from Ridley Scott, the build-up and world-building is astonishing, but, as the cavalry charges and the flames fly, it's Russell Crowe's charisma that really helps us to care. "What we do in life echoes in eternity."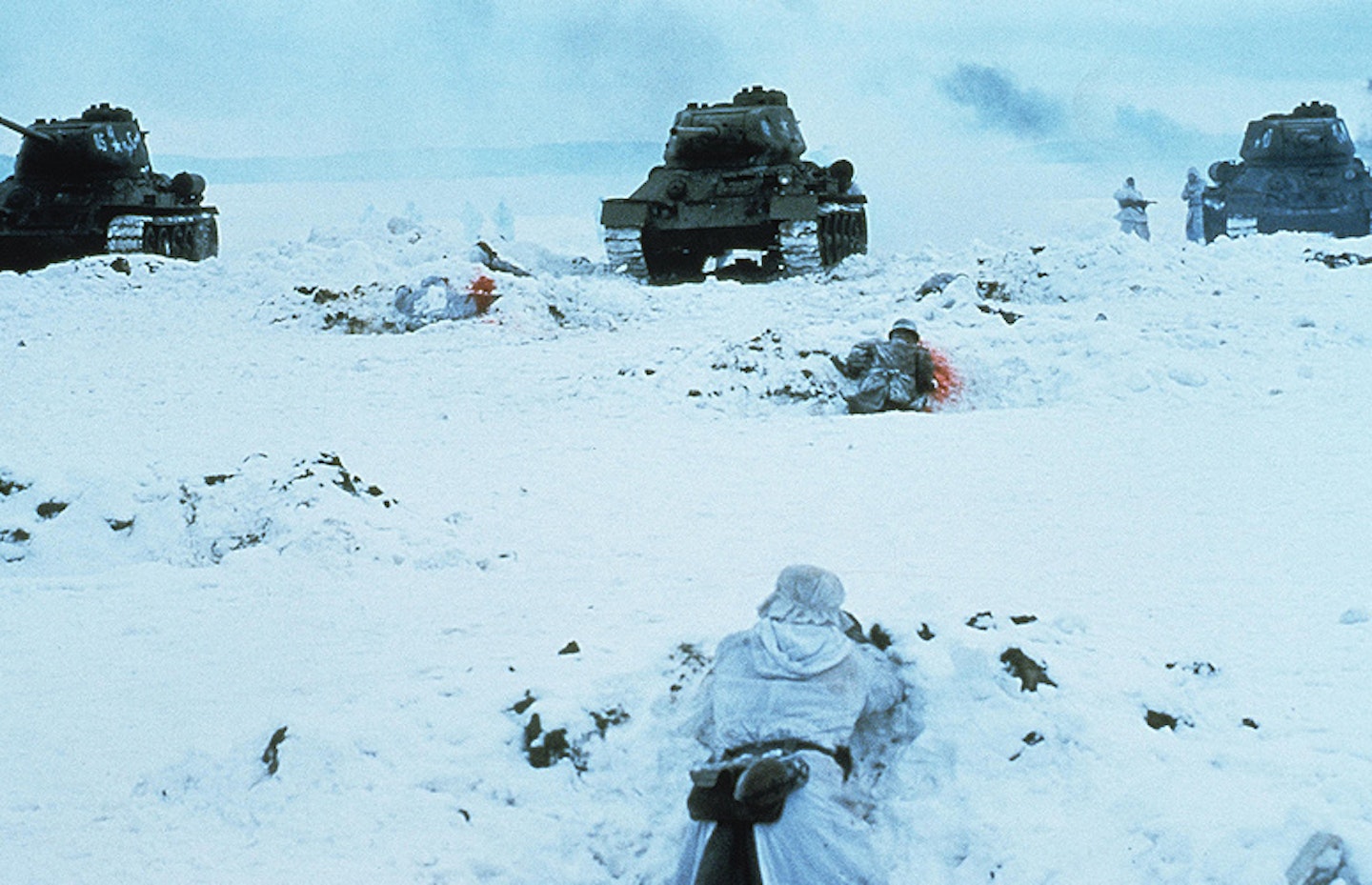 5 THE TANK BATTLE (STALINGRAD, 1993)
Slaughter in the snow, as T-34 tanks advance on the German positions, running down those they don't shoot, a blast bisecting one soldier who screams until his vital organs realise just how much of him is missing. Staged so you have a sense of the chaos but don't lose track of events, it's a startling sequence given a grimly amusing sign-off when one soldier risks his life to get hold of a pair of boots.
"Rule number one: no touching of the hair or face!" Gang war, Frat Pack-style. Despite stiff competition, Ben Stiller's moustache is arguably the most dangerous thing on display as the news anchors fight for street supremacy, but it's rivalled by the humongous trident wielded by guileless weatherman Brick Tamland (Steve Carell). "I stabbed a man in the heart!"
"They seem quite optimistic to me. Maybe they do want to fight," says perky Lord Talmadge (Martin Murphy) as he sees William Wallace (Mel Gibson) inspire his men prior to the battle. He's considerably less chipper when his heavy cavalry is destroyed by a crafty trap and Gibson — interchanging giant fuck-off axe with awesome fuck-off sword — beats hell out of his infantry.
For all his talent and ambition, Peter Jackson may never equal the awe of this sequence, as the Uruk-hai advance on the Rohirrim's last bastion amid a night-time rainstorm, and the director's blend of practical grit and CG scale is tested, and triumphs. You can see the influence of Zulu and El Cid, but with a sense of dread and dark wonder that's entirely its own.
"I'll see you on the beach." The trembling and vomit in the landing craft suggest the GIs have some idea of what awaits them on the shore, but the audience really doesn't. Taking you into the most terrifying terrain of World War II, a maelstrom it's miraculous anyone survived, this is Steven Spielberg's most accomplished sequence. Gripping, intense, upsetting — an astonishing feat of POV filmmaking.