Platform: PS5, PS4
Horizon Forbidden West has a lot to live up to. Not only is it the long-awaited follow-up to one of the PlayStation 4's best first-party games, Horizon Zero Dawn, but it's also, arguably, the biggest release yet to land on Sony's next-gen platform. Thankfully, the open-world action-RPG doesn't just meet expectations – it shatters them like a Stalker-obliterating spear.
For starters, the sci-fi sequel checks all the expected 'bigger and better' boxes. Harnessing all those horses beneath the PS5's hood, it sports a stunning, sprawling open-world that packs much more variety and detail than its predecessor. From its lush jungles and snow-capped mountains to its striking new underwater stretches, every last corner of the massive map's been crafted with incredible attention to detail. Of course, when not striding atop a Tallneck, soaking in the sights and spending way too much time with the game's photo mode, you'll be turning mechanical menaces into smoking, sparking piles of scrap metal. The previous entry's mix of ranged and melee, skill tree-driven combat returns, but it too has been significantly enhanced.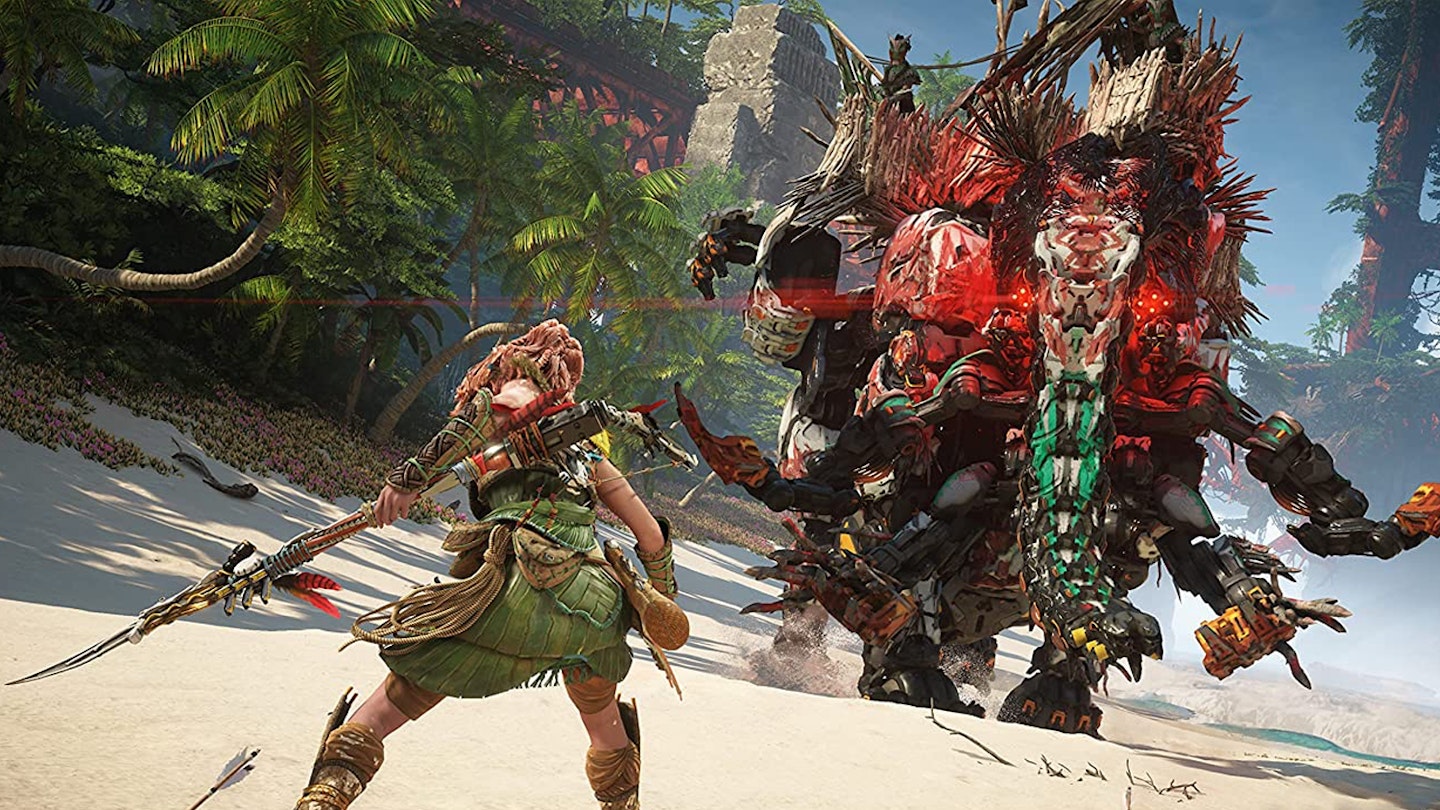 Plenty of fresh death-dealers – as well as new monstrous machines to unleash them on – ensure you'll never tire of taking out the game's inspired line-up of lethal beasts. Valor Surges are an especially welcome addition – upgradable super-skills that can be a literal blast to deploy. Knocking a group of attackers on their backsides, before moving in to finish them off, is a particularly rewarding strategy performed behind the aptly named Radial Blast.
While a bigger world, better weapons, new enemies, and prettier visuals are expected of a AAA game sequel, Guerrilla Games has gone above and beyond to deliver where they didn't necessarily need to. The developer easily could have checked the aforementioned boxes, called it a day, and collected a fat paycheck and plenty of critical praise – but the studio's clearly invested as much time into ensuring the story-telling is as strong as the pulse-quickening encounters. With the series' universe and key players established in the first entry, the follow-up is free to forgo the expository filler in favour of digging into this imaginative world's absorbing lore and engaging supporting characters. Coupled with some of the most emotional performances the medium's ever seen  – and complemented by next-level motion capture – the narrative shines as bright as an exploding Blaze canister.
A heaping pile of thumb-blistering awesome that'll keep you slaying mechanical dinosaurs well into the wee hours.
The game similarly raises the bar in its ability to make its many side quests and optional activities feel complementary to the critical path. Rather than packing the map with fetch quests and simple distractions, nearly every activity you engage in either fuels character progression, organically connects to the main story, or otherwise provides a worthwhile reason to make tracks on the road less traveled.
If there were any gripes to be had with Horizon Forbidden West, it's that it likely won't be as enjoyable for new recruits. While playing Horizon Zero Dawn certainly isn't a requirement, the sequel's numerous nods and callbacks to it don't exactly roll out the red carpet for those who wouldn't know a Broadhead from a Behemoth. And, as impressive as it all is, at the end of the day, it's still very much a big-map-brimming-with-objectives sort of experience. If that's never been your cup of tea, Horizon Forbidden West probably won't sway you.
For everyone else though, this PS5 juggernaut is a heaping pile of thumb-blistering awesome that'll keep you slaying mechanical dinosaurs well into the wee hours. More than just a sequel that delivers on the requisite improvements, Horizon Forbidden West exceeds expectations at almost every turn.