A few hours into Horizon Zero Dawn, Sony's heavily-hyped open-world action-adventure, Empire finds itself stalking a mechanical, Brontosaurus-looking beast dubbed a 'Tallneck'. Upon leaping atop the lumbering monster's back, we scale its elongated nape before jabbing a spear into its enormous, saucer-like head. It's a thrilling sequence of events that results in the game's map revealing new intel.
More impressive than hacking into this skyscraper-sized dino-bot's skull though, is the fact developer Guerrilla Games — previously known for the Killzone franchise — briefly fooled us into believing we'd just completed an objective type unseen in other games. If you've played any number of Far Cry or Assassin's Creed entries, however, you've tackled this same task countless times by capturing towers and climbing synchronisation structures.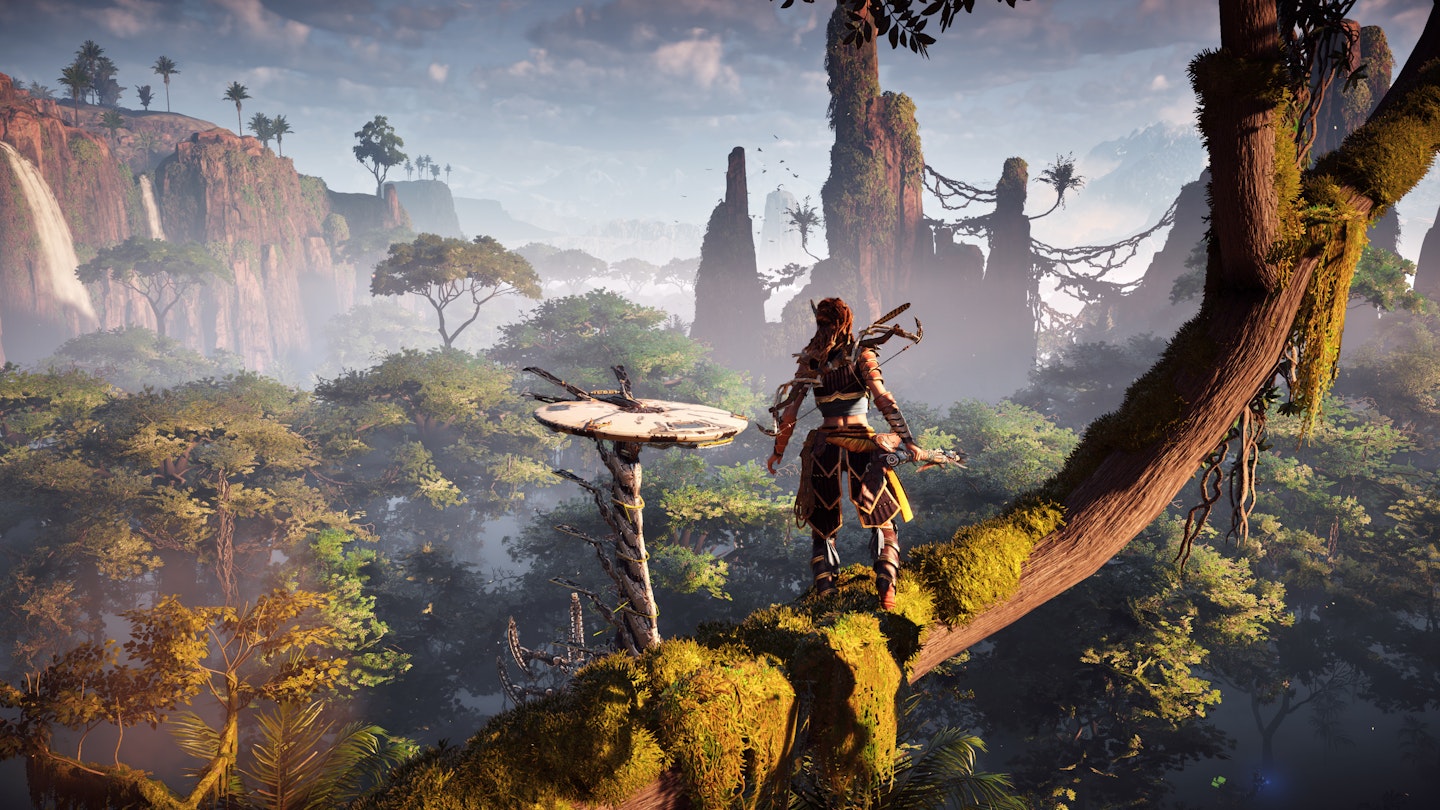 The ability to make a feat as mundane as populating a map feel fresh again extends to nearly all of its myriad systems and mechanics. While you'll participate in plenty of familiar genre activities, from combat and crafting to looting and levelling, Horizon's deft implementation of these sandbox game staples gives them new life. Performing a stealth kill — something we've done millions of times — for example, never gets tiresome when it results in your capable she-warrior, Aloy, standing over the sparking husk of a Velociraptor-shaped robot.
Horizon's technological terrors are both a sight to behold and a blast to face on the battlefield.
Much credit is due to the game's imaginative story and setting, a brilliant blend of sci-fi and fantasy that presents a post-apocalyptic world refreshingly void of zombies and mutants. That's not to say the game is lacking enemy threats; on the contrary, players will face a nightmare-conjuring line-up of mechanical creatures that make the Transformers look as menacing as schoolyard bullies. Heavily influenced by prehistoric beasts, Horizon's technological terrors are both a sight to behold and a blast to face on the battlefield.
When not utilising a variety of pimped-out primitive weapons to turn these threats into smoking heaps of twisted metal, players can engage in a number of other activities, from some Uncharted-like free-climbing to a bit of mystery-solving reminiscent of the Batman games' detective mode. Whether skewering a recon 'Watcher' through its glowing eyeball or simply scavenging 'ancient chimes' (read car keys), though, every step brings you closer to unraveling the absorbing mysteries of this sprawling world and its compelling main character.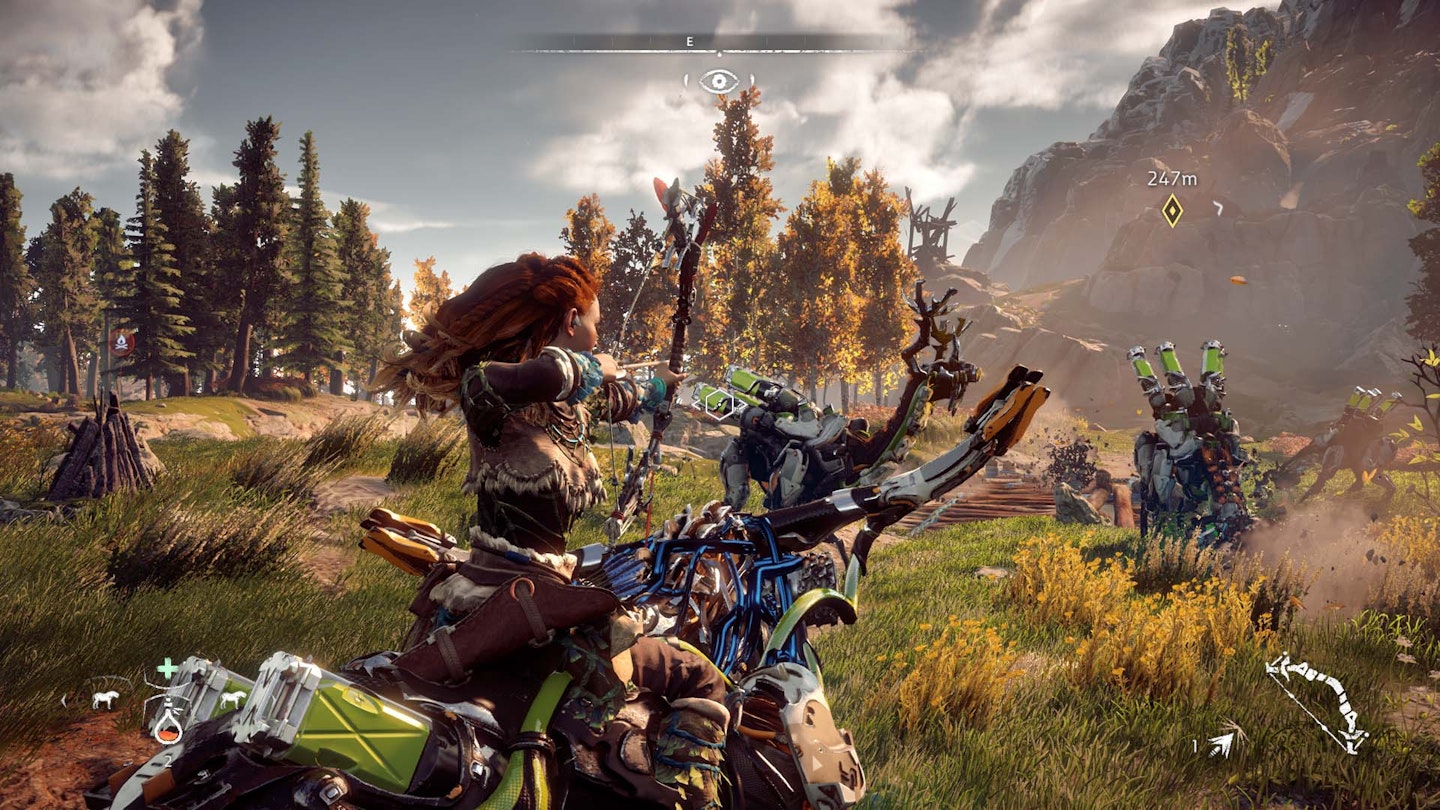 While Horizon's breathtaking universe and cinema-rivalling narrative help elevate familiar gameplay formulas, its abundant polish, expert pacing, and slick implementation are also as solid as the calcified cars buried in its ancient ruins. Sure, it sports the occasional sloggy mission and stilted character performance, but no single element feels superfluous, arbitrary, or under-cooked. And everything not only clicks on its own, but interconnects organically to each of the game's many moving parts.
Much like its metallic monsters, Horizon is a well-oiled machine. It's also the PlayStation 4's best exclusive entry and an early contender for 2017's game of the year.