Episodes viewed: 4 of 8
Streaming on: Apple TV+
The BTS crew of Lisey's Story might be the creative backroom team of 2021. Executive produced by J.J. Abrams, directed by Jackie's Pablo Larraín, written by Stephen King (adapting one of his own favourite novels) and brought to life by a crack unit of high-end artisans (cinematographer Darius Khondji, production designer Guy Hendrix Dyas and composer Clark), it's a reflective collection of its author's favourite themes — the relationship between fan and creator, fathers and sons, the play between mythology and metafiction. It's beautiful to look at and intermittently absorbing, but doesn't grip in the way the team of talents suggest it might.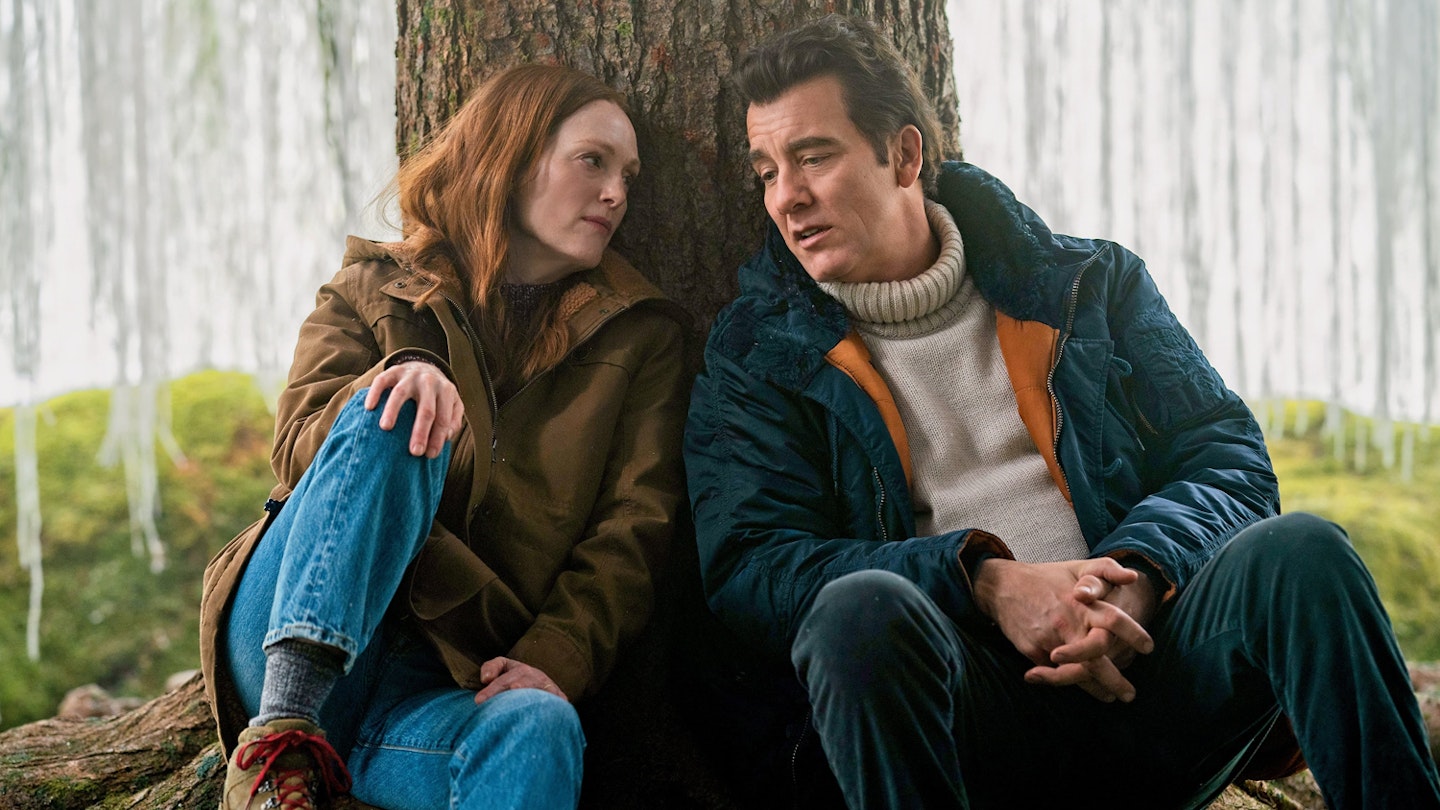 The through-line is simple enough. Two years after the murder of her husband, Pulitzer Prize-winning writer Scott Landon (Clive Owen), widow Lisey (Julianne Moore) — pronounced 'Lee-see' — starts being terrorised by crazed Landon fan Jim Dooley, aka Jim Dandy (Dane DeHaan), who wants her to give over Scott's unpublished materials to a university so his genius can be available for all to see. So far, so Misery. But sifting through her husband's effects provokes Lisey into re-examining her husband's traumatic past at the hands of his father and the alternate (all-in-the-mind) world of Boo'ya Moon, a fantastical safe haven where Scott and his brother would recuperate. Lisey is also battling with her sister Darla (Jennifer Jason Leigh) over their self-harming sibling Amanda (Joan Allen), currently residing in a psychiatric hospital, who also escapes into Boo'ya Moon (which in her version resembles the steps of Kurtz's compound in Apocalypse Now).
It's perfectly crafted, austere and elliptically put together, but it does little to stir the blood.
The opening set-up has a grand, operatic De Palma quality — who doesn't want to see Julianne Moore slice someone across the face with a spade? — but, early doors, the episodes deliver a weird, disjointed start. We get flashbacks within flashbacks and the storytelling has a literary rather than a cinematic-televisual quality, lacking drive and urgency. The elements are intriguing — a pool with restorative powers, the verdant world of Boo'ya Moon, a giant, beast-like figure called Long Boy — and Larraín and Khondji conjure up arresting images (Lisey and Scott trapped under a willow surrounded by rushing water). It's perfectly crafted, austere and elliptically put together, but it does little to stir the blood.
It takes the Jim Dooley-terrorising-Lisey plot thread to deliver any juice. It starts small — threatening phone calls, a dead crow in a mailbox (Moore's reaction is priceless) — and builds into something much more personal and intense. At times DeHaan's Dooley makes Annie Wilkes look well adjusted, a weirdo with 
a yo-yo, flitting between genuine menace and being laughably over the top. Moore has strong moments, be it in family scenes with Allen (excellent) and Leigh or repeatedly bashing her head on a car window as she drives, but the show never really illuminates her pain or arc. There's a lot that's impressive about Lisey's Story but, on this evidence, little to get truly excited about.