New York in the 1890s was a fine place to live. But only if you were fabulously wealthy. For the rest — the poor, or the droves of immigrants — it was a bleak existence. Dozens of people crowded together in the tiny rooms of unregulated tenement blocks; disease and death rampant.
This is the world of the The Alienist, a twisted murder mystery set during the birth of modern psychiatry. Daniel Brühl is Dr Lazlo Kreizler, the criminal psychologist or "alienist" of the title, the term derived from the 19th-century belief that people suffering from mental illness were alienated from their true natures. Kreizler is a surrogate Sherlock Holmes. Ostracised by the majority of the (mostly corrupt) police force, he's nevertheless tipped off about a mutilated corpse and begins his own investigation, soon coming to believe it's the work of a serial killer.
The Alienist quickly states its position on the gorier aspects of the crimes: the body is discovered when blood drips onto a passerby, and it's without eyeballs, one of which is later seen dropped into a pan of boiling water, as two kidneys are sautéed on the stove one gas ring over.
In many ways it plays like a prequel to David Fincher's Mindhunter.
Unable to get to the crime scene himself, Kriezler sends newspaper illustrator John Moore (Evans) to draw the body, but on seeing the sketches he rejects them as "idealised" — he craves details. How deep were the wounds? Were the guts exposed? And so begins an unlikely investigative partnership; John Moore The Alienist's version of John Watson.
But it's no mere transatlantic take on Arthur Conan Doyle. Making the duo a trio is Sara Howard (Fanning), the first woman to be employed by the NYPD (as anything more than a cleaner). On the force as the new commissioner's secretary, she's given little-to-no respect by her colleagues, and so begins to help Kriezler, who does value her contribution, on his off-the-books investigation.
Ostensibly it's Moore who's our window into this world, but there are dark depths that belie his role just being a useful narrative device — his secret predilection for the city's brothels, for example, caused by a past tragedy. Kriezler, meanwhile, is a cold figure, his genius and drive serving to distance us from him. So too is Howard, but her aloofness is one of necessity — succeeding in a man's world means she's had to make personal sacrifices and only when she's alone do we finally glimpse the real person behind the public face. Fanning is exceptional as Howard, subjected to all manner of barbs, but managing to keep her stoic reserve while leaving us in no doubt of her true feelings.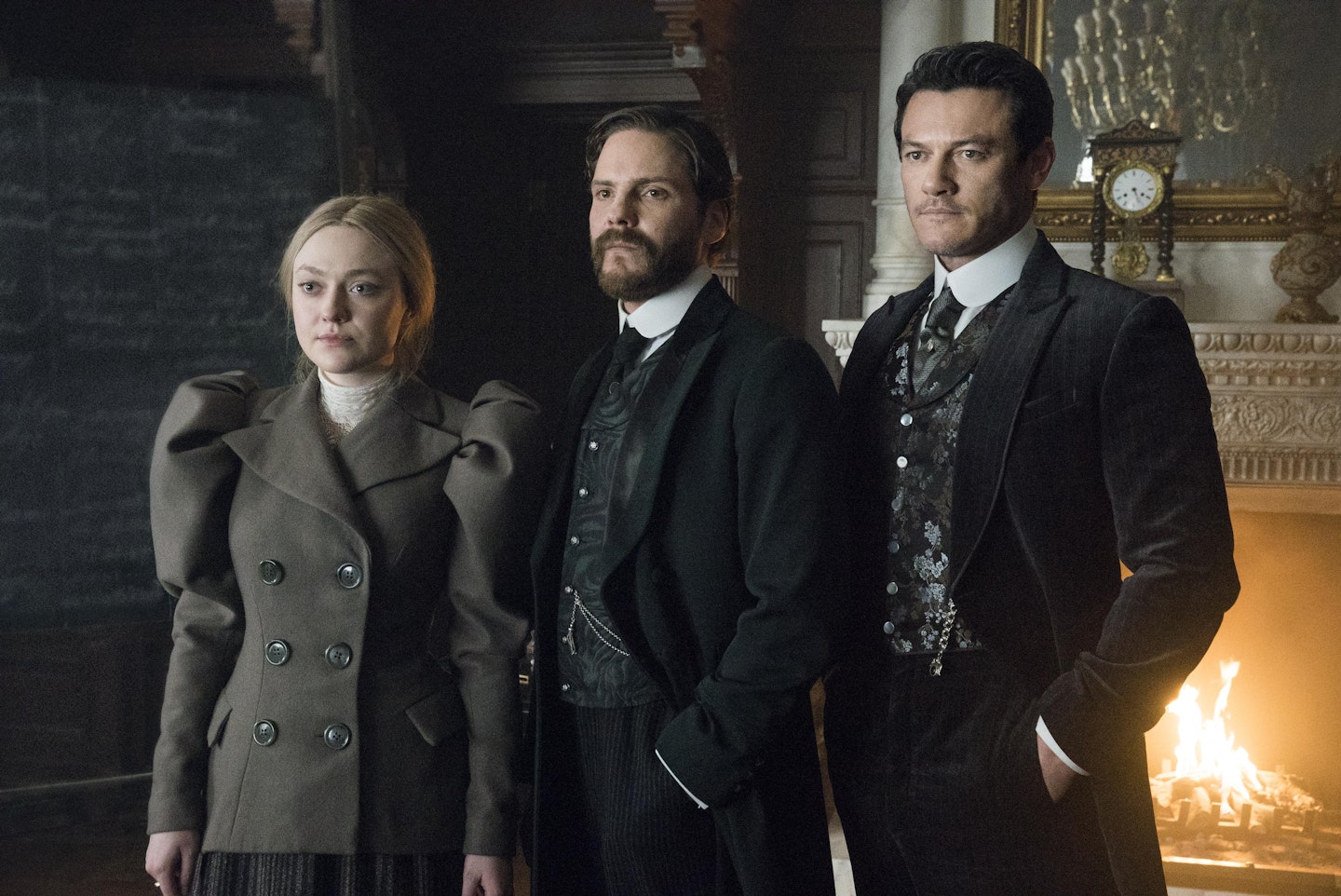 Much of the show's fun is to be found in the period detail. Not just the recreation of 1890s New York (on a set in Budapest) but in the real-life characters who appear throughout the run, including financier J.P. Morgan and, more prominently, future President Theodore Roosevelt (Geraghty) as the new police commissioner who secretly sanctions Kriezler's work. And it's not just psychology that's in its infancy; so too are other aspects of police work, including the use of fingerprints, the validity of which is discussed over a dinner.
In many ways it plays like a prequel to David Fincher's Mindhunter, with a small group pushing the boundaries of police work while treated with mistrust and suspicion by their peers. And while it doesn't hit that series' heights, it's a fascinating and richly detailed drama deserving of its star power.