A fan favourite from animated shows The Clone Wars and Rebels, Jedi-adjacent Togruta badass and erstwhile Padawan Ahsoka Tano became the breakout star of The Mandalorian's second season, brought to three prosthetic-enhanced dimensions by Rosario Dawson. The character's success has led to her now about to star in her own upcoming Disney+ series, and Dawson's confidence levels are so high, she's already talking about Season 2, before the first has even landed.
"I'm absolutely putting it out into the universe," Dawson tells Empire in the new issue's world-exclusive Ahsoka cover story, talks of her hopes for more episodes. "We're joking about it, but I'm manifesting it because I feel like I helped Dave [Filoni, Star Wars mastermind and Ahsoka Tano's co-creator] manifest this role. So I'm ready. I'm excited. I'm willing. I got my ice-packs ready to go for Season 2 and beyond! I would not be mad at that." Looking at the action-packed trailer of what's to come in Season 1, we wouldn't be either.
Tano's storied history encompasses being Anakin Skywalker's apprentice, commander of the 501st Legion in the Grand Army of the Republic during the Clone Wars, and a Rebel spy, and Dawson's affection for her is essentially the same as that of the fanbase. "I love how confident she is," Dawson tells us. "She's not fearless, but she never hesitates. She is so willing, but she does have worries, she does have stress and she's gone through a lot of anxiety. She's had some really tough crises and traumas in her life. I really dig how complex she is. Even her moments of just finding her way, and butting heads, and being stubborn, and being wrong; having to deal with the pain of what that is when soldiers are dying under her command."
As for the responsibility and pressure of taking ownership of the character in her own show, Dawson says she's still at "the overwhelm level", but that it's nothing but a privilege. "Getting the opportunities to embody her more and more, and collaborating with everyone as things have shifted and developed and progressed... it's just been amazing," she says. "That same sort of excitement that I saw on people's reaction videos [to her inaugural Mandalorian appearance] is how I keep feeling every day when I look in the mirror and get to do what I get to do… If anything, it's only ramped up." Bring on Ahsoka.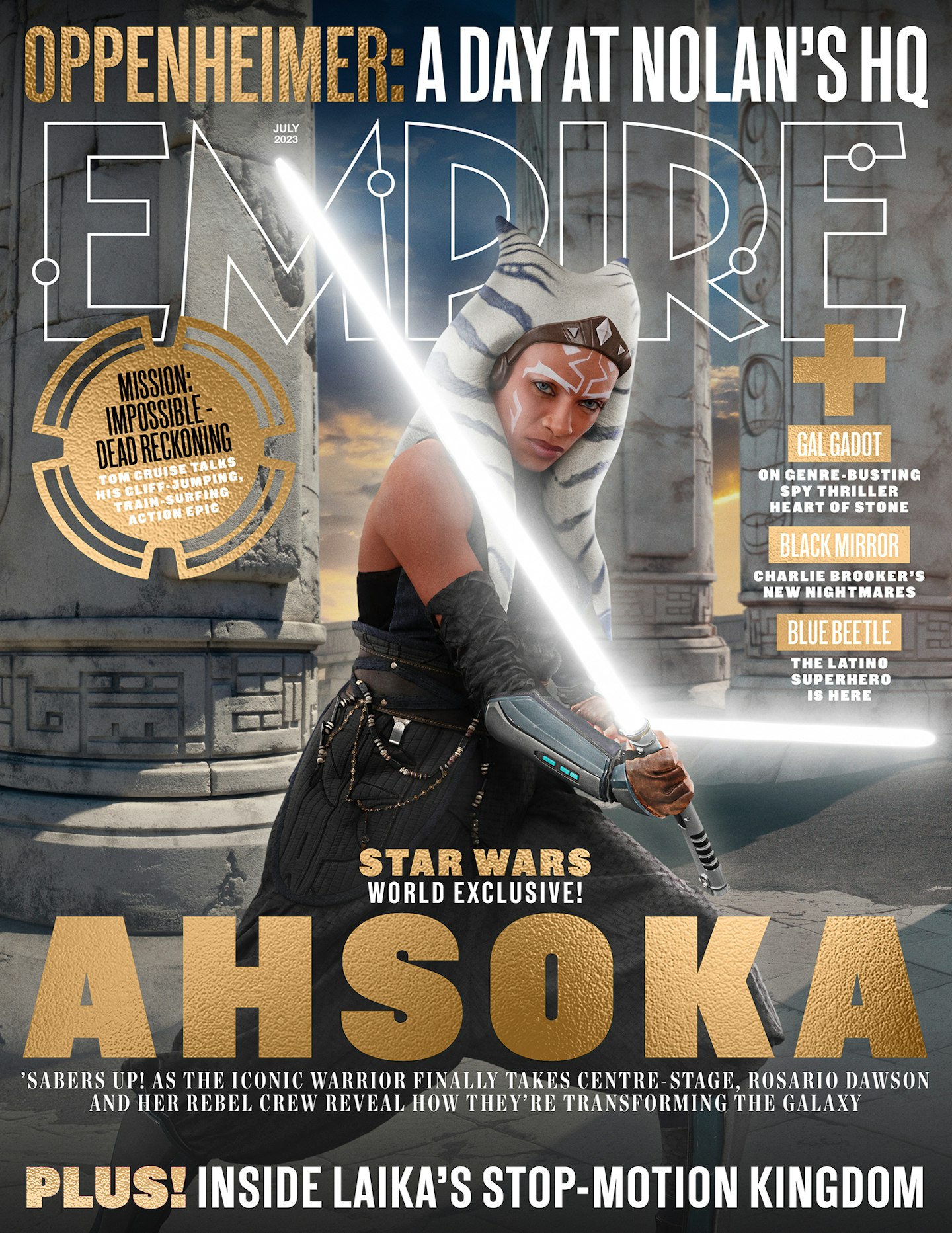 Read Empire's world-exclusive Ahsoka cover story – speaking to stars Rosario Dawson, Natasha Liu Bordizzo, Mary Elizabeth Winstead, Diana Lee Inosanto and the late Ray Stevenson, plus creator Dave Filoni and producer Jon Favreau – in the upcoming July 2023 issue, on sale Thursday 8 June. Become an Empire member to access the digital edition in full on launch day, or pre-order a print copy online now here. Ahsoka comes to Disney+ in August 2023.