For the actors on the show, The Mandalorian is an experience like no other. And, as Pedro Pascal, Katee Sackhoff and more tell us, Season 3 has pushed them further than ever...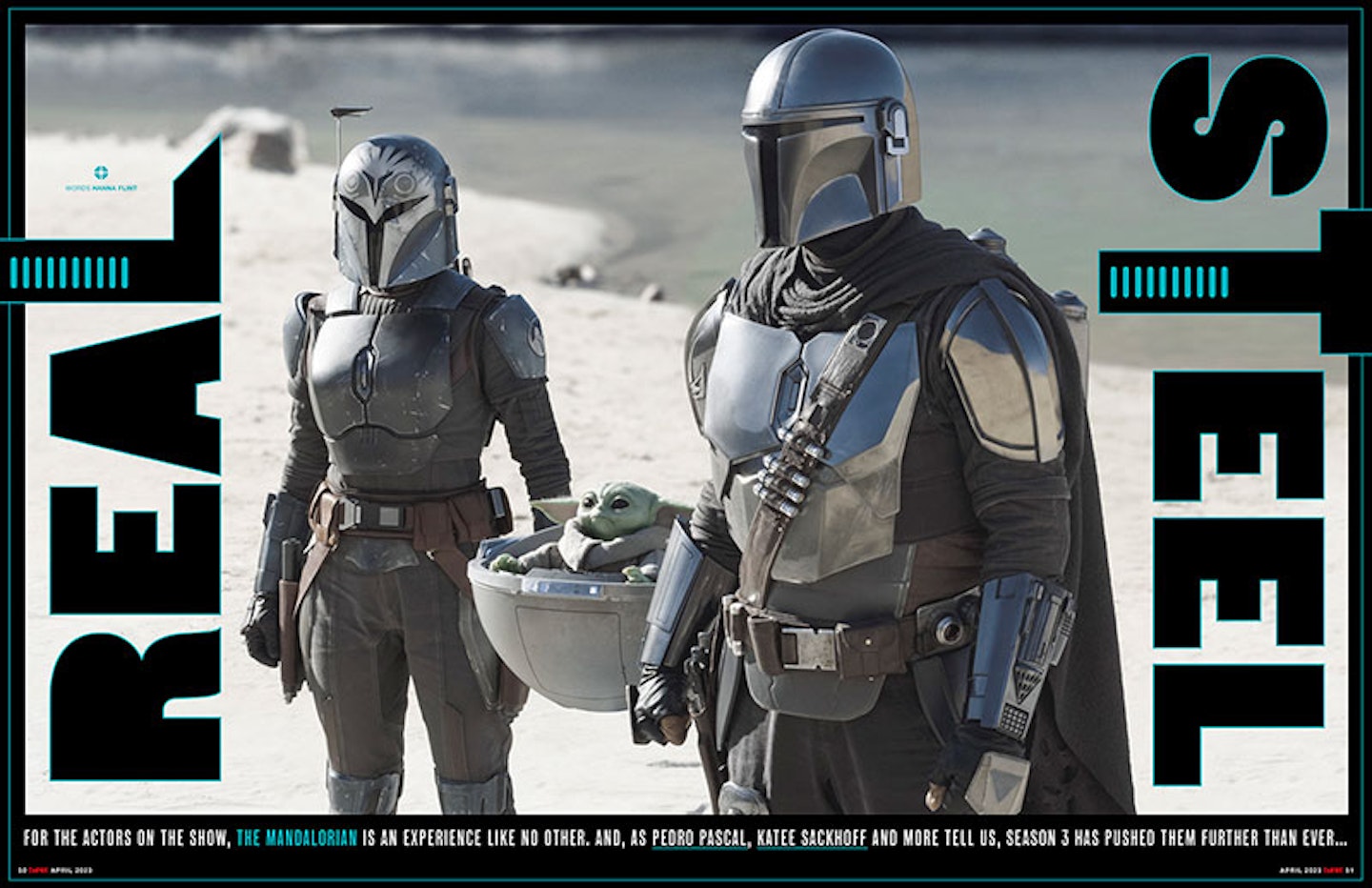 Read an extract from our exclusive The Mandalorian Season 3 feature from our April 2023 issue below, or read the full article here.
Pedro Pascal climbs into his Beskar armour, dons his helmet and strides into darkness. There he awaits a flickering of light to reveal which fantastical planet he'll be transported to. Having been led through "an anonymous, sterile parking lot into anonymous, sterile hallways", he suddenly finds himself… well, anywhere.
Every day on the set of The Mandalorian Season 3 is transformative. One minute you're in your trailer, "doom-scrolling, listening to NPR [National Public Radio] and the news and dissociating," Pascal tells Empire. The next, you're walking through the bustling capital of the volcanic planet Nevarro, thanks to the groundbreaking visual-effects technology of the Volume. "It's almost like going into Space Mountain," he says with childlike wonder. "This perpetually dark studio that gets lit up by snow-capped planets."
This LED immersive soundstage presents vibrant backdrops, landscapes and locations for cast and crew to interact with in real-time, in just one studio. In a corner, VFX engineers huddle at computer monitors. Pascal affectionately calls them "NASA", because they have the artistry and technical know-how to launch the actors into hyperspace and realise the expansive vision of the show. Yet, the world-building goes beyond computer graphics; the rich practical texture of caves, massive city sets and intricate starships are built in the centre of the Volume, seamlessly connecting to the virtual world.
To read this article in full, become an Empire member. You'll never miss an issue, be able to read every issue in full either on the website or in the app, PLUS you'll get access to member-only content and rewards.