If you look at it from Sylvie's point of view, the first season of Marvel's Loki was a total success story. The vengeful variant of Asgard's God Of Mischief crashed into proceedings with a specific agenda in mind: to not only find whoever was running the Time Variance Authority, but to strike them dead, overthrow the notion of the Sacred Timeline, and free the multiverse. Check, check, check. By the end of the Season 1 finale, Sylvie had ticked everything off her to-do list – even if it left, well, the entire notion of reality hanging in the balance. She is, in her own way, a complete inspiration.
Heading into Season 2, then, it was Loki who scrambled to piece the very fabric of existence back together while Sylvie tried to enjoy the fruits of her labour – or, the McDonald's burger of her labour. It was a journey that took in more time travel, an eventful trip to a record shop, and an astonishing new haircut. In the wake of the Season 2 finale, Empire caught up with star Sophia Di Martino to talk Sylvie's singular season.
EMPIRE: Sylvie got what she wanted by the end of Season 1 – the death of He Who Remains. So going into Season 2, there's this big question: Now what? Were you intrigued about where she would go after achieving that goal?
SOPHIA DI MARTINO: The possibilities are limitless. That's the multiverse! At the end of Season 1 [producer Kevin Wright] asked me, "Where do you think Sylvie goes next?" One thing I said was, "She's been running for such a long time. She's been living in the most horrendous places, just surviving for so long... I think she'd just be really hungry." I don't know if I was just hungry at the time. [Laughs] She's polished him off, she's done what she set out to do. I think she'd just, like, go get a burger.
You sowed the seeds for the McDonald's plot in Season 2!
Yeah! I learnt my lesson. You've got to be careful what you say to producers. Nothing is in jest! Two years later I find myself in a McDonald's uniform, ordering everything off the menu. I think it's a metaphor for Sylvie being able to try and live a normal life and enjoy what she's created. She finds some contentment, and she's able to make some friends for the first time in her life.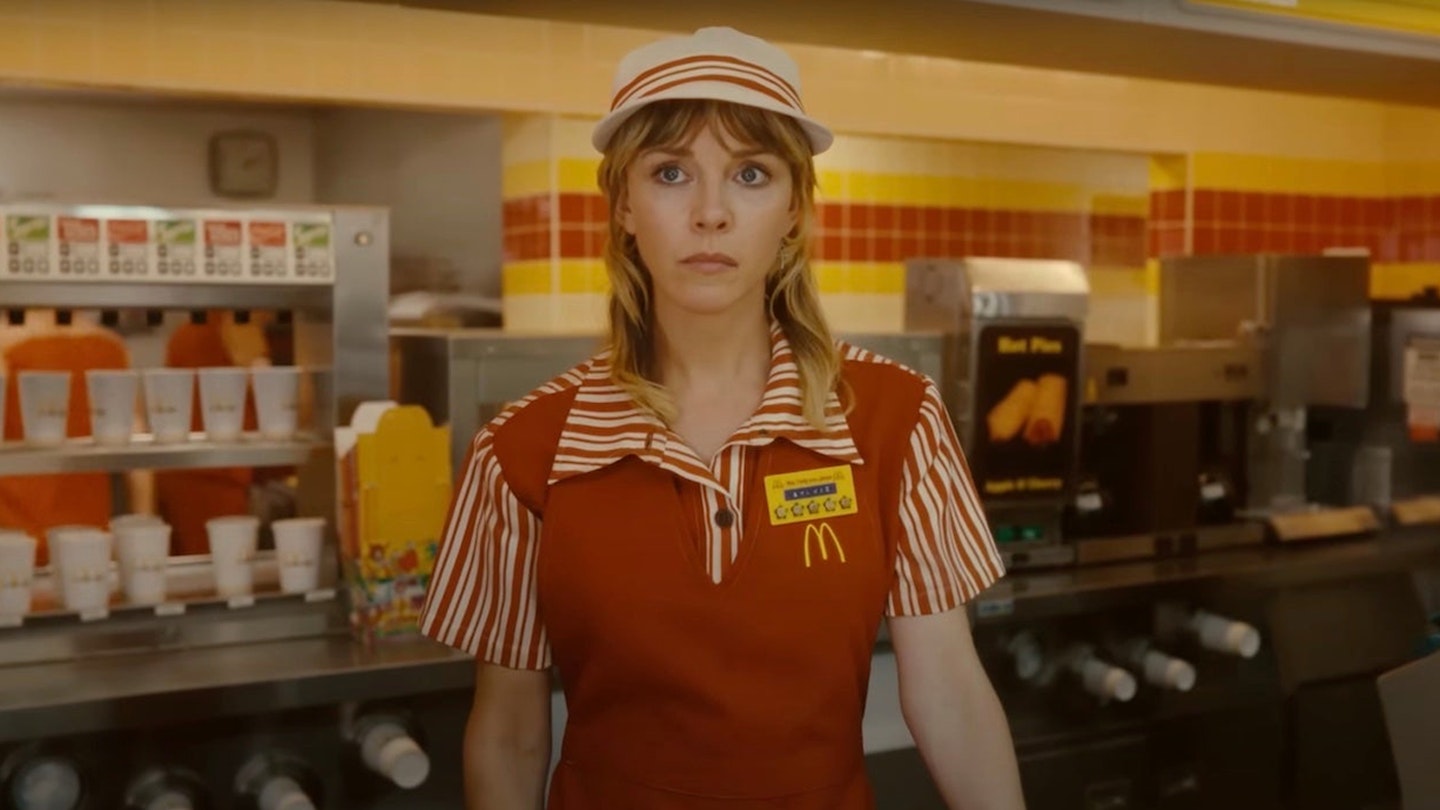 Sylvie doesn't go back to her own universe – she makes a choice to go somewhere new.
Yeah, she definitely doesn't want to go backwards.
I have to ask about the mullet. The mullet is amazing.
It's a wolf cut! Wakana [Yoshihara, hair and makeup designer] would be like, "No, it's a wolf cut actually!" I have to honour her vision. It's 1982 where Sylvie's landed on her timeline, so we wanted to honour the DIY hair from the first series, and imagine that it's grown out a bit – she still has her blonde bits from the first series, but she's given herself a hair cut of the time. That was just a cool, Patti Smith reference of that decade. It just felt really Sylvie – a bit punk, a bit cool, and just something new.
And quite loose. It spoke to where she was at this season – vibing out, living life, her hair down. The Season 1 hair was strictly business.
It felt like in Season 1, she's just taken a big pair of rusty scissors and chopped it off, so she doesn't have to worry about it. This series, she's assimilating a bit in her surroundings.
Once I get ready and put my boots on, I feel like Sylvie.
Were you looking to shake things up and rethink who Sylvie could be in Season 2? She has a new look, a new life…
I just wanted Sylvie to always be moving forward. The new hair, the new costume – it was a fresh start for her. That's very helpful as an actor, to have a physical fresh start. For me, costume and makeup is actually a really big part of it. Once I get ready and put my boots on, I feel like Sylvie. For me, it's the boots. I don't know why – it's the last thing I put on, and the first thing I take off at the end of the day. The boots have not changed since Season 1. They make me walk different, they make me feel strong.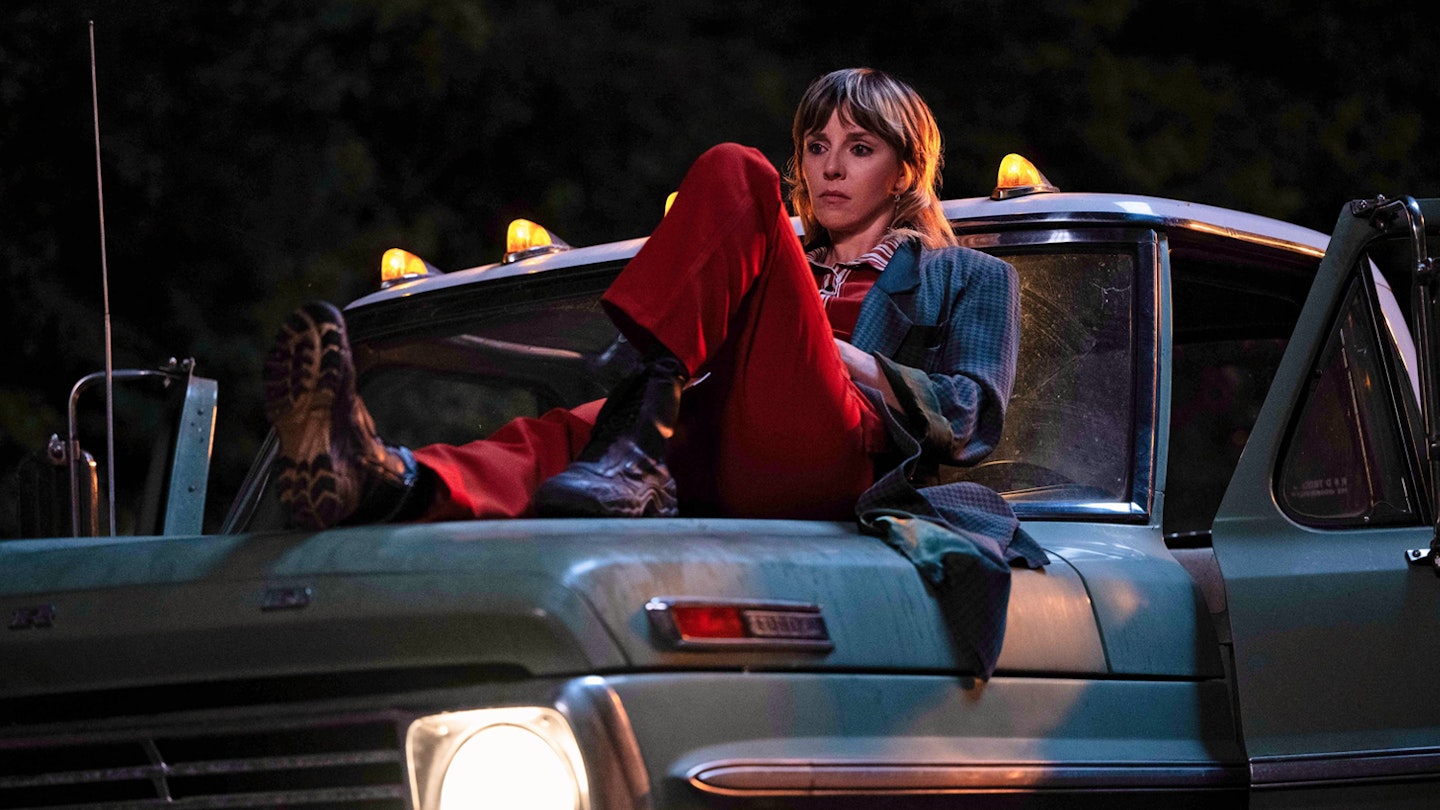 Coming out of the time door in that field where I see the McDonald's was the first shot we did [on Season 2]. That was really helpful, because I could remember the end of Season 1 – I could live in it for a minute, feel what has just happened, and then move on from that. The first scene, when she walks into McDonald's, she's still holding all of that tension.
Other than the all-important burger note, did you contribute on where you thought Sylvie would be going?
I said, "I think she'd want to try everything." She'd want to make the most of living for the first time, and have a sort of optimism that we haven't seen in her before. But she's still really angry underneath it all, because she also knows that He Who Remains' variants may or may not make an appearance. I remember having a conversation that she'd probably want to listen to as many records as she could get her hands on, because she's got so much time to catch up on. And really enjoy just sitting at a bar, having a beer – normal things that we take for granted.
The record shop sequence in Episode 5 is incredible – and it's very Justin Benson and Aaron Moorhead, the directors who oversaw this season. It's very Sylvie, too, her listening to The Velvet Underground while reality collapses around her.
Working with Aaron and Justin was great. They're so chilled and relaxed. And they really put their stamp on [Season 2], I thought. You know if you've seen their films, but they love a '70s zoom, something a bit cool and a bit weird. I'm all for that. The record shop, they really went for it. We knew it was gonna be a special, cool sequence. Reading it I was like, "Oh great! When do we get to do that?" I know the set would be amazing, because of Kasra [Farahani, set designer]. It's like shooting a music video or something.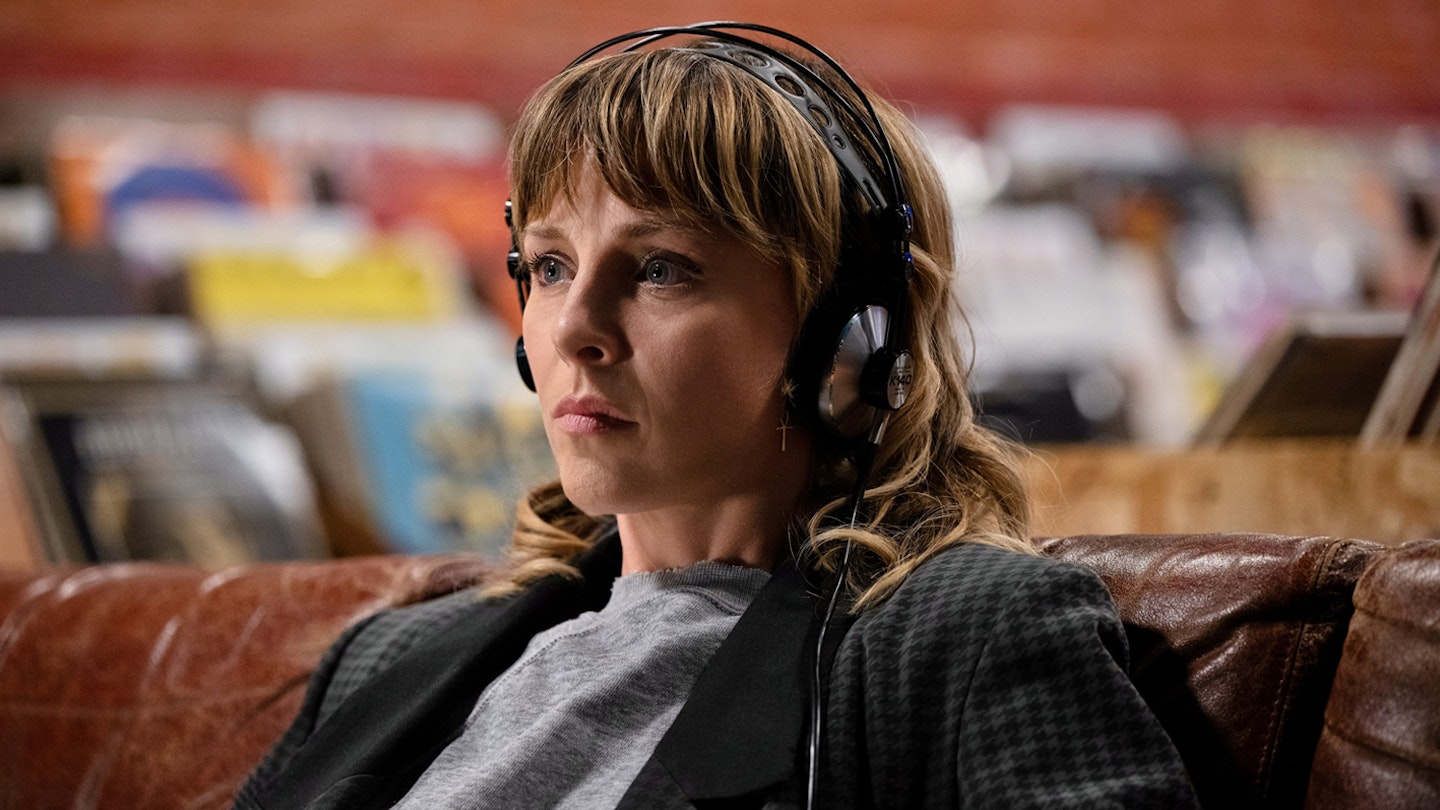 Was it in the script, what the song was going to be?
No. And I listened to a different song when we shot it. I asked them to play 'Purple Rain' by Prince, just because my emotions go a bit crazy when I hear that. [laughs] So that was just my personal preference. We listened to that a lot on the actual filming day. But The Velvet Underground ['Oh! Sweet Nuthin'] is perfect. We tried so many different songs, and I think they tried a few in the edit as well.
It's incredible for that sequence. 'Purple Rain' though... that feels like a very Sylvie song. It's epic, powerful, almost mythical. Had you associated that song with the character before?
I've got a Sylvie playlist, and it wasn't on there before that scene. And now it's, like, top.
What else is on the Sylvie playlist?
Oh god! I thought about posting it on Instagram, but I think it's too embarrassing. Some of them are teenage songs that I really love. Stevie Nicks, 'Edge Of Seventeen'. I'm a big Stevie Nicks fan, so there's a lot of her. Some Martha Wainwright – I think Sylvie would be into Martha. There's a bit of Kate Bush – 'This Woman's Work'. PJ Harvey. There's a bit of Lady Sovereign, do you remember her? [Laughs] What else... bit of Talking Heads, bit of Pixies. Some of this is quite Season 2 specific, because it's '80s.
I'm just trying to make her into a rock star. We all want to be a rock star, really.
This is a strong playlist, you should put it on Instagram! What Pixies have you got on there?
'Gigantic'. There's a lot of Janis Joplin, Brenda Lee, Queen, Bikini Kill. It's quite varied. And then it finishes off with a bit of Christine And The Queens.
Amazing. If that doesn't sum up Sylvie across Season 1 and 2…
I'm just trying to make her into a rock star. [Laughs] We all want to be a rock star, really.
She's a multiversal rock star. Away from the rock'n'roll, let's go back to McDonald's. What was it like being on that retro set? It seemed incredibly detailed.
It had to be really spot on, because [McDonald's] were there [on set]. I was serving some food in the scene, and someone ran in at one point like, "Oh no, sorry, please don't hand them the fries. You have to put the fries down in that direction, facing that way, and then the burger facing 45 degrees that way." They were all over it. I was born in '83, I remember going to McDonald's for my birthday party when I was four or five, so it was quite nostalgic being there. All the packaging and everything was spot on. It was all real food. We were all chowing down on McDonald's for lunch that day.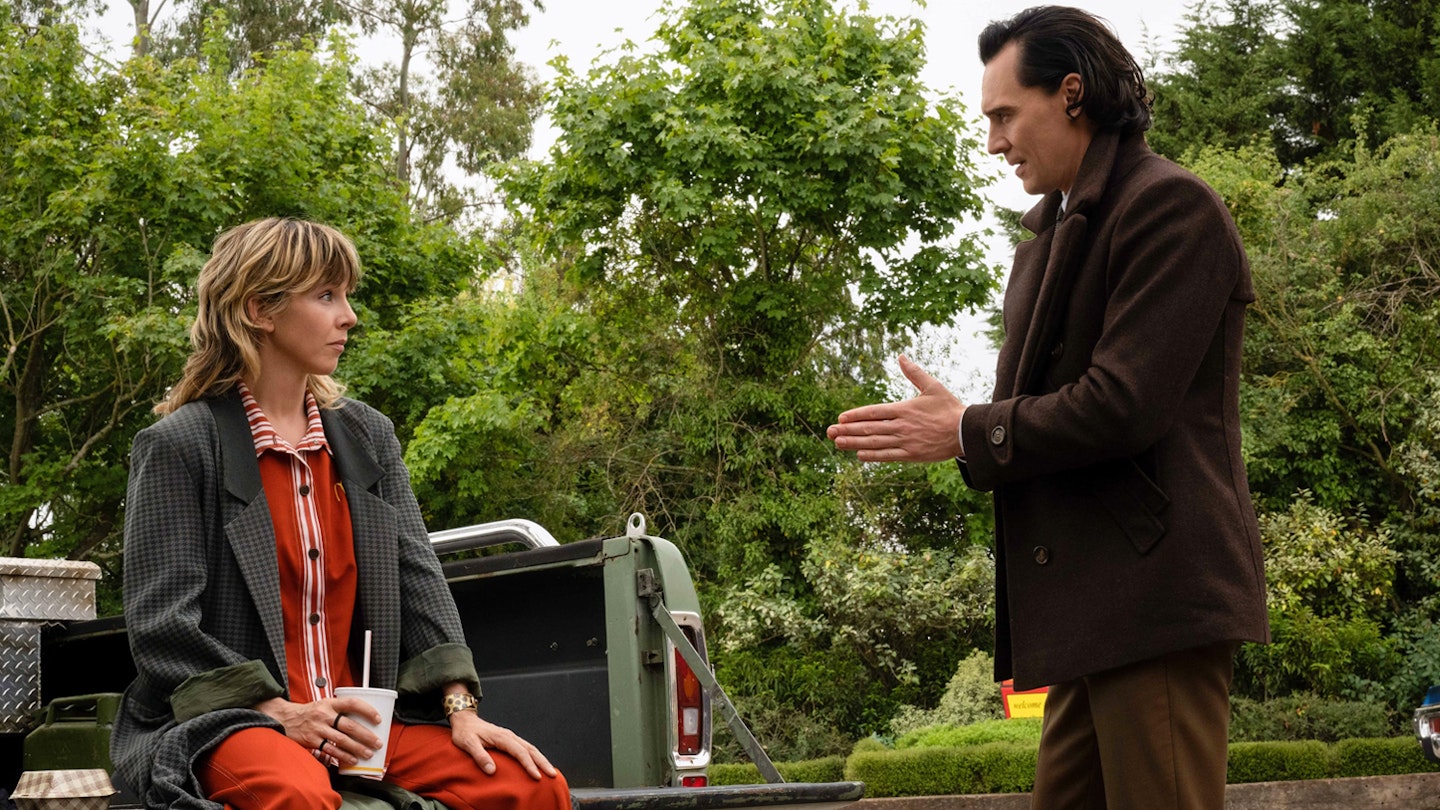 What is it about McDonald's in particular that captures Sylvie's imagination?
I don't know why they chose McDonald's. I guess it's the golden arches, the promise of... I mean, it's very American, and so nostalgic. We know it so well. And they're everywhere, aren't they? So it's just the first thing she saw.
Do you have a go-to McDonald's order? If you'd just killed He Who Remains, what are you getting from McDonald's?
...does it have to be that? [Laughs] Can I not go for, like, some gnocchi or something? If it was me, I'd go for some home-cooked pasta.
Something artisanal.
Beef shin ragu.
How was it briefly playing Season 1 Sylvie again in the Season 2 finale?
It was quite weird, actually, to put that suit on again. I rewatched [the Season 1 finale] and tried to get back in the headspace. Tom had to perform it knowing that he's going back in time, whereas I had to perform it [like it was] the first time again. So I just tried to do the same thing over and over. There's a couple of moments where you see Sylvie's like, "What's going on?" It feels weird for some reason, but she doesn't know why. It was cool shooting that in London, because the first time we shot it was in Atlanta, Georgia – they shipped the whole He Who Remains set over to London. We're on the same set but in a different country.
At the very end of Season 2, we have a last shot on Loki holding all the strands of time together. But really, the season ends with you and Mobius.
I'm glad that Sylvie had a moment to consider where she was gonna go next. I tried to play that scene sort of hopeful. Because, I mean, no one knows. But Loki sacrificed so much for everyone in that last episode. It was quite an emotional scene to film, but in a hopeful way.
There's a sense of loss for Loki, but also a peace that his sacrifice provides. And knowing that he is out there, at the end of time…
I thought it was short and sweet. Leaving the doors open.
Do you know when you're stepping through that door again, or what that step might be? Do you know, at least, if Sylvie is back?
I know nothing! [Laughs] We'll just see, won't we. I know absolutely nothing.
Do you have thoughts on where she goes next? Back to McDonald's? Making some gnocchi?
The next time I want to see Sylvie is when she's having another epic adventure. I think Sylvie is at her best when she's fighting someone. I want to see her on just an epic adventure somewhere – I don't know, fighting giants or something.
Soundtracked by 'Purple Rain'.
Yeah, something big and scary. I think she's had enough of McDonald's. She wanted a bit of normality for a second, but she's gonna get bored eventually. She's not the kind of person who's working McDonald's for the rest of her life. Not that there's anything wrong with that. It's just not Sylvie.
Loki Season 2 is streaming now on Disney+