For over a decade, Black Mirror has been shaking up television with its terrifying tech-inspired visions. With a new season upon us, Charlie Brooker tells us what really scares him…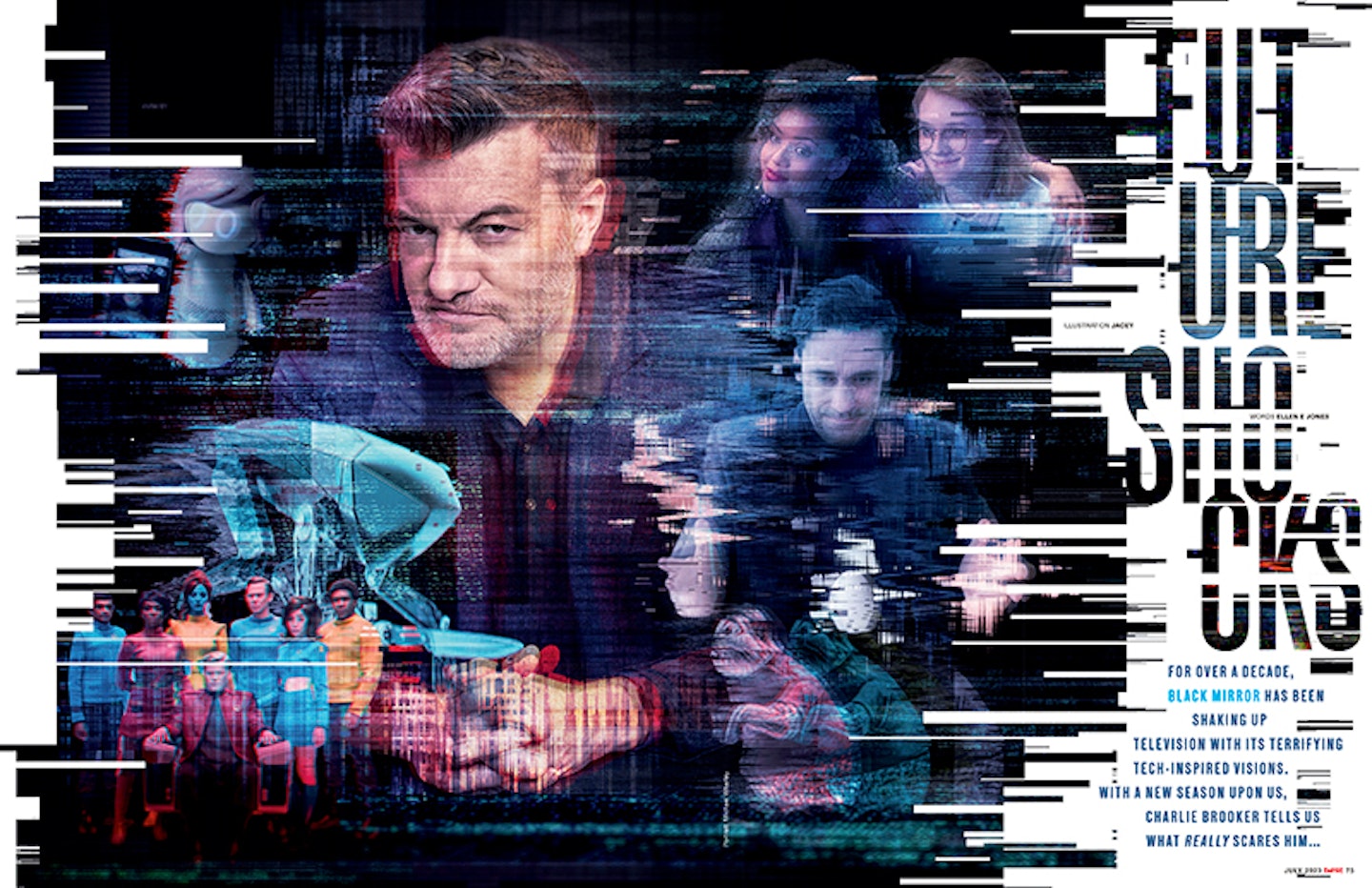 Read an extract of our exclusive major new interview with Charlie Brooker from our July 2023 issue below, or see the full piece here.
Built-in obsolescence is not just for iPhones; it's part of the human condition too. Charlie Brooker has been trying to tell us this for years now, at least since his dystopian, techno-paranoia anthology series first aired on Channel 4 in 2011. Right from the start, Black Mirror has blended genres of speculative fiction to spread existential dread, while asking us which parts of humanity's hard-drive are essential to basic functioning, and which should be deleted in the next upgrade.
After making the leap to Netflix in 2016, the show has grown from a cult hit to an Emmy-winning, international TV phenomenon, with the power to make movie stars, direct discourse and even…maybe… predict the future? Under such circumstances, the slow fade into cultural irrelevancy would now seem inevitable, but instead the opposite has happened: in the four years since the previous season aired, global events have once again proved its prescience, and had us muttering, "It's like something out of Black Mirror," more frequently than ever before.
Now Charlie Brooker is back with five often low-tech, retro-styled new episodes — 'Joan Is Awful', 'Loch Henry' 'Beyond The Sea', 'Mazey Day' and 'Demon 79' — that collectively both upend our notions of what Black Mirror is, and could only be Black Mirror. Brooker's reputation as Britain's favourite home-grown doomsday prophet is thus assured, and yet in person he makes for an ever-cheerful, open-minded interviewee, willing to chat about matters both trivial and terrifying. Perhaps because in the Black Mirror universe, the truth often lies somewhere in-between.
To read this article in full, become an Empire member. You'll never miss an issue, be able to read every issue in full either on the website or in the app, PLUS you'll get access to member-only content and rewards.