All the Jedi had been slaughtered. Well… nearly all of them. Now, animated icon Ahsoka is headlining her own live-action series. Welcome to the revolution.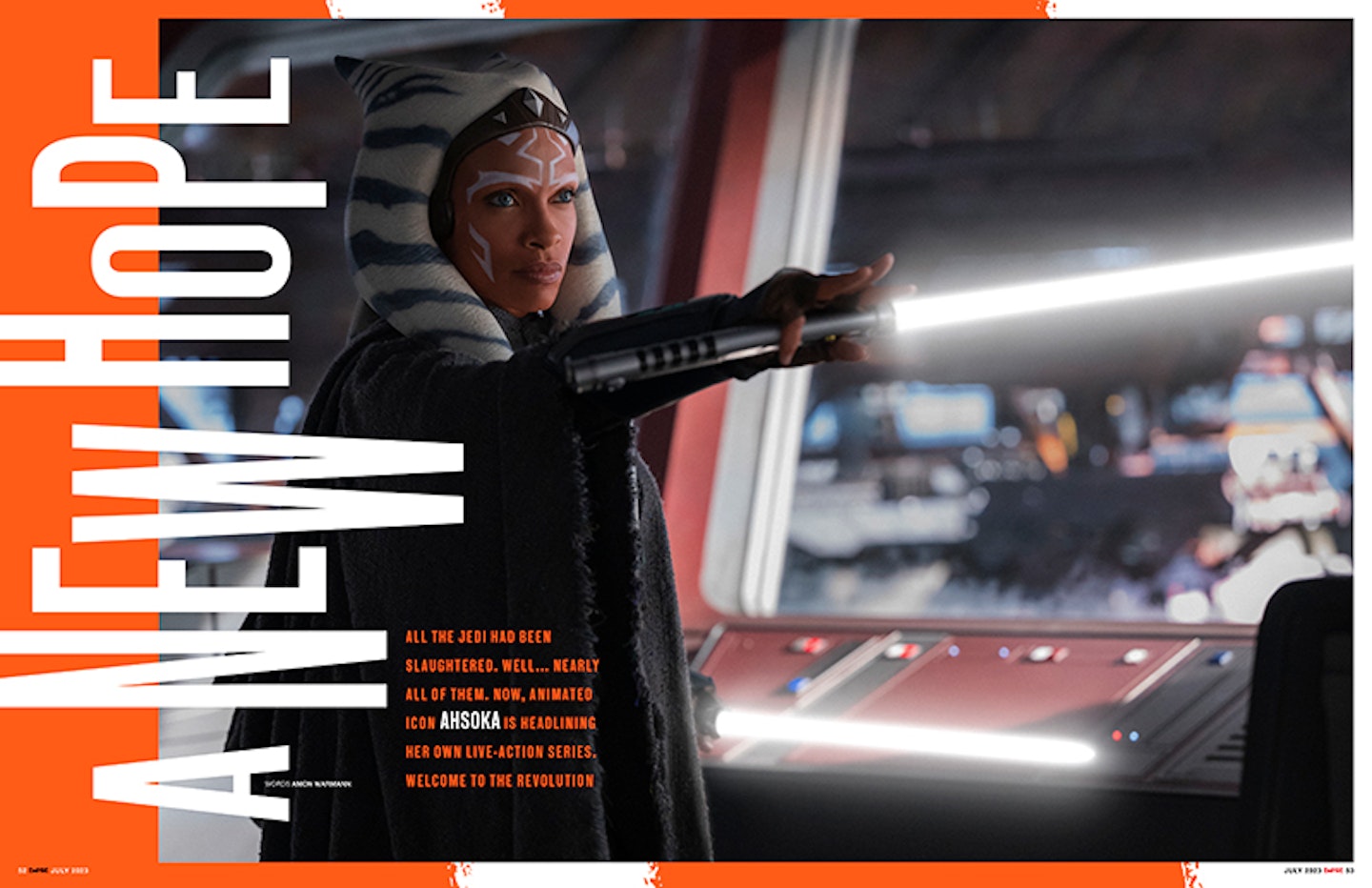 Read an extract of our world-exclusive Ahsoka cover feature from our July 2023 issue below, or see the full piece here.
Always two there are. No more. No less. A master and an apprentice.
It was 2005, and with the release of Revenge Of The Sith, former Padawan Anakin Skywalker had been fried to a crisp by one mentor and turned into a mechanical maniac by another. He and Obi-Wan Kenobi were no longer compadres. But soon we would get to see Skywalker brought together with a brand-new hero — and this time he would be the master.
"I want Anakin to have a Padawan," George Lucas told Dave Filoni. It was just a few months on from Sith's premiere and Lucas and his then fledgling director were working together on animated series Star Wars: The Clone Wars, set three years before that film. And just like that, Ahsoka Tano was born. "It was taking Anakin — who is young and brash — and giving him a responsibility," says Filoni now of Lucas' missive. "He could learn that she could protect and defend herself and be a strong individual, and he didn't have to be so overprotective. We pitted her between Obi-Wan and Anakin. That was something that George had laid out and then I developed."
Over the course of The Clone Wars and its follow-up, Star Wars Rebels, Ahsoka (voiced by Ashley Eckstein) — the franchise's first lead alien, a Togruta from the planet Shili, and one wielding two lightsabers — transformed from an impulsive and immature Jedi to a highly skilled and thoughtful warrior, an instantly iconic addition to the Star Wars family. And within time, Filoni began thinking of Ahsoka's next move. "This has been in the works in some form or another over the course of ten years," says Jon Favreau, creator of The Mandalorian and a producer on Ahsoka's upcoming solo show. "To have Ahsoka in live-action as a story that could stand alongside all the classic Star Wars cinema was something Dave had wanted to do."
To read this article in full, become an Empire member. You'll never miss an issue, be able to read every issue in full either on the website or in the app, PLUS you'll get access to member-only content and rewards.