You know the aesthetic: overexcitable tween with an unlimited craft budget. Strictly Come Dancing, in a blender, with a handful of extra glitter chucked in. RuPaul's Drag Race sieved of all the rude bits and viewed through a kaleidoscope. It's bright, it's peppy and it absolutely will not stop until you are charmed. There's no point resisting the Trolls, even if their adventures are not, by any normal standard, very coherent or original.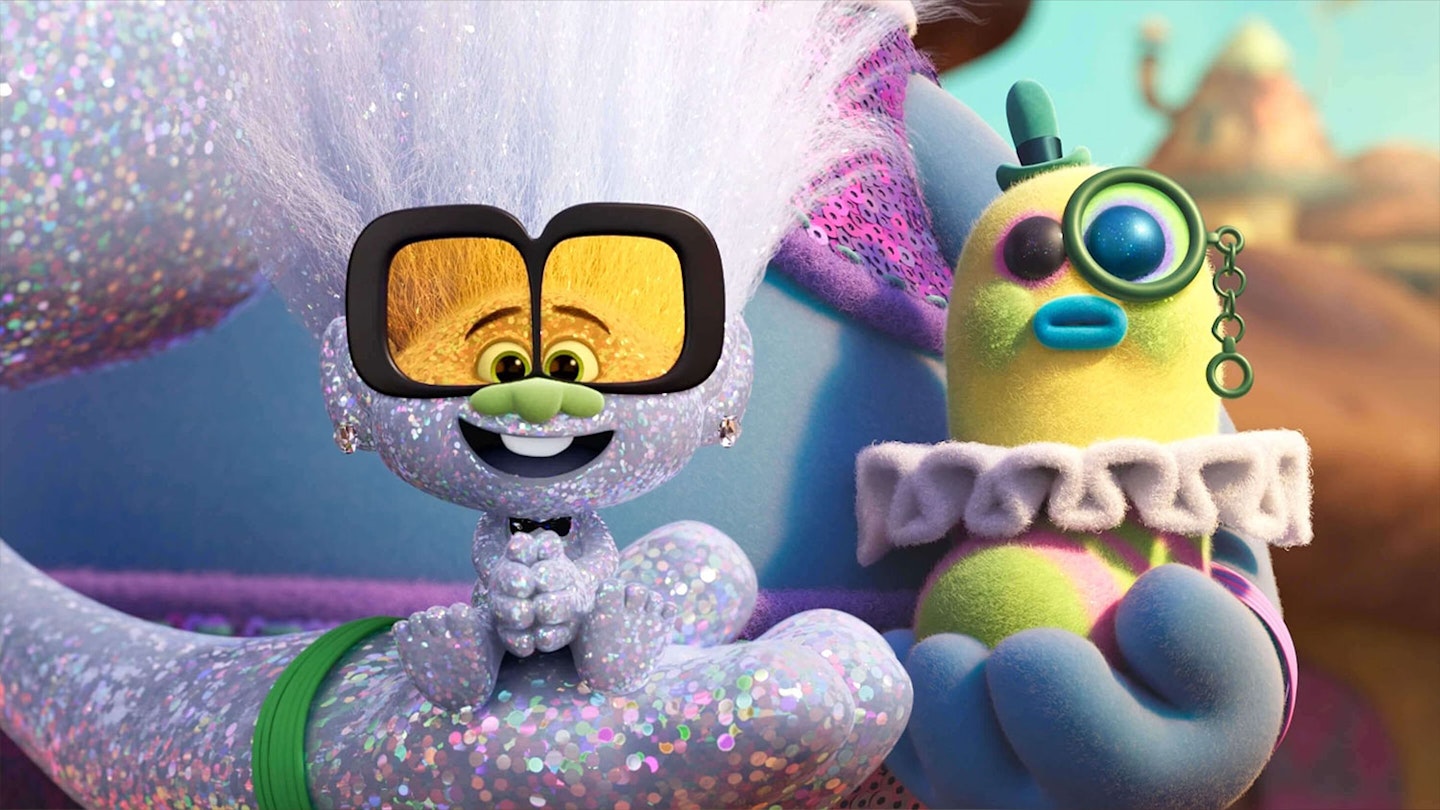 Trolls Band Together opens with the revelation that Branch (Justin Timberlake), a 'Pop Troll', was once the baby member of a boy band called BroZone with his four elder brothers: the Michael, if you will, of the group. But the quintet broke up acrimoniously and never achieved the "perfect family harmony" that was their goal, a mystical state of performance said to be capable of shattering diamond. Cut to years later, and perfectionist elder brother John Dory (Eric André) is crashing a society wedding to pick up Branch and rescue their brother Floyd (Troye Sivan), who's being held in a diamond prison. Bet you can't see where this is going.
Outside of the gorgeously textured animation, it all feels stale and safe.
That's only the tip of the plot iceberg, because after three films this franchise has acquired an all-star cast of supporting characters to cram in alongside the endless pop medleys and regularly timed glitter explosions. Do we need them all, along with four new brothers and two new villains (Amy Schumer and Andrew Rannells' brother-and-sister pop act Velvet and Veneer — strikingly designed beanpoles who look like Betty Boop had a baby with a balloon animal)? Not really, but this is not a world known for its minimalism.
It's totally fine and mostly weightless, and there are some fun gags in the zippy script. But outside of the gorgeously textured animation and a real sense of experimentation in the design, it all feels stale and safe. This is a film that wants to refer to Justin Timberlake's boyband past without giving the other members of NSync starring roles. It wants to sample Lizzo's 'Good As Hell', but turn the last word into Hello and morph it into Lionel Ritchie. If you're gonna be weird, have the courage of your weirdo convictions and don't cut to an easy-listening classic. If you're going to feed the trolls, embrace the psychedelic madness of the film's best moments instead.