Joanna Hogg is not for everyone. Joanna Hogg might not even be for most people. But those who she is for will be enthralled by her fourth feature film, which triumphed at Sundance in February.
Already literate in stories that explore the tension tucked into the shadows of privilege (Archipelago) and women in times of transformation (Unrelated), The Souvenir comes with a new urgency from Hogg. An urgency you sense is due to the semi-autobiographical nature of this story, revisiting her own early years. "We want to see life as it is experienced, within this soft machine," says one of her characters about the act of seeing a film, but it could just as easily be a mission statement for Hogg's journey back into the heart of her past.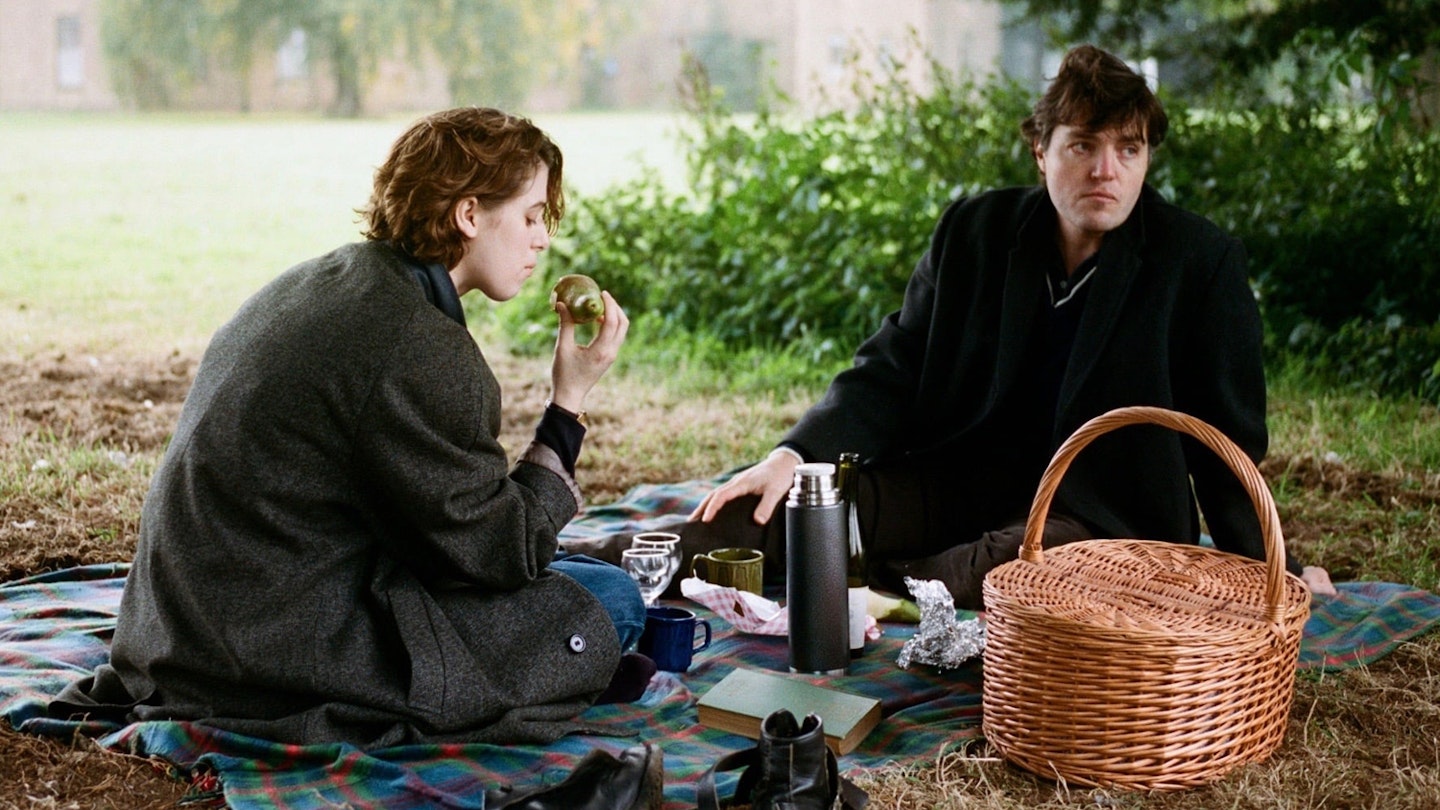 Julie (Swinton Byrne) is a bright, quiet student, attending film school, where she underwhelms both those who teach her and those who learn alongside her. She spends her nights opining with friends in her smoky Knightsbridge flat, and her days wondering how she can assert her voice. But everything shifts a little further off-kilter when she meets Anthony (Tom Burke), a pompous and charismatic junior Foreign Office employee in a double-breasted suit.
Honor Swinton Byrne is extraordinary in her first feature role.
As they fall into a relationship that looks easy, but is anything but, Anthony displays his capability and capacity for manipulation. He asks Julie pointed questions about her work with assumptions bred from arrogance; tells her, "You're lost, and you'll always be lost." Still, she slips him ten quid as he slips out the front door and waits all night for him to come back to her bed.
The blinders are firmly on until a painful reveal during a terrific — and terrifically-awkward — dinner party scene, the truth about Anthony shared by a film-bore friend (played hilariously by Richard Ayoade) as Julie's frozen-still shock reverberates around the room.
Swinton Byrne is extraordinary in her first feature role: perfectly capturing Julie's fragility, optimism and delicate ambition, her selective memory when it comes to her relationship with Anthony revealed in hand-picked flashbacks. And she's matched by her partner in toxicity, Tom Burke, who swells the chest of Anthony with a cocky charm that's as seductive to the viewer as it is to his on-screen love.
Mention must also be made of real-life mother Tilda Swinton, playing Julie's mother. Though her scenes are slight, her own gentle concern butts up against Julie's burgeoning womanhood, the tendrils of tension on an otherwise happy relationship. And yes, while it's a film about the craft of filmmaking, this is the heart of the film — the crafting of adults. Of how we're forged in the heat of early love, the first yearning of ambition and the disappointments and heartbreak that come with both.
There are no easy wins in The Souvenir. It moves at its own speed, at its own rhythm and refuses to provide all of the answers you seek — either from Hogg or her characters. There is no choice but to submit to a filmmaker so evidently in control of her powers.