"You're going to have to be okay with a little male attention," the agency worker says. Liv (Jessica Henwick) grins slowly, glancing at a straight-faced Hanna (Julia Garner). "Yeah, we'll be fine," Liv says, accepting temp work at a pub in the Aussie outback on behalf of them both, bolstered by the promise of seeing kangaroos. Hanna doesn't seem so sure. She is, as you might expect, right to be reluctant.
From the second Liv and Hanna arrive at their new location, the atmosphere is unsettling. The sun beats down on the dry, dusty, endless brown landscape — just looking at it makes you thirsty. The lady who picks them up (Carol, played with quiet strength by Ursula Yovich) is brisk and unsmiling. Their living space is strewn with chaos generated by the British girls they're taking over from. They're yelled at by pub owner Billy (an almost unrecognisable Hugo Weaving) for turning the water on. This set-up is enough to put anyone at unease. But as soon as the doors open, that feeling ramps up, as a mob of rowdy locals, mostly men, descend on the bar — demanding drinks, yelling rude jokes, and telling the girls to smile.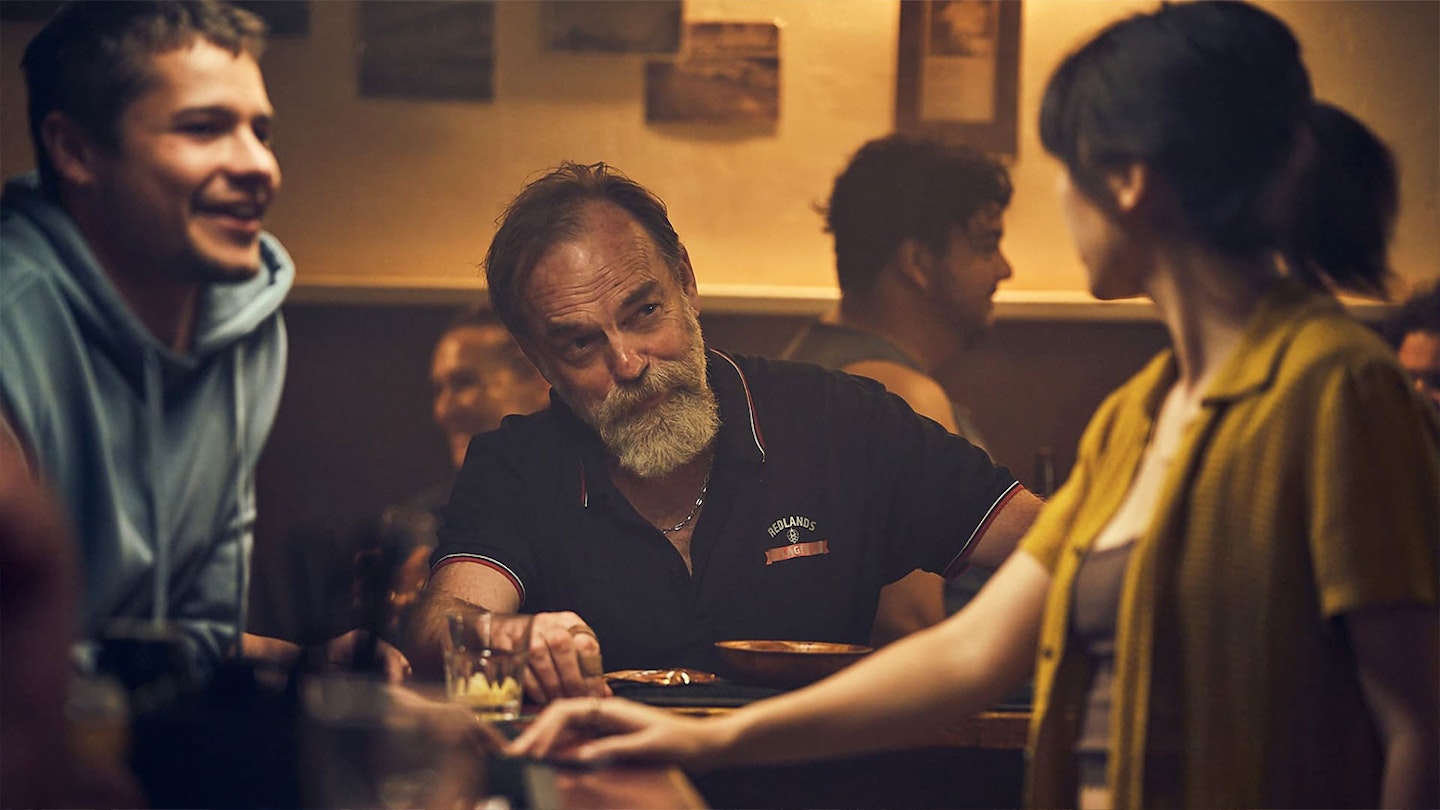 There are flickers of joy amid the stress, found in a trip to a nearby swimming spot, sunbathing with booze in a box, and some tender romantic moments between Hanna and regular punter Matty (Babyteeth's Toby Wallace). But mostly, The Royal Hotel is a stomach-churning slide into full-on dread, as the girls become more vulnerable, their working conditions more precarious, and the men's attention and actions towards them start to cross a line. Director Kitty Green isn't afraid to let the camera sit in the awkward moments, the heavy silences, and the increasingly fraught conversations between Liv and Hanna, as the latter tries to convince the former to leave. Green and co-writer Oscar Redding's script perfectly captures the delicate nature of the power dynamics on display, and how the girls — particularly Hanna — have to swing between playing nice to stay safe and standing their ground.
Garner is the lead, and gives an incredibly controlled, convincing turn.
Liv and Hanna are in this together, but Garner is the lead, and gives an incredibly controlled, convincing turn as the protective, hyper-vigilant friend that has to keep their shit together. Henwick is excellent as the more easygoing, prone-to-attracting-trouble Liv, who's clearly using travelling as a way to escape something back home that Hanna isn't — and the sense that this pair have each other's backs at all times deepens their characters in a way that doesn't require excess backstory. Wallace is magnetic as a charming scoundrel, lovable until he isn't; The Worst Person In The World's Herbert Nordrum is fantastically goofy as Norwegian party boy Torsten; and Daniel Henshall is absolutely bone-chilling as especially tricky customer Dolly.
This volatile concoction all comes to a crescendo — one that does deliver on shocks, violence and catharsis, but not quite to perhaps the level you might expect, given the physical and emotional state the preceding 80 minutes have put you in. The Royal Hotel manages to leave you wanting more while making you glad it's over simultaneously. It's at once frustrating in its quickness to end, and subversive in its unwillingness to let the men harassing Liv and Hanna have their way. However you feel when the credits roll, the exhilarating time spent in the film's harsh, unforgiving world feels absolutely worth it.