Remember the John Grisham legal dramas of the 1990s? Those adaptations — The Client, The Rainmaker, The Pelican Brief, A Time To Kill, etc, etc — were crammed full of character actors, large boxes of legal papers and the occasional grandstanding speech. This true-story-inspired effort offers shades of that approach, but it has more cogent things to say about the wider echoes of the contract case that sits at the heart of the dispute.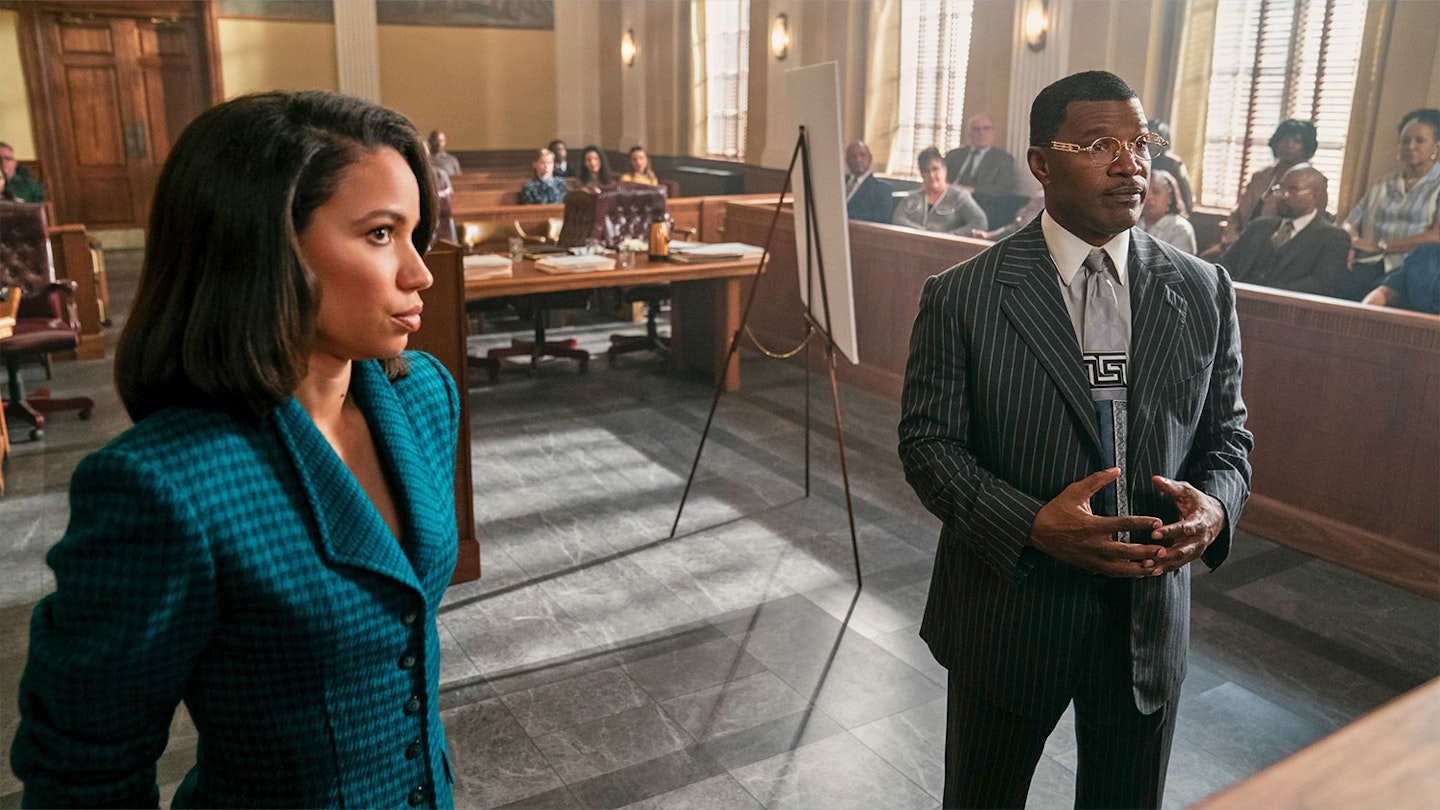 Based on a New Yorker article from 1999, this is a story with surprising levels of resonance. Tommy Lee Jones, on grandfatherly form, plays Jeremiah O'Keefe, father of 13 and owner of a small chain of funeral homes. Facing financial problems, he agrees to sell some of his homes to a bigger company led by Raymond Loewen (Bill Camp), but when the deal goes wrong, he and his longtime lawyer Mike Allred (Alan Ruck) as well as young lawyer Hal Dockins (Mamoudou Athie) bring in showy trial lawyer Willie E. Gary (Jamie Foxx, on great form) to take on the behemoth.
Director Maggie Betts largely dispenses with big courtroom speeches in favour of smaller, behind-the-scenes moments:
Both the basis and execution of the lawsuit have been altered significantly for the film, as well as details about Gary's life, yet the astonishing meat of the story is pretty much as reported. The high-flying, cash-splashing Gary really is as big a character as Foxx portrays, and many of the case's wilder turns are straight from the record. But director Maggie Betts leans into the wider context of the struggle, looking at the manner in which the corporate funeral sector treats the bereaved, and the ways that corporations in general have preyed on minority and poorer communities, jacking up prices, refusing insurance claims and generally profiteering on people's lowest moments.
Perhaps that's why she largely dispenses with big courtroom speeches in favour of smaller, behind-the-scenes moments: a hotel-bar chat between Gary and tough-as-nails lead plaintiff attorney Mame Downes (Jurnee Smollett) lays out the issues and their respective approaches to the law beautifully, while a day in the country allows Gary and O'Keefe to bond while the always scene-stealing Athie, as Dockins, develops a crucial new argument for the case. Admittedly, this can sometimes feel a little meandering, but it's clearly deeply felt by Betts and her cast, and that sense of purpose is a perfect counterpart to the more flamboyant moments.