David Bowie never even gave permission for a written biography of his life, let alone a cinematic biopic. (Todd Haynes' 1998 drama Velvet Goldmine, with Jonathan Rhys Meyers as Bowie-esque glam rocker 'Brian Slade', is about as close as anyone's got.) Stardust is the first to make a proper stab at a portrait of the eternally fascinating musician, but it inevitably arrives under a cloud of unauthorised controversy.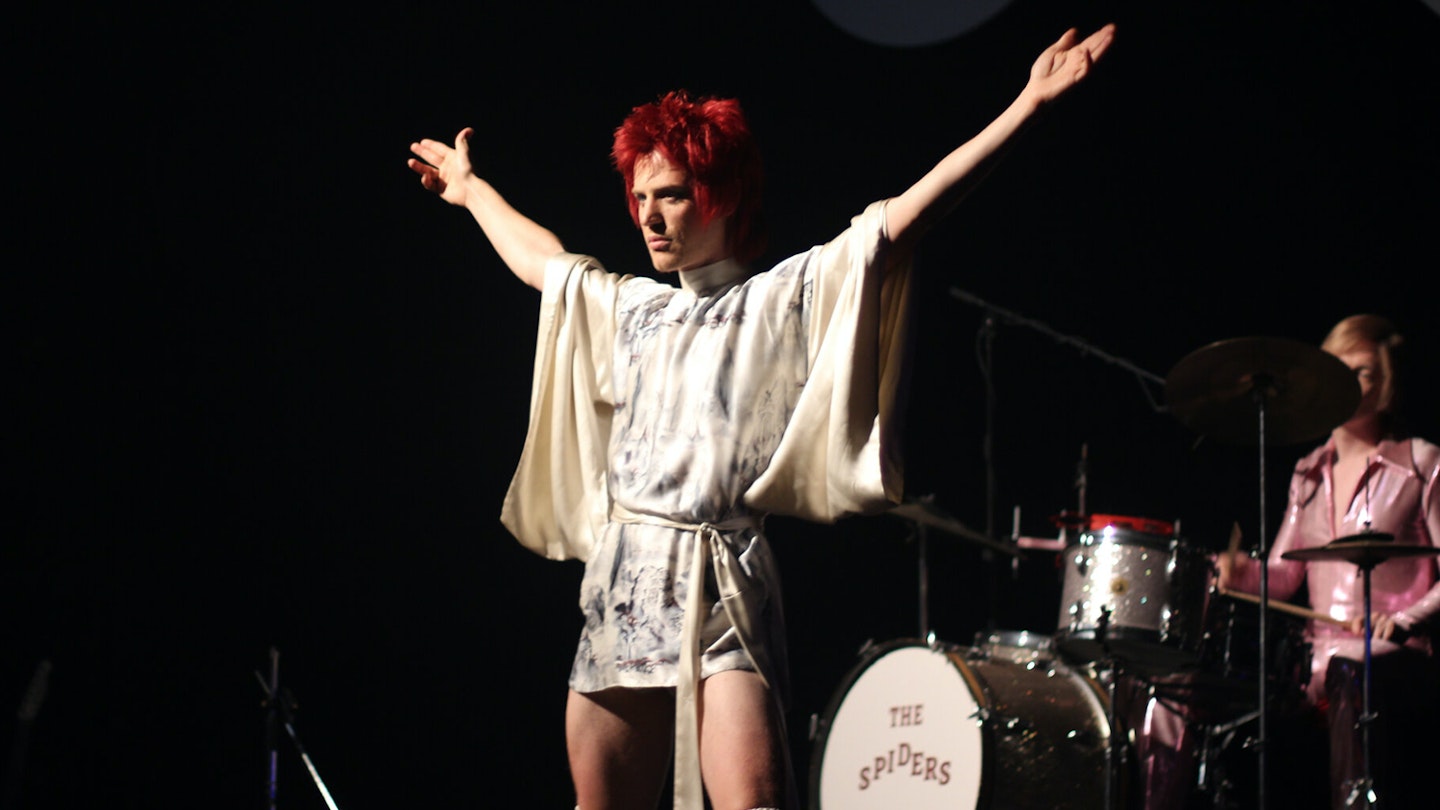 Keeping true to his wishes, the Bowie estate has blocked the filmmakers from using any of the musician's back catalogue. Which feels like a pretty conspicuous omission. The recent trend of jukebox musicals has yielded mixed success, but at least they tended to have a few bangers on the soundtrack to keep your interest; watching this, you'd think Bowie was merely a middling covers singer with a penchant for terrible mimes.
For a film about such a famously imaginative artist, you don't get a sense of that imagination here.
As a pre-Ziggy Bowie, Johnny Flynn is smart casting on paper. In films like Beast, he has shown a kind of extra-terrestrial charisma, and in his other career as the lead singer of Johnny Flynn & The Sussex Wit, he has proven musical chops. But he feels miscast here, too distant from Bowie's slight, androgynous frame, and never quite convincing as a sonic genius on the cusp of global fame.
It's not Flynn's fault, lumbered with a script that clumsily attempts to grapple with Bowie's endless ch-ch-changes. There's a dour and half-hearted look at Bowie's obsession with madness and mental illness, as he worries he is doomed to the same fate as his schizophrenic half-brother, Terry. But it's a reductive plot thread, only really there to explain away future musical choices. (It also falls into the biopic trap of apparently coming up with song origins, like the scene where Bowie meets a woman called Jeanie — a tiresome nod-and-wink to the song 'The Jean Genie'.)
For a film about such a famously imaginative artist, you don't get a sense of that imagination here, either in the characterisation of Bowie, or the film itself. It feels curiously flat, with a visual palette severely lacking the colour and spark of Aladdin Sane's lightning bolt. "Rock star, or somebody impersonating a rock star," offers Bowie at one point in the film. "What's the difference?" Sadly, the difference feels pretty significant here.