The word "ensemble" is often abused to refer to any film with more than one big-name star. Usually, there's still a lead, some glory-hound who demands attention. Spotlight, however, is the real thing, a supremely talented cast who subsume ego to tell a story of a group achievement. And despite that lack of conspicuous melodrama, this film communicates its high stakes so effectively that even photocopying seems unbearably tense.
This film communicates its high stakes so effectively that even photocopying seems unbearably tense.
It's 2001, and redundancies are nigh as new Boston Globe editor Marty Baron (Liev Schreiber) takes up his role. The paper's Spotlight team — who specialise in costly, long-running investigations — are particularly on edge. But Baron has a mission for them: he wants Spotlight to investigate claims that the Catholic hierarchy knew about child abuse by priests and covered it up for decades, allowing them to continue their crimes.
Given the primacy of the Church in Boston and the largely Catholic populace, the team are sceptical both of the idea that there was a cover-up and the financial wisdom in reporting it. Spotlight boss Walter 'Robby' Robinson (Michael Keaton) plays golf with half the town's bigwigs and attends charity dinners with the rest, and draws considerable ire from them. His reporters are Michael Rezendes (Mark Ruffalo), increasingly passionate as the investigation gathers steam; Sacha Pfeiffer (Rachel McAdams), keeping a compassionate eye on the victims; and Matt Carroll (Brian d'Arcy James), who delves into the detail. As their misgivings fall away, they try to enlist the victims' lawyer, Mitchell Garabedian (Stanley Tucci), and meticulously gather evidence that something really was hidden.
It's a story of unglamorous leg-work rather than thundering revelation. The drama here comes from the detail, and the reporters' slow realisation that their investigation could change the world far beyond Boston's city limits. The Church's power is revealed as smoke, mirrors and an unwarranted sense of deference, with journalism at its best proving its worth.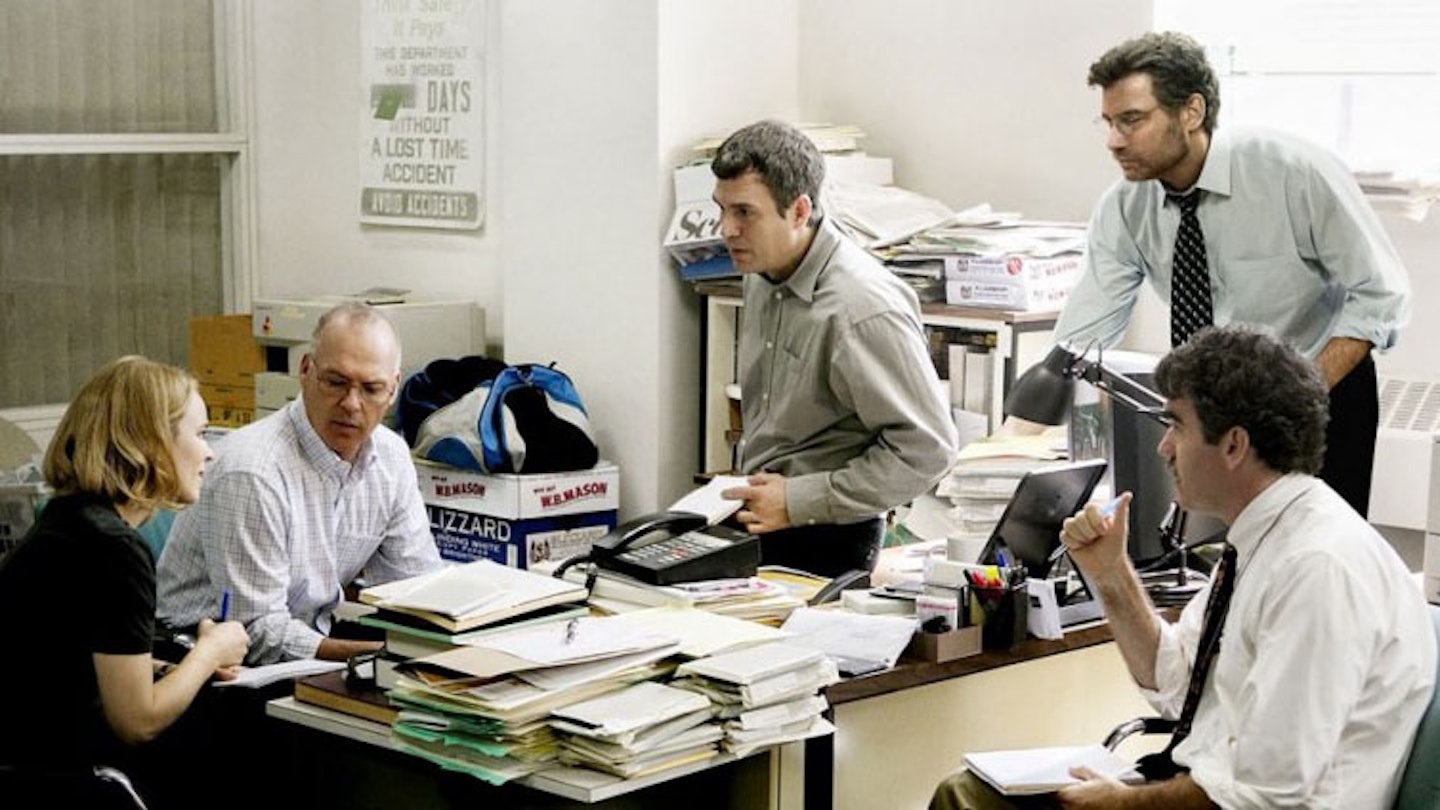 Director Thomas McCarthy's great strength is in his refusal to pander to audiences, or to default to easy answers; the correct reaction to the team's work is horror rather than jubilation. And while admirable, the reporters take some blame upon themselves. This crisis, after all, developed under their noses and it took an outsider to force them to examine it. Similarly, the cast modestly play down their characters' achievements and reputations. There is no Oscar-bait grandstanding (well, maybe one moment) and they all look quietly dowdy without indulging in any unnecessary uglification. These journalist greats could happily have rubbed shoulders with Woodward and Bernstein in All The President's Men, and they bring down an even bigger institution.
Talky and intelligent, this lacks the glib edge of Aaron Sorkin or the poppy zip of Tarantino. Given the subject matter, too much lightness would be inappropriate. Instead, its tone is led by its characters, moving from scepticism to revelation and the uncomfortable sense that we should all feel guilty for ignoring the secrets too hard to acknowledge.