While we are waiting for Joel Coen to finish The Tragedy Of Macbeth and reteam with Ethan, Riders Of Justice fills the Coen brothers-shaped hole very nicely. Filled with broken weirdos whose world turns on a dime between deadpan humour and no-punches-pulled violence, Danish director Anders Thomas Jensen's film is underpinned by notions of probability and predictability but builds a story that delights in twists, turns and originality.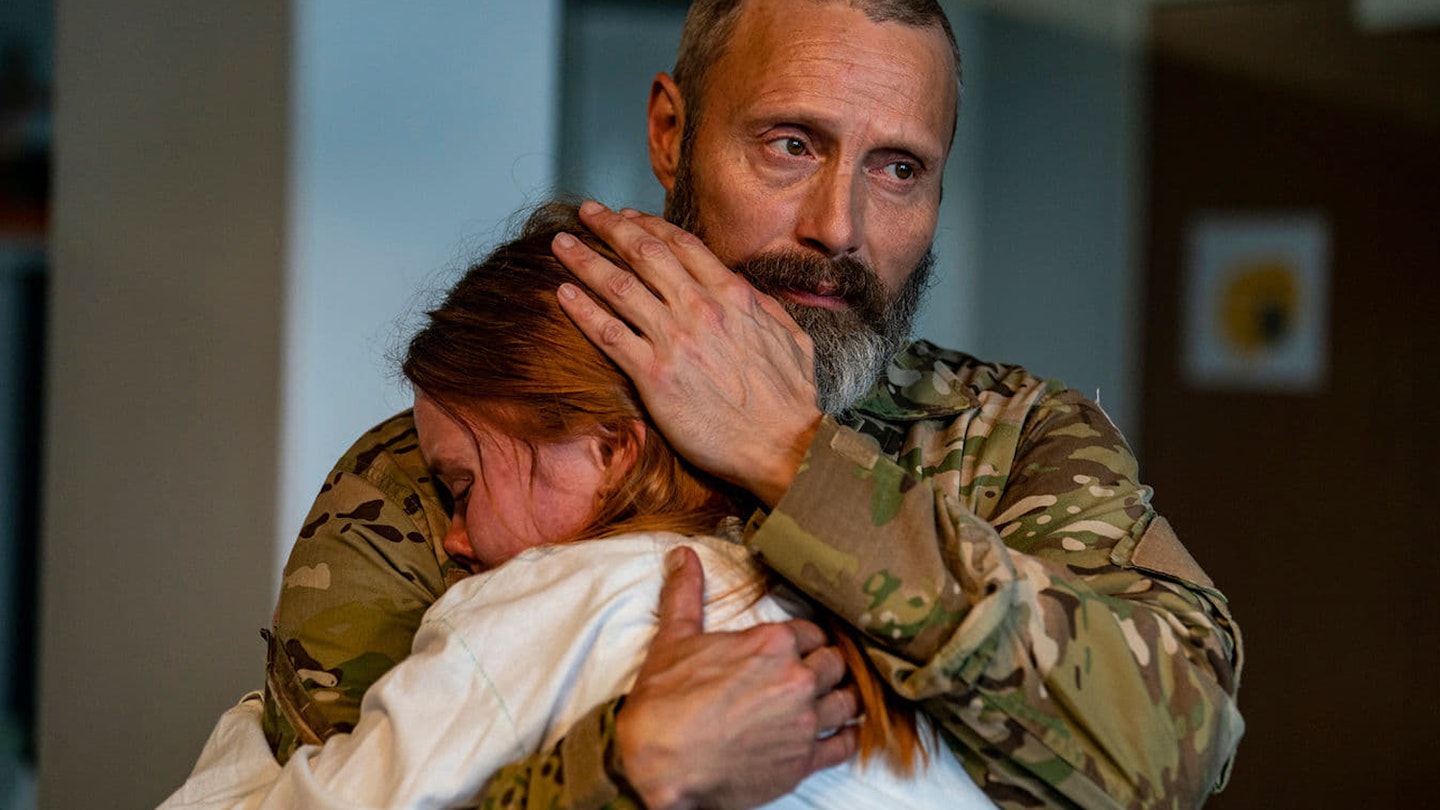 It starts innocuously enough as a twee Christmas fairy tale as, to the strains of 'Little Drummer Boy', a young girl, Mathilde, has her bike stolen. The theft is the start of a number of tiny incidents — a car that won't start, a phone call with bad news, an act of chivalry — that culminate in a train crash killing 11 people. Among the dead is Emma, wife of soldier Markus (Mads Mikkelsen), currently serving in the desert, and mother of teenager Mathilde (Andrea Heick Gadeber, perfectly portraying the only voice of sanity in the madness). Markus returns home but is too bottled up to help Mathilde, rejecting offers of much-needed therapy. His pain turns to anger when probability expert Otto (Nikolaj Lie Kaas) and geeky sidekicks Lennart (Lars Brygmann) and Emmenthaler (Nicolas Bro) turn up at his house with a personal connection to the crash and a theory: the train wreck was engineered by a violent gang, the Riders Of Justice, in order to wipe out a key witness in a trial. Armed with this information, Markus plots to mete out his own form of vengeance.
It's a dialled-down performance from Mikkelsen that gives his sidekicks space to shine.
If all this makes Riders Of Justice sound like a Liam Neeson actioner, it isn't. Jensen's film infuses the hard-as-nails premise with a perfectly judged palette of different colours: tough action, absurdist comedy (a crime-scene argument over cleaning materials is priceless), melancholy meditations and a surprising sweetness. It's a film that has an affinity with outsiders, be they macho men, geeks, or a gay Ukrainian sex slave named Bodashka (Gustav Lindh) who enters the gang's orbit, and gives every character faults and foibles that mean you can't help but root for them.
With a buzz cut and a beard, this is Mikkelsen at his most taciturn — although at one point he sports a Christmas jumper — perfectly playing a man struggling to process his grief for his wife and failing to connect with his daughter. It's a dialled-down performance that gives his sidekicks space to shine; Bro registers as a foul-mouthed programmer and Brygman is a joy as the genial hacker, but it's Kaas as statistician Otto who gives the film gentility and warmth to temper its violent excesses.
It's a movie with a lot on its mind — maybe too much — from tottering machismo to grief to the nature of causality. But ultimately Riders Of Justice celebrates life's messy realities. It argues the world won't be reduced to algorithms and probability calculations. Sometimes you just have to roll with it.