Before Bluey became the top dog of children's animated series that grown-ups secretly love too, there was another — Puffin Rock. Made by Kilkenny-based award winning animation studio Cartoon Saloon (My Father's Dragon, Wolfwalkers) and Northern Irish outfit Dog Ears, the series follows young puffin Oona, baby brother Baba, and their animal pals as they explore and learn more about their wild Irish island home. With its gorgeous picture-book animation, relaxing narration from an Attenborough-esque Chris O'Dowd, and wry sense of humour, it's hard to believe it's taken seven years for the globally successful series to get the big screen treatment. Thankfully, Jeremy Purcell's utterly charming, unexpectedly timely, and oh-so-gently delivered Puffin Rock And The New Friends proves itself well worth the wait.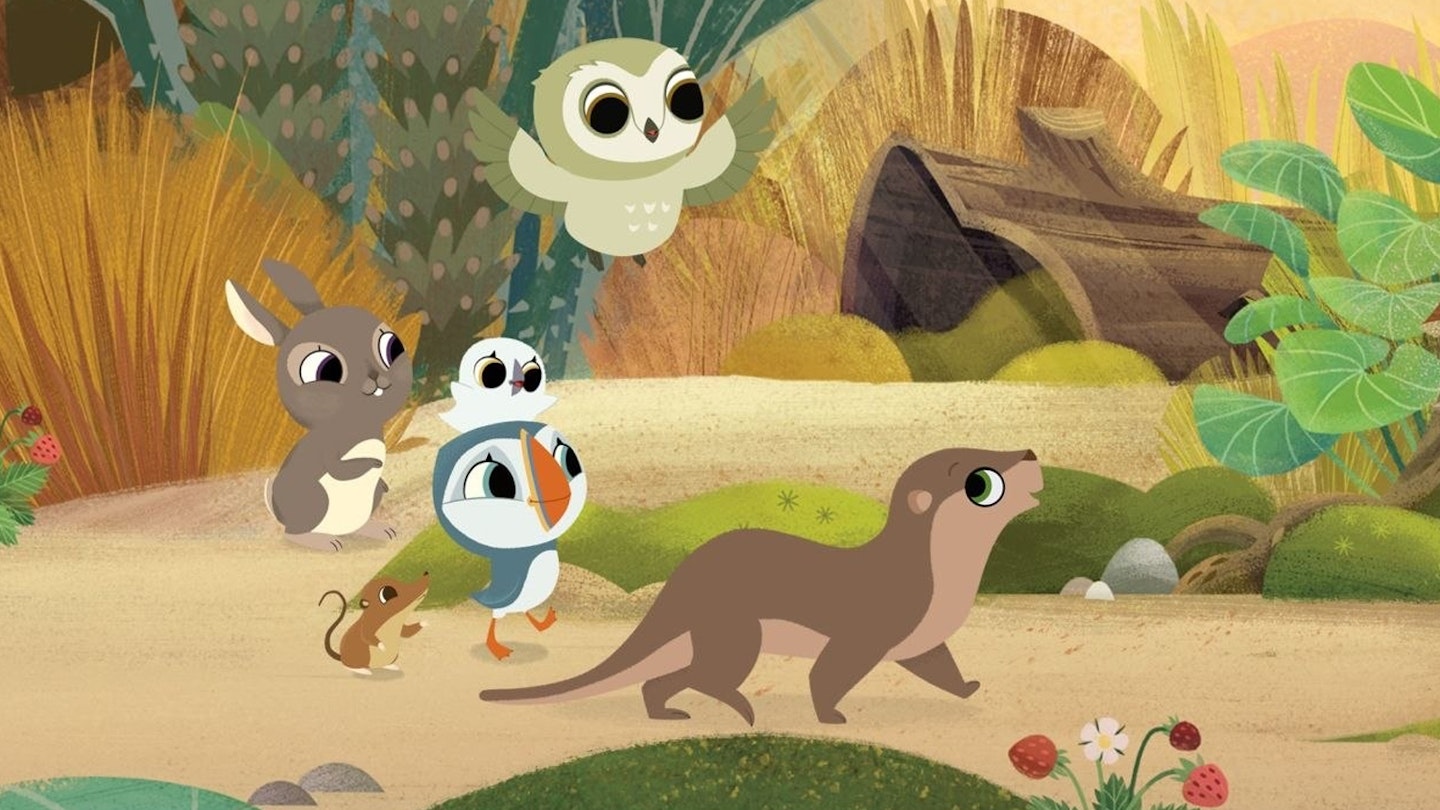 In the original TV show, bite-sized seven-minute episodes give children a chance to learn something about the world around them in a way that never feels too much like homework: one episode might teach how hermit crabs change their shells, another caterpillars' metamorphosis into butterflies. With the expansion of a big-screen outing, however, the teams at Cartoon Saloon and Dog Ears have taken this as an opportunity to reflect on Ireland's embrace of Ukrainians fleeing the Russia conflict, as well as the pressing environmental concerns of our generation. As such, one of the great successes of Sara Daddy's cleverly-handled screenplay is the way it takes the established format and organically expands its scope to teach bigger lessons — about climate change, about the refugee experience — without losing the lightness of touch that defines Puffin Rock.
There's an intimacy and a directorial gentleness that stops things from becoming overwhelming.
And so, as Oona, Baba, and their friends meet island newcomers Isabelle — a homesick tufted puffin — and her plucky golden pheasant friend Phoenix (a loving hat-tip to the series' huge Chinese following), learning that they're refugees from an island ravaged by the climate crisis, every effort is made to distil these big ideas to their most essential nature. Lullaby-like musical numbers speak to Isabelle's sense of isolation and Oona's anxieties about how her island home is changing, while O'Dowd's characteristically soothing, playful commentary — "Marvin has the fastest paws in the West… of Ireland" he quips of another lovable newcomer, Marvin the Otter — is a constant source of levity. Even when the film's central concerns are more directly addressed, such as in the stunningly animated sequence that sees Isabelle recall the storm that took her and her family from their own island paradise, there's an intimacy and a directorial gentleness that stops things from becoming overwhelming.
Elsewhere, the plot's propellant dramas — a missing puffling egg and an oncoming storm — perfectly tee up a pre-school-friendly exploration of the value of working together, of empathy, and of recognising that our differences and diversity should be celebrated, not feared. That such heartening messages can all be folded into a 79-minute adventure as accessible to toddlers as it is meaningful for parents and grandparents is admirable. That the film itself is a biodiverse visual fantasia filled with verdant hillsides, glistening underwater caves, and eye-wateringly cute creatures and critters is simply a treat for all comers. This new golden age of animation continues to shine — and this time it's brought us another glorious morning on Puffin Rock.