As visual metaphors for capitalism go, the sight of a towering, mobile London running down and swallowing a smaller town is pretty compelling. The stripped world of Mortal Engines is dying, and humanity on the verge of extinction caused by its own hubris. And yet hubris still dominates, with each city convinced of its own manifest destiny to become the alpha predator in this world of "municipal Darwinism". It makes a compelling hook for this Peter Jackson-produced epic, but it's the setting for a fairly conventional adventure story.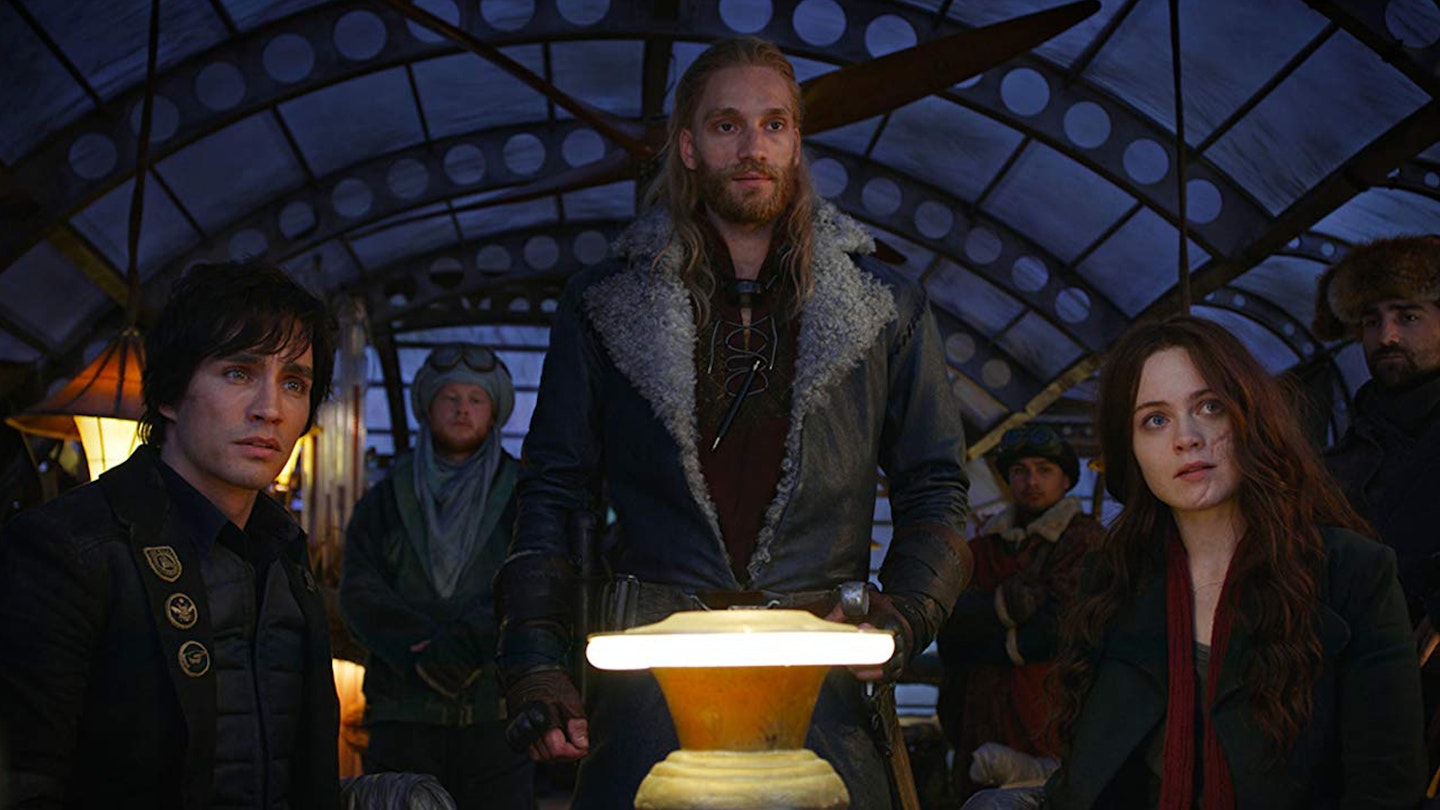 The good news is that long-time Jackson collaborator and first-time director Christian Rivers keeps the action beats coming and the pace up. The story, based on Philip Reeve's book, has been neatly streamlined for the screen, keeping the emotional beats — even adding more for extra heft — but chopping out large swathes of unnecessary back and forth as our heroes struggle to figure out what's going on and eventually to stop a plot that threatens the whole planet. Someone, it seems, is trying to recover the weapons that once cracked the world's crust and set cities on the move.
The world-building is as good as you'd expect from a Lord Of The Rings-trained director.
As young London historian Tom Natsworthy, Sheehan is a likeable
lead, though the role is thankless. He's just a naïf caught up in larger events, giving others the chance to explain things to him and the audience. Far more interesting is Hester (Hilmar), the mysterious and masked girl who stabs a man without obvious provocation almost as soon as we meet her. Why she did so becomes a central plank of the film's plot. Hera Hilmar's an engaging presence even when snarling and desperate, and her unusual background and conflicted desires gives her a different feel to the identikit action women of other films.
If Hugo Weaving's Valentine cuts a largely familiar figure, there is a lot of welcome texture in the supporting cast, from Stephen Lang's terrifying Terminator-alike Shrike to Jihae's outrageously cool Anna Fang. And the world-building is as good as you'd expect from a Lord Of The Rings-trained director. From the metres-deep tracks that each city leaves behind to the Mad Max-esque scavengers who try to survive outside the city structures, there's a real sense of desperation and decay everywhere. Even in the towering London we spend more time in the rattling bowels of the city than in its towering heights (St Pauls tops the structure, dome and all still standing as it did through the Blitz).
The plot, however, remains a little predictable, and hits some distinctly Star Wars beats as it trundles towards its end. But there are moments of real grace along the way, and more thrilling adventure than you might expect, so it's a good start for Rivers and an effort worthy of Jackson's record.