Keira Knightley has developed a taste for troublemaking. In recent roles the actress has challenged gender norms as controversial author Sidonie-Gabrielle Colette in Colette, leaked illegal information to the press as a whistleblower in Official Secrets and muddied her marital vows in The Aftermath.
In Misbehaviour, Knightley's appetite for anarchy sees her storming the stage of the Miss World pageant — an event watched by 100 million people the world over — in a successful protest against patriarchal values. It's 1970 and the first ripples of the Women's Liberation Movement are beginning to form, and the opportunity for Knightley's Sally to commandeer a contest that objectified women in the name of family entertainment is simply too perfect to pass up.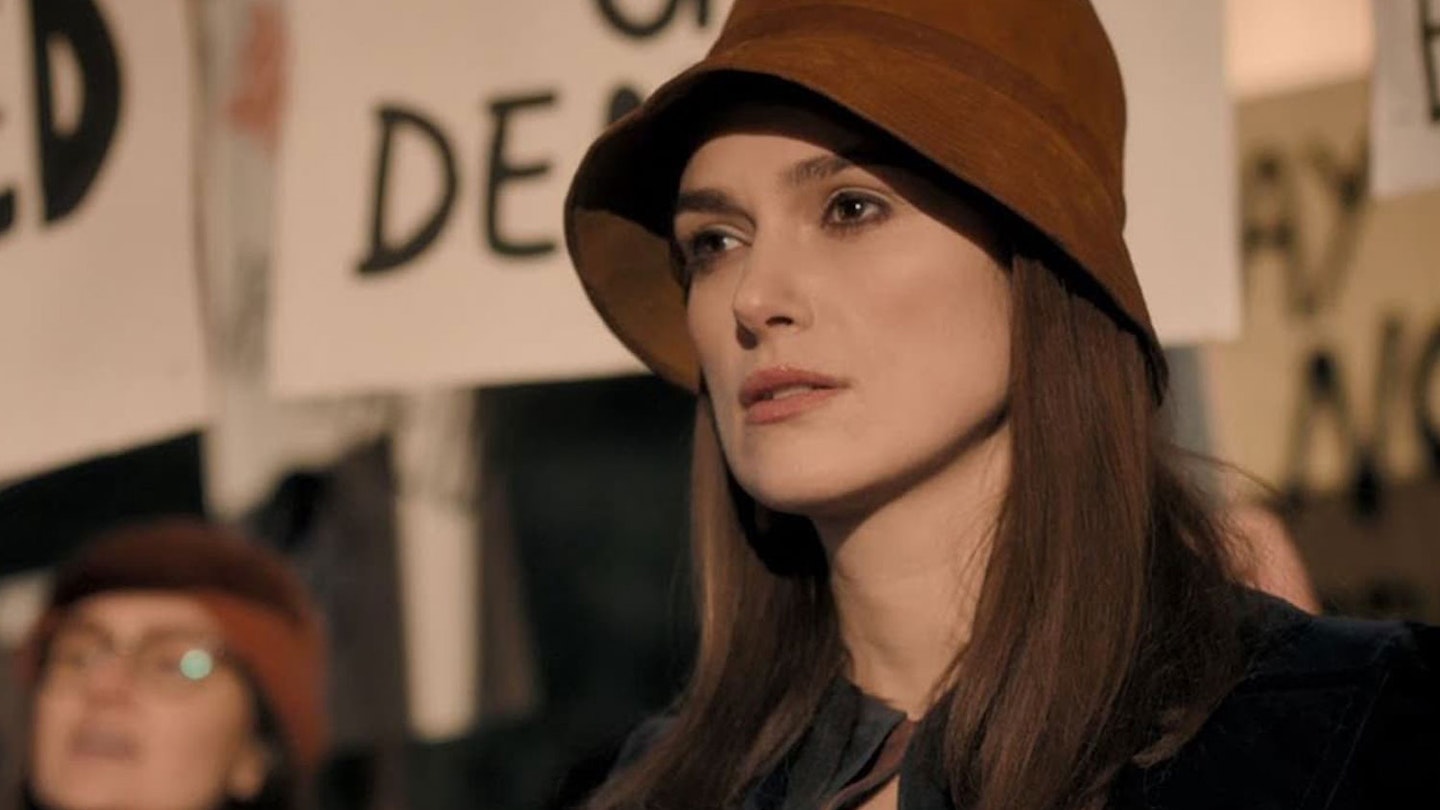 Knightley leads a robust line-up of British talent: Wild Rose's Jessie Buckley plays a rowdy, lawbreaking fellow feminist, Lesley Manville is the long-suffering spouse of contest host Bob Hope (played with oily charm by Greg Kinnear), while Gugu Mbatha-Raw drives the story from within the pageant as Jennifer Hosten, aka Miss Grenada, the first black woman to win the contest. Hosten's narrative is by far the most important of the film. Through Jennifer, we see the pageant as an opportunity for women devoid of the chances that others are afforded. She forms a fast bond with Pearl (Loreece Harrison), a hasty addition from Africa South hurried in after the pageant comes under fire for its lack of diversity, and the pair marvel at the privilege that's enjoyed around them.
Too much time is spent spelling out what an audience could readily piece together for themselves.
Rather than exploring the stories of the pageant's contestants (only a handful of whom receive speaking parts), Misbehaviour pushes the home angle, a feminism-by-numbers history lesson that feels clunky to a modern audience (the use of Aretha Franklin's 'Respect' to wrap up a lecture on equal rights feels especially heavy-handed). Director Philippa Lowthorpe — best known for her work on shows like The Crown and Call The Midwife — plays to her strength of balancing an ensemble cast, and at least explores the division of class within feminism, and the collective spirit of the group as they passionately turn their words into actions is infectious.
The make-up of Miss World in 1970 was shocking by today's standards — a conversation between Rhys Ifans' spindly, flappable pageant organiser and the press reveals that the girls must give the impression they are "untouched", while their measurements are announced in the same breath as their names and countries. However, too much time is spent spelling out what an audience could readily piece together for themselves, and when it's at the expense of telling the stories of the less fortunate women involved — women who endured daily battles to try and make a better life for themselves — you have to wonder if Misbehaviour, in spite of its good intentions, is in fact part of the problem.