Part concert film, part documentary, 2012's Shut Up And Play The Hits from directors Will Lovelace and Dylan Southern was a brilliant distillation of the obsessive genius and obsessive appeal of indie-electro rock gods LCD Soundsystem. Made on the eve of their — as it turned out, entirely premature — 'final' gigs at Madison Square Garden, it smartly drilled into the psychology of what made frontman James Murphy tick, and what compelled him to make hypnotically danceable, unusually emotional art-pop.
Murphy appears as one of around six artists featured in Meet Me In The Bathroom, which looks to widen the scope of that earlier film, and explore the entire New York indie scene which erupted in the late '90s and early noughties. It's an undeniably exciting slice of musical history — especially for Millennials of a certain age, for whom this music was incredibly formative during their early floppy-fringed teenage era — but the expanded focus leaves this film feeling a little more crowded and a little less thoughtful than Lovelace and Southern's earlier doc.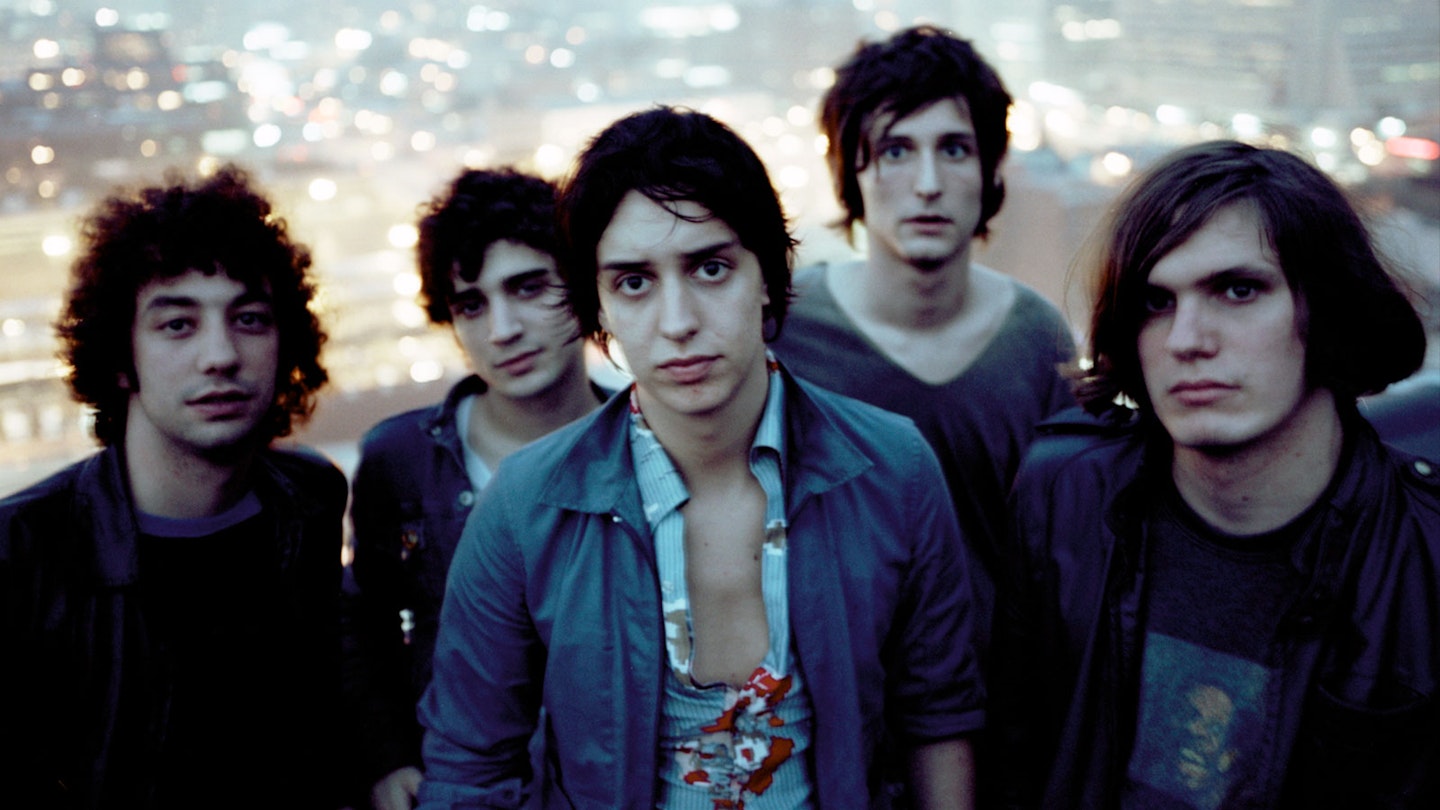 As the biggest band of that time, The Strokes understandably get top billing and most of the runtime. They are the consummate rock stars: handsome, hairy, hard-partying. Watching this, you're reminded just why Julian Casablancas was briefly hailed as the idealised, idolised frontman, the rich kid who overcame his natural shyness to hold a sweaty crowd in the palm of his hand and belt out a stripped-back, dirty garage rock anthem like he didn't even care. But in this congested telling, their story actually feels the least interesting, and much of their narrative follows a fairly clichéd music biopic trajectory — naive young musicians hit the big time; a drink and drugs-fuelled downfall soon follows.
It's the Yeah Yeah Yeahs who offer perhaps the most compelling journey, Karen O as the mixed-race outsider who finds her tribe.
The other bands here are more intriguing. If The Strokes are the boyish party animals, the Moody Peaches are the quirky art school dropouts; Interpol are the sad and intense emos; TV On The Radio are the goofy nerds; Murphy's LCD Soundsystem build the bridge between indie and dance. It's the Yeah Yeah Yeahs who offer perhaps the most compelling journey, Karen O as the mixed-race outsider who finds her tribe in the post-punk party scene while confronting rock's still-ingrained sexism and racism.
The film, based on the oral history nonfiction book of the same name by Lizzy Goodman, struggles to contain all of these giant personalities and the complicated web of relationships within the running time, with an examination that doesn't always rise high enough above the surface. It races through years and events — a montage of September 11th and its impact is never really delved too deeply — leaving you sometimes yearning for the depth and acumen of the original text.
Meet Me In The Bathroom is best in the unspoken moments, where it conjures an electric sense of New York's fertile indie music valley. It leaves us on a wistful note, with the rezoning of the Williamsburg district — for many years, the epicentre of key gigs and collaborations — carved up by developers and the ultra-rich, leaving the scene largely dissipated. The poetry of Whit Stillman bookends the film, lending a typically romantic, New Yorkian flourish: "Give me comrades and lovers by the thousand...Give me such shows! Give me the streets of Manhattan!"