From first-time writer-director Fran Kranz (yes, he of The Cabin In The Woods stoner-guy fame), Mass is an impressive four-actor chamber-piece that combines the relentless emotional intensity of theatre with a voyeuristic intimacy that's specific to film. The result, a potent study in tension and release, offers an arresting examination of grief that suggests the only way to come to terms with the unspeakable is to talk through it.
Kranz's film opens with Judy (Breeda Wool), a parishioner at a small Idahoan Episcopal church, fretfully setting up a meeting room in its antechamber with young helper Anthony (Kagen Albright). The arrival of coordinator Kendra (Michelle N. Carter) reveals two families will be attending, while her assessment of the venue's suitability allows Kranz to deftly set the tone and define the space for the discussion that's ahead. A playroom door is quietly closed; a stained-glass school project draws a protracted, "Ohh…"; four chairs at a table are quickly split into two pairs; a tissue box's placement is scrutinised enough to suggest its necessity is inevitable. In these early moments, the stillness of cinematographer Ryan Jackson-Healy's camera is striking — it's as if everyone, including us, is holding their breath.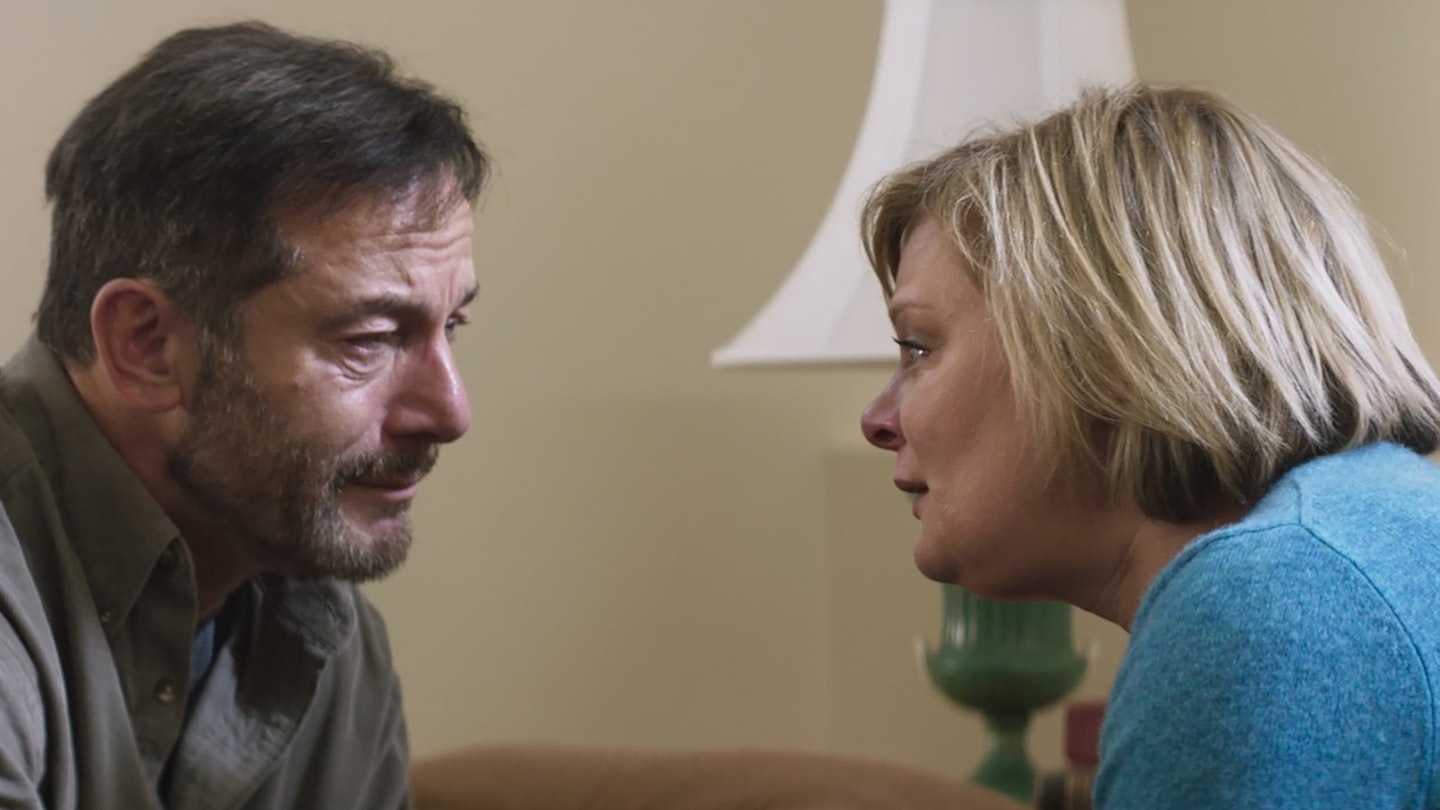 Before long, Jay (Jason Isaacs) and Gail (Martha Plimpton) arrive, followed by Linda (Ann Dowd) and Richard (Reed Birney). The tension between the families is palpable, augmented by Kranz and his ensemble's nuanced orchestration of uncomfortable small talk, abyssal silences, and character-revealing gestures. Linda extends an olive branch with the gifting of a potted plant, and in return Gail wars with her empathetic impulses as she passive-aggressively offers tissues when Linda later starts crying. Richard tries to pitch himself as the diplomatic voice of reason, deploying wishy-washy double-negatives like, "I don't disagree," with alacrity in increasingly vain attempts to diffuse tension. Jay, meanwhile, continually has to keep himself in check with reminders of his therapist's guidance.
Yang Hua Hu's punchy editing makes an eruption feel inevitable, destabilising Jackson-Healy's static camerawork with increasingly frenetic cuts between loaded lines and expectant glares as the elephant in the room becomes unavoidable entirely. Thirty-seven minutes into the film, having implicitly established that both families have lost a child in a school shooting, Gail bursts Mass' emotional dam — "Why do I want to know about your son? Because he killed mine."
Kranz commits to staying in the room with these same-but-differently traumatised parents.
A lesser film might seek to embellish or sensationalise this revelation with a flashback, but Kranz commits to staying in the room with these same-but-differently traumatised parents for the 20 seconds of devastating silence that follow, and the hour of soul-searching that lays beyond that. Through the baring of all their rage, anguish, heartache and hollowness following the shooting (no punches are pulled, so proceed with caution), Kranz makes a clear point about the futility of trying to assign and deflect blame retrospectively. Instead, the filmmaker is more interested in pursuing restorative justice in the here and now, looking for something tangible his characters can reach, as painful as that process may be.
Kranz's sensitive directorial approach and the insular setting create a safe space for this exercise, but it falls on the shoulders of the film's four powerful leads to guide us through it. Jason Isaacs' sullen-eyed and jaw-clenching performance as Jay, whose relentless activism and instinctual need to be strong for his wife is visibly crippling him, might well be his finest film work to date. Beside him, Martha Plimpton delicately handles her portrayal of a mother who yearns for release from her pain while fearing her son will be lost for good if she finds it. Opposite them, Reed Birney and Ann Dowd convey the torture of loving and grieving a murderer with tact and boundless empathy, their vulnerability — there from the start in Dowd's empath Linda and gradually exposed in Birney's more mannered Richard — opening the door to reconciliation. As the two families crest the waves of anger and argumentation, an aspect-ratio shift drives home the magnitude of the way their world has changed, the stagedness of their meeting dissolving as they move past the table, chairs, legal waivers and hypotheticals towards something approaching mercy.
By the time Jay and Gail, Linda and Richard go their separate ways, it feels as though they are leaving somehow lighter, certainly changed. And though the sheer heft and relentlessness of it all may be too much for some, Mass' moving story of hope, humanity and forgiveness found in the face of unimaginable tragedy lingers long after the fade to black.