A series of ritualistic killings are baffling an incompetent police force in Victorian London. Sound at all familiar? Despite a small shift eastwards in geography (and one being fictional), the Limehouse Golem and the Jack The Ripper murders have much in common. Starting in 1880 (eight years before Jack began his "funny little game"), the Golem has chalked up five murders by the time Inspector John Kildare (Nighy) is brought onto the case and out of an enforced exile in the theft and fraud department.
A great cast is let down by a script that fails to provide a compelling mystery to solve.
He's being set up — a scapegoat for the increasingly agitated press to blame as Scotland Yard protects the reputation of their top man. But he's also good at what he does
and, a few deciphered clues later, he has a list of four suspects — Karl Marx (yes, the Karl Marx), George Gissing (also a real historical figure), music hall legend Dan Leno (Douglas Booth) and failed playwright John Cree (Sam Reid). Cree's the name that quickly stands out — he was poisoned the day after the most recent Golem murder, and his wife Elizabeth (Olivia Cooke) is standing trial for his murder. Can Kildare pull off the dual feat of solving the Golem murders while simultaneously saving this innocent woman from the gallows? Well, he's going to give it a damn good go.
All this established, the meat of the story is told via messily placed flashbacks — some originating from the trial, others from Kildare's surprisingly frequent and unsupervised trips to Elizabeth's roomy jail cell. Much of this reminiscing takes us to a London music hall where we see Elizabeth go from dogsbody to star and meet her doomed husband.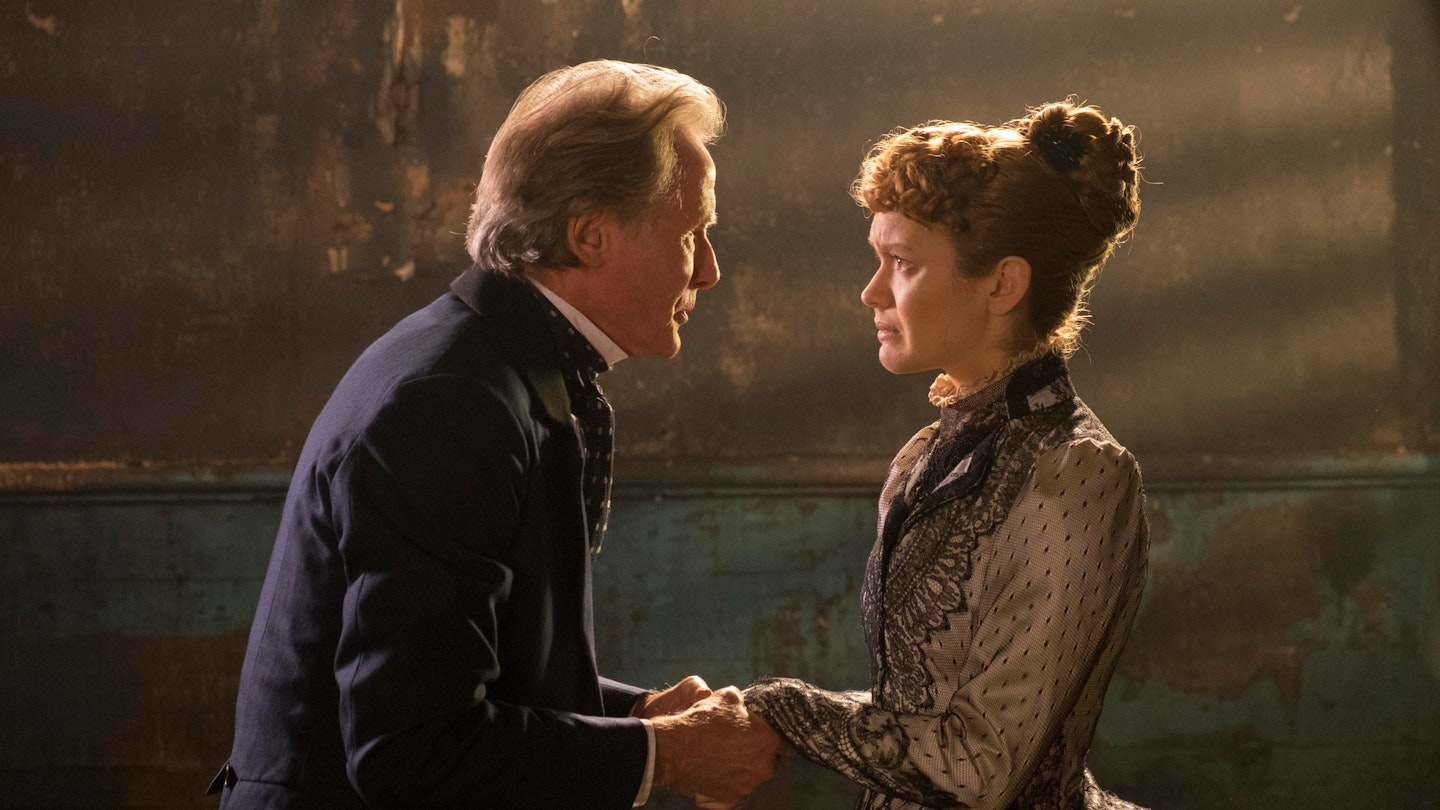 The film's problems stem from this structure. Nighy is given the beginnings of a character — he's a great detective, previously wronged by his colleagues, and has rumours about his private life hanging over his head, but none of this is properly explored. Instead, from this strong start point, Kildare is quickly reduced to little more than a storytelling device — his presence merely facilitating the recounting of Elizabeth's life story. And, conveyed this way, the murder mystery is no mystery at all — the culprit being so obvious for so long, it may have well been revealed at the beginning like this was an episode of Columbo.
It's in the slices of Victorian music hall life where the film is at its best, elevated to the standard of a Sunday night TV drama. Bawdy songs are sung and off-colour jokes are told (all of which seem tame by today's standards), and they add palpable energy to the engagingly soapy proceedings of the players' relationships. Booth is especially memorable as the troupe's star and Olivia's surrogate big brother.
There's also glee taken in the theatricality of the Golem's murders. One victim is sawn up, the head placed on an altar, while the limbs and torso are placed on the pews as a rapt audience for a macabre sermon. In another instance, a penis is left as a bookmark in a volume of Jewish folklore — the source of the press' 'Golem' nickname for the killer. But this fails to translate into an effective atmosphere. Where the violence should shock or repel, it instead comes off as cartoonish, the film never successfully capturing the fear of the local populace or the danger potentially lurking in Limehouse's gas-lit streets. But while this is a problem, telegraphing its villain, but believing it hasn't, is The Limehouse Golem's greatest crime.