Nobody expected much from Jumanji: Welcome To The Jungle, a belated post-Robin Williams reboot-quel. But it ended up a surprise treat — a frequently hilarious body-swap comedy masquerading as a generic franchise revival, its four seemingly cardboard-cutout heroes (including Dwayne Johnson's Dr Smolder Bravestone and Karen Gillan's Ruby Roundhouse) revealed as intentionally clichéd video-game avatars. Jack Black playing a prissy teenage girl proved a particular, peculiar delight.
If Welcome To The Jungle flourished with bright ideas and broad comic performances, this sequel brings more of both. With the body-swap cat out of the bag, returning writers Scott Rosenberg and Jeff Pinkner and director Jake Kasdan tweak the formula — introducing more avatars and two screen legends as new players.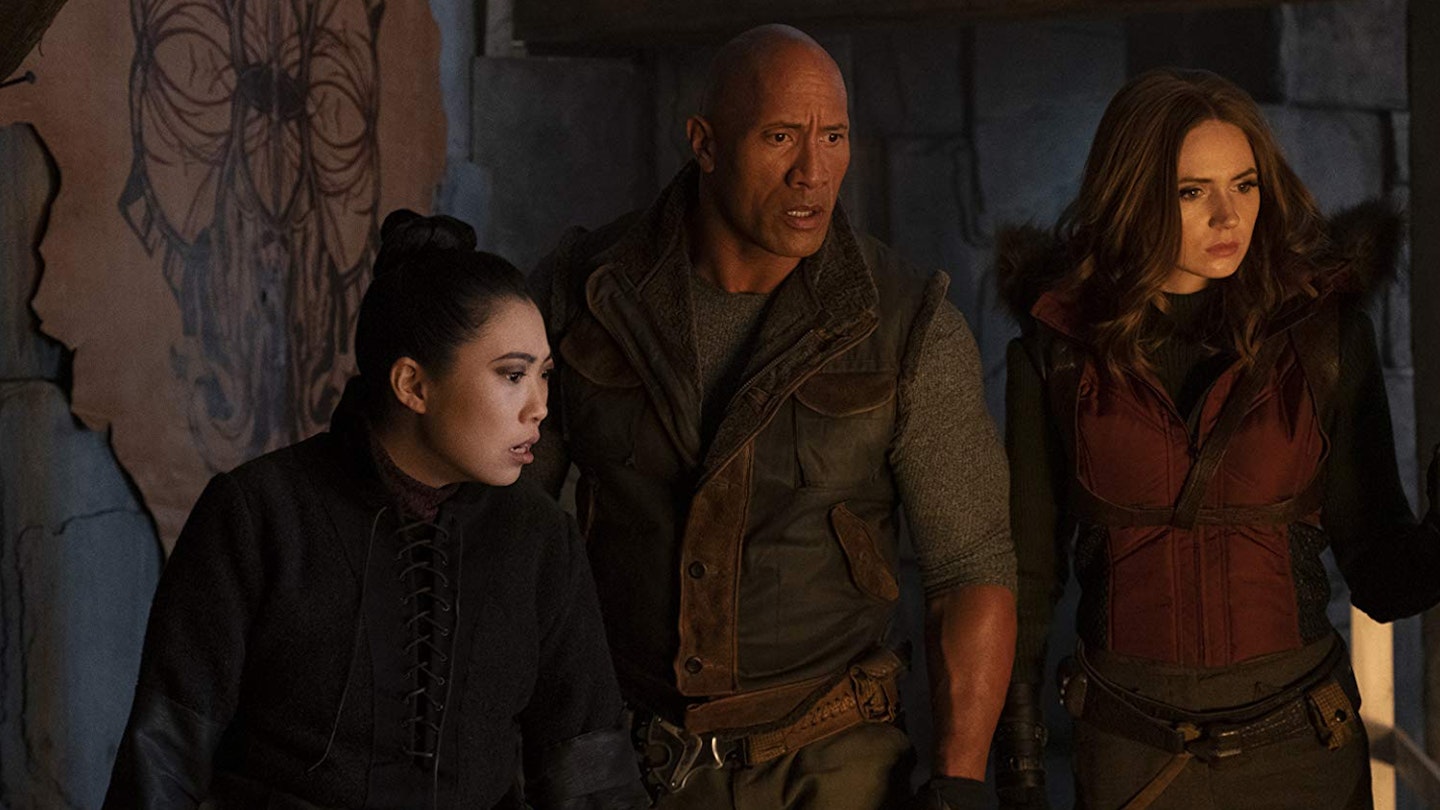 While all four teens are back — Spencer (Alex Wolff), Martha (Morgan Turner), Fridge (Ser'Darius Blain), and Bethany (Madison Iseman) — this time the Jumanji cartridge also spirits away Spencer's grandfather Eddie (a gloriously grouchy DeVito) and his former business partner Milo Walker (Glover). In-game, that means Johnson's Bravestone and Kevin Hart's Mouse Finbar cranking it up with laugh-out-loud impressions of Dannys DeVito and Glover respectively — Hart in particular drawing laughs from every confounded utterance and mannerism — their inner old-timers failing to grasp even the vaguest concept of video games. "Jurgen The Brutal… is that Barbara's boy?" Hart barks as the gang are filled in on Rory McCann's (Game Of Thrones) new villain.
Awkwafina proves its secret weapon, dialling back up to the gleeful comic register she displayed in Crazy Rich Asians.
If Eddie and Milo bring frequent guffaws, they also take up the lion's share of the plot and emotional conflict, forced to resolve the long-standing rift in their former friendship. But with the film teed up by Spencer's decision to re-enter the deadly game (a dick move his friends don't give him nearly enough grief for), the plot feels disjointed, awkwardly splitting focus between the fragmented original gang and the pensioners.
If the narrative construction is slightly shonky — the plot gears clank getting everyone back, and the arrival of the whole new game-world is glossed over — so too are the visual effects. Ropey CGI saps the set-pieces — from hordes of marauding ostriches to, er, hordes of marauding mandrills — of any peril, meaning The Next Level rarely lands as an action-adventure movie. It's more successful as an outright comedy, pushing the body-swapping antics to increasingly ridiculous heights — climaxing on a character note that's truly batshit.
Where Welcome To The Jungle was hampered slightly by an underwhelming third act, that's where The Next Level is at its best. Awkwafina, as new avatar Ming Fleetfoot, proves its secret weapon, dialling back up to the gleeful comic register she displayed in Crazy Rich Asians — and with Jack Black on stellar form, more dance-fighting from Gillan, and Johnson displaying his usual superhuman charisma, The Next Level ends up a worthy expansion pack.