If the BBC series Industry has taught us anything, it's that the glossy, pressurised world of finance makes the perfect backdrop for tense, thrilling drama. Chloe Domont understands this, setting her feature debut at a hyper-competitive New York hedge fund, and using that environment as fuel for her twisted look at gender dynamics in a male-dominated workplace.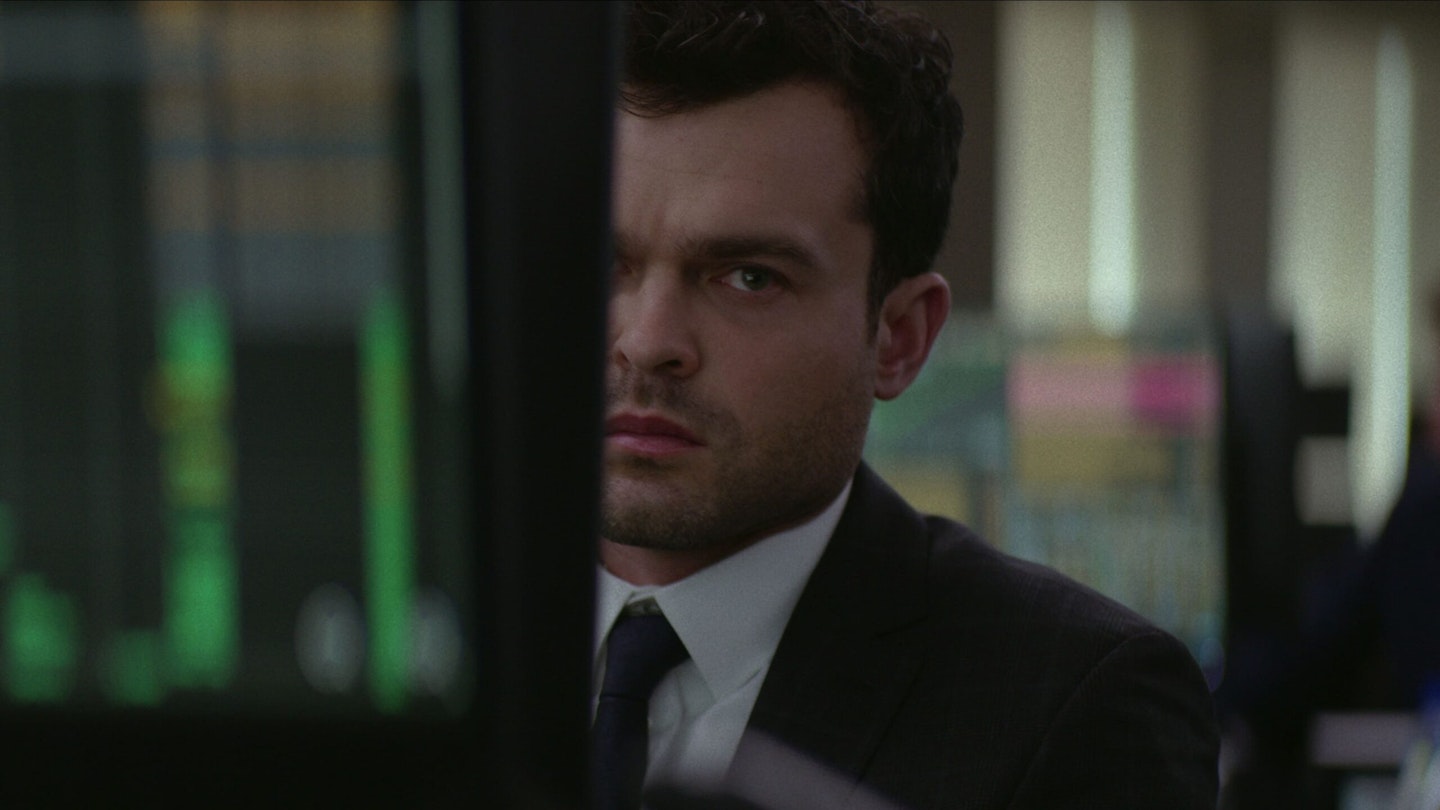 Bridgerton breakout Phoebe Dynevor is Emily; one of the few women in her office, and one of fewer again from a working-class background. She's in a relationship with fellow assistant Luke (Alden Ehrenreich), though they keep their policy-breaching romance secret at work. When a colleague is unceremoniously fired, Luke assumes he's next in line for the promotion — but when Emily gets the call, their partnership is thrown into chaos.
Fair Play is billed as an erotic thriller, and starts off strongly in that respect, with a sneaky rendezvous that depicts a messy part of sex that is rarely seen on screen — but the heat doesn't turn up much from there. The leads are thrust into turmoil almost too quickly; we are barely given a chance to know them as a happy couple before their relationship deteriorates.
Dynevor is the standout, balancing Emily's vulnerability with steely strength.
What becomes more interesting is the lack of sex that ensues after Emily moves up the ladder, and how that acts as a symptom of the emotional drift between the pair. Luke tries putting on a smile, but soon descends into a hole of misogynistic self-help and manipulation. Emily attempts to assert herself as 'one of the boys', doing her best to put in a good word for Luke despite his clear lack of ability. Each has the upper hand at times, but the cleverness of Domont's screenplay is that Emily's sense of self is shattered so much more easily than Luke's. She may have the money, the title and the office — but as a man, Luke always retains a certain kind of power, and he relishes using it, or pleading ignorance about it, as his perceived emasculation builds to an uncomfortable but well-handled crescendo in the third act.
Domont's direction notches up the tension nicely. Slow camera pans across the office develop into more frantic, close-up fare as things spiral out of control, the repetitious blaring of Emily's punishing 4:30am alarm emphasising the characters' sleep-deprived state. Ehrenreich is convincing as a guy whose level of entitlement means he can't accept his own mediocrity, Eddie Marsan is on intimidating form as the boss they are both so desperate to impress. But Dynevor is the standout, balancing Emily's vulnerability with steely strength, and embracing the chance to move away from the corsets of Bridgerton and show a little more edge. Even when the plot veers mildly off-course, or starts to hint at a soapier kind of melodrama, her and Ehrenreich's crackling chemistry will keep you gripped.