"A film is not the telling of a dream," the French auteur Jean Cocteau once wrote, "but a dream in which we all participate together." Filmmakers have long seen the cinematic potential of dreams (see also: The Wizard Of Oz, Inception, the dream sequence in Dumb And Dumber where Jim Carrey lights his own fart) — but Norwegian director Kristoffer Borgli chooses to take Cocteau's famous quote literally in Dream Scenario, an enjoyably absurd comedy in which dreams shift mysteriously to become a collective experience.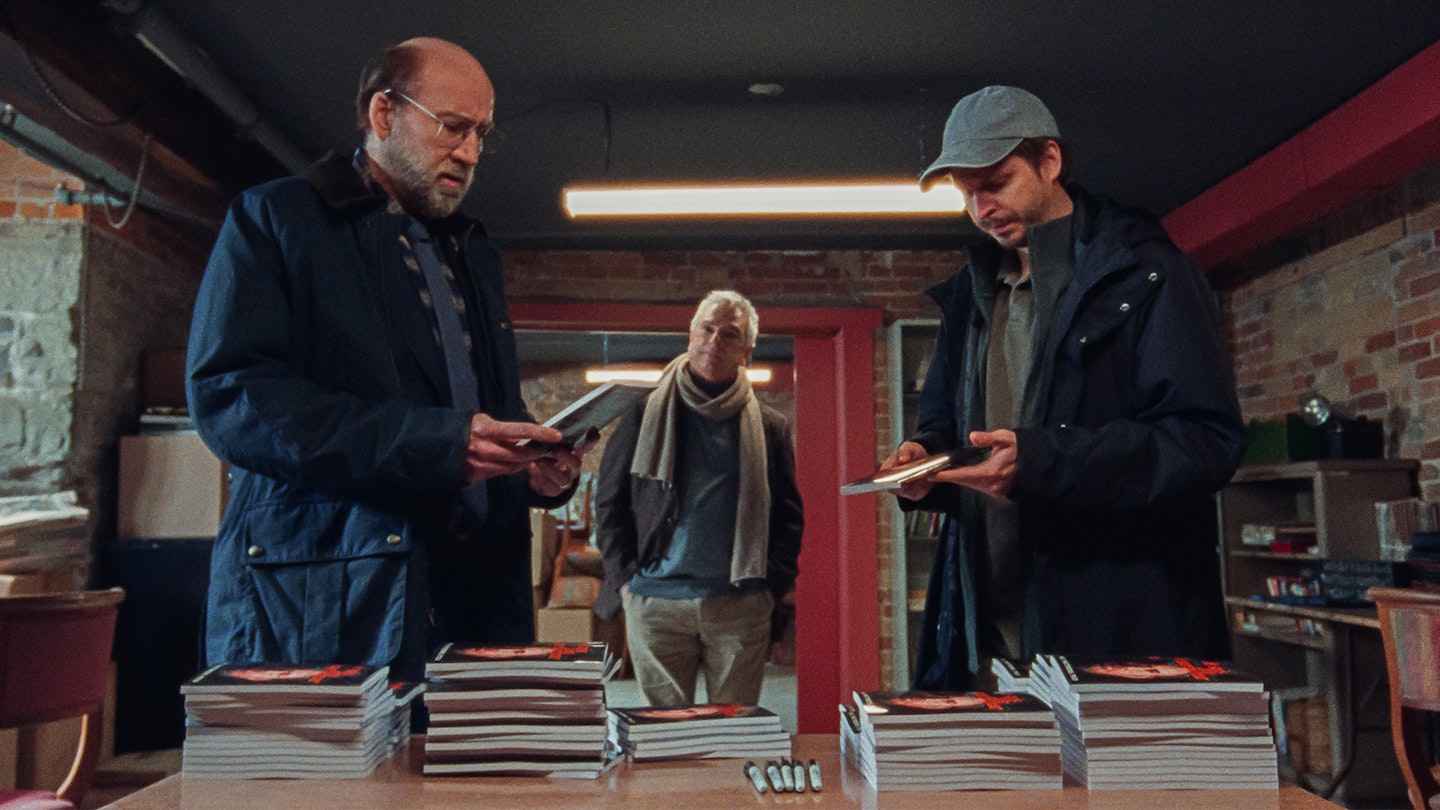 Nicolas Cage — clearly relishing the kind of tragicomic role that has defined his late-era revival — is predictably brilliant as Professor Paul Matthews, a middle-aged mediocre man with echoes of previous Cage schlubs (Adaptation, The Weather Man, Mom And Dad). He's an aggressively ordinary person, a middling evolutionary biologist whose most significant contribution to his field is his claim that he coined the term "ant-elligence".
Borgli delights in dramatising every surreal dream with rich cinematic flourish.
But Paul's gently pathetic beta-male vanity is given a sudden uptick when people start recognising him from cameo appearances in their dreams. (Like the time-loop in Groundhog Day, the mass-dreaming phenomenon is a fantasy that goes largely unexplained.) Soon, the local news reports on what they term a "dream epidemic"; to the increasing alarm of his wife (an excellent, understated Julianne Nicholson) and children (Lily Bird and Jessica Clement), Paul begins to court the fame he claims to shun.
That leads the film down some increasingly funny and strange avenues — Borgli delights in dramatising every surreal dream with rich cinematic flourish — and there are great bit-parts from Michael Cera and Kate Berlant as corporate hipster ad agency creatives, looking to "holistically pair brands with more unconventional celebrities", as Cera's character puts it. It also leads Paul to a devastatingly awkward sex scene, almost on a par with the one in this year's Beau Is Afraid (that film's director, Ari Aster, serves as producer here).
Borgli's targets are sometimes sharply satirical — his script incisively notes how today's fame-chasers turn to the culture war and the far right when their careers are on the fritz — and even when the tone sometimes feels overly arch, it at least never feels directionless. But it is also, as Paul morphs from being a dream hero to an unwilling Freddy Krueger-type figure, a lightly existential look at paranoia and fear, and how that is wrapped up in our uncontrolled subconscious. Dreams can so easily turn into nightmares without a moment's notice; what does it mean, the film ponders, if we all participate in that nightmare together?