If there were Oscars given for casting (sort it, Academy), Francine Maisler would be a shoo-in for the 2022 gong. For, as well as Dune and Being The Ricardos, Maisler has assembled debatably the most stacked cast of the year for Don't Look Up. Actors identifiable by first names only: Leo; Meryl; Cate; Jonah; Timothée. The pulling power is both director Adam McKay (The Big Short and Vice turned him into a thesp-magnate) and the premise. Don't Look Up is essentially Deep Impact played for yuks, Armageddon if it had a brain. It might bite off more than it can chew, but it is frequently funny, highly ambitious brain-food. If you think this is a Leonardo DiCaprio environmental vanity project, then think again.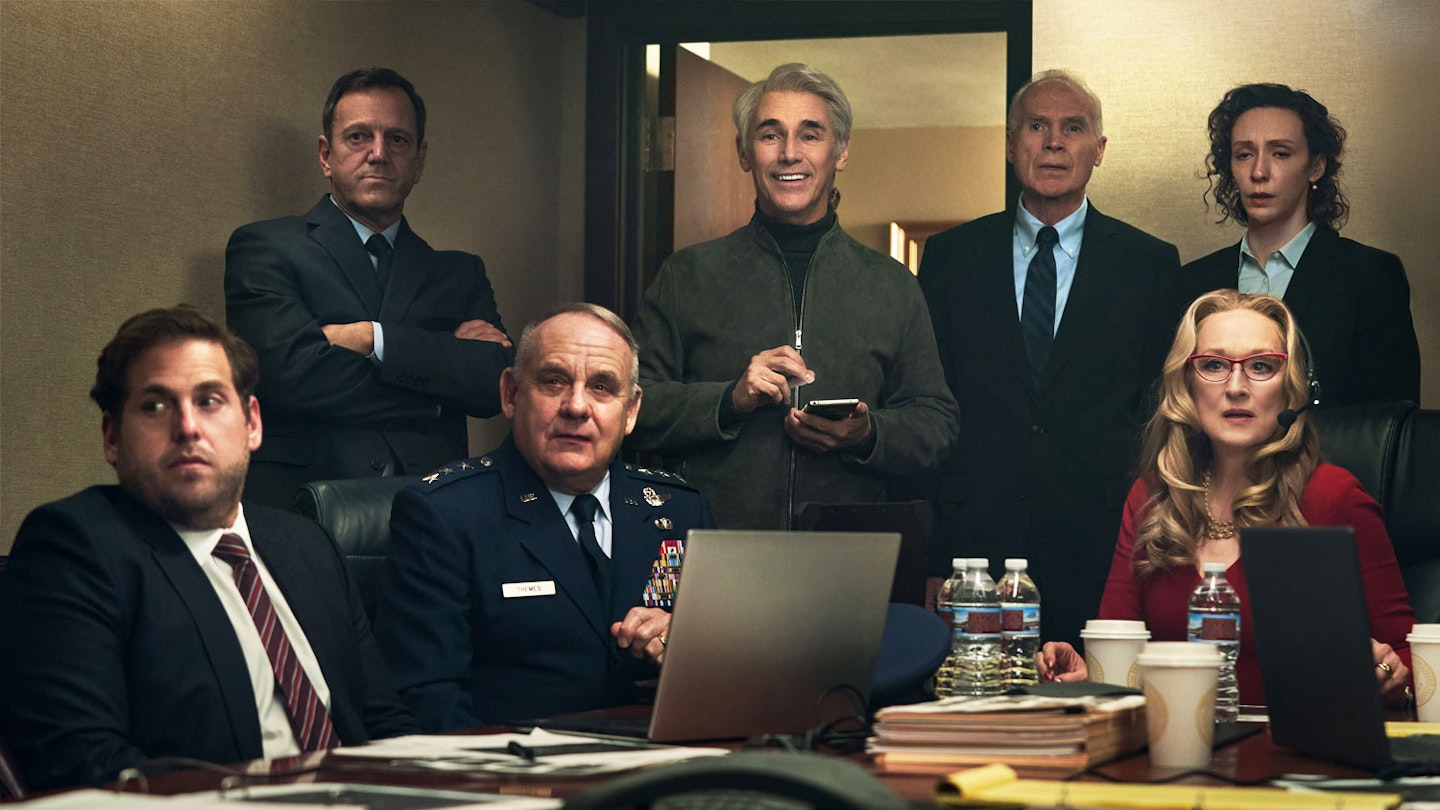 McKay uses the plot-core of two astronomers, Dr Randall Minty (Leonardo DiCaprio) and Dr Kate Dibiasky (Jennifer Lawrence), fast-tracked to the White House after discovering an extinction-level comet heading directly for Earth, as a means to satirise pretty much every aspect of modern life; from do-gooding billionaires to social-media break-ups, cheery breakfast-show banter to geo-politics. But McKay reserves his sharpest targeting for nepotistic Republican politicians in the shape of President Orlean (Streep, aces), a chain-smoking chief whose policy for the poor suggests they should pick "better lottery numbers", and her Chief Of Staff and son Jason (Jonah Hill, coming on perfectly like a Trump kid) who in the darkest moment says a prayer for "dope stuff". In his political wheelhouse, McKay's satire feels both too funny to be true and spot-on.
Lawrence and DiCaprio are likeable if not especially complex guides through the chaos.
Getting short shrift from the Oval Office, Randall and Kate go off script to bring the 'Planet Killer' to the world's attention, meeting a gallery of rich characters in the process: a Musk-esque tech giant (Mark Rylance) who bought the Gutenberg Bible and lost it; relentlessly upbeat morning-show hosts (Tyler Perry, Cate Blanchett); a pop star (Ariana Grande) who supports a manatee sanctuary and flip-flops on the does-the-comet-exist? debate; and a religious skater-boi (Timothée Chalamet), who sweetly provides Kate with some much-needed solace.
Lawrence and DiCaprio are likeable if not especially complex guides through the chaos, the former all Lisbeth Salander haircut and attitude, the latter a bag of nerves and ailments (although he gets a great Peter-Finch-In-Network meltdown). McKay's direction sometimes moves at the clip of a disaster movie (the space shuttle launches are genuinely impressive) and at other times pauses for montages depicting life just carrying on in the face of impending destruction. It's a film about very modern malaises: how we fail to take personal responsibility, be it in relationships or on the political stage; how expertise is constantly undermined; and how truth in news is moribund. There's perhaps too much going on and not all of it works. Still, McKay sticks the ending beautifully, adding a killer sting that hopefully Netflix's end-credits-interrupting technology won't ruin — perhaps the only 21st-century evil Don't Look Up doesn't skewer.